Phuket Gazette World News: Sloan ranger named for Gitmo closure; Iran parties for cleric president-elect; Czech out in graft scandal; Kremlin says kiss my Superbowl ring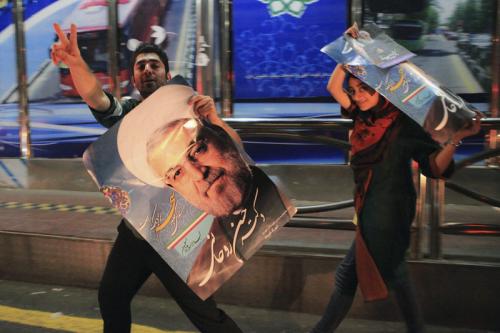 PHUKET MEDIA WATCH
– World news compiled by Gazette editors for Phuket's international community
State Department to name lawyer Cliff Sloan to close Guantanamo
Reuters / Phuket Gazette
PHUKET: The State Department on Monday is expected to announce the appointment of Washington lawyer Cliff Sloan to oversee the closure of the controversial Guantanamo detention camp, sources familiar with the decision said on Sunday.
Sloan is a partner with the law firm Skadden, Arps, Slate, Meagher & Flom LLP, who has served in all three branches of government and litigated cases in state and federal courts.
In a statement, Secretary of State John Kerry said Sloan possessed the "intellect and skill as a negotiator respected across party lines."
"I appreciate his willingness to take on this challenge," Kerry said. "Cliff and I share the president's conviction that Guantanamo's continued operation isn't in our security interests."
The Guantanamo tribunals were established by the Bush administration and revised by the Obama administration to try suspected al Qaeda operatives and their associates on terrorism charges.
More than 100 of the 166 prisoners in the camp have joined a hunger strike to protest the failure to resolve their fate after more than a decade of detention.
In January, the State Department reassigned the special envoy who had been in charge of trying to persuade countries to take Guantanamo inmates approved for release, Daniel Fried, and did not replace him.
"Our fidelity to the rule of law likewise compels us also to end the long, uncertain detention of the detainees at Guantanamo," Kerry said in the statement. "We can do it in a way that makes us more secure, not less. It will not be easy, but if anyone can effectively navigate the space between agencies and branches of government, it's Cliff."
Czech prime minister steps down amid graft scandal
Reuters / Phuket Gazette
PHUKET: Czech Prime Minister Petr Necas was forced to quit on Sunday by a graft and spying scandal involving his closest aide, pitching the European Union member state into a period of uncertainty over who will form the next government.
Under the Czech constitution, the whole government will now have to step down, and there is likely to be horse-trading between the governing coalition, the opposition and the president before a replacement is in place.
Necas quit days after prosecutors charged the head of his office, Jana Nagyova, with bribing members of parliament and ordering intelligence agents to spy on people.
The scandal has a personal element for the prime minister: one of the surveillance targets, according to lawyers involved in the case, was the prime minister's own wife, Radka. The two are filing for divorce.
Necas has said he knew nothing about the surveillance, but the charges were so toxic that his coalition partners signalled they could no longer support him.
"I will resign as prime minister tomorrow," Necas told a news conference after meetings with his Civic Democratic party and with the leaders of other parties in the governing coalition.
"I am aware fully aware how the twists and turns of my personal life are burdening the Czech political scene and the Civic Democratic Party," he said.
He said his party would try to form a new government, led by a different person, to rule until a scheduled election next year. However, it was unclear if that plan could muster enough support in parliament.
Two decades ago, Czech dissident Vaclav Havel led a "Velvet Revolution" that overthrew Communist rule and turned his country into a beacon of liberty. But in the years since then, the Czech Republic has been mired in corruption.
Necas and his administration will stay on as caretakers until a new government is installed. President Milos Zeman will have an important say in who takes over. If after three attempts there is no viable government, or the parliament agrees to dissolve itself, an early election will be held.
Presidential power
Forming a new government will be tough for the current coalition because it does not have an outright parliamentary majority. At the moment, it falls at least two votes short.
The only way to cobble together a majority is to win over independent members of parliament. Some independents have in the past voted with the cabinet, opening the possibility they may pledge their support.
The constitution gives the president the authority to appoint a prime minister. He is a political opponent of Necas, and could refuse to endorse the coalition's nominee for prime minister.
"If the government has majority support, I believe that he (the president) would accept that majority. If that attempt is not successful, there should be a quick agreement on an early election," said Miroslav Kalousek, deputy chairman of TOP09 and finance minister in the outgoing cabinet.
An early election would favour the opposition Social Democrats, who, according to opinion polls, are more popular than the government.
The anti-corruption operation that brought down Necas was the biggest in the Czech Republic, a country of 10.5 million people in eastern Europe, for 20 years.
About 400 police officers raided government offices, bank safe deposits and other locations, conducted 31 house searches and seized at least $6 million in cash and tens of kilograms of gold. They did not say who it belonged to.
A lawyer for the prime minister's aide Nagyova, who is now in custody, says she denies some of the allegations against her, while on others she argues that she acted in good faith.
Czechs have been increasingly irritated by media reports of kickbacks and tainted deals in the public sector and the inability of the police and justice to punish the perpetrators.
Last week's operation was, in part, the result of Necas's own reforms: under his watch, newly appointed prosecutors were given a free hand to go after corruption cases.
Ring row: Kremlin says U.S. Super Bowl ring was a gift to Putin
Reuters / Phuket Gazette
PHUKET: Vladimir Putin's opponents often brand him a "thief" at street protests. Now the Kremlin is dismissing an American football team owner's account of how the Russian president ended up with his diamond-encrusted Super Bowl ring when they met eight years ago.
According to the New York Post, New England Patriots owner Robert Kraft told the audience at a recent awards ceremony that he had intended only to show Putin the ring, worth more than $25,000, but that Putin had pocketed it.
Putin's spokesman said that Kraft clearly meant the ring – around 70 of which are given to the winning team in the annual American football championship – to be a gift, and suggested Kraft should see a psychoanalyst.
"I was standing right behind the president, and I saw how he was given the ring," spokesman Dmitry Peskov told reporters on Sunday in London, where Putin met British Prime Minister David Cameron on the eve of a G8 summit in Northern Ireland.
Kraft met Putin in St Petersburg in 2005, after the Patriots beat the Philadelphia Eagles in the Super Bowl that February. In a statement at the time, he reportedly said he had decided to give Putin the ring as a gesture of goodwill.
But according to the Post, K
— Phuket Gazette Editors
Keep in contact with The Thaiger by following our Facebook page.
Never miss out on future posts by following The Thaiger.


Find more SE Asian News courtesy of The Thaiger.

Broke? Find employment in Southeast Asia with JobCute Thailand. Rich? Invest in real estate across Asia with FazWaz Property Group. Even book medical procedures worldwide with MyMediTravel, all powered by DB Ventures.

Asia's biggest drug kingpin arrested in Netherlands
Asia's biggest drug kingpin is under arrest in the Netherlands after years of authorities chasing him worldwide. 57 year old Tse Chi Lop, a Chinese-born Canadian citizen, was arrested by Dutch police acting on a request by Australia's federal police.
The UN Office on Drugs and Crime named him as the suspected leader of the Asian mega-cartel known as "Sam Gor", a major producer and supplier of methamphetamines worldwide. Tse is commonly compared to the Mexican drug lord Joaquin "El Chapo" Guzman.
Sam Gor is suspected of laundering billions in drug money through businesses such as casinos, real estate and hotels in Southeast Asia's Mekong region. Australia's federal police said Friday's arrest came after a 2012 operation that arrested 27 people linked to a crime syndicate spanning five countries. The groups was accused of importing large amounts of heroin and methamphetamine into Australia, according to police.
"The syndicate targeted Australia over a number of years, importing and distributing large amounts of illicit narcotics, laundering the profits overseas and living off the wealth obtained from crime."
The arrest of Tse Chi Lop almost 10 years after that operation's launch is a major break for Australian authorities. The country's attorney-general will now begin preparing a formal extradition request for the alleged drug lord to face trial.
Most of Asia's meth comes from "Golden Triangle" border areas between Laos, Myanmar, Thailand and southwest China. The production of methamphetamine, either in tablet form or the highly potent crystalised "ice" version, take place in Myanmar's eastern north Shan state. Ketamine and fentanyl are also produced there as well, mostly in 'portable' labs that hide underneath the thick rainforest canopy.
In 2018 alone, Thailand netted more than 515 million methamphetamine tablets, a number 17 times the amount for the entire Mekong region 10 years ago. Traffickers are constantly finding more creative ways to ship their products as drug busts are featured daily on the news in those regions.
SOURCE: The Bangkok Post
Keep in contact with The Thaiger by following our Facebook page.
Never miss out on future posts by following The Thaiger.
Czech 'Covid' sniffer dogs can detect Covid-19 with a 95% success rate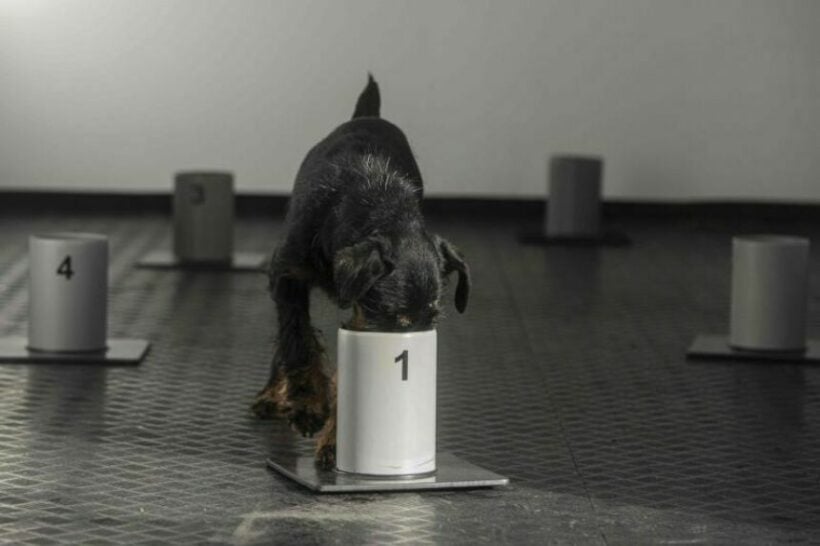 Czech dog trainers say canines can sniff out Covid-19 with an astonishing 95% success rate. The team of trainers in Renda, a Czech mountain village, are working in their own time to teach the dogs to tell the difference between fake samples of Covid and real ones by sniffing pieces of cloth. Lenka Vlachova, a trainer who works at Prague's fire brigade, says the cloths either feature a scent from patients with Covid-19 or from those that tested negative for the virus. They also say they there are cloths with fake samples of the virus that are part of the testing group.
The project head, Gustav Hotovy, says the study is designed to verify dogs' ability to detect the virus and generate a method enabling the use of training dogs in combatting the pandemic.
"The method should also work with other diseases, even more lethal than Covid-19. In the end, we should be able to detect a huge number of people in a very short time with a trained dog."
Hotovy, who is a retired cynologist, whose team started training the dogs last August, says the first study confirming that dogs are able to detect tissue attacked by a virus was conducted in the United States about 10 years ago.
"The virus changes the human tissue, affecting the scent signature of the person."
He says that the signature changes so much that it is immediately picked up on by the dogs. The samples are gathered by rubbing a piece of cotton against the patient's skin and then the team has to make sure the sample is virus-free to keep the dogs from catching the virus.
A Finnish team has also been using dogs to detect the virus at Helsinki airport, reporting its dogs can detect the virus with close to 100% accuracy.
SOURCE: Reuters
Keep in contact with The Thaiger by following our Facebook page.
Never miss out on future posts by following The Thaiger.
Talk show king, Larry King, dies at 87 | VIDEO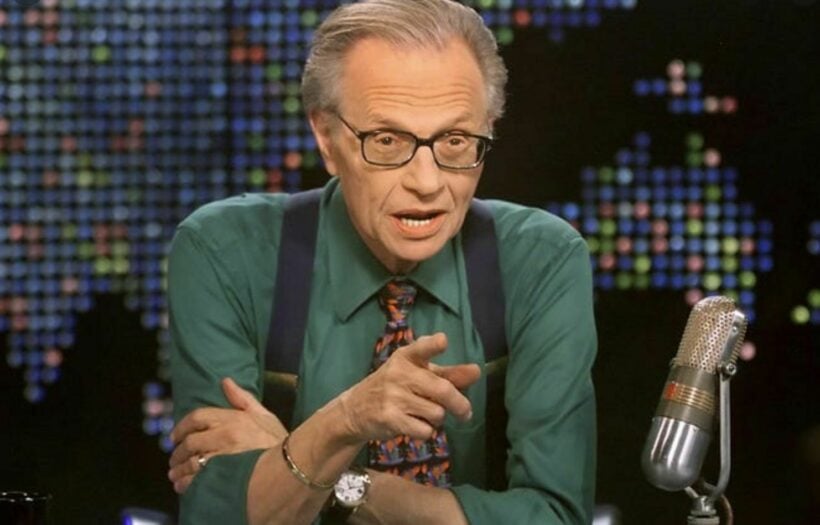 Larry King, the longtime CNN stalwart and talk host has died. He was 87 years of age. He is survived by 3 sons.
"Larry King Live" was a staple on the the young cable TV network for over 25 years, interviewing presidential candidates, celebrities, athletes and high-profile personalities. He retired in 2010 after taping more than 6,000 episodes of the show before moving his voice onto a fledgling streaming service.
His son, Chance, confirmed King's death yesterday morning, US time, on his Facebook page.
"With profound sadness, Ora Media announces the death of our co-founder, host and friend Larry King, who passed away this morning at age 87 at Cedars-Sinai Medical Center in Los Angeles."
"For 63 years and across the platforms of radio, television and digital media, Larry's many thousands of interviews, awards, and global acclaim stand as a testament to his unique and lasting talent as a broadcaster."
King had recently spent time in hospital with Covid-19 at Cedars-Sinai. He had been battling a number of other health problems over the years, suffering several heart attacks. In 1987, he underwent quintuple bypass surgery, inspiring him to establish the Larry King Cardiac Foundation to provide assistance to those without insurance.
With all his health challenges, he continued to forge one of the great talk show careers in US entertainment history.
In 2017 King revealed that he had been diagnosed with lung cancer and successfully underwent surgery to treat it. He also underwent another procedure in 2019 to address angina.
King also suffered personal loss last year when 2 of his adult children died within weeks of each other: Andy King, 65, suffered a heart attack and daughter Chaia King, 52, died after being diagnosed with lung cancer.
With an affable, easygoing demeanor that distinguished him from more intense TV interviewers, King perfected a casual approach to the Q&A format, always leaning forward and listening intently to his guests, rarely interrupting.
Tim Newton from The Thaiger met Larry King in the early 90s whilst working on the 'Australia Overnight' program with the Macquarie Network, using King's 'Larry King Show' radio format as a broad framework for the new radio networked program in Australia, the first of its kind.
"Larry was as affable in personal dealings as he was on air. He was very keen to help a young Aussie at the time who was trying to carve out a similar program to the famous Larry King Show of the 1980s that he hosted. I was happy to get a 30 minute meeting with him after flying to LA to meet him. He took me out to dinner and I walked away with a roadmap for our new radio show and a thousand other tips for the legendary talk show host."
Jeff Zucker, CNN's President, acknowledged King's role in raising the network's profile around the world.
"We mourn the passing of our colleague Larry King. The scrappy young man from Brooklyn had a history-making career spanning radio and television. His curiosity about the world propelled his award-winning career in broadcasting, but it was his generosity of spirit that drew the world to him. We are so proud of the 25 years he spent with CNN, where his newsmaker interviews truly put the network on the international stage. From our CNN family to Larry's, we send our thoughts and prayers, and a promise to carry on his curiosity for the world in our work."
SOURCE: CNN
Keep in contact with The Thaiger by following our Facebook page.
Never miss out on future posts by following The Thaiger.