Phuket Gazette World News: Kerry – Syrian chemical weapon use undeniable; Indian Govt criticised over rape cases; Homeless man crushed in Ireland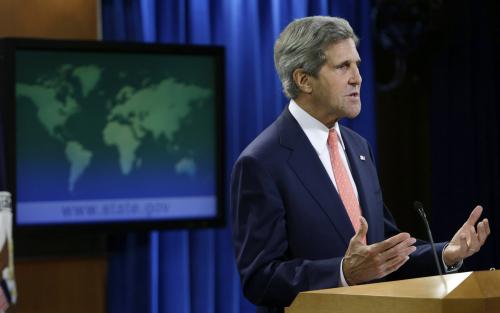 PHUKET MEDIA WATCH
– World news compiled by Gazette editors for Phuket's international community
Kerry: Use of chemical weapon in Syria 'undeniable'
Reuters / Phuket Gazette
PHUKET: U.S. Secretary of State John Kerry said yesterday that the evidence of a massive deadly chemical attack last week was "undeniable" and accused the Syrian government of trying to cover it up, signalling the United States was edging closer to a possible military response.
In the most forceful U.S. reaction yet after last Wednesday's suspected gas attack outside Damascus, Kerry said President Barack Obama "believes there must be accountability for those who would use the world's most heinous weapons against the world's most vulnerable people."
Kerry spoke after U.N. chemical weapons experts interviewed and took blood samples yesterday from victims of last week's apparent chemical attack in a rebel-held suburb of Syria's capital, after the inspectors themselves survived sniper fire that hit their convoy.
"What we saw in Syria last week should shock the conscience of the world," Kerry told reporters. "Let me be clear: The indiscriminate slaughter of civilians, the killing of women and children and innocent bystanders by chemical weapons is a moral obscenity."
Kerry accused the government of President Bashar al-Assad of acting like it had something to hide by blocking the U.N. inspectors' visit to the scene for days and shelling the area.
"Our sense of basic humanity is offended not only by this cowardly crime, but also by the cynical attempt to cover it up," Kerry said.
The information so far, including videos and accounts from the ground, indicate that chemical weapons were used in Syria, he said.
"It is undeniable," he said, adding that it was the Syrian government that maintained custody of chemical weapons and had the rockets capable of delivering them.
Kerry stopped short of explicitly blaming the Syrian government for the gas attack but strongly implied that no one else could have been behind it and said the United States had additional information it would provide in the days ahead.
There were mounting signs that the United States and Western allies were laying the groundwork for some kind of military response to the incident, which took place a year after Obama declared the use of chemical weapons a "red line" that would require strong action.
Obama, who withdrew troops from Iraq and is winding down the conflict in Afghanistan, has been reluctant to intervene in two and a half years of civil war in Syria.
A Reuters/Ipsos poll published on Saturday showed about 60 percent of Americans opposed U.S. military intervention, while only 9 percent thought Obama should act.
But with his international credibility seen increasingly on the line, Obama could opt for limited measures such as a missile strike to punish Assad and seek to deter further chemical attacks, without dragging Washington deeper into the fight.
Syria chemical evidence fades as U.N. team under fire
Reuters / Phuket Gazette
PHUKET: As U.N. weapons inspectors came under fire in Syria yesterday, the evidence of an apparent large-scale chemical weapons attack they are seeking is already fading from the scene.
The longer it takes the 20-member team to get to the spot where rockets carrying nerve agents are said to have killed hundreds of people on August 21, the harder it will be for the mission led by Swedish scientist Ake Sellstrom to find meaningful remnants of toxic munitions.
With Western powers considering military strikes against the government of Syrian President Bashar al-Assad if they conclude he used gas-laden rockets in an escalation of the country's two-and-half-year civil war, reliable evidence will be key to their deliberations.
Traces of chemicals on munitions fragments, buildings and impact craters will already have degraded. It will also have become difficult to detect anything in the urine of inhabitants in the outskirts of Damascus. Perpetrators will have had days to try to cover up proof of the attack, experts said.
Ralf Trapp, a disarmament expert who worked for the Organisation for the Prohibition of Chemical Weapons, which is supplying experts to the U.N. team, said traces of chemicals in a victim's urine fade within days, though blood could contain traces for weeks.
"They should be collected as soon after the incident as possible, preferably within a couple of weeks after the alleged use," Trapp said.
Some feared that the U.N. team would arrive too late to gather any meaningful samples.
Former U.N. advisor George A. Lopez Of the University of Notre Dame's Kroc Institute for International Peace Studies, accused Assad's regime of applying "calculated manoeuvres" on the ground in Damascus to counter U.N. and world reaction.
"Assad forces continued conventional shelling of the area, while locals and others cleared away bodies," he said.
"This hastened breakdown and contamination of chemical compounds needed to provide undeniable proof of the type of gas, its concentration level, and its source to the inspectors, who may still be one or more days away from taking soil and other samples."
In a conflict that is dividing world powers, inspectors will also have to safeguard the integrity of the samples.
They have to make sure containers and vials transported to the laboratories for analysis follow a strict chain of custody, with fibre-optic seals and accompanied by exhaustive documentation "to be able to demonstrate that the samples have not been tempered with", Trapp said.
Samples should be sent to two or preferably three designated laboratories from among those in the 20 countries with which the OPCW has working agreements.
Jean Pascal Zanders, an independent expert who runs chemical weapons blog www.the-trench.org, said other sources of evidence, such as witness interviews, could also be used to support claims of a large-scale chemical attack.
"We're looking at such a large number of people reported to have been affected by the chemical attacks. People would have a narrative, and those narratives when compared with each other would be able to build up a picture of what has happened," he said.
Autopsies are another option, he said, but under Muslim tradition, the dead are buried within 24 hours, and families would have to grant permission for the remains of their relatives to be exhumed.
As yesterday's shooting showed, there is more to the mission than science alone.
Per Runn, a Swedish chemical weapons expert who worked with Sellstrom and is a former branch head at the OPCW, said one of the major hurdles will be access to areas under rebel control, where the Syrian government cannot provide security guarantees.
"I do not envy Ake's position. As the person on the ground for the U.N., he is the one who will have to make the decision whether it is safe or not to go," Runn told Reuters.
"He will face criticism no matter what he does. If something goes wrong, he will be criticised for taking risks. If he refuses to go, he will be criticised for being too cautious. He's caught between more than a rock and a hard place," he said.
Opposition criticises Indian government over gang rape cases
Reuters / Phuket Gazette
PHUKET: India's opp
— Phuket Gazette Editors

Join the conversation and have your say on Thailand news published on The Thaiger.
Thaiger Talk is our new Thaiger Community where you can join the discussion on everything happening in Thailand right now.
Please note that articles are not posted to the forum instantly and can take up to 20 min before being visible. Click for more information and the Thaiger Talk Guidelines.