World
Phuket Gazette World News: Dour Christmas for Philippines typhoon survivors; China down on Mao birthday; Russia releases Greenpeace activists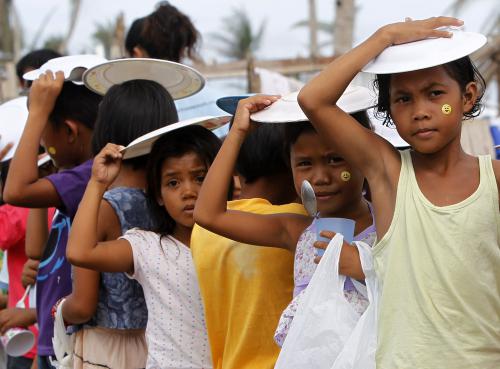 PHUKET MEDIA WATCH
– World news compiled by Gazette editors for Phuket's international community
Remittances throw lifeline to Philippines' typhoon survivors
Reuters / Phuket Gazette
PHUKET: A sister living on the other side of the world gave Roberto Retanal what he needed most to piece his humble home back together after the devastating typhoon that tore through his village in the central Philippines last month.
She sent him 40,000 pesos (550.26 pounds) to replace the roof ripped off his house by the strongest winds ever recorded in a country where typhoons are all too common.
Retanal's sister live and works in Britain. There are some 10 million Filipinos living and working abroad, sending regular remittances to help their families get by. Between January and October, they had sent back around $18.5 billion (11.3 billion pounds), six percent more than last year and running at a rate equivalent to around 10 percent of the gross domestic product.
When disaster struck on November 8 the telegraphic transfers went into overdrive.
"Filipinos dug even deeper," said Pia de Lima, spokeswoman for Western Union in Asia-Pacific, which cancelled transaction fees for three weeks after the typhoon for money coming in from 43 countries.
The typhoon Haiyan killed nearly 6,100 people, with around 1,800 still listed missing.
But more than 16 million people have been affected by the calamity. Aside from the ruined infrastructure and housing, the coconut groves that provided livelihoods for families in rural areas were uprooted. The worst-hit eastern and central Visayas region accounts for around 9 percent of the Philippines' GDP.
Economic growth is expected to be 7 percent this year, slightly slower than China. As a result of the typhoon, analysts expect growth to slow to between 4.1 and 5.9 percent in the fourth quarter, but officials are sticking with a 6.5-7.5 percent growth target for next year.
Merry Christmas
Whatever the rate, the survivors in the central Philippines will struggle, but they can at least count on support from relatives abroad, as 1.7 million of the Filipino diaspora hail from the stricken region.
Retanal is jobless and, with a wife in a low-income government job and two grown up children both earning pittances in far-off Manila, he is lucky to have a sister working as an accountant in Britain.
"If not for my sister and her mother-in-law in London, who also donated cash, it would take me another 10 years to complete this roof," the 59-year-old told Reuters in living room that a few weeks ago was left completely submerged after the storm surge inundated his one-storey concrete house.
The windows have still to be replaced, and aside from a silvery "Merry Christmas" sign hung from a pole, there was little else in the room other than a broken television set and four plastic chairs.
All the other houses in this tiny, lower-middle class community were covered by temporary roofing, either blue tarpaulin or metal sheets twisted by the storm and salvaged after the flood waters receded.
Making a difference
The Philippines, along with Mexico, is the world's third largest recipient of remittances, with India in top spot followed by China, according to the World Bank.
The country's central bank governor expected the higher level of remittances seen post-Haiyan to stretch into the early months of next year, based on what he saw in 2009 when two typhoons inundated large parts of the main island of Luzon.
"Understanding Filipino values, it would not be unreasonable to expect an increase in monies that overseas Filipinos would send their families for rebuilding," Bangko Sentral ng Pilipinas Governor Amando Tetangco told Reuters.
"We might even see that trend continue to the first quarter of 2014."
Analysts do not expect the extra inflows to have a big effect on the peso currency, as it will be offset by the need to import more goods for the post-disaster reconstruction.
Only few families are as fortunate as the Dacatimbangs of Tacloban City. A daughter works as a nurse in Indiana and has sent around $1,000 twice a month since the typhoon struck to help her parents repair their home and replace essential items.
For the less well paid, like maids and labourers, the margins to help are far slimmer.
"How much more can they send back over and above what they are sending now?" said Jun Trinidad, economist at Citigroup in Manila. "These are mostly fixed-income wage earners in the Middle East, Singapore, I don't think they have that tremendous flexibility to augment their remittances."
But for some, even small amounts received make a big difference.
Divina Codilan, a 44-year-old woman with 11 children and two grandchildren, said a single remittance of 5,000 pesos ($113) from her brother working as a labourer in Saudi Arabia allowed her to restart her vegetable and fresh chicken stall on the main highway in Tacloban City.
"Life is difficult at the moment, money is hard to come by, what I earn everyday is enough to feed us and buy milk for my grandchild," Codilan said. "My brother cannot send us more money, he has his own family to feed."
Hit by scandal and resignations, Turk PM names new ministers
Reuters / Phuket Gazette
PHUKET: Turkish Prime Minister Tayyip Erdogan reshuffled his cabinet on Wednesday after three members quit over a corruption scandal that has posed an unprecedented challenge to his 11-year rule.
The crisis erupted on December 17 when dozens of people, including of the head of state-run Halkbank, were arrested on graft charges. Erdogan responded by purging police investigators. The ensuing feud with the judiciary reignited long-simmering street protests and rattled foreign investors.
Earlier on Wednesday, three ministers who had sons among those detained resigned. Two of them echoed Erdogan in depicting the inquiry as baseless and a conspiracy. The third, Environment Minister Erdogan Bayraktar, turned on the premier.
"For the sake of the wellbeing of this nation and country, I believe the prime minister should resign," he told NTV news.
By breaking ranks, Bayraktar may have diluted any easing of pressure on Erdogan afforded by the ministers' resignations, although some commentators thought their timing was off.
"These are very late and difficult resignations. They don't have any value in terms of democracy," said Koray Caliskan, an associate professor at Istanbul's Bogazici University.
After nightfall, a spent-looking Erdogan announced he was appointing 10 new ministers to replace the three who quit and others planning mayoral runs in local elections in March.
The fact that the shake-up happened over Christmas cushioned the blow to Turkey on dormant international markets. But the stock index closed 4.2 percent and the lira weakened to 2.0862 against the dollar.
During his three terms in office, Erdogan has transformed Turkey by tackling its once-dominant secular military and overseen rapid economic expansion. He weathered anti-government demonstrations that swept Istanbul and other cities in mid-2013.
The gauntlet thrown down by Bayraktar set off fresh protests in Ankara, Istanbul and Izmir. Erdogan was unmoved.
Protocol, purges
In a speech earlier on Wednesday, he vowed no tolerance corruption. He argued that the work of the about 70 police investigators he had
— Phuket Gazette Editors