Phuket Gazette World News: Aleppo air strikes slay 300; AK-47 inventor dies; St Valentine beast jailed; UAE jails man for YouTube parody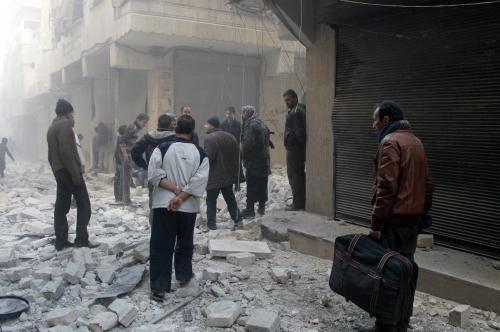 PHUKET MEDIA WATCH
– World news compiled by Gazette editors for Phuket's international community
More than 300 dead in week-long Aleppo air raids
Reuters / Phuket Gazette
PHUKET: More than 300 people have died in a week of air raids on the northern Syrian city of Aleppo and nearby towns by President Bashar al-Assad's forces, a monitoring group said on Monday.
Many of the casualties, who included scores of women and children, were slain by so-called barrel bombs dropped from helicopters, the Syrian Observatory for Human Rights said.
Syrian authorities say they are battling rebels who have controlled parts of Aleppo, Syria's biggest city, and most of the surrounding countryside for the past 18 months.
But human rights group have condemned the use of the improvised bombs – oil drums or cylinders which are packed with explosives and metal fragments, often rolled out of the aircraft cargo bay – as an indiscriminate form of bombardment.
Rami Abdulrahman, director of the British-based pro-opposition Observatory, said 87 children and 30 women were among the 301 people who died in the Aleppo air raids since December 15.
The United states condemned "the ongoing air assault by Syrian government forces on civilians, including the indiscriminate use of SCUD missiles and barrel bombs in and around Aleppo over the last week."
In a statement, the White House also called on the Syrian government to "fulfil its November commitment to do more to facilitate the safe and unhindered delivery of humanitarian assistance, so that millions of Syrian men, women, and children have access to urgently needed services."
Assad's forces have clawed back territory to the southeast of the city in recent weeks and reasserted control over several Damascus suburbs in the build-up to planned peace talks next month aimed ending Syria's almost three-year-old conflict.
The army is thought unlikely to be able to recapture major parts of Aleppo before the talks in Switzerland start on January 22, but Abdulrahman said the air raids might be aimed instead at turning the remaining residents against the rebel fighters by showing that the insurgents could not protect civilians.
The pro-opposition Observatory said more than 125,000 people have died in Syria's civil war, which has also forced 2 million people to seek refuge abroad and driven more than a third of the country's 23 million people from their homes.
Human Rights Watch said in a report at the weekend that barrel bomb attacks in Aleppo had hit residential and shopping areas, describing the air raids as illegal.
"The Syrian air force is either criminally incompetent, doesn't care whether it kills scores of civilians, or deliberately targets civilian areas," the group's senior emergency researcher, Ole Solvang, said in the report.
Rebels also appeared to have violated international law by indiscriminately launching rockets and mortar bombs at civilian areas in the government-controlled part of Aleppo, Human Rights Watch said.
It said on December 4 they fired at least 10 surface-to-surface rockets into residential areas, leaving at least 19 civilians dead.
AK-47 rifle inventor Mikhail Kalashnikov dies at 94
Reuters / Phuket Gazette
PHUKET: Mikhail Kalashnikov, the Russian designer of the AK-47 assault rifle which has slain more people than any other firearm in the world, died on Monday aged 94, officials said.
Kalashnikov, who was in his 20s when he created the AK-47, died in his home city of Izhevsk near the Ural Mountains, where his gun is still made, a spokesman for the Udmurtia province's president said on state television.
No cause of death was given. Kalashnikov was fitted with a pacemaker at a Moscow hospital in June and had been in hospital in Izhevsk since November 17, state media reported.
Sombre music accompanied tributes that led evening news reports on state TV, and President Vladimir Putin expressed "deep sympathy" for Kalashnikov's loved ones.
A son of Siberian peasants who never finished school, Kalashnikov invented one of the Soviet Union's best-known and most imitated products.
Shortly after fighting in World War Two, he created the AK-47, whose number stands for the year 1947. The "A" is for "avtomat" – automatic rifle – and the "K" for Kalashnikov.
Later versions of the AK-47 are still a mainstay of Russia's armed forces and police more than 60 years after the original rifle went into service in the military in 1949.
At a Kremlin ceremony on Kalashnikov's 90th birthday, then-President Dmitry Medvedev bestowed upon him the highest state honour – the Hero of Russia gold star medal – and lauded him for creating "the national brand every Russian is proud of".
But Kalashnikov said pride in his invention was mixed with the pain of seeing it used by criminals and child soldiers.
As well as being embraced by armies, anti-Western revolutionary movements and leftist leaders around the world, the relatively cheap and simple rifle has been used by gangsters, drug traffickers, militants and rebels of all stripes.
Effective killing machine
In 1973, Chile's communist President Salvador Allende died holding an AK-47 – a gift from Soviet-backed Cuban leader Fidel Castro – in a coup staged by pro-U.S. General Augusto Pinochet.
Thirty years later, invading U.S. troops found a gold-plated Kalashnikov reportedly given to Saddam Hussein's son Uday at one of the Iraqi leader's palaces in Baghdad.
Osama bin Laden, the al Qaeda leader killed in 2011, posed with a Kalashnikov in videotaped diatribes against the West.
Bearded Taliban fighters in Afghanistan and Liberia's gangs of young thugs wearing flip-flops, Somali hijackers and South American guerrillas – all seem to admire the rifle that enthusiasts say continues to work in dust, sand and swampland.
"It is painful for me to see when criminal elements of all kinds fire from my weapon," Kalashnikov said in a videotaped address to a Russian arms conference in 2009. "I created this weapon primarily to defend the borders of our fatherland."
At first, the upstart Kalashnikov received a cool reception.
Renowned Soviet arms designers scoffed at the first, primitive gun the young sergeant crafted in 1942 while being treated in hospital in Kazakhstan after he was pulled, severely wounded, from a burning tank during World War Two.
Five years later, his AK-47 was chosen by the military over models proposed by some of the same designers.
Kalashnikov used to say that simplicity and reliability saved lives in war situations.
"So this has been my lifetime motto – I have created weapons … to be simple and reliable."
Those qualities have led to much imitation. About half of the world's roughly estimated 100 million Kalashnikovs are counterfeit copies produced without licences.
"This powerful rifle … is the quickest, easiest, and cheapest way to turn a farmer, teacher, peasant or even a teenager into an effective killing machine," Larry Kahaner wrote in his book "AK-47: The Weapon that Changed the Face of War".
"Many western military experts consider it a piece of junk," he wrote. But he added: "Some U.S. soldiers prefer the AK especially in Iraq where dust tends to jam their M-16 rifles but does not affect the AK."
The Kalashnikov is officially in service in 55 countries of the world. Several national emblems feature the rifle, and some boys i
— Phuket Gazette Editors
Keep in contact with The Thaiger by following our
Facebook page
.
Never miss out on future posts by
following The Thaiger
.


Find more SE Asian News courtesy of The Thaiger.

Broke? Find employment in Southeast Asia with JobCute Thailand. Rich? Invest in real estate across Asia with FazWaz Property Group. Even book medical procedures worldwide with MyMediTravel, all powered by DB Ventures.

International travel slow to take off, Covid-19 restrictions evolving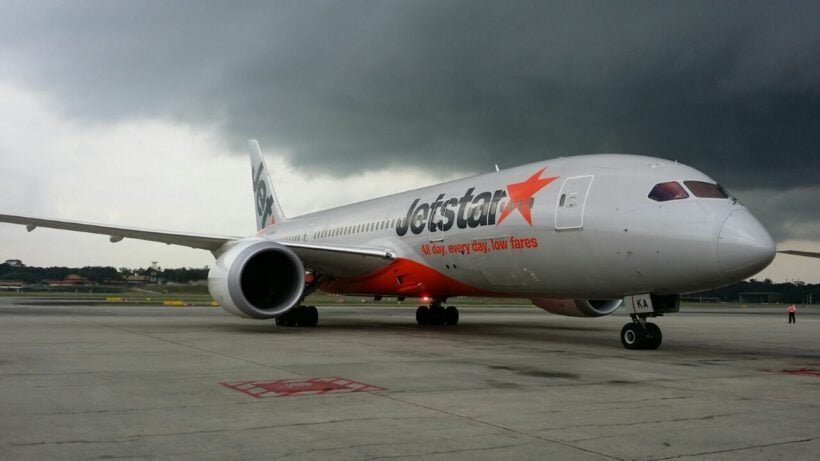 While Thailand is working on safely, and slowly, reopening its borders to foreign tourists after a 7 month border closure, other countries are also adapting to new, pandemic-induced, travel measures and restrictions. Now some are slowly lifting restrictions and resuming flights, while some remain grounded. What's happening in your part of the world?
In all cases, check your local travel restrictions and quarantine requirements, if any. And if you leave a country, what paperwork or restrictions will await you when you return? Don't book any flights until you've done your homework.
Australia
Qantas Airlines flights from Australia to the US will continue to be grounded until at least January 31, 2021 which includes the destinations New York, Los Angeles, San Francisco and Honolulu. The airline will also continue to ground flights to Japan, including Tokyo, Osaka and Sapporo.
Singapore
Jetstar Asia, based in Singapore, will resume flights to major destinations in Southeast Asia with flights to Bangkok starting next month. Since flights are always changing due to uncertainties and travel restrictions, flights to select Southeast Asia cities are only being offered from October 25 to November 15. JetStar will then review flights again. Destinations include Clark in the Philippines, Jakarta in Indonesia as well as Kuala Lumpur and Penang in Malaysia.
Hong Kong
Hong Kong and Singapore have agreed on a travel bubble schemed that will allow Hong Kong nationals and Singapore nationals to travel between the 2 countries without going through Covid-19 tests or quarantine periods. But the countries have not announced when the scheme will begin.
Maldives
All incoming tourists and short-term visitors must have a certificate declaring negative Covid-19 test result issued 96 hours before arrival, extending the window from the previous 72 hours.
SOURCE: TTR Weekly
Catch up with the latest daily "Thailand News Today" here on The Thaiger.
Keep in contact with The Thaiger by following our
Facebook page
.
Never miss out on future posts by
following The Thaiger
.
Covid19 – US infections "balloon", world case total surpasses 40 million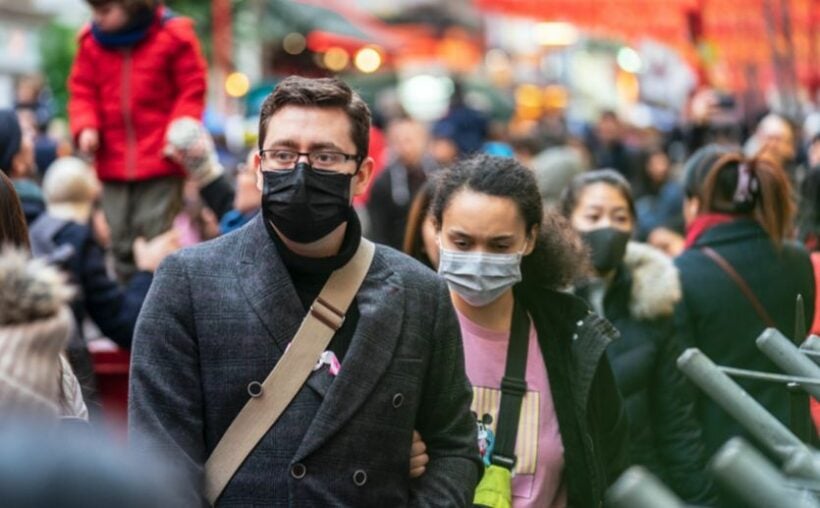 "We were really hoping to crater the cases in preparation for a bad winter. We've done basically the opposite."
New Covid-19 cases are again surging in many countries. Globally, the number of infected people exceeded 40 million as of last night with new infections starting to accelerate again. Today the total number of confirmed cases around the world is 40,323,461. The number of total deaths remains at 1,118,826 and recovered patients at 30,135,040 (as of 4pm Thai time).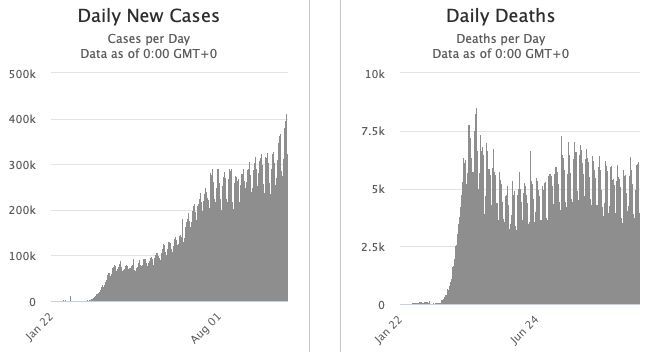 Notably, the death rate from Covid-19 is not rising as treatment for complicated cases continues to rapidly improve. The US, India, Russia, Brazil, the rest of South America, and parts of Europe and the UK, are the current 'hot spots' (below).
Regionally, the surge of cases in Myanmar is causing headaches for Thai border officials in the north west of the country. The Governor of Tak decided to close the border checkpoints this morning. But the 2,000 kilometre long land border between Thailand and Myanmar has many unofficial "Natural" crossing points.
In the US, the nation's top infectious disease doctor, Dr. Anthony Fauci, director of the National Institute of Allergy and Infectious Diseases, says following public health measures is the way out of the crisis that has hobbled the economy, claimed thousands of lives and sickened millions.
"The predicted fall surge is here, and rising cases across the US appear to bear that out."
The US is averaging more than 55,000 new cases a day, and 10 states reported their highest single-day cases counts last Friday. As of this morning, US time, there were more than 8.5 million cases and 219,674 coronavirus deaths, according to Worldometers.info
"The Covid-19 crisis would have to be 'really, really bad' to implement a national lockdown. Despite the climbing totals, a nationwide lockdown is not the way forward unless the pandemic gets "really, really bad."
Tara Smith, a professor of epidemiology at Kent State University says the worst fears of rising cases, leading into winter, are being realised.
"We were really hoping to crater the cases in preparation for a bad winter. We've done basically the opposite."
After hitting an all-time high in July, cases did drop significantly, but the US never reached a level where the public health system could truly get a handle on the outbreak or describe it as 'contained'.
Now infections are on the rise again, driven by ballooning outbreaks across the country's interior, especially in the Midwest, the Great Plains and the West.
Contributing to the rise is the return of students to schools and campuses across the country, puzzling resistance to social distancing and mask wearing recommendations, and more people spending time in restaurants and other indoor settings as the weather starts to cool down.
SOURCE: worldometers.info | nor.org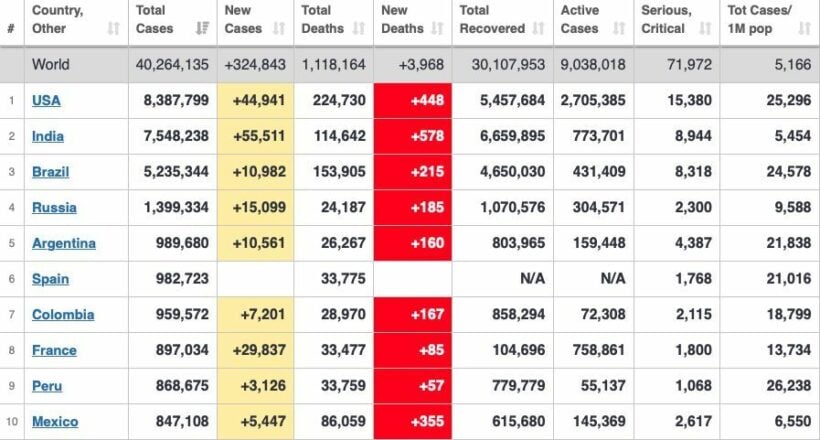 TABLE: worldometers.com
Keep in contact with The Thaiger by following our
Facebook page
.
Never miss out on future posts by
following The Thaiger
.
2 Covid vaccine trials halted in phase 3 over safety concerns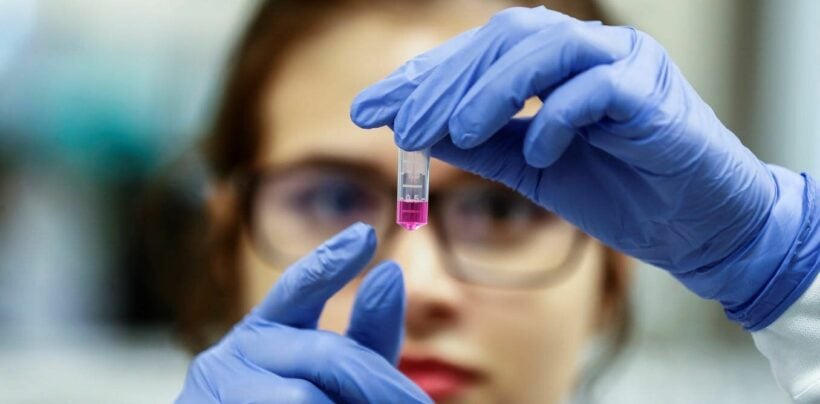 After Johnson & Johnson paused phase 3 of its Covid vaccine trials due to safety concerns, a second pharmaceutical company has followed suit. Eli Lilly has halted phase 3 trials of a lab-produced antibody treatment, 24 hours after the Johnson & Johnson decision. The Bangkok Post reports that an unspecified incident led Eli Lilly to call a temporary halt to the trials. The day before, Johnson & Johnson paused its phase 3 trials after a participant fell ill. A spokesperson for J&J says the hiatus is temporary.
The 2 delays follow a similar incident with phase 3 trials of a vaccine being jointly worked on by Oxford University and Astra Zeneca, which was briefly delayed last month due to an unexplained illness in one participant. Trials of that vaccine have now resumed globally, with the exception of the US, for reasons unknown. Such snags are par for the course in the final phase testing of vaccine development, particularly as the number of participants is increased significantly to see if very rare side-effects are presented.
A spokesperson for Eli Lilly says the company backs the Data Safety and Monitoring Board in calling a temporary halt to phase 3 trials.
"Lilly is supportive of the decision by the independent DSMB to cautiously ensure the safety of the patients participating in this study."
Eli Lilly's trial began in August, aimed at recruiting 10,000 participants, across 50 sites, including the US, Denmark and Singapore, using a lab-produced antibody treatment, similar to that developed by Regeneron and used to treat US President Donald Trump recently. Eli Lilly has not given any further information about the safety concern which has paused phase 3.
Meanwhile, a J&J spokesman says such breaks are to be expected in large-scale trials and that reported illnesses or side-effects may be unrelated to the vaccine.
"It's not at all unusual for unexpected illnesses in large studies over their duration. In some cases, serious adverse events may have something or nothing to do with the drug or vaccine being investigated."
SOURCE: Bangkok Post
Keep in contact with The Thaiger by following our
Facebook page
.
Never miss out on future posts by
following The Thaiger
.