Belgians hunt Islamic State suspect after blasts kill 30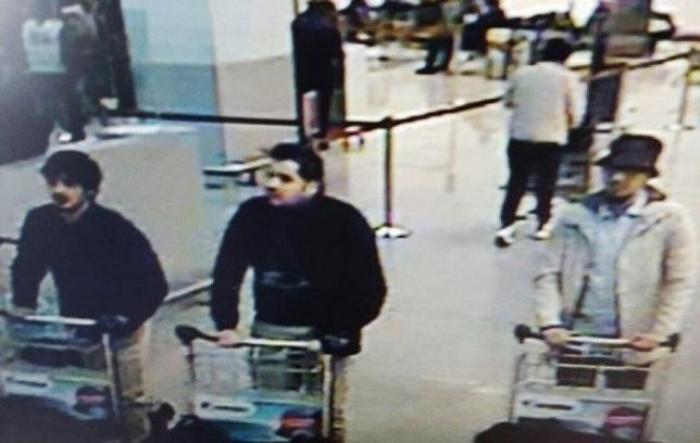 PHUKET MEDIA WATCH
– World news selected by Gazette editors for Phuket's international community
Belgians hunt Islamic State suspect after blasts kill 30
Phuket Gazette / Reuters


BRUSSELS: Belgian police are hunting an Islamic State suspect seen with two supposed suicide bombers shortly before they struck Brussels Airport in the first of two attacks that also hit the city's metro, killing at least 30 and wounding over 200.
The blasts on Tuesday claimed by the Syrian-based militants four days after the arrest in Brussels of a prime suspect in November's Paris attacks, sent shockwaves across Europe and around the world, with authorities racing to review security at airports and transit systems, and drawing an outpouring of solidarity.
"We can and we will defeat those who threaten the safety and security of people all around the world," said U.S. President Barack Obama. Donald Trump, the front-runner for the Republican nomination to succeed Obama in November's election, suggested that suspects could be tortured to deter such attacks.
Brussels police mounted an operation in the north of the city, turning up another bomb, an Islamic State flag and bomb-making chemicals in an apartment in the borough of Schaerbeek.
Local media said authorities had followed a tip from a taxi driver who believed he may have driven the bombers to the airport.
Investigators said they were focusing on a man in a hat who was caught on CCTV pushing a laden baggage trolley at the airport with two others they believed were the bombers. An unused explosive device was later found at the airport and a man was seen running away from the terminal after the explosions.
Security experts believed the blasts, which killed about 20 on a metro train running through the area that houses European Union institutions, were probably in preparation before Friday's arrest of locally based French national Salah Abdeslam, 26, whom prosecutors accuse of a key role in the Nov. 13 Paris attacks.
He was caught and has been speaking to investigators after a shootout at an apartment in the south of the city a week ago, after which another Islamic State flag and explosives were found. It was unclear whether he had knowledge of the new attack or whether accomplices may have feared police were closing in.
Islamic State said in a statement that "caliphate soldiers, strapped with suicide vests and carrying explosive devices and machineguns" struck Zaventem airport and Maelbeek metro station.
It was not clear, however, that the attackers used vests. The suspects were photographed pushing bags on trolleys, and witnesses said many of the airport dead and wounded were hit mostly in the legs, possibly indicating blasts at floor level.
MAN IN THE HAT
Officials said the final death tolls remained uncertain from the carnage in the morning rush hour, around 8 a.m. (03:00 a.m. EDT) at the airport and shortly after 9 a.m. on the metro.
"A photograph of three male suspects was taken at Zaventem. Two of them seem to have committed suicide attacks. The third, wearing a light-colored jacket and a hat, is actively being sought," prosecutor Frederic Van Leeuw told a news conference.
The two men in dark clothes wore gloves on their left hands only. One security expert speculated they might have concealed detonators. The man in the hat was not wearing any gloves.
"If you recognize this individual or if you have information on this attack, please contact the investigators," a police wanted notice for the third man read. "Discretion assured."
Belgian authorities were still checking whether the attacks were linked to Abdeslam's arrest, said Van Leeuw.
Islamic State warned of "black days" for those fighting it in Syria and Iraq. Belgian warplanes have joined the coalition in the Middle East, but Brussels, home to the European Union and NATO headquarters, has long been a center of Islamist militancy.
Some 300 Belgians are estimated to have fought with Islamists in Syria, making the country of 11 million the leading European exporter of foreign fighters and a focus of concern in France and other neighbors over its security capabilities.
"What we had feared has come to pass," said Belgian Prime Minister Charles Michel, vowing to face down the threat.
On Wednesday, he will host a prearranged visit by French Premier Manuel Valls, who declared: "We are at war."
Reviving arguments over Belgian policies following the Paris attacks, in which 130 people were killed in an operation apparently organized from Brussels, French Finance Minister Michel Sapin spoke of "naiveté" on the part of "certain leaders" in holding back from security crackdowns on Muslim communities.
A lawmaker from Michel's party, Didier Ducarme, hit back on French television. He said comments like Sapin's "are starting to seriously irritate me" and noted it was a France-based gunman who killed four at Brussels' Jewish Museum in 2014.
Michel, who locked down the Belgian capital for days in fear of a follow-up attack after the November bloodshed in Paris, has dramatically increased the budget of security forces.
But experts say tracking militants among the country's half-million Muslims, 5 percent of the population, has been hampered by political divisions and a lack of resources.
Australian Prime Minister Malcolm Turnbull said Europeans had "allowed (security arrangements) to slip". The departures hall of the airport, similar to arrangements across Europe, was open to the public, with no screening of identities or baggage.
Citizens of the United States, Spain and Sweden were among the injured, their governments said. U.S. broadcaster ABC said nine Americans were hurt in the Brussels bombings.
The U.S. State Department, saying that "terrorist groups continue to plan near-term attacks throughout Europe," warned U.S. citizens in Europe to avoid crowded places and be vigilant when in public or using public transit.
Trump said torture could be useful to extract information before attacks: "Waterboarding would be fine. If they can expand the laws, I would do a lot more than waterboarding," the billionaire businessman said of an interrogation technique practice banned by Obama.
"You have to get the information from these people."
WANTED MAN
Abdeslam, who prosecutors say confessed to being the 10th Paris attacker but failed to emulate his suicide bomber brother, appears to have spent four months undetected in Brussels, aided by a network of friends and petty criminal contacts.
After questioning him, police issued a wanted notice for 25-year-old Najim Laachraoui, a former fighter in Syria whom local media say they suspect of helping arm the Paris attacks. The poor quality of Tuesday's CCTV images left open the possibility that Laachraoui might be the third man caught on the airport cameras.
A witness said he heard shouts in Arabic and shots shortly before two blasts struck in a crowded airport departure lounge at the airport. Belgian media said police found a Kalashnikov assault rifle next to the body of an attacker.
A lockdown imposed after the attacks was eased and public transport was due to reopen, at least in part, on Wednesday, although the airport will be closed at least another day.
Austrian Horst Pilger, waiting on a flight with his family, said his children had thought fireworks were going off, but he instantly knew an assault was under way.
"My wife and I both thought 'bomb'. We looked into each other's eyes," he said. "Five or 10 seconds later, there was a major, major, major blast in close vicinity. It was massive."
Pilger, who works at the European Commission, said the whole ceiling collapsed and smoke poured through the terminal.
Passengers on the metro line running under the rue de la Loi connecting the EU quarter with central Brussels felt shockwaves and then smoke when the bomb tore through a carriage of a train leaving Maelbeek station. The metro car was totally devastated.
Although Europeans have been used to urban guerrilla attacks for decades, some bloodier than Tuesday's events in Brussels and none as costly as al Qaeda's Sept. 11, 2001, attacks on the United States, the wide reach of Islamist violence, striking notably London and Madrid as well as Paris, has unnerved many.
In an outpouring of sympathy across the continent, Paris' Eiffel Tower was lit up with the red, gold and black colors of the Belgian flag.
The Twitter hashtag #JeSuisBruxelles was trending as were cartoons riffing on the theme of the city's irreverent emblem, Manneken Pis, a small fountain statue of a boy urinating. In the images, he is cheekily relieving himself on a Kalashnikov.
— Phuket Gazette Editors

Join the conversation and have your say on Thailand news published on The Thaiger.
Thaiger Talk is our new Thaiger Community where you can join the discussion on everything happening in Thailand right now.
Please note that articles are not posted to the forum instantly and can take up to 20 min before being visible. Click for more information and the Thaiger Talk Guidelines.