World
Asylum seekers accuse Australian navy of abuse as boat towed to Indonesia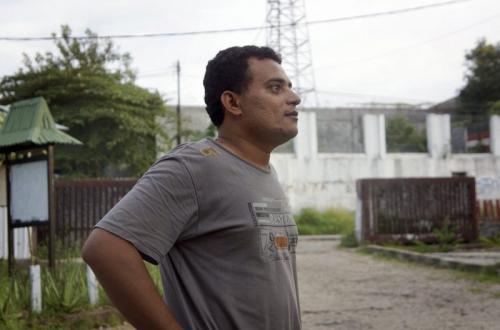 PHUKET MEDIA WATCH
– World news selected by Gazette editors for Phuket's international community
Asylum seekers accuse Australian navy of abuse as boat towed to Indonesia
Reuters / Phuket Gazette
PHUKET: On New Year's day, 45 asylum seekers in a ramshackle wooden boat slid ashore on a small island off the Australian city of Darwin. Four others had been swept overboard that morning in rough seas and were believed dead.
The survivors, from Africa and the Middle East, stumbled onto the beach, thankful to find refuge on Australian soil. Or so they thought.
Within an hour, an Australian warship and other vessels arrived. Military personnel forced the asylum seekers back onto their wooden boat and towed it out to sea. Their destination: Indonesia.
Determining precisely what happened is difficult. But interviews with five of the passengers reconstructs a journey they say was marked by physical and verbal abuse.
Their accounts highlight just how far the newly elected conservative government of Prime Minister Tony Abbott is going to meet his election promise to "stop the boats" – a policy which involves towing vessels back to Indonesia, the main departure point for people-smuggling boats.
In a statement in response to questions on the accusations from the five asylum seekers, Immigration and Border Protection Minister Scott Morrison said he did not give "credibility to malicious and unfounded slurs".
"I know and trust that our Navy and Customs and Border Protection Service act in accordance with their training and lawful orders and would only use force where necessary," he said. The navy refers all questions about the operations to Morrison's office.
About 16,000 asylum seekers came on 220 boats to Australia in the first seven months of last year. The government has said that since mid-December, not a single boat has arrived.
In separate interviews, the five asylum seekers all said their vessel landed on the island – raising questions about what Canberra means when it says no boats have arrived. One of the men said he had carried a Global Positioning System (GPS) device that showed Darwin was roughly 35 km away.
They also gave multiple accounts of military personnel using plastic zip ties and pepper spray to restrain asylum seekers. Passengers were denied proper access to food, water, medical treatment and toilets, they added.
Reuters was given permission by Indonesian immigration authorities to interview the five men, who were detained when their boat arrived back in Indonesia. Four were interviewed in person in the city of Kupang and the other by telephone.
Towed Out To Sea
Tensions flared as soon as the Australian military personnel arrived on the island off Darwin, said Yousif Ibrahim Fasher, an English-speaker from Sudan's Darfur region. He said he told the Australians that four men had been swept overboard.
"We told them: 'that direction, we lost people.' We told them everything. They said: 'No, you go back to the boat'."
"We refused, and then they used force," Fasher said.
Men who resisted were picked up by their arms and legs and dumped in the boat, the asylum seekers said. Fasher said he saw military personnel kick and use zip ties to handcuff one man who tried to flee.
The boat, its engine crippled after men sabotaged the motor on arrival, was tethered to a navy speedboat and towed back to sea.
Morrison said claims of four people falling overboard had been investigated and that he was confident they were not true.
Abbott came to power last September partly because of his tough stance on asylum seekers, an issue that has polarised Australia since the first boats from Vietnam came in the 1970s. The government has offshore detention centres in the impoverished South Pacific nations of Papua New Guinea and Nauru capable of holding thousands.
He has likened the battle to stop the boats as a war, insisting secrecy is important to prevent "the enemy" receiving information.
The U.N. refugee agency has warned that Australia could be breaking its obligation under the U.N. Refugee Convention by failing to hear asylum seekers' claims.
Not Quite Australian Soil
Standing on the beach that New Year morning, Mansoor Ali, a former sailor in the Eritrean Navy, stared at his GPS device.
His reading suggested the boat had landed on one of several islands north of Darwin in Australian territorial waters, a former Australian Navy officer with experience in intercepting asylum seeker boats told Reuters.
But unbeknown to Ali, the sand beneath his feet was not as Australian as he assumed.
In 2001, then Prime Minister John Howard made it harder for asylum seekers by removing the right of unauthorised boat arrivals to apply for a visa on landing in several territories, such as Christmas Island, that were popular due to their proximity to Indonesia.
Under pressure from then-opposition leader Abbott over a surge in asylum seekers, the previous Labour government last year expanded this to include all of Australia's coastline.
For Ali and the others, the result was immediate: an armed escort back to where they came from.
Tensions Build
Once out to sea, the asylum seekers were guarded by 10 personnel from the warship HMAS Parramatta, according to witness recollections of its hull number. Shifts changed every four hours.
Some of the guards called asylum seekers "monkeys" and told them they were not wanted in Australia, Fasher said.
Guards imposed strict discipline on the cramped, roughly 10-metre-long boat. Food and water were insufficient and some requests for medical help went unheeded, the asylum seekers said.
The greatest tension built towards the back of the craft, in a room below deck where Australian engineers struggled to repair the engine. The room was the only route to the toilet.
Fearing someone would break the engine once it had been fixed, the Australians instituted a rule: one visit to the toilet per day for men, and only night visits for women.
"I remember they used to stop us going to the bathroom. Forbidden to stand, forbidden to speak, forbidden to raise your voice," said Bakil Abdul Hamid, a 28-year-old Yemeni, who said his brother Mohammad was one of the four swept to their deaths on January 1.
As the trip wore on, hope dwindled. After several days, unrest broke out. Taking the opportunity with the boat stationary as Australian engineers again tinkered with the engine, the asylum seekers launched a desperate protest.
Ali was the first to hurl himself into the water, three asylum seekers said. At least 10 others jumped in. Guards began tackling, pepper-spraying and zip-tying people in an effort to stop more following. Some of those pulled from the water said they were then pepper-sprayed in the face.
"We were suffering. People did not prefer life to death," said Faisal Salaad, a 33-year-old who said he watched the scuffle as he floated in the sea.
Back In Indonesia
The following day, as the boat continued its journey, violence broke out again.
Around midday four men, angered by the toilet curbs, went into the engine room.
The first through the door, Bobies Ibrahim Nooris, 20, was pepper sprayed in the eyes, he recalled, causing him to stumble into an engine exhaust and seriously burn his hand.
Fasher was the only passenger spoken to by Reuters who claims to have seen what happened next.
Military personnel grabbed the hands of the other three men and forced them onto th
— Phuket Gazette Editors

Join the conversation and have your say on Thailand news published on The Thaiger.
Thaiger Talk is our new Thaiger Community where you can join the discussion on everything happening in Thailand right now.
Please note that articles are not posted to the forum instantly and can take up to 20 min before being visible. Click for more information and the Thaiger Talk Guidelines.