Want to win 100,000 baht? Name the new skywalk.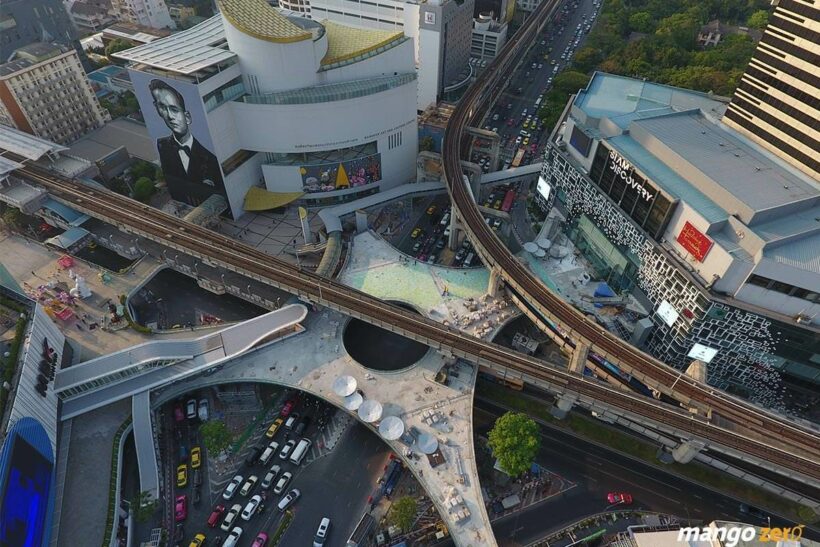 In case you've been away or just not read the news for a few weeks, Bangkok has a stunning new walkway above the Pathum Wan intersection. It's cost 300 million baht and taken two years to construct. But it's now open and become the new place-to-meet-friends in the capital.
But the Skywalk doesn't have a name. The Bangkok Metropolitan Authority and local investors need your help and are happy to give you 100,000 baht if you can come up with a name for the walkway. The name needs to be submitted in both English and Thai. The key messages, we're told, is to reflect the ideas of an 'art district' or 'epicentre'. Currently the new walkway is adorned with street art and murals by 13 local artists.
The catch is you need to be a Thai national to enter the competition. A shame because we've come up with the perfect name…
'Luke Skywalk'.
But we can't enter
🙁 But maybe you can or have a Thai buddy who can enter your amazing name suggestion on your behalf.
The winner will be announced on September 14.
Click the link below to get all the information about the naming competition.
The skywalk connects MBK Center shopping centre, Siam Discovery, Siam Square, Bangkok Art & Culture Centre and the Scala Theatre.
https://www.siam-synergy.com/en/topics/siam-synergy-contest/
PHOTO: Mango Zero
Keep in contact with The Thaiger by following our
Facebook page
.
Thai app will ease expat immigration woes and make 90 day reporting simple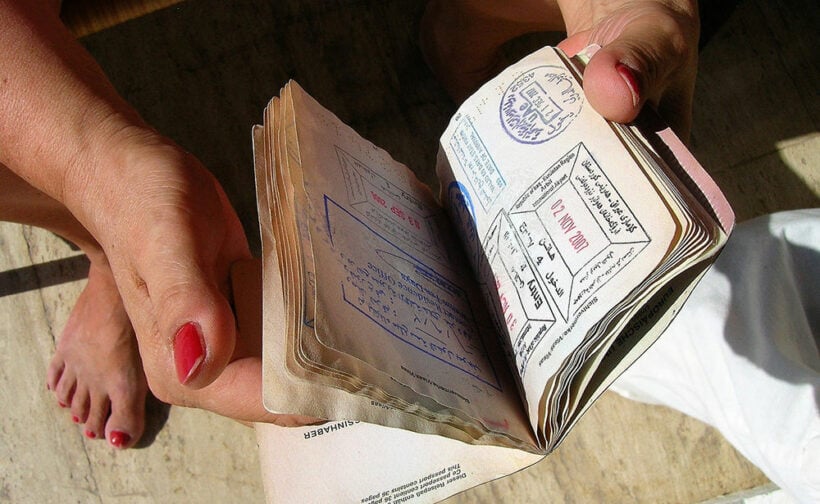 The "OSS Foreigner" app is coming, and you will be able to use it for 90 day reporting, according to the Secretary-General at the office of the PM.
Dr Kobsak Pootrakool says the planned app can be used for all immigration reporting, including 90 day reports, adding that typing in the required data and uploading a selfie will accomplish the same result as filling out paperwork at the local immigration office but without having to make the trip there.
Dr Kobsak has been given responsibility for sorting out the TM30 debate and says the immigration app, called OSS Foreigner, is nearly complete and should make all those who live and work in Thailand feel more welcome and make compliance easier and more convenient.
The TM30 form, and its companion, the TM28, have been a source of expat displeasure over the past five months since the immigration department decided to enforce a little-used 1979 law that required foreigners to report their whereabouts if they had stayed overnight at an address different from their registered address.
This latest move comes as part of a wider program to make Thai public services more efficient, with Dr Kobsak making the announcement while outlining plans for all Thai government departments to embrace digital technology by as early as 2022. Meanwhile, the Deputy PM Somkid Jatusripitak is championing a programme to improve Thai public services for both Thai citizens and foreigners.
"The government's new approach to IT and digital technology is designed to deliver a smarter, easier service as part of the Thailand 4.0 economic model."
SOURCE: The Pattaya News
Keep in contact with The Thaiger by following our
Facebook page
.
EU and UK zone in on possible breakthrough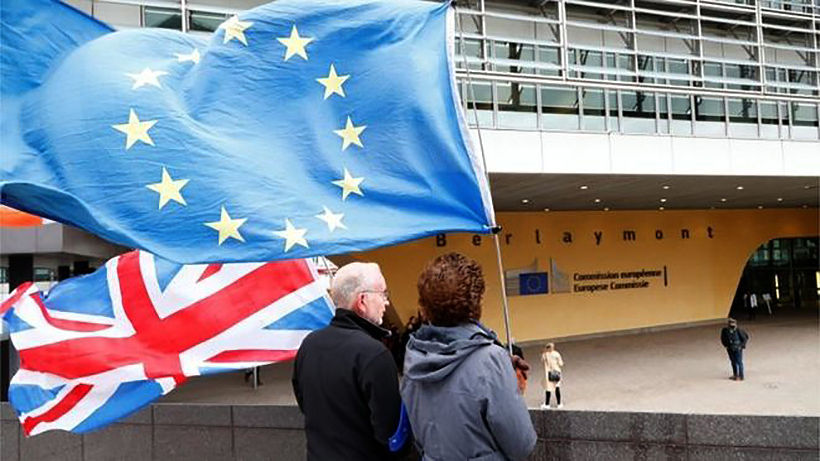 British and European negotiators headed back into intense negotiations on a draft Brexit deal after late-night talks brought them closer but so far fails to confirm an elusive breakthrough.
Reports that Britain has softened its stance on the customs status of Northern Ireland in order to clinch an accord at this week's European summit had raised hopes that a chaotic "no-deal Brexit" can be avoided and is driving the pound higher.
But a marathon overnight negotiating session in the EU's Brussels headquarters brought them to the eve of the meeting with still some distance to go to agree the wording of a treaty to govern the terms of Britain's October 31 departure from the bloc.
"The teams worked into the night and continue to make progress. The teams will meet again this morning," a UK official said, describing the talks as "constructive". He and EU officials said the teams would get back to work at around 9am.
A senior European diplomat told AFP that the negotiators had begun to transcribe the British offer into a legal text that could eventually go before the 28 EU national leaders on Thursday at their European Council summit which begins on Thursday.
But there remain some important differences, he cautioned, while a European official, speaking on condition of anonymity as closed-door negotiations continue, played down hopes that any text would be finalised Wednesday.
Even if a text is prepared for the leaders this week – or if, as many observers in Brussels expect, an extraordinary summit is called later – any deal would have to be approved by a skeptical British parliament, which holds a special session on Saturday.
By agreeing to a form of customs boundary in the Irish Sea, Britain could allow its province of Northern Ireland to remain under EU rules, prevent a return to a hard land border with EU member Ireland and salvage a negotiated withdrawal.
But Prime Minister Boris Johnson may struggle to convince hardline Conservative eurosceptic MPS and his allies from Northern Ireland's loyalist Democratic Unionist Party (DUP) to accept this concession — less than three weeks before Britain is due to leave the EU.
Nevertheless, EU negotiator Michel Barnier and British Brexit minister Stephen Barclay judged that a deal was close enough to justify officials working into the early hours of Wednesday morning.
Barnier had said a text must be on the table by Wednesday if member state governments are to have a chance to consider it before the summit, because the 28 national leaders have no plans to themselves debate the details of the agreement.
But if, as now seems likely, the Wednesday deadline is missed, officials said talks could instead resume next week and a special summit be called just in time for Johnson to fulfil his pledge to lead Britain out of the bloc on October 31.
European leaders warn they will not let Britain use Northern Ireland as a back door to the single market and Barnier said Tuesday that "it is high time to turn good intentions into legal text."
Yesterday, German Chancellor Angela Merkel outlined why EU officials are driving a hard bargain and hoping Britain will commit to a "level playing field" in post-Brexit trade and commerce.
"One thing is clear, Britain will develop into another competitor on the doorstep of Europe. And therefore the EU will be challenged to become more competitive and to assume geopolitical responsibility."
Glimmers of hope
"The last moment is always a bit later than you think," one German government official told AFP, suggesting Brexit would have to be postponed beyond the end of the month if talks are to reach a successful conclusion.
More than three years after Britain's 2016 referendum vote to leave the European bloc, talks remain stuck on how to avoid customs checks on the border between British-ruled Northern Ireland and EU-member Ireland.
The EU has reservations about London's proposed customs arrangements and the role for Northern Ireland's Stormont assembly in giving consent to the plans.
In London, DUP leader Arlene Foster told the BBC that she wanted to support a deal, but would not do so if she felt it divided Northern Ireland from the rest of the UK and added that without her party's support "everybody knows" it would not pass in parliament.
If no deal is reached by Saturday, Johnson will fall foul of a British law demanding he ask the EU to postpone Brexit for a third time rather than risk a potentially disastrous "no deal" departure.
SOURCE: Agence France-Presse
Keep in contact with The Thaiger by following our
Facebook page
.
Karaoke premises raided in central Thailand, 3 underage sex workers rescued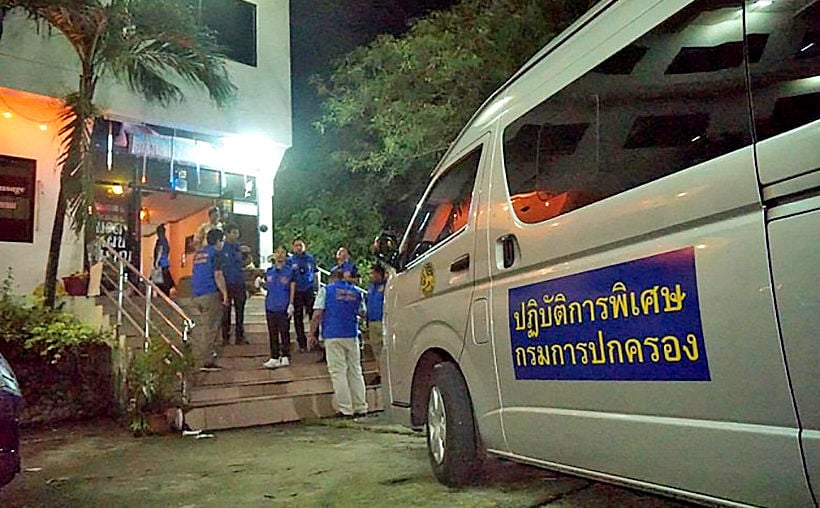 The Nation reports that 3 underage sex workers have been rescued after raids on a karaoke restaurant and a karaoke massage parlour in Ang Thong, central Thailand.
The raids were confirmed at a press conference held by Ronnarong Thipsiri, Head of the Department of Provincial Administration's investigation and suppression division, along with Sakda Bandasak, sheriff of Ang Thong's Muang district. Ronnarong alleges both premises were using the underage girls as prostitutes.
"We collaborated with Damrong Dhama Centre and anti-human trafficking organisations and learnt that two karaoke joints in Ang Thong were employing underage sex workers. These were the Chil Chil Karaoke on Highway No. 3064, Pa Ngiew sub district of Muang district, and Jittra Karaoke on the ground floor of a hotel in Muang district."
During the raids, police identified 6 sex workers offering services to a group of customers. Four of the girls were Thai and two were from Laos. Three were under the age of 18, with the youngest being 15 years old. A large number of used condoms were also found.
Somjit Phetwijit and Aphirom Pheungpracha, the owners of Chil Chil Karaoke and Jittra Karaoke respectively were arrested and charged with human trafficking, solicitation of prostitution, prostitution of an underage person, and opening an entertainment facility without a licence.
A 17 year old girl from Jittra Karaoke told the press she was hired to sit and drink with clients and was paid 50 baht each time a client ordered a drink.
"Clients can buy sex for 1,500 baht a time or pay 3,500 baht for a whole night. They can either use massage rooms in the back or bring the girls to other hotels of their choice."
SOURCE: The Nation
Keep in contact with The Thaiger by following our
Facebook page
.