THURSDAY MORNING BRIEFING – All your news in 3 minutes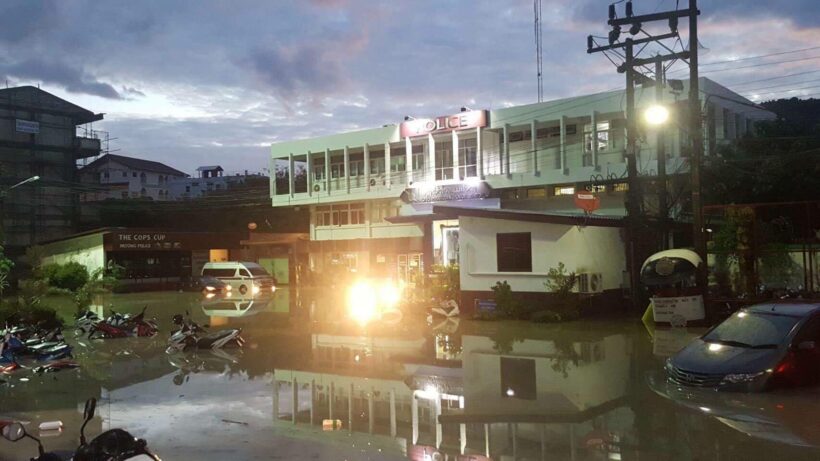 A lot of rain overnight so there has been some wet and slippery roads around the island this morning. Patong Police Station, as usual, suffers when there's heavy rain. More racing down at Kata today for the Phuket King's Cup. Nakhon Si Thammarat is really copping heavy rains and our Deputy PM is being asked 'please explain' about his 'bling'.
Crash kills six in Krabi
Police are still investigating the deaths of six family members that were killed when their pickup truck lost control at a notorious sharp curve in Krabi's Nua Klong district and crashed into a power pole.
The truck was driven by a 60 year old retired policeman. Police speculate the truck entered the curve at high speed and lost control.
They say the man was taking his family to Krabi to have dinner with his children, who run a businesses in the downtown area, to celebrate Father's Day on Tuesday. Local residents said the curve was often the scene of accidents.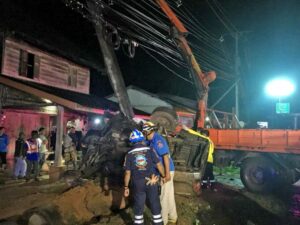 Michelin Guide BKK – no three star restaurants
The debut edition of Michelin Guide Bangkok has awarded one star to the famous street food eatery Jay Fai, which serves up high-quality seafood dishes, while three luxury establishments – Gaggan, Le Normandie and Mezzaluna – have earned two stars. No restaurant has achieved the coveted highest three-star rating.
The inaugural edition awarded 14 restaurants one star, highlighting the quality of local cuisine, as seven of them offer Thai food. The other one-starred restaurants are Japanese, three French establishments as well as Suhring, Elements and Upstairs at Mikkeller.
During the past eight months, Michelin's full-time food inspectors have made anonymous visits to restaurants to gauge their food. Restaurants are rated on such criteria as the quality of ingredients, consistency, cooking technique and flavour, the chef's personality and value for money.
The Michelin Guide Bangkok makes Thailand the second country in Southeast Asia after Singapore and the sixth in Asia to have its own culinary reference.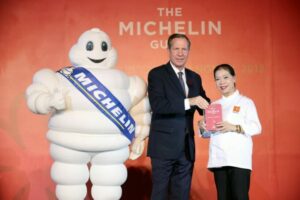 Nakhon Si Thamarat inundated
Nakhon Si Thammarat is struggling with a flood crisis that is claiming lives, disrupting train services and threatening to inundate the province's main airport.
The province's central area is also on the verge of being overwhelmed by rising floodwaters due to high tides and ongoing heavy rain.
The main commercial zone is now under 1.5 metres of water and a flooded road in the province is being blamed for two deaths after the bodies of the two women who went missing when their bus was washed off a road were found yesterday morning.
Officials managed to rescue the bus driver and 49 passengers but the two women were unaccounted for until their bodies were found.
The Disaster Prevention and Mitigation Department say floods had already claimed 15 lives in the South from November 25 until yesterday.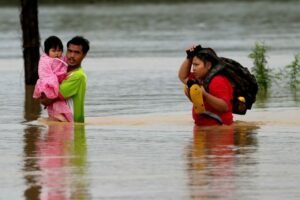 Deputy PM being asked to explain his wealth
The National Anti-Corruption Commission is launching an investigation into Deputy Prime Minister and Defence Minister General Prawit Wongsuwan's 'bling', specifically his multi-million baht watch and big diamond ring he was wearing in a group photo last week.
NACC acting secretary-general Worawit Sukboon yesterday said the anti-graft body would start the investigation immediately as it was an issue of public interest.
Depending on the results of the investigation, Prawit could be found to have wrongfully concealed assets – and also for possessing irregular wealth, as the 72-year-old retired general has at least 87 million baht in assets despite working only for the military and being unaffiliated with any businesses.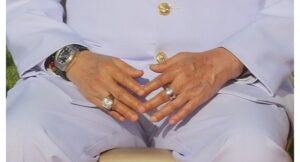 Alcohol body calls for consultation with new alcohol laws
The Thai Alcohol Beverage Business Association says the public and private sectors should work together to clarify the ambiguities in the country's new alcohol control law.
They claim cooperation would effectively tackle underage drinking, a high road accident rate and social problems caused by excessive drinking, the group said.
Thanakorn Kuptajit, president of TABBA, says that, despite being well-intentioned, the new laws are ambiguous in some areas, as well as being overly dependent on the discretion of officials, resulting in the lack of definitive guidelines.
According to WHO figures, Thailand ranks 72nd globally on the list of alcohol consumption per capita of people aged over 15 years. This statistic contradicts the common belief that the nation places near the top when it comes to alcohol consumption.

Former engineer convicted over hospital bombing
The Criminal Court yesterday convicted a former engineer of a bomb attack inside Phra Mongkutklao Hospital in May and sentenced him to 27 years in jail.
The court found 62 year old Watana Phummaret, a former Electricity Generation Authority of Thailand employee, guilty of the premeditated bomb attack at the hospital that injured 21 people, most of them retired military officers, and caused damage worth more than 1 million baht.
The court said there was strong evidence that Watana had assembled a pipe bomb and put it inside a vase in front of a pharmacy on May 22. He then detonated it with a timer.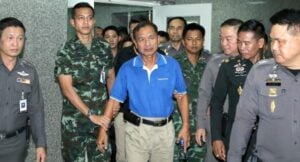 Keep in contact with The Thaiger by following our
Facebook page
.
Never miss out on future posts by
following The Thaiger
.
Criminal Court reverses decision to close down some Thai media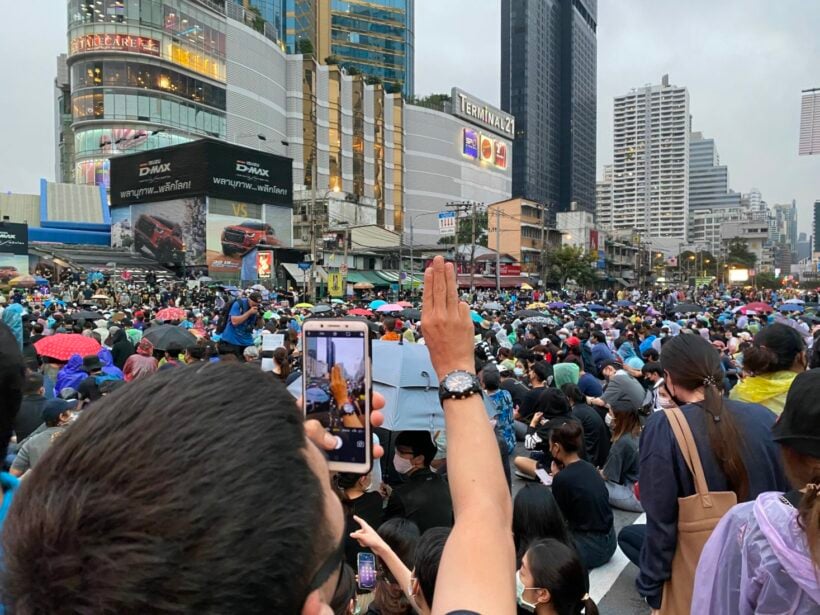 Today was a win for Thai media companies after some authorities tried to silence them amid pro-democracy protests. The court initially ruled to suspend Voice TV for allegedly violating State of Emergency orders, but today the court reversed the ruling, saying Thailand's Constitution does not give the court power to shutdown the media platforms.
Along with reversing the ruling on Voice TV, the court also dismissed a request to suspend 3 other Thai news outlets covering the protests and to block the activist-run Free Youth Facebook page, according to The Standard.
The National Police Chief had recently requested authorities suspend the news outlets – The Standard, Prachatai, Voice TV and The Reporters – for allegedly violating government orders by spreading content that was a "threat to national security."
The Standard posted on its Facebook page today saying the news channels have the freedom of press under Section 36 of Thailand's Constitution.
Section 36: A person shall enjoy the liberty of communication by lawful means. Censorship, detention or disclosure of communication between persons including any other act which discloses the content of a communication between persons shall not be made except by virtue of law specifically enacted for security of the State or maintaining public order or good morals.
Voice TV also posted on Facebook announcing they will continue to operate as normal.
"The court lifted the petition because it saw that the constitution protects the freedom of public communication and press."
Digital Economy and Society Ministry spokesperson said in a previous report that Voice TV had violated the Computer Crime Act by spreading "false information." Voice TV says they are doing a professional duty and do not report distorted or misleading information.
SOURCES: The Standard| Voice TV
Catch up with the latest daily "Thailand News Today" here on The Thaiger.
Keep in contact with The Thaiger by following our
Facebook page
.
Never miss out on future posts by
following The Thaiger
.
Royalists gather in Chon Buri to support the Thai Monarchy amid anti-government protests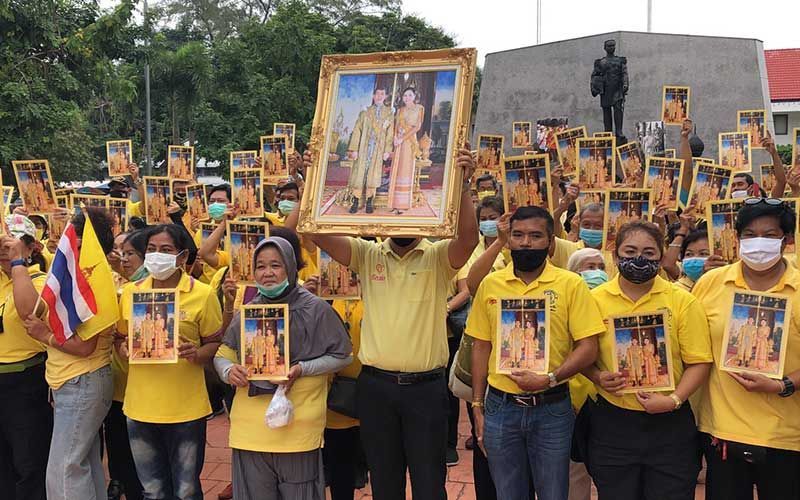 While pro-democracy protesters have been gathering nationwide over the past week, especially in their cat-and-mouse "pop up" protests around the capital, calling on an end to the military-run government and pushing the Thai PM to resign, royal supporters gathered at Chon Buri's Banglamung District Office to show their support for Thailand and the Thai Monarchy.
They say they welcome discussion from the protesters, but not "insults against our most sacred institution".
The royalists were dressed in yellow, a colour that symbolises the Thai Monarchy. They presented a letter to the district chief to be passed along to the governor expressing their support for the highest Thai Institution and their disapproval of insults spread online by pro-democracy protesters.
"Due to the current protest situation in Bangkok, Banglamung and other areas in Thailand, there are many photos, videos and comments that have insulted our most sacred institution which have gone viral in social media.
We appreciate our beloved monarchy. We must protect our monarchy."
SOURCE: Pattaya News
Catch up with the latest daily "Thailand News Today" here on The Thaiger.
Keep in contact with The Thaiger by following our
Facebook page
.
Never miss out on future posts by
following The Thaiger
.
Large "chunk" breaks off Krabi island, damaging coral reef at popular dive site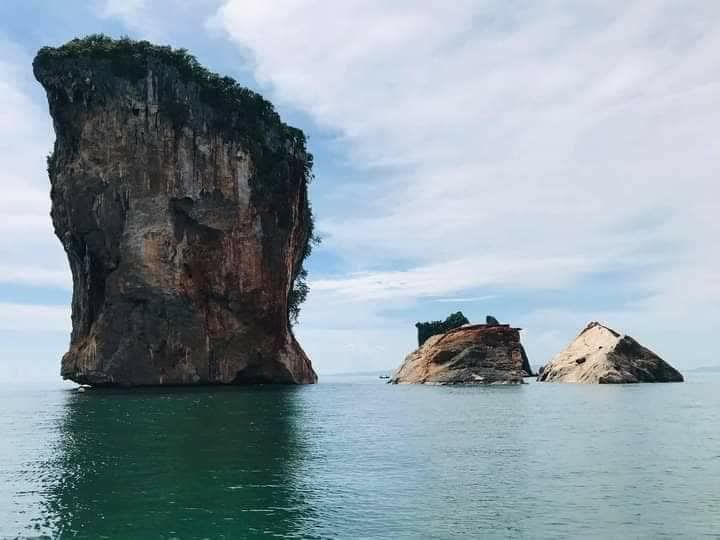 A large chunk of an island near Koh Phi Phi in southern Thailand has broken off and collapsed on top of a coral reef at a popular dive site. No one was around when the cliffsides sheered off and collapsed into the sea, but national park officers on a routine patrol noticed a section of the island had broken off and saw two large sections of rock above the water.
There has been considerable rain in the region over the past 2 months.
A section of Koh Mae Urai, located between Koh Phi Phi and Krabi, broke off in 2 large pieces estimated to weigh around 30,000 to 50,000 tonnes. Divers headed down to examine the site to see how much damage has been done to the coral reef. The water has been murky, so it's hard to tell how much damage was done, but Koh Phi Phi National Park chief, Prayoon Phongphan, says he thinks 20% of the coral around the island was damaged.
"At this stage, we do not know how much of the reef was damaged, but the reef is home to important coral, including staghorn coral, and was a popular dive site for tourists."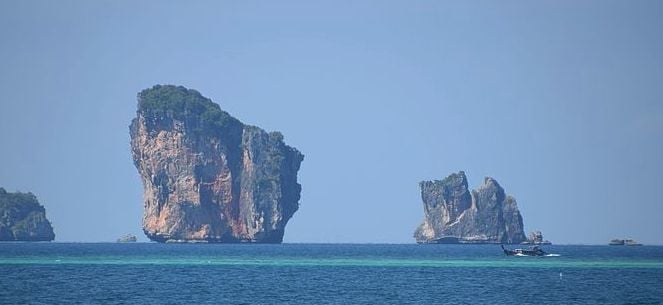 PHOTO: Wikipedia
Koh Mae Urai is a unique local dive spot with 2 tunnels lined with soft and hard corals, according to Lonely Planet. When the current isn't too strong and the visibility is good, Koh Mae Urai is "the most beautiful dive site in the Ao Nang area with number soft coral as well as seahorses", according to Krabi Magazine.
For now, the area around the island is closed off and boat operators are warned not to approach the site until marine officials can inspect the island's structure and be sure of the safety for divers and visitors.
"Please be careful. Boat operators must not approach the site. It can be dangerous… Park officers will mark off the area with buoys with a sign clearly explaining no entry to the sealed-off area."
SOURCE: Phuket News
Catch up with the latest daily "Thailand News Today" here on The Thaiger.
Keep in contact with The Thaiger by following our
Facebook page
.
Never miss out on future posts by
following The Thaiger
.