THURSDAY MORNING BRIEFING – All your news in 3 minutes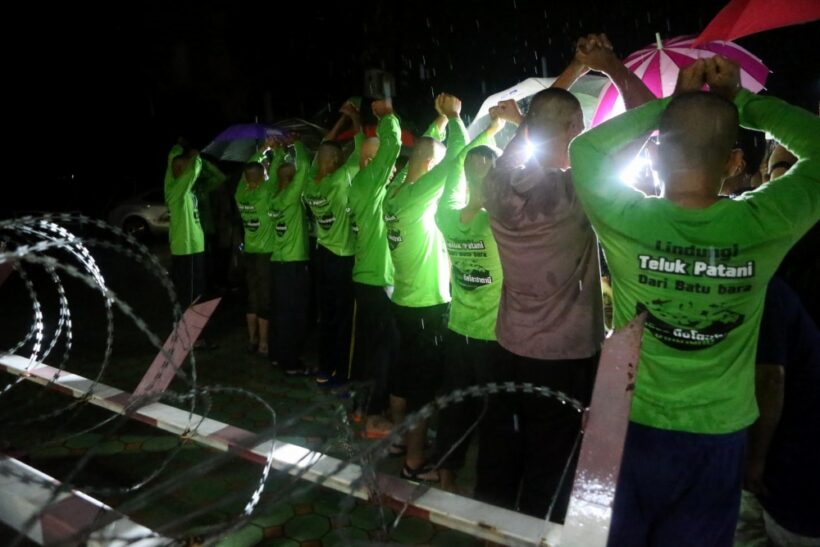 Protesters released on bail
All 15 activists involved in the protest against the proposed Thepha coal-fired power plant have been freed on bail as Songkhla Provincial Court allowed university scholars to use their civil-service status to guarantee their temporary freedom.
However, the activists will still have to defend themselves in court as police had prosecuted them with four charges. On Monday, the police cracked down on the demonstration against the proposed power plant and arrested 16 leading members of the group as they tried to submit an appeal to the visiting PM. They say the proposed coal-power plant in Thepha district would damage the local environment and impact their health.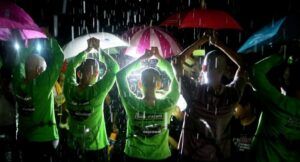 Government opens up its pockets
State enterprises are opening up their pockets next year by increasing investments by 52 per cent to 796.34 billion baht.
Deputy Prime Minister Somkid Jatusripitak says the departments with the largest investments include the State Railway of Thailand, the Mass Rapid Transit Authority of Thailand, PTT and the Electricity Generating Authority of Thailand. He says the increase in state enterprise investment would play a major role in driving the economy.
Somkid yesterday chaired a meeting concerned with accelerating the disbursement of the state enterprises' investment budgets.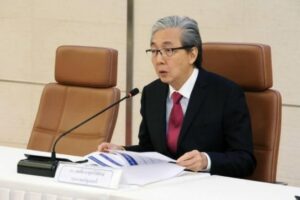 No butts about it. American couple still detained
A couple of Americans who host the Instagram page "Travelling Butts" are cooling their heels at the Bangkok Yai police station awaiting their fate after being arrested at Don Mueang International Airport. The pair have been detained for taking photos showing their bare butts at the Temple of the Dawn in Bangkok. The two, Joseph and Travis, are being charged with committing indecency in a place of worship, which potentially carries a jail term. Following their arrest, the two have deleted all the photos taken in Thailand, leaving only their bottom photos taken in other countries. The two have suffered the wrath of Thai social media with most calling for punishments including long jail terms.
Idiots!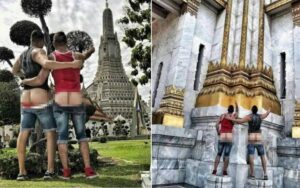 Bali airport re-opens – 120,000 stranded
Bali's international airport reopened yesterday afternoon after a nearly three-day shutdown as towering columns of volcanic ash and smoke shifted direction on the Indonesian resort island.
The move will allow some of the more than 120,000 tourists stranded to fly out after a surge in activity at Mount Agung had grounded hundreds of flights since Monday, sparking travel chaos. Tens of thousands have already fled their homes around the volcano – which last erupted in 1963, killing around 1,600 people – but as many as 100,000 will likely be forced to leave in case of a full eruption, disaster agency officials are advising.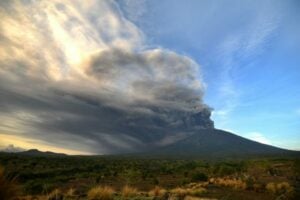 PHOTO: New York Times
Royal Cremation building to remain open until end of year
His Majesty the King has granted permission for the public to continue visiting the Royal Crematorium site at Sanam Luang in Bangkok.
The initial deadline for the visits to finish was today but the King has agreed to extend the period to December 31. HM says he hopes students as well as members of the public will take the opportunity to visit the site.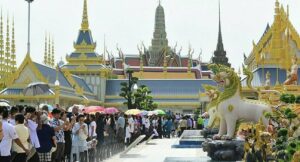 Toon resting – resumes run Saturday
Rock star Artiwara "Toon" Kongmalai suffered a leg injury during his run on day 28 of his cross-country marathon and is resting until tomorrow with plans to resume his run on Saturday. He interrupted a six kilometre run in Pranburi, Prancuap Khiri Khan, telling his support team he had pain in his left ankle.
So far Toon has run for 23 days and has covered 1,064 kilometres since he started the charity campaign on November 1. Donations are currently sitting at 357 million. His run is scheduled to finish on Christmas Day in Chiang Rai.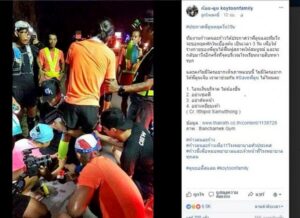 Daily briefings compiled from The Nation, Phuket Gazette and VOA.
Keep in contact with The Thaiger by following our
Facebook page
.
Pattaya Museum denied the origins of the blackwater, then changed their mind – VIDEO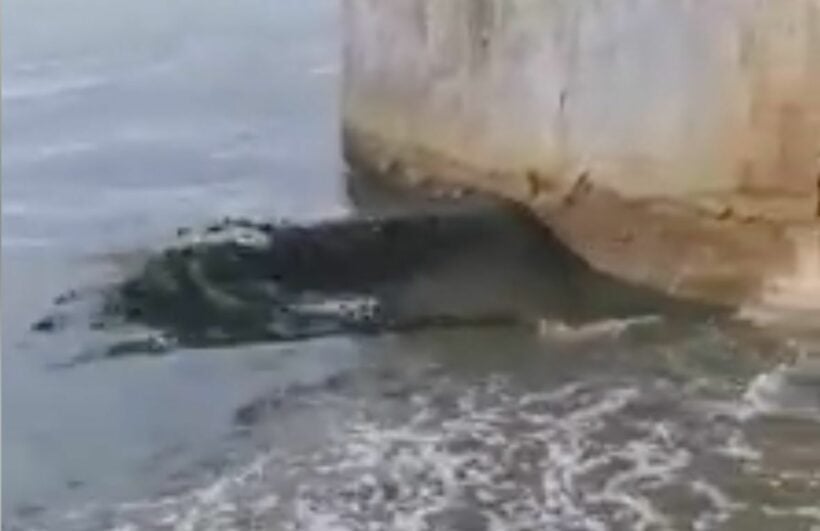 A heritage museum in Pattaya is blaming a "faulty pump" for the flow of black wastewater that was flowing into the coastline on the Pattaya beachfront at Wong Prachan Bay. The "Sanctuary of Truth Museum" VP denied that they'd intentionally allowed the dirty water onto the beach. But later the vice president of the Sanctuary of Truth, Warakorn Wiriyahan, added that the discharge seen in the Facebook post was "due to a problem with its wastewater treatment system".
He added that heavy rains in Pattaya over the past week had "overwhelmed the system".
"The water pumps installed to treat wastewater were faulty. That has now been fixed."
The damning video was posted on Areerut Sinsupun's Facebook account yesterday. It shows the black water flowing out of a drainage pipe onto the beach and into the sea.
The comments on the video were predictably savage and mostly urged the local Pattaya officials to do something about it.
"Been doing this for years"
"Broken pipe? Broken pipe for over 30 years. 😆😆😆"
"Covid 20"
Sanctuary of Truth Museum claims to house the world's largest and most beautiful woodcarving. It appears to be less willing to share the 'truth'.
Meanwhile, the Pattaya Municipality, in a rare moment of candor, shared the video on its own Facebook account. Comments mostly blamed the municipality for not checking the storm drains pumping 'black water' onto Pattaya's beaches.
Magical 'fixes' are often claimed after these too-frequent videos appear on social media, until they re-occur, which is usually the case.
#PattayaCity #ปราสาทสัจธรรม​ ไหนนะคุณธรรม#น้ำเน่า​ #น้ำเสีย

Posted by Areerut Sinsupun on Saturday, July 4, 2020
SOURCE: Bangkok Post
Keep in contact with The Thaiger by following our
Facebook page
.
Phuket's Lard Yai Sunday night market springs back to life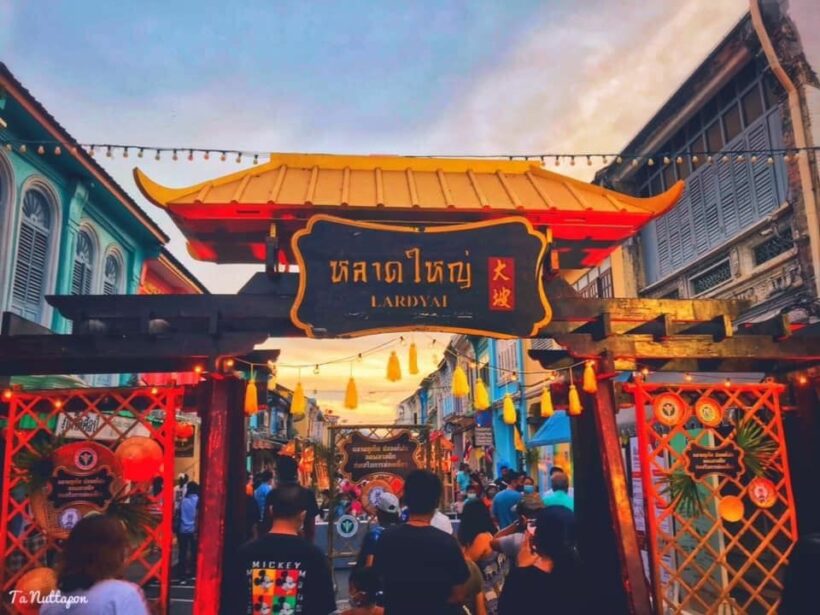 The Lard Yai Sunday night walking street along Thalang Road Old Phuket Town has reopened to the delight of vendors, locals and a few expats. It has been closed for 3 months after lockdowns were applied to community markets.
New Provincial Governor Narong Woonchiew says he welcomes people back to the popular market.
"The province and the private sector have worked hard to make sure Lardyai walking street is safe and complies with social distancing practices to regain tourists' confidence."
Lard Yai, a fairly recent addition to Phuket's vibrant market scene (about 4 years ago), became an instant success in amongst Thalang Road's famous renovated historic Sino Portuguese shop houses. It attracted a healthy mixture of the local Phuket Town community, expats and visitors who appreciated the authenticity and unique nature of the market. There's always a feast of music, great local food and trinkets, always evolving. The shops lining the streets are also joining in.
The Phuket governor says the browsing and walking areas have been made larger to allow crowds to adhere to social distancing during this Covid era. Vendors were invited to attend special instructional lectures before the market re-opened educating them about making the market safe.
"The activity was funded by Phuket Municipality's Health Insurance Fund and aimed to promote the new normal in tourism to revive the province's economy, which has been severely affected by the outbreak."
Phuket Mayor Somjai Suwansupphana says the Lard Yai shopping district is more than 100 years old and covers the stretch along Thalang, Yaowarat, Krabi, Deebuk and Phuket roads.
"Surrounded by historic buildings with traditional Thai architecture, Lardyai was designated a Fine Arts Conservation Zone by the government back in 1992 and received the Asean Sustainable Tourism Award in 2018," s
The Lard Yai walking street is now open every Sunday from 4pm to 10pm. Get to Phuket Town and ask the locals – they all know where it is. (Come by motorbike or taxi, you won't find a place to park your car without a walk)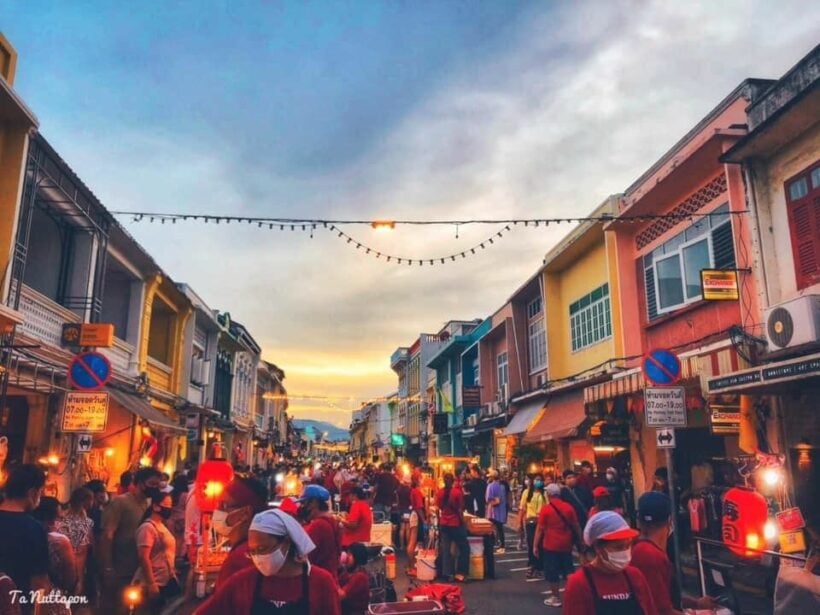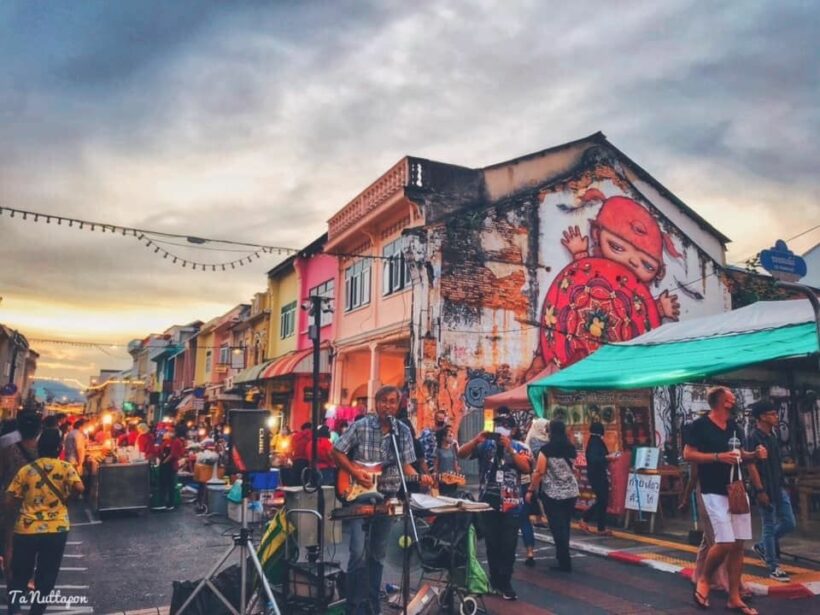 Keep in contact with The Thaiger by following our
Facebook page
.
Covid-19 increasingly linked with patients who lose their sense of smell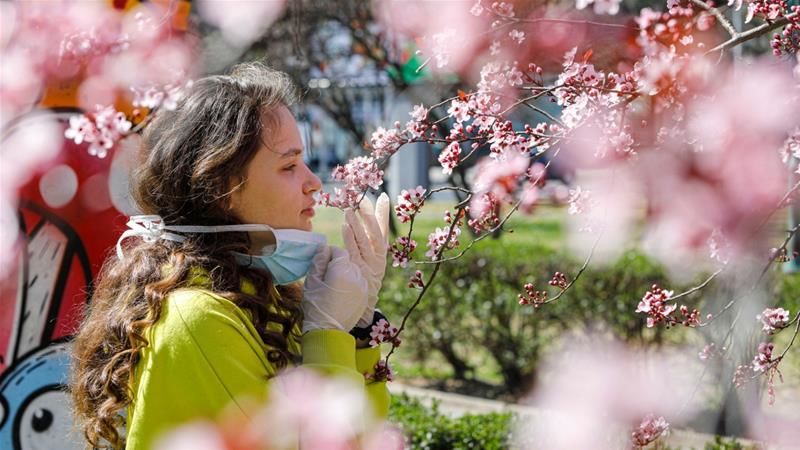 Wake up and smell the roses. But a group of Covid-19 patients simply can't as they've lost their sense of smell.
Anosmia, losing the ability to smell, can be psychologically difficult to live with and has no real treatment. Anosmia has been linked to some Covid-19 patients, both before they develop full symptoms or after they recover from the major respiratory symptoms. Others, who were asymptomatic, have also developed Anosmia.
An increasing number of Covid-19 patients are paying the price after surviving a brush with the virus. Some are facing a long-term inability to smell.
The president of anosmie.org says Anosmia "cuts you off from the smells of life, it's a torture."
"If you have the condition you can no longer breathe in the smell of your first morning coffee, smell the cut grass of a freshly mown lawn or even the reassuring smell of soap on your skin when you're preparing for a meeting."
Anosmia, also known as smell blindness, is the loss of the ability to detect one or more smells. Anosmia may be temporary or permanent. It differs from hyposmia which is a decreased sensitivity to some or all smells.
"You only truly become aware of your sense of smell when you lose it. Eating is a completely different experience too, as so much of what we appreciate in food is what we can smell."
There is already evidence from South Korea, China and Italy, some of the countries hit earliest with the coronavirus outbreaks, that significant numbers of patients with Covid-19 infection have developed anosmia or hyposmia. In Germany it is reported that more than 2 in 3 confirmed cases have anosmia. In South Korea, where testing has been more widespread, 30% of patients testing positive have had anosmia as their major presenting symptom in otherwise mild cases.
There are also other causes of anosmia – nasal polyps, chronic rhinitis, diabetes, Alzheimer's and Parkinson's. Now the novel coronavirus has been added to that list with the symptom alone allowing a diagnosis of Covid-19 in some cases.
Doctors report that when patients lose their sense of smell and don't get it back they note a real change in the quality of life and a level of depression that is not insignificant.
"According to the first numbers, around 80% of patients suffering from Covid-19 recover spontaneously in less than a month and often even faster, in eight to 10 days."
"For others it could be that the disease has destroyed their olfactory nerves, the ones that detect smells. The good news is that these receptors, at the back of the nose, are able to regenerate.
Two Paris hospitals, Rothschild and Lariboisiere, have launched a "CovidORL" study to investigate the phenomenon, testing how well different nose washes can cure anosmia.
In addition, there has now been a rapidly growing number of reports of a significant increase in the number of Covid-19 patients presenting with anosmia in the absence of other symptoms. This knowledge has been widely shared on medical discussion boards by surgeons from around the world managing a high incidence of cases.
Keep in contact with The Thaiger by following our
Facebook page
.