Thailand's drowning in a sea of plastic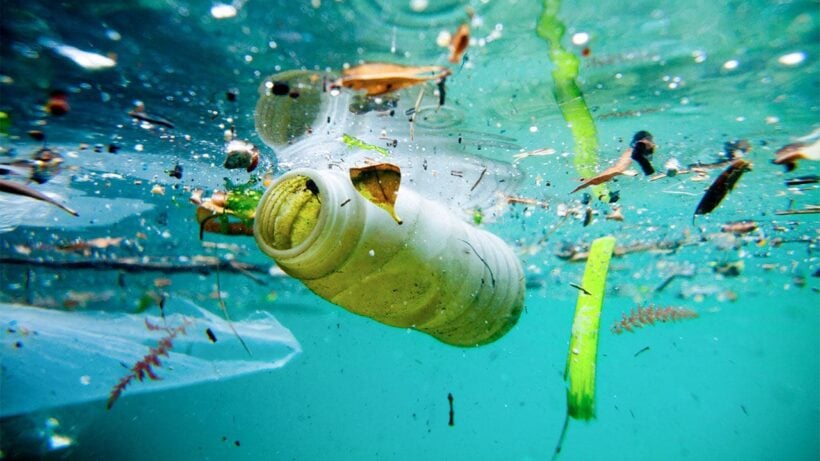 By Piyaporn Wongruang
In February last year, a patch of plastic trash almost 10 kilometres long was seen floating off the coast of the Gulf of Thailand in Chumpon province, prompting a wake-up call about the plastic pollution problem which has become increasingly serious in recent years.
Tara Buakamsri, Thailand country director for Greenpeace Southeast Asia, which campaigns against pollution, has observed the phenomenon with concern. It's the tip of the iceberg, Tara said, referring to the plastic trash problem.
"The plastic problem is actually serious, just like other global environmental problems. But we did not see it, as it did not appear to our eyes – not until recent years," said Tara.
He cited new scientific evidence showing the health impact of plastic as well as ever-growing patches of plastic trash floating in the oceans worldwide, including the one which appeared off Chumpon's coast last year. A problem getting out of control
The plastic trash problem had reached its tipping point when the Earth Day Network this year decided to kick off a long-term campaign on the problem to commemorate 2018 Earth Day on February 22. They hoped that the focus on plastic would be a wake-up call for the world's citizens to realise the situation and do what they could to help solve it.
Since plastic was first introduced in the 1950s, the network claims some 8.3 billion tonnes have been produced to date. However, almost 91 per cent of waste plastic had not been recycled, leaving a great deal of the long-lasting material piling up in both land and ocean environments. The network estimates that around 8 million tonnes of plastic ends up in oceans each year.
A great plastic patch has reportedly accumulated in the Pacific Ocean, where the North Pacific Gyre has swirled and swooped it, but the fact that has shocked the environmentalists here, including Tara, is that Thailand is among the world's worst. It is the sixth worst offender for dumping plastics into the sea, according to the 2015 Stemming the Tide report by the Ocean Conservancy and the McKinsey Centre for Business and Environment.
As noted by Thailand's Pollution Control Department (PCD), plastic waste in the country continues to increase, and at the annual rate of 12 per cent, or around 2 million tonnes. Only 0.5 million tonnes of this waste can be reused, while the remaining 1.5 million tonnes, 80 per cent of which are single-use plastic bags, accumulate in official dumping sites or elsewhere.
"Although plastic is durable, its use is short-lived. So, it's increasingly dumped along with wet garbage and has accumulated in the environment, where it lasts for years as it cannot be biodegraded," the PCD noted in its five-year integrated plastic waste management plan draft for 2017-21.

Tara can cite even more reasons to be concerned about plastic waste. As learned from new scientific studies, Tara said that petroleum-based plastic could have impacts on both human and animal health. They can release carcinogens, and while breaking down in the oceans become microplastics which are able to enter the food chain.
In his blog, Tara cited last year's report by the Marine and Coastal Resources Department, which noted that at least 300 sea animals on average died from consuming plastic-based fishing gear and trash each year, 60 per cent of which are whales and dolphins.
The other study, "The Effects of Microplastics on Sessile Invertebrates on the Eastern Coast of Thailand", published in the Marine Pollution Bulletin in November last year, also showed how microplastics have affected marine animals on the eastern coast. The study has found that some molluscs in the area have been contaminated by microplastics beyond the standard.
The PCD noted that management of plastic waste has a problem at every stage – from production to consumption to getting rid of it. The various types of plastics produced by the industry are not yet addressed by law, and neither is their labelling, which causes difficulties in sorting them out for reuse and recycling.
In addition, plastic is still wastefully used during the production process. Research and development to substitute plastics is not yet in place. Furthermore, when plastic is released into the market, consumers often use it wastefully, most critically with single-use plastic bags.
There has so far been only a voluntary approach to regulating the use of plastic for consumption, the PCD noted. Consumers, it added, lacked awareness about plastic waste and barely sorted their garbage before dumping. When it is dumped, there is no systematic management of plastic waste in place, and often, it's mixed with wet garbage, contaminating the environment for years to come, as it does not biodegrade.
The government has, to some degree, realised the situation, leading to the 2016-21 wet-garbage management master plan, along with a plastic trash management draft developed by the PCD. That plan is also in line with the draft 3Rs strategy – reduce, reuse, recycle – for wet garbage. The prime goal is reducing plastic waste, while reusing it up to 60 per cent by 2021.
For Tara, the goal set in the drafts is not yet sufficiently clear to lead to concrete action among all concerned. The goal of cutting plastic waste remains vague, he said, thus lacking the force needed to get the concerned parties to take responsive action. Plastic waste, he said, actually has something to do with the way people consume and the way plastic is produced.
As long as people still lead the so-called fast-moving consumer goods lifestyle, under which goods are produced and consumed quickly, plastic will continue to be wastefully produced and consumed. Tara questioned such a lifestyle and the economy behind it. He said that globally there is a trend being explored, under a new circular economy where zero waste is set as a prime goal from the start. Policymakers should try embracing the philosophy so that plastic and waste could be managed right from the start. It is possible, he noted, citing a trend being adopted by some groups of environmentally minded people, whose force he hoped will accumulate and reach a "critical mass" that could help drive policy changes.
"By putting forward the right question in the first place, we will be able to tackle the problem right from the start, and our action will encourage more new thinking and innovations. What you need at the very first is the right question," said Tara.
As a noted marine ecologist, Thon Thamrong-nawasawat is particularly worried about the plastic patch problem in the oceans. Thon said plastic waste is a global issue, as is climate change, and is in fact globally critical, particularly where plastic in the seas is concerned.
If left unattended, it is predicted that plastic waste would increase to over 10 billion tonnes, requiring a load of management.
Thailand, he says, has become the sixth among countries worldwide for dumping plastic into the seas, most of it single-use plastic. And the Mekong River, he added, is ranked among the top 10 rivers polluted by plastic and a major source of plastic waste flooding into the seas, according to Germany's Helmholtz Centre for Environmental Research.
The trend worldwide is to try to reduce plastic from single usage, and Thailand – under the 20-year strategy – will also focus on the three prime actions of reducing, reusing and recycling plastic waste, Thon noted. However, he also hopes to see the problem being tackled at the source, which is production and consumption.
"We also want to see responsibility being placed on users and producers – it's the most effective way to deal with the problem," said Thon, who is a member of the national strategy committee on sustainable growth and environmental sustainability.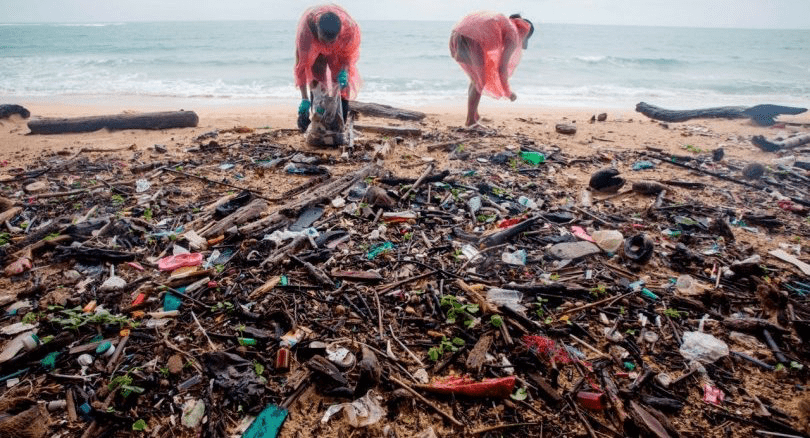 Original printed in The Nation.
Keep in contact with The Thaiger by following our
Facebook page
.
Thailand News Today – Friday, April 10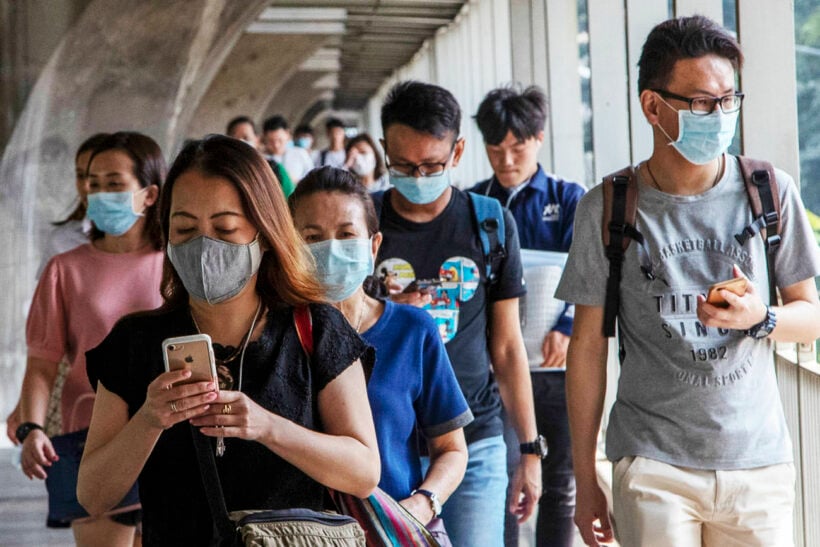 50 new coronavirus cases nationwide (Friday), 1 death
50 new Covid-19 coronavirus cases were confirmed around Thailand, a slight drop from yesterday's 54. 
There was also one new death. The total number of infections since the outbreak began now stands at 2,473. 33 patients have died. The cases span 68 of Thailand's 76 provinces.
1,013 people have completely recovered and been released from hospital, 73 of them in the past 24 hours.
Today's single death was described as a 43 year old Thai Woman who also suffered from systemic lupus.
Illegal Chinese casino in Pattaya operating after curfew
Pattaya police have led a raid last night on an illegal casino where nearly a dozen people were gambling in a karaoke bar above a Chinese restaurant.
Police went to the Fu Manow Chinese Restaurant at about 10:15pm after a tip off. Such a meeting violates the current national curfew and gatherings of people.
There were 7 Chinese men, 2 Thai women and a Russian woman were gambling with about 100,000 baht, playing several different Chinese style gambling games on a custom table.
Thai army puts off military purchases until coronavirus outbreak passes
The Royal Thai Army says Thailand "needs to heal" after the Coronavirus pandemic is over in the country so plans to delay purchases of military equipment in the 2020 defence budget.
A Defence Ministry spokesman says cuts to the 2020 budget for military hardware and projects are being considered.Speaking about the upcoming controversial purchase of Chinese made submarines under the 2021 budget, the spokesperson said that the Royal Thai Navy is considering the matter and "related legal consequences.
Facebook sues Bangkok man for 'cloaking' software
Facebook is suing a Bangkok resident for developing and marketing software that 'cheats' the social network's advertising review process to enable users to post dangerous ads to other users.
Facebook says that Mr Basant Gajjar, an Indian-American software architect living in the Thai capital,developed a "cloaking" technique in software that hides the real content of advertisements, while showing the user something else, essentially tricking Facebook's review process from identifying inappropriate ads. His business, apparently thriving, is called 'LeadCloak'.
The lawsuit outlined how Gajjars cloaking software allowed links to ads promoting the sale of sensationalised diet pills, cryptocurrency scams, even fake news relating to the Covid-19 outbreak.
Village elder stomped and gored to death by wild elephant
A village elder in the central Thailand Chachoengsao Province was stomped and gored to death by a wild elephant while collecting mangoes last night.
Relatives told police that the 53 year old Chalermphol Sukthawee, the elder of the village, was last seen leaving his home around 3pm yesterday. He was later found at 7:45 pm with a fractured skull and indications signs of goring and stomping, injuries consistent with an elephant attack. Elephant tracks were discovered 10 metres away.
Keep in contact with The Thaiger by following our
Facebook page
.
Phuket residents instructed to stay home for at least 14 days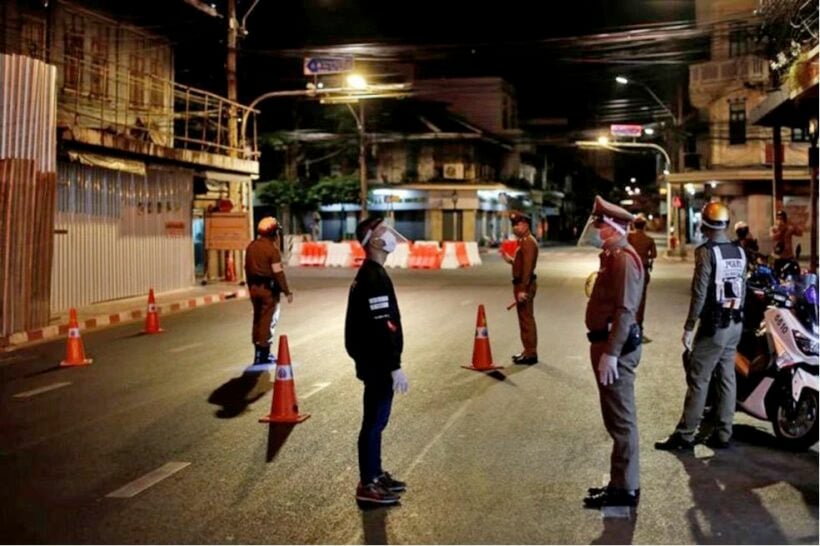 All residents living in the southern province of Phuket are being directed to stay in their homes for at least two weeks, starting next Monday, April 13. The provincial governor announced the measure last night to fight the spread of the Covid-19 coronavirus on the island, which now has the highest rate of infections in Thailand and is the second worst hit province, after Bangkok
The "request" will last from April 13 to April 26, "or until the situation improves."
The document itself, officially asks residents "to cooperate" by staying indoors. But an official at the Covid-19 Centre for Phuket, Vanida Yaprang, told Khaosod English on the phone today that the directive "amounts to an order, enforceable with a penalty" (we are chasing further clarification of her comment).
"It is an order. People can still come out if really necessary but only within each sub-district. Exceptions are medical staff, government officials and state enterprise workers. It is an order and those who violate it could face punishment."
The order, seen below, lists 6 conditions and says violators face up to one year of imprisonment and/or a maximum fine of 100,000 baht. House-to-house testing is now being conducted around sections of the island.
Phuket has already announced travel restrictions between its 17 tambons, or subdistricts. Many other provinces have announced similar measures. Under these conditions residents are not permitted to travel between districts without important reasons to do so. Medical and food supplies, police and emergency services are exempt.
According to the order, people can only leave their homes only when absolutely necessary, such as to buy food and other essentials. In the area of Patong, where the infections are particularly high, food and water will be delivered to residents barred indoors.
Hotels and resorts on the island were ordered to shut down earlier this month. The latest order says that in cases where there's a need for staff to stay on for necessary tasks, such as ledgering or maintenance, they must be housed on the premises to avoid commuting.
The announcement comes after the governor sealed the popular tourist island on March 29 and ordered the airport closed as of today.
As of Friday noon, 170 people in Phuket have now been infected by the coronavirus, with the bulk concentrated on entertainment areas around Patong.
The Thaiger will follow any further clarification of this dramatic new ramping up of the situation in Phuket.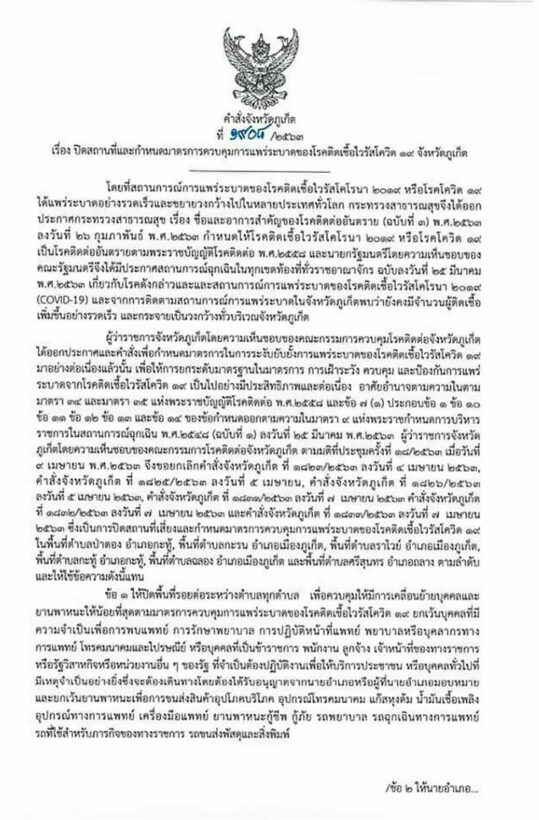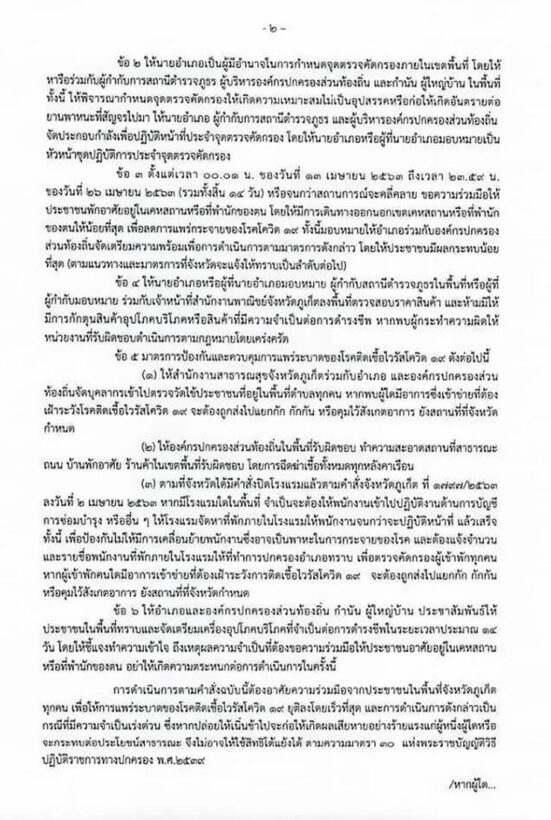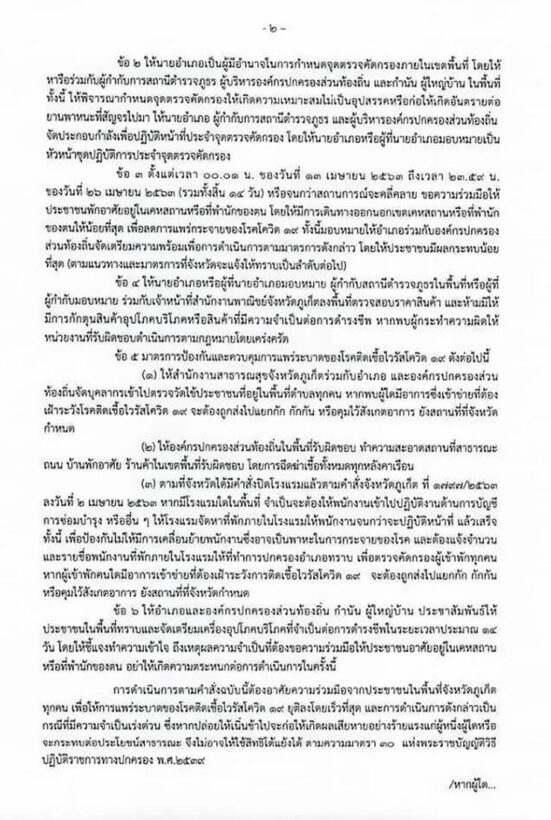 SOURCES: Khaosod English | xinhuanet.com
Keep in contact with The Thaiger by following our
Facebook page
.
Village elder stomped and gored to death by wild elephant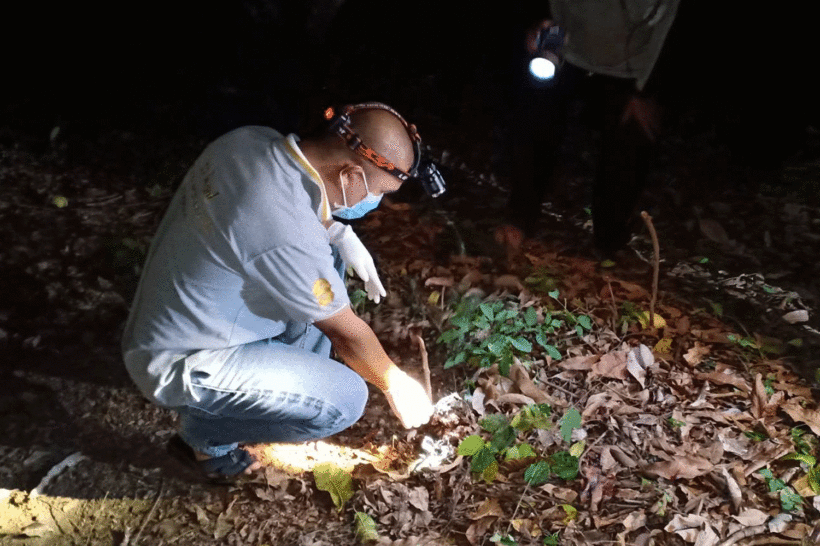 A village elder in the central Thailand Tha Takiab district was stomped and gored to death by a wild elephant while collecting mangoes last night.
Relatives told police that 53 year old Chalermphol Sukthawee, the elder of Moo 10 in Tha Takiab, was last seen leaving his home around 3pm yesterday. When he didn't return home his family formed a search party where several hours later they made a gruesome discovery.
Mr Sukthawee was found dead near a mango tree at the base of the Langka mountain range. The family informed the police of the discovery at 7:45 pm.
Investigators say Mr Sukthaweel suffered a fractured skull and showed signs of goring and stomping, injuries consistent with an elephant attack. Elephant tracks were discovered 10 metres from his body.
Anek Wongsa, assistant head of Khao Ang Rue Nai Wildlife Sanctuary, says forensic evidence suggests only one elephant was involved. He speculates the elephant came down from the mountain to eat mangoes and surprised Mr Sukthawee while he was picking the fruit.
SOURCE: Bangkok Post
Keep in contact with The Thaiger by following our
Facebook page
.