Thailand's drowning in a sea of plastic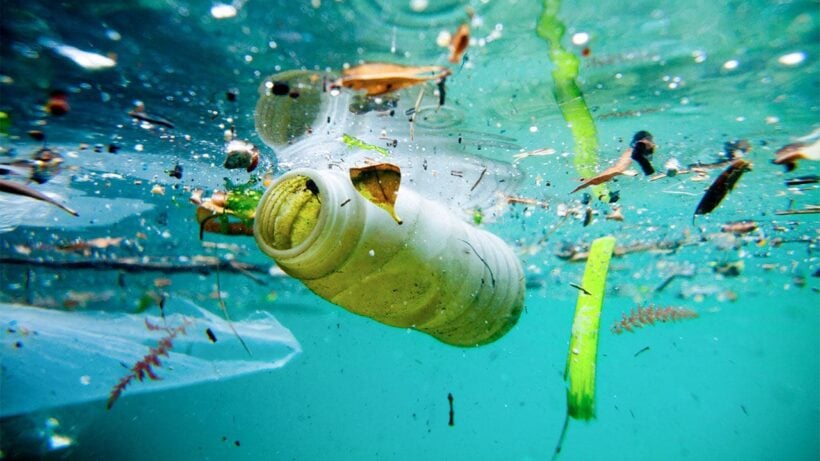 By Piyaporn Wongruang
In February last year, a patch of plastic trash almost 10 kilometres long was seen floating off the coast of the Gulf of Thailand in Chumpon province, prompting a wake-up call about the plastic pollution problem which has become increasingly serious in recent years.
Tara Buakamsri, Thailand country director for Greenpeace Southeast Asia, which campaigns against pollution, has observed the phenomenon with concern. It's the tip of the iceberg, Tara said, referring to the plastic trash problem.
"The plastic problem is actually serious, just like other global environmental problems. But we did not see it, as it did not appear to our eyes – not until recent years," said Tara.
He cited new scientific evidence showing the health impact of plastic as well as ever-growing patches of plastic trash floating in the oceans worldwide, including the one which appeared off Chumpon's coast last year. A problem getting out of control
The plastic trash problem had reached its tipping point when the Earth Day Network this year decided to kick off a long-term campaign on the problem to commemorate 2018 Earth Day on February 22. They hoped that the focus on plastic would be a wake-up call for the world's citizens to realise the situation and do what they could to help solve it.
Since plastic was first introduced in the 1950s, the network claims some 8.3 billion tonnes have been produced to date. However, almost 91 per cent of waste plastic had not been recycled, leaving a great deal of the long-lasting material piling up in both land and ocean environments. The network estimates that around 8 million tonnes of plastic ends up in oceans each year.
A great plastic patch has reportedly accumulated in the Pacific Ocean, where the North Pacific Gyre has swirled and swooped it, but the fact that has shocked the environmentalists here, including Tara, is that Thailand is among the world's worst. It is the sixth worst offender for dumping plastics into the sea, according to the 2015 Stemming the Tide report by the Ocean Conservancy and the McKinsey Centre for Business and Environment.
As noted by Thailand's Pollution Control Department (PCD), plastic waste in the country continues to increase, and at the annual rate of 12 per cent, or around 2 million tonnes. Only 0.5 million tonnes of this waste can be reused, while the remaining 1.5 million tonnes, 80 per cent of which are single-use plastic bags, accumulate in official dumping sites or elsewhere.
"Although plastic is durable, its use is short-lived. So, it's increasingly dumped along with wet garbage and has accumulated in the environment, where it lasts for years as it cannot be biodegraded," the PCD noted in its five-year integrated plastic waste management plan draft for 2017-21.


Tara can cite even more reasons to be concerned about plastic waste. As learned from new scientific studies, Tara said that petroleum-based plastic could have impacts on both human and animal health. They can release carcinogens, and while breaking down in the oceans become microplastics which are able to enter the food chain.
In his blog, Tara cited last year's report by the Marine and Coastal Resources Department, which noted that at least 300 sea animals on average died from consuming plastic-based fishing gear and trash each year, 60 per cent of which are whales and dolphins.
The other study, "The Effects of Microplastics on Sessile Invertebrates on the Eastern Coast of Thailand", published in the Marine Pollution Bulletin in November last year, also showed how microplastics have affected marine animals on the eastern coast. The study has found that some molluscs in the area have been contaminated by microplastics beyond the standard.
The PCD noted that management of plastic waste has a problem at every stage – from production to consumption to getting rid of it. The various types of plastics produced by the industry are not yet addressed by law, and neither is their labelling, which causes difficulties in sorting them out for reuse and recycling.
In addition, plastic is still wastefully used during the production process. Research and development to substitute plastics is not yet in place. Furthermore, when plastic is released into the market, consumers often use it wastefully, most critically with single-use plastic bags.
There has so far been only a voluntary approach to regulating the use of plastic for consumption, the PCD noted. Consumers, it added, lacked awareness about plastic waste and barely sorted their garbage before dumping. When it is dumped, there is no systematic management of plastic waste in place, and often, it's mixed with wet garbage, contaminating the environment for years to come, as it does not biodegrade.
The government has, to some degree, realised the situation, leading to the 2016-21 wet-garbage management master plan, along with a plastic trash management draft developed by the PCD. That plan is also in line with the draft 3Rs strategy – reduce, reuse, recycle – for wet garbage. The prime goal is reducing plastic waste, while reusing it up to 60 per cent by 2021.
For Tara, the goal set in the drafts is not yet sufficiently clear to lead to concrete action among all concerned. The goal of cutting plastic waste remains vague, he said, thus lacking the force needed to get the concerned parties to take responsive action. Plastic waste, he said, actually has something to do with the way people consume and the way plastic is produced.
As long as people still lead the so-called fast-moving consumer goods lifestyle, under which goods are produced and consumed quickly, plastic will continue to be wastefully produced and consumed. Tara questioned such a lifestyle and the economy behind it. He said that globally there is a trend being explored, under a new circular economy where zero waste is set as a prime goal from the start. Policymakers should try embracing the philosophy so that plastic and waste could be managed right from the start. It is possible, he noted, citing a trend being adopted by some groups of environmentally minded people, whose force he hoped will accumulate and reach a "critical mass" that could help drive policy changes.
"By putting forward the right question in the first place, we will be able to tackle the problem right from the start, and our action will encourage more new thinking and innovations. What you need at the very first is the right question," said Tara.
As a noted marine ecologist, Thon Thamrong-nawasawat is particularly worried about the plastic patch problem in the oceans. Thon said plastic waste is a global issue, as is climate change, and is in fact globally critical, particularly where plastic in the seas is concerned.
If left unattended, it is predicted that plastic waste would increase to over 10 billion tonnes, requiring a load of management.
Thailand, he says, has become the sixth among countries worldwide for dumping plastic into the seas, most of it single-use plastic. And the Mekong River, he added, is ranked among the top 10 rivers polluted by plastic and a major source of plastic waste flooding into the seas, according to Germany's Helmholtz Centre for Environmental Research.
The trend worldwide is to try to reduce plastic from single usage, and Thailand – under the 20-year strategy – will also focus on the three prime actions of reducing, reusing and recycling plastic waste, Thon noted. However, he also hopes to see the problem being tackled at the source, which is production and consumption.
"We also want to see responsibility being placed on users and producers – it's the most effective way to deal with the problem," said Thon, who is a member of the national strategy committee on sustainable growth and environmental sustainability.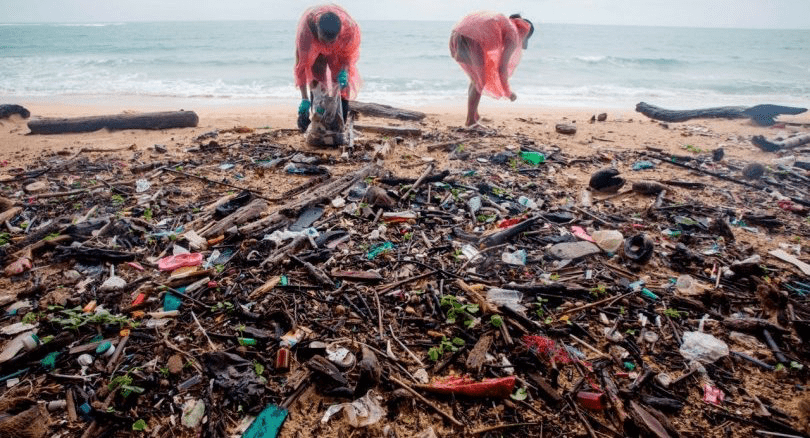 Original printed in The Nation.


Read more headlines, reports & breaking news in Thailand. Or catch up on your Thailand news.
Rock Thailand, Japanese start-ups eye Thai businesses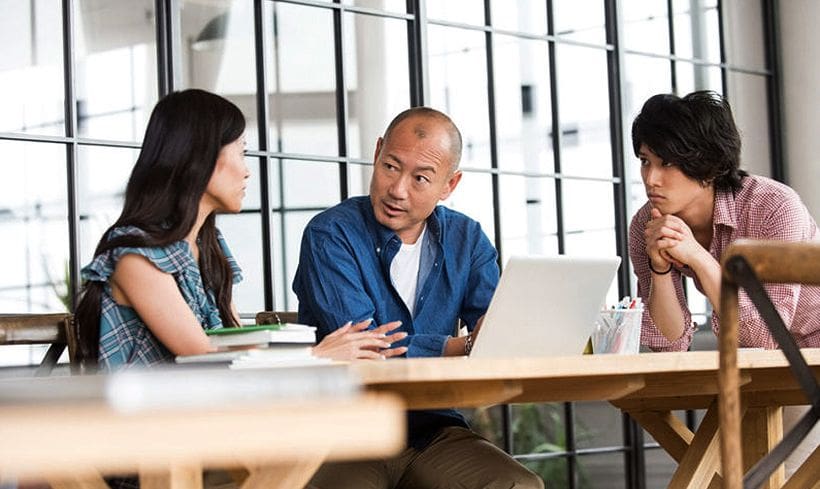 Noting Thailand as the new south east Asian regional innovation hub, the Japanese Embassy in Bangkok, in collaboration with Thailand's Ministry of Digital Economy and Society, CP Group and True Corporation, launched Rock Thailand, a start-up incubation project.
Rock Thailand is being used to open a stage for 10 top technology start-ups from Japan to present their business models to 20 key Thai enterprises and take part in its networking session.
Japanese ambassador to Thailand, Shiro Sadoshima, said the Rock Thailand event is being held as part of Japan's Open-Innovation Columbus project to support Japanese start-ups in the areas of innovation and knowledge exchange. The project began with the initiation of talks between leading Thai enterprises and Japanese start-ups.
Japan aims to promote cooperation between its start-ups and the Thai business community, said Pichet Durongkaveroj, minister of Digital Economy and Society, adding that this is what has led to the Open Innovation Columbus Project.
This is in line with the government's Thailand 4.0 policy, which aims to drive the economy through innovations and digital transformation, including the Smart City project and development of the Eastern Economic Corridor (EEC).
Thailand is being seen as the new innovation hub of the region outside Japan – both in terms of trade and investment. Under the regime, small and medium enterprises stand to benefit from the use of Internet of Things (IoT) technology to connect businesses in Japan, Thailand, Cambodia, Laos, Myanmar, Vietnam and the global market.
Suphachai Chearavanont, CEO of CP Group, said the corporation attaches importance to the nation's digital transformation.
"Our vision is not just for our group of companies, but for Thailand as a whole. Thailand needs to invest in research and development for start-up businesses and their ecosystem.
"The collaboration with the Embassy of Japan and the Digital Economy and Society Ministry enables us to exchange views with successful Japanese start-ups. We believe the power of leading start-ups from Japan will support us in developing innovations and advanced technologies and escalate the country to its Thailand 4.0 vision," he said.
The event was co-hosted by CP Group and True.
Pre-Songkran inspections of public buses and their drivers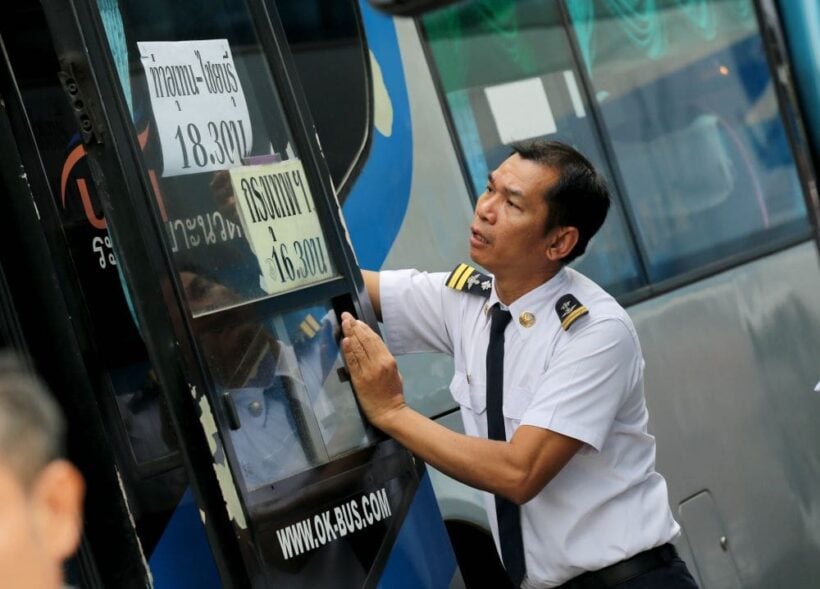 The Land Transport Department has started the inspection of drivers and mechanical condition of public transport vehicles at bus stations ahead of the Songkran holiday period next month.
The period, aka. the 'seven days of danger', is notorious for a marked increase in road accidents due to much higher traffic levels as Thai's head home for celebrations.
On the first two days of inspections, March 15-16, a total of 25,636 buses, and their drivers and rest schedules, were checked, but no flaws that could affect road safety had yet been found, according to the deputy director-general Kamon Buranapong.
25,636 buses checked and not ONE mechanical defect!
Bus drivers were also given blood alcohol tests. There were no drivers over the alcohol limit.
The vehicle inspections – a Land Transport Department collaboration with the Office of Vocational Education Commission and related agencies, to be conducted at 195 transportation hubs and locations – form part of a Songkran 2019 road-safety campaign, which kicked off on March 15 with the main theme to get motorists "to drive slowly, turn on headlights and wear seat belts" and motorcyclists "to turn on headlights and wear safety helmets", Kamon explained.
Vehicle inspection is being carried out in three phases: the preparation period from March 15-21, the pre-Songkran period from April 4-10, and the Songkran period itself from April 11-17.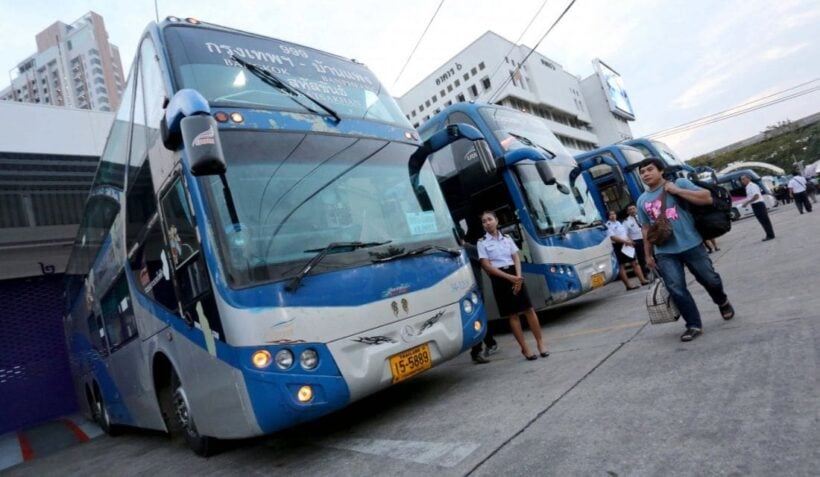 SOURCE: The Nation
Porsche driver charged with reckless driving after death of two women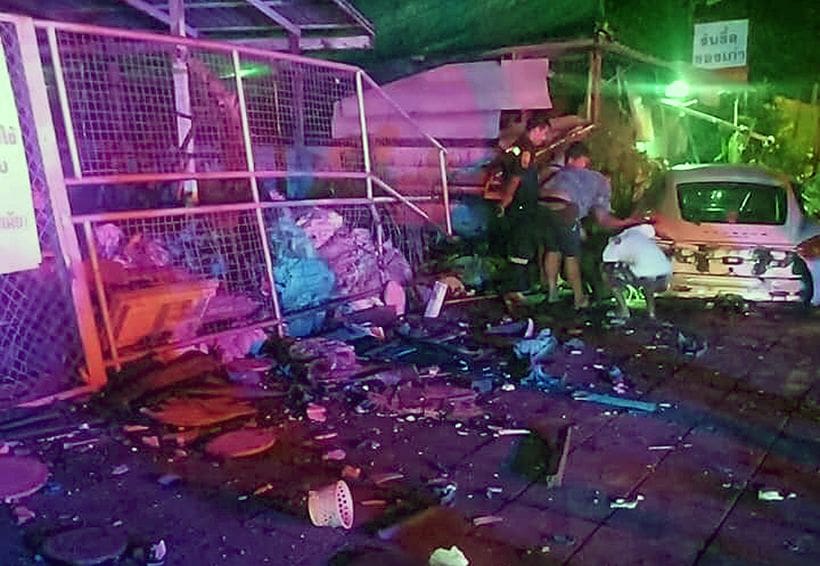 Bangkok Police have charged a Porsche driver who crashed into a motorcycle, killing two women, one of them also losing her unborn baby and being rushed to hospital, only to die soon after.
The accident also damaged a roadside motorcycle-repair shop.
The original report from The Thaiger HERE.
Police announced that Somkiat Pakdeenok had been charged with reckless driving causing death and injury. He was tested for alcohol consumption and the results could lead to further charges.
Police spoke to reporters after outrage mounted on social media over the weekend amid reports that the driver in the crash in Nong Khaem district had been removed from the scene while victims lay dead and injured.
One of the women died instantly at the scene. The other lost limbs as well as her unborn baby and succumbed to her injuries soon after being taken to hospital.
While claims were persisting that no one had yet come forward with offers of help or restitution for the family of the women killed, another report indicated the driver's wife contacted police to offer each the families of the women killed 50,000 baht for funeral expenses, (about the cost of an iPhone). The wife insisted her husband was not drunk.
The driver is reported to have crawled from the wreckage with broken legs, possibly intoxicated, and been placed in a Toyota Fortuner, which sped away before emergency responders arrived.
Acquaintances of the dead women spread the story online with a hashtag referring to cases of wealthy people going unpunished for their crimes.
Wongsatorn Karnsasomsap, owner of the repair shop that was damaged in the incident, says that the Porsche driver had not yet contacted him about paying for an estimated 300,000 baht in damages. He and his friends could have been crushed too had they remained sitting inside the shop as usual, he said.
One friend, Somkid Maneetham, said he heard the sound of brakes just as he was about to leave on his motorcycle.
"I gunned the engine to get out of the way and then heard a bang and went back to help the victims," he said.
Unconfirmed reports suggest the Porsche driver may have been "showing off" when the accident occurred.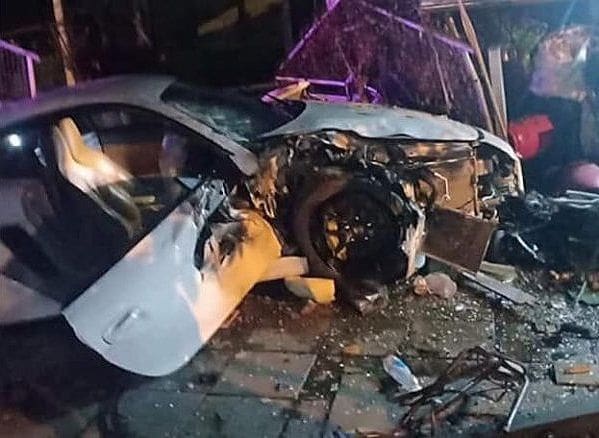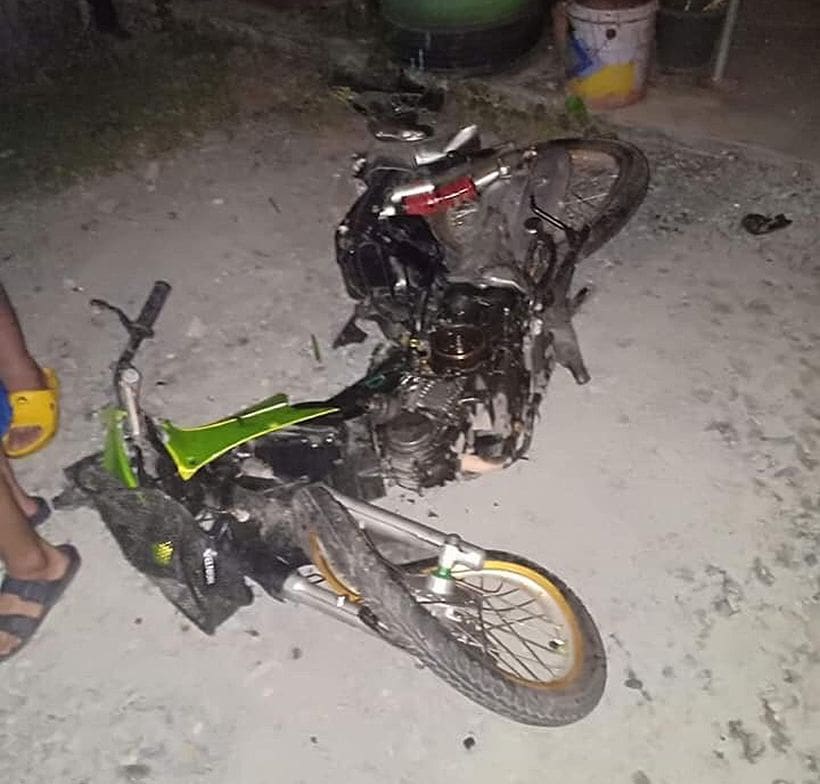 SOURCE: The Nation