Thaiger Briefing: June 13, 2018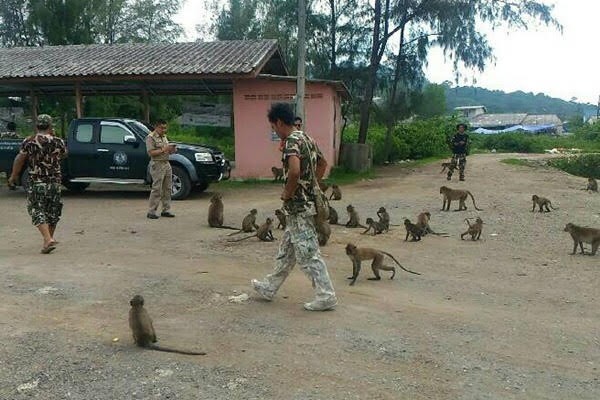 From plandemics to sheeple – unravelling the Covid conspiracy-speak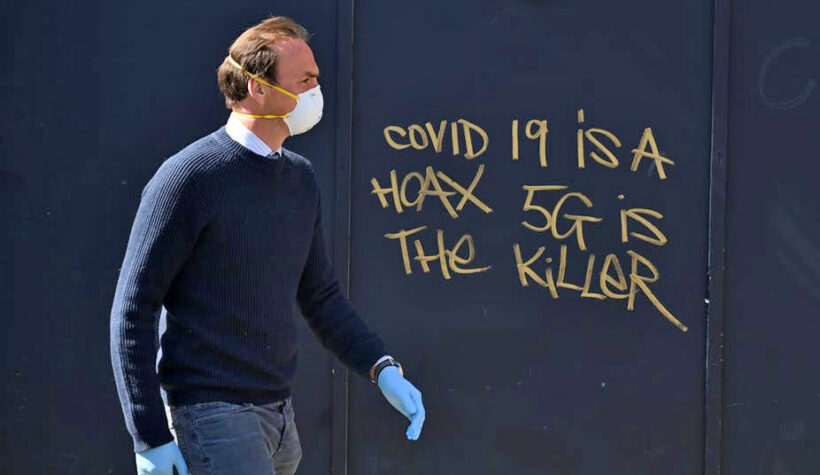 Whilst most of us have either been holed up in local lockdowns or forgetting our face mask when we head to 7-11 for a snack, some have used their spare time to create an elaborate alternate universe of plandemics, sheeple and evil 5G, and finding ways to paint Bill Gates as the devil in human form.
A Pew Research Centre survey asked people in the US if they had heard the theory that Covid-19 was "intentionally planned" by people in power. 71% of US adults said they had. A third of the respondents said it was "definitely" or "probably" true.
As the pandemic has become a reality, so has the infodemic. Whilst the scientists have been at war with a virus and the development of a vaccine, news and social media platforms have been in a battle of facts. Normally intelligent people are denouncing the wearing of masks, refuse to consider getting vaccinated and believe 5G networks 'infect' people with Covid-19. Elaborate videos have been produced, at great expense, full of unsubstantiated nonsense, alternate statistics, claims that the coronavirus is "just a flu" and that the impact of the virus has been vastly exaggerated.
There's also a whole new language where terms of derision are used to replace facts and reasoned argument. Almost all of the conspiracy theories, and the people promoting them, come out of the US, a topic for another article.
In the meantime, let's enjoy some of the new words and the hijacking of other terms and people.
Plandemic
Plandemic refers to two conspiracy theory documentaries produced this year by Mikki Willis. Until May, Mikki Willis was best known for posting 'nice' viral videos of his family online. The first was hugely popular, the second sunk without a trace.
The much-viewed first documentary has since been thoroughly debunked. They both feature Judy Mikovits, a discredited scientist who is worshipped in the anti-vaccine movement, despite her denials. In the documentary she maintains that a malevolent global "elite" (even 'elite' has taken on a whole new meaning) caused the pandemic in order to seize power, money and control the wider population – sort of a conference of Bond villains.
Among her other claims, face masks can activate the virus. In all, she rambles on for 26 minutes with a convoluted web of intrigue, all completely dismantled by just about every scientist and medical practitioner. Unfortunately the documentaries came at a time when the US was in the midst of its first quasi-lockdown and clocked up a credible 7 million views on YouTube before it was removed. You can still see it if you really want to in a few dark corners of the internet.
In her book, 'Plague of Corruption', Mikovits compares herself to Galileo and Martin Luther King jnr.
5G
Once a term referring to the fifth generation of mobile technology, the worldwide role out 5G somehow got wound into any number of conspiracy theories involving Covid-19 and the plandemic, sorry pandemic. Whilst most of us eagerly looked forward to the introduction of 2G,3G and 4G, 5G came along at the same time as Covid-19. So OF COURSE they have something to do with each other.
No longer just a technology, 5G is now front and centre of any self respecting conspiracy theorist. Exposure to 5G antennas would give you Covid-19, apparently "altering your cells" in a way that was never quite explained, and WHAMMO, you had the coronavirus. That Huawei, a Chinese telecommunications giant, was behind some of the leading 5G technology, just added fuel to the story – they are a Chinese company so they MUST be spreading evil… and Covid-19.
Sheeple
If you've had the wool pulled over your eyes regarding the "truth" of Covid-19, or are easily led astray, you're one of the Sheeple (alternate spelling – 'sheople').
Unless you're wallowing in your own self-righteous, unprovable alternate reality, YOU are sheeple, or, presumably, a sheep-person. Unless you're one of the few who has the clarity of vision and intellect to understand the "truth", you are labelled a sheeple. Luckily, for the rest of us, they also have the time and commitment to bring us up to speed with their facts, and can usually reel them off at pace. And then repeat them over and over to MAKE SURE the sheeple understand.
YOU sheeple just follow the main stream media (which is any media that reports news they don't like)… you are just part of the uninformed flock.
So if you just believe stuff because other people keep saying it, you're a 'sheeple'. Oh…
Bill Gates
Just throw his name into any Covid-19 conversation and stand back.
Wikipedia lists Bill Gates as 'William Henry Gates III', an American business magnate, software developer, and philanthropist. He is best known as the co-founder of Microsoft Corporation. Our generation has seen the young geek, sometimes competitor and sometimes collaborator with Apple's Steve Jobs, grow into the cardigan-wearing philanthropist who, along with his wife, have formed one of the largest private foundations in the world.
They get their foundation involved in all sorts of public health projects but, according to conspiracy theorists, are spreading evil around the world.
Now Bill Gates, earlier seen as a geek-version of Mr Rogers, is now the voodoo doll for Covid-19.
Back in 2015, an unassuming-looking Bill Gates came on stage at a TED conference in Vancouver to issue a dire warning.
"If anything kills over 10 million people over the next few decades, it is likely to be a highly infectious virus rather than war."So, he knew all about it! Aha!Now Bill Gates is leading a class of global "elites" and leading efforts to depopulate the world, apparently. His 'vaccine' has some tracking device that will be able to track us once we've been vaccinated. All this is a surprise to Bill Gates."I'm very surprised by the course of these conspiracy theories and of course the ones involving me are completely incorrect. I hadn't been a part of conspiracy theories up until this and it's ironic because I talked about the risk of a pandemic in 2015."But he WOULD say that, wouldn't he!"It is novel that you have a pandemic and you have social media, and somehow the true messages aren't as titillating or as exciting as the conspiracy-type message."
Follow the breadcrumbs
Originally used as a means of navigation in the Grimm's penned "Hansel and Gretel' tale, where the children drop breadcrumbs along the way into the forest so they can then find their way back home, the breadcrumbs are now tidbits of knowledge you must follow to learn the truth – that is the truth according to American conspiracy theorists QAnon. Summarising, QAnon claim that US President Donald Trump has been spearheading a secret war, between golf games, against "well known" Satan-worshippers and paedophiles – the President elect Joe Biden being one of them according to QAnon.
It all comes from the month of an unknown "Q" who posts the stories on encrypted message services and then shared around social media. Not to be confused with Q from James Bond who was responsible for ejector seats in Aston Martins, poison pens and guns fitted to license plates.
These messages from Q – "drops" or "crumbs"explain facts about a "cabal" within the "elite", or the secret war , referred to as the "cbts", or "calm before the storm". The series of "breadcrumbs are then shared and spread online by people that have the time to understand facts from an unknown person sprouting outrageous nonsense.
It would be laughable except that the QAnon theories (a poor use of the word 'theories') have been circulated in the White House by a number of staffers that subscribe to the trail of breadcrumbs, dragging other down the Q-inspired rabbit hole.
Elites
1. a select group that is superior in terms of ability or qualities to the rest of a group or society.
Not any more. Once the so-called elite drove around, or were driven around, in their black Mercedes Benz, shopped at those stores on the first floors of fancy shopping centres and puffed cigars whilst counting their millions. Now the "Elite" are a secret society of people who are complicit in planning and carrying out the biggest hoax in history – the Covid-19 pandemic.
The "elite" have conspired with governments to keep us sheeple in compliant control. Most governments find it difficult to role out stimulus payments and pick up the rubbish on time, let alone conspire to do anything in a secret, controlled manner. Any self-respecting elite usually does everything they can NOT to be involved in governments, anywhere.
Do you have any other favourite theories that keep popping up, or new words to add to the list? Tell us below…
Keep in contact with The Thaiger by following our
Facebook page
.
Never miss out on future posts by
following The Thaiger
.
Thousands gather in Bangkok for "anti-coup" protest picnic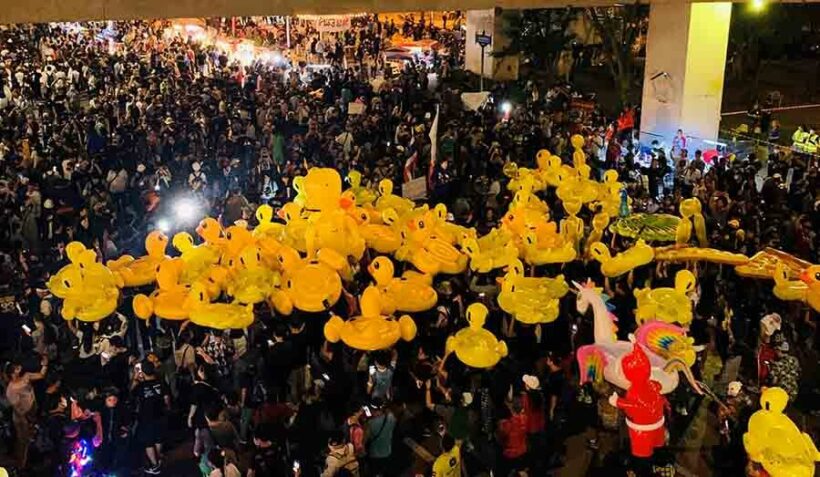 Around 5,000 pro-democracy activists gathered at the Lat Phrao intersection in the Chatuchak district of Bangkok last night, to oppose any potential coup. The gathering took the form of a picnic, at which mainly north-eastern dishes were served. Protesters described it as a rehearsal against military intervention, with one 18 year old activist, named only as Tan, saying history cannot be allowed to repeat itself.
"I'm only 18 but have seen 2 coups already. That's not right. We don't want history to repeat itself."
The rally was announced on Facebook by the United Front of Thammasat and Demonstration, who say the Thai people have had enough of coups that oust sitting governments. They described the event as "a drill against a coup d'etat".
"There have been too many coups in the past, so history has taught us to remain vigilant. Therefore, we would like to invite everyone to participate in a drill to prepare for another coup that could happen."
Army chief Narongphan Jitkaewtae has previously dismissed rumours of an impending coup, but the Ratsadon (People's Movement) group have voiced their distrust of the current military regime, saying history would indicate otherwise. Protest leader Panupong Jadnok, aka, "Mike", says the gathering last night is a powerful illustration of people's opposition to a coup.
According to a Nation Thailand report, there have been at least 12 successful coups in Thailand, an average of 1 every 7 years, since the country moved from an absolute monarchy to a constitutional monarchy following the Siamese Revolution of 1932. The last military coup was in May 2014, which brought former army general Prayut Chan-o-cha to power, where he has remained ever since.
One woman at last night's rally, a 32 year old named Natalie, says the 2014 coup has proved a disaster for the country and it's time for urgent change.
"Now is a crisis time in Bangkok and Thailand. I want new elections and to change the prime minister and for a new government to actually listen to the people."
Last night, the yellow ducks were out again, this time being used to represent the army. Protesters passed the ducks over their heads, to symbolise the military moving over the people to take a front row seat on the political stage. Activists flashed the 3-fingered salute at the rubber ducks, a gesture originally derived from The Hunger Games, that has become a powerful anti-establishment symbol. Activists also burned pictures of former coup leaders, including the current PM.
Last night's gathering follows another one in the capital on Wednesday, when thousands rallied outside the headquarters of the Siam Commercial Bank. The Bangkok Post reports that another protest is planned for today, in front of the Imperial World Samrong shopping mall in Samut Prakan, just outside Bangkok, and a further one tomorrow, at the Imperial Lat Phrao mall.
SOURCE: Bangkok Post | Nation Thailand
Keep in contact with The Thaiger by following our
Facebook page
.
Never miss out on future posts by
following The Thaiger
.
Thailand News Today | Army deny Twitter spin, "Don't Reopen", English proficiency low | Nov 27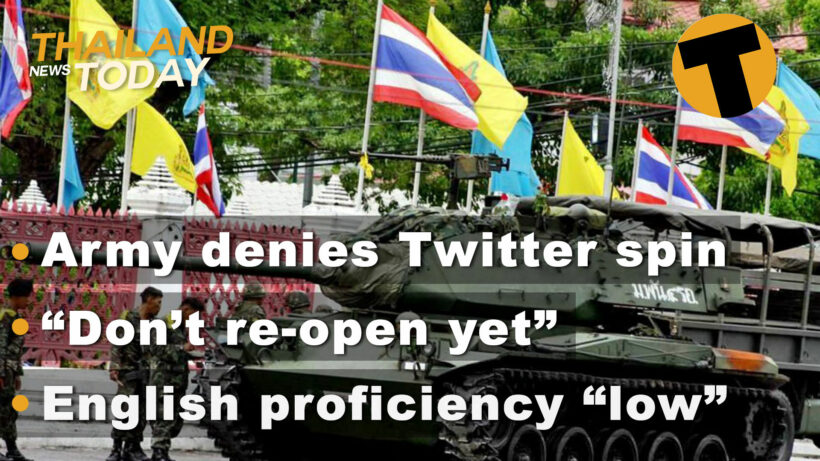 Last day of the week. Thought we'd go outside. Bad idea! Welcome to Friday's Thailand News Today.
Royal Thai Army denies claims about Twitter campaign to spread pro-government propaganda
Following a shutdown of 926 Twitter accounts linked to the Royal Thai Army, documents were leaked of what appears to be a contract between the Army and a private company supposedly hired to spread pro-government propaganda.
But Thailand's Army chief is denying the claims and says the Army never hired a company to spread pro-government propaganda through the over 900 Twitter accounts.
Last month, Twitter announced that it had suspended 926 accounts linked to the Royal Thai Army for violating the social media company's "platform manipulation" policies.
A report by an independent Cyber Policy Centre says the Army used Twitter to "cheerlead" with pro-government propaganda. The report says the Army used Twitter to criticise the now disbanded Future Forward Party and neutralise criticism after February's mass shooting where an Army soldier killed 30 people and injured 57 others.
Former WTO director cautions against re-opening Thailand too quickly
The former director general of the World Trade Organisation has issued a caution against Thailand throwing open its borders too early.
Supachai Panitchpakdi says Covid-19 is still very much a threat, pointing to other countries that appear trapped in a cycle of restrictions and lockdowns. He said that the cycle in many Western countries is not just damaging their economies, it's also leading to more infections and deaths and prolonging the time until the affected countries can restart their economies. He warns that re-opening Thailand's borders too quickly could have long-term negative impacts for the Kingdom.
Within Thailand there is a polarised view as to whether Thailand should be broadly re-opening its borders or not. Successive polls show that the Thai population is, generally, suspicious about re-opening too soon, especially whilst parts of the rest of the world are still trying to contain their infection rates. On the other hand Thailand's tourism and hospitality industry has been decimated with millions unemployed.
Bangkok's canal boat services go electric
A new electric passenger boat service started operating on Bangkok's Khlong Phadung Krung Kasem today. The klong traverses the eastern side of Rattanakosin Island.
The Thai PM launched the service at the Hua Lamphong Railway Station Pier, and was a passenger on the first boat ride this morning.
There's seven electric fibreglass boats in the initial service, each carrying 30 passengers.
The boats can run for four hours per charge at a speed of 10-15 kilometres per hour. There's solar roof panels to help power the electric outboard motors.
The new e-boats operate from 6am-7pm, with a boat departing every 15 minutes. Good news, passengers can travel for free for the first six months of the service.
Thailand's English level drops for the third year – English Proficiency Index
English skills in Thailand have dropped for the third year in a row with an English language proficiency score considered to be "very low."
In the past year, Thailand's ranking dropped from 74 out of 100 countries to 89, according to the 2020 English Proficiency Index by EF Education First. The index is based on test results from 2.2 million adults from 100 countries and regions.
Thailand scored 419 out of 800, which is considered "very low." Thailand ranks 20 out of 24 countries surveyed in Asia and 7 out of 8 countries in Southeast Asia, just ahead of Myanmar in last place.
According to the report, the lack of English proficiency in Thailand, Cambodia and Sri Lanka hampers access to jobs in the tourism industry which makes up more than10% of their economies.
Keep in contact with The Thaiger by following our
Facebook page
.
Never miss out on future posts by
following The Thaiger
.