Six arrested in Phuket drug shakekdown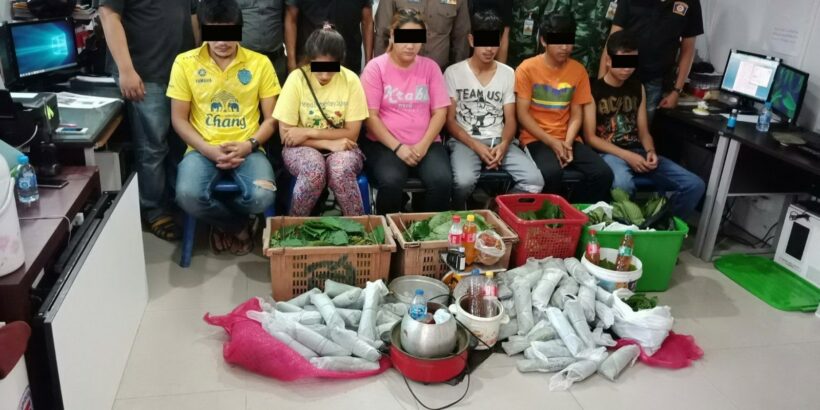 Cherng Talay Police have arrested six suspects found with kratom and marijuana yesterday (June 12).
• Police arrested 34 year old Ampohn Chitchonlatan from Phuket. She was found with 15 of kratom leaves, 0.45 litres of liquid kratom,  a bottle of cough syrup and a bottle of Coca Cola drink.
• Police arrested 29 year old Tippawan Chueasaman from Phuket. She was found with 9.5 kilograms of kratom leaves.
• Police arrested 29 year old Anwa Sidae from Narathiwat. He was found with 7.1 kilograms of kratom leaves.
• Police arrested 20 year old Sayutee Satae from Songkhla. He was found with 0.25 litres of liquid kratom and one bottle of cough syrup.
• Police arrested 20 Waemuhammad Sahaedeng from Pattani. He was found with 0.45 of liquid kratom, one bottle of cough syrup and one bottle of Coca Cola drink.
• Police arrested 27 Tanusorn Chitchonlatan from Phuket. He was found with 0.9grams of marijuana.
They have all been charged with illegal possession of Category 5 drugs with intent to sell.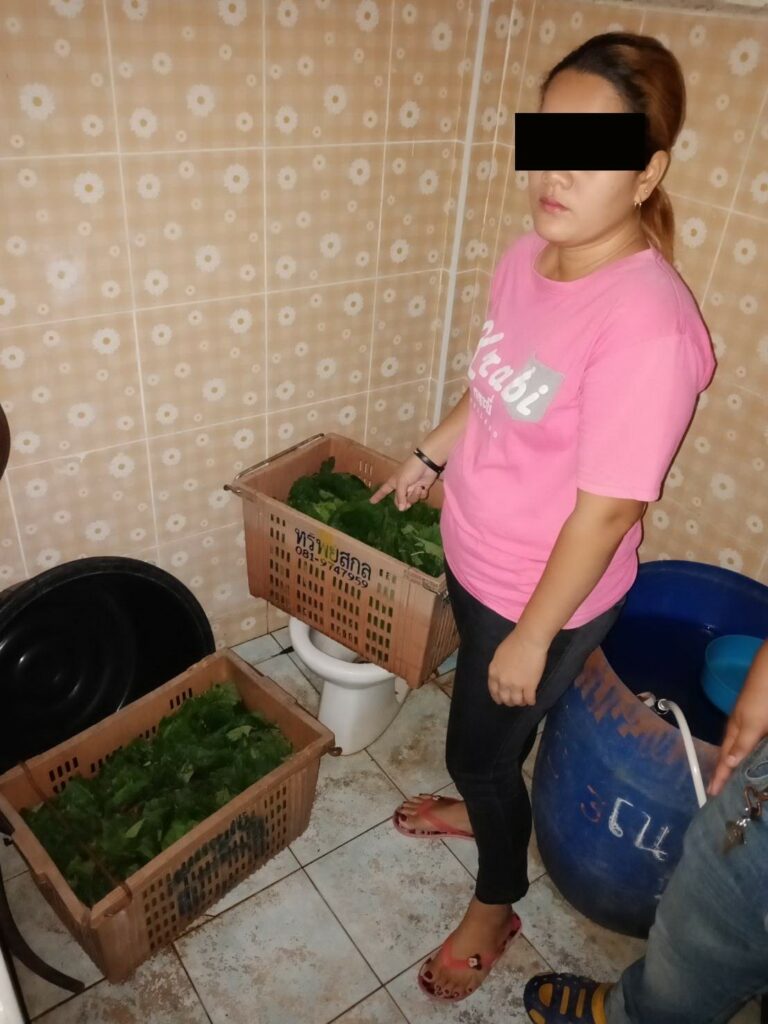 - Kritsada Mueanhawong
Chiang Mai: New Zealander accused of masterminding murder of his Korean mother Chiang Mai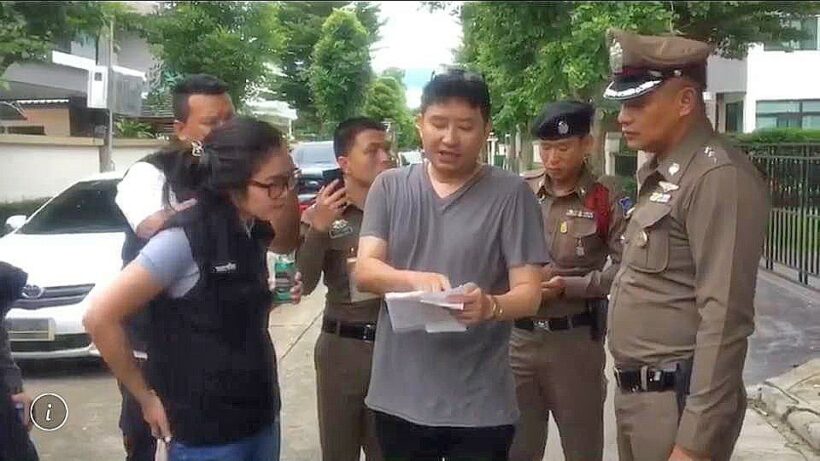 Chiang Mai police have arrested a New Zealander for allegedly masterminding the murder of his Korean mother by setting it up as quarrel between his wife and his elderly mother.
50 year old Brian Lee was arrested and charged with masterminding the murder of 76 year old An Jung Ja at a house in the Mountain View village in Tambon San Phisua in Chiang Mai's Muang district on Thursday. He was being detained at the Mae Ping police station.
Earlier, Lee claimed his mother had a quarrel with her daughter-in-law, Park Songhee, who then stabbed her to death out of anger. Lee said his mother became angry at the speed of Park's response to being called, and so grabbed her daughter-in-law and slammed her head against the wall and injuring her, before Park then stabbed her.
But after checking forensic evidence and security-camera footage, police concluded that Lee had lied about the quarrel and took part in the killing of his mother. His wife was under police watch at Chiang Mai Hospital.
Police said Lee's mother had several apartments and businesses in South Korea, and Lee had brought her to live with the couple in Chiang Mai six months ago.
STORY: The Nation
Bangkok: Female's head and body parts found in bags north-east of city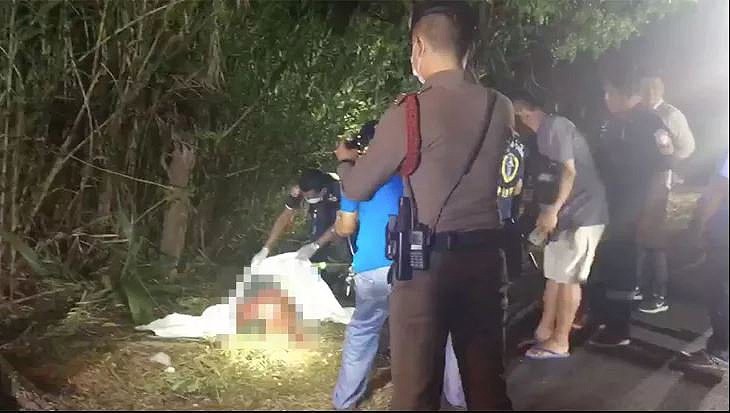 PHOTOS: Thai Rath
The mutilated body of a female has been found in the Soi Klong Samwa, in the north-eastern outer suburbs of Bangkok. Minburi police, forensic experts and members of the Por Teck Tung Foundation headed to the location where the body was found.
In a shoulder bag, wrapped in a black rubbish bin liner, was the head of a long haired woman.
Several metres away were two fertiliser sacks that police believe contains the torso and body parts of the victim. The body parts are believed to have been in the sack for three or four days. The location of the grisly find was about 1 kilometre down a small soi and was found after local residents smelt a bad odour.
Police are continuing their investigating.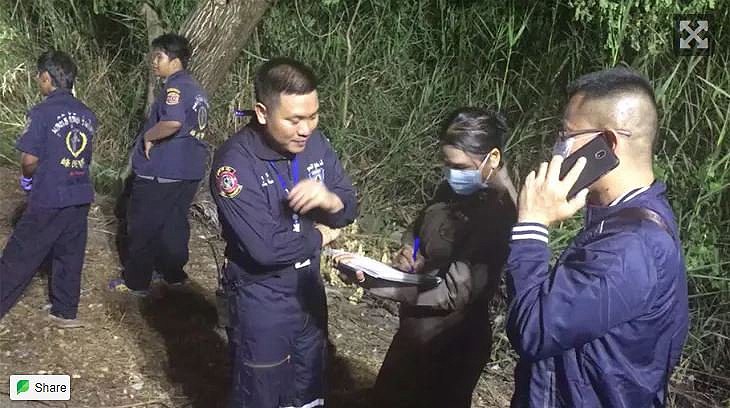 Phuket: Two arrested in Rawai over illegal football gambling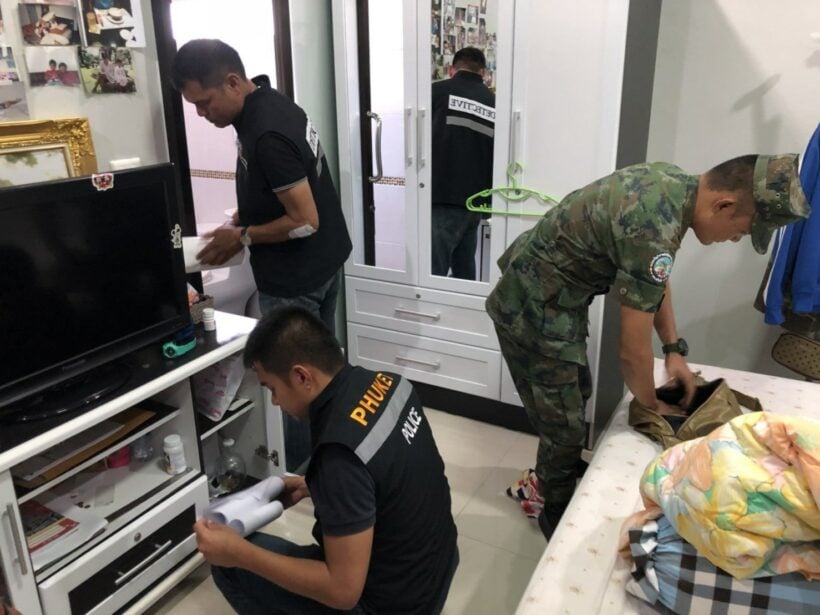 Two Thai men have been arrested in Rawai after they were found to be illegally gambling on World Cup football matches.
Yesterday afternoon a team of officials from the Chalong Police arrested 55 year old Gosri 'Boon' Rueangrit and 30 year old Sriwawut Rueangrit at a house in Rawai.
Police seized four books of loan lists from Gosri, a bank book and football match prediction lists (dated  June 21). The items and the men were taken to Chalong Police Station for further questioning.
Gosri has since been charged with offences relating to the Excessive Interest Rate Prohibition Act and providing illegal football gambling.
Police seized a mobile phone from Sriwawut with a screenshot of the 'lion888.net' website including the username 'la151199' – a football prediction App with predictions and betting odds from June 17-22.
Sriwawut has been charged with illegal football gambling.