Surat Thani school director transferred over pathetic school lunches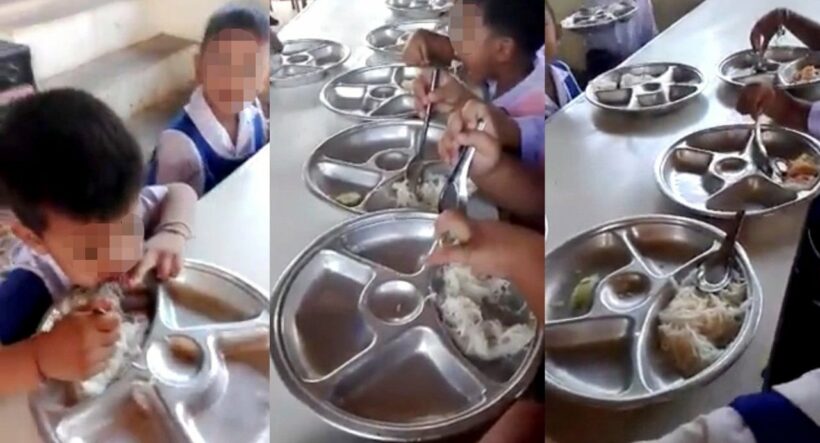 The Education Ministry is investigating the former director of the Ban Tha Mai School in Suran Thani province for alleged "grave disciplinary offences".
His alleged penny-pinching cuisine options drew the attention of authorities after someone posted a video clip on the internet showing students at the Ban Tha Mai School in the Tha Chana district eating noodles with just fish sauce for lunch.
Somchao Sittichen, who was transferred out of the school's top position on June 1, risks being sacked without pension benefits if found guilty.
31/พ.ค./61ขนมจีนกับน้ำปลา คือ อาหารกลางวันเด็ก ของโรงเรียนบ้านท่าใหม่ หมู่ที่17 ต.ประสงค์ อ.ท่าชนะ จ.สุราษฎร์ธานี(เด็กโตน้ำแกงหมูสับ)สำนักงานคณะกรรมการป้องกันและปราบปรามการทุจริตแห่งชาติ ภาค 8สำนักงานป้องกันและปราบปรามการทุจริตในภาครัฐ เขต 8 จ.สุราษฎร์ธานี

Posted by ชมรมstrong-จิตพอเพียงต้านทุจริต จังหวัดสุราษฎร์ธานี on Wednesday, May 30, 2018
The pathetic student meals suggested that something was amiss at the school. Under regulations, schools must provide at least rice with two side dishes plus a dessert or fruit.
Lt-General Kosol Prathumchart, an adviser to Education Minister Teerakiat Jareonsettasin, yesterday inspected the school alongside several senior education officials to dig deeper into the matter.
Some junior teachers wept as they told the inspection team of how Somchao forced them to sign their acceptance of various works for the school and documents using "creative accounting".
"You have no need to fear. Please tell us everything," Kosol said.
The inspecting team said the teachers' testimony would count in the investigation against Somchao.
Jakkarin Apisamai, deputy director of Surat Thani's Primary Educational Services Area 2 Office, said Somchao is now facing at least 10 wrongdoings.
"Five of them are offences of a serious nature," he said.
According to Jakkarin, corruption over lunchtime meals is just one of the serious allegations against Somchao. Others include substandard road construction for schools, channelling school funds to his own pocket, and having just six electricity poles erected for the school while in fact the school should have got eight poles.
Songwut Maliwan, deputy director of the Fund for School Lunch Office, said he had heard that because current teachers at the Ban Tha Mai School were much younger than Somchao, they did not argue with him.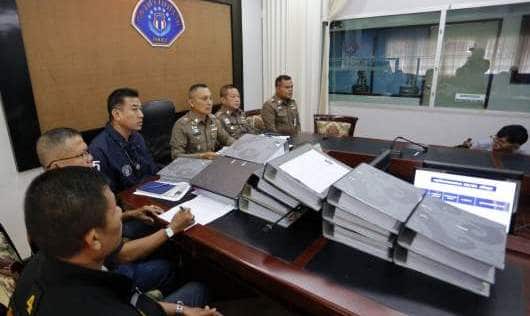 "Another factor that allowed Somchao to steal lunch money is the fact that the Education Ministry no longer conducts random checks on lunch quality," he said.
Meanwhile, parents yesterday officially called on the Udon Thani Primary Education Services Area 4 Office seeking the transfer of Ban That Prachanukul School director Kanlaya Phontura.
Kanlaya, who has helmed the school since 2015, is now accused of inefficiency and inappropriate behaviour.
"We have noticed that the school has now reduced the lunch budget by 25 per cent," said Prakai Luenkaew. "Food that is supposed to be for children is also shared with teachers."
Prakai, moreover, said from the time Kanlaya had headed the school, every student was required to pay 1 baht for drinking water.
"Only students in Anubarn 2 level do not have to pay because their teachers offer to pay for them," she said.
The Udon Thani Primary Education Services Area 1 Office has promised to investigate.
"We will set up a fact-finding committee within seven days," the office's deputy director Prasit Chaiwong said.
Keep in contact with The Thaiger by following our
Facebook page
.
Never miss out on future posts by
following The Thaiger
.
Pattaya firework party lights up the weekend | VIDEO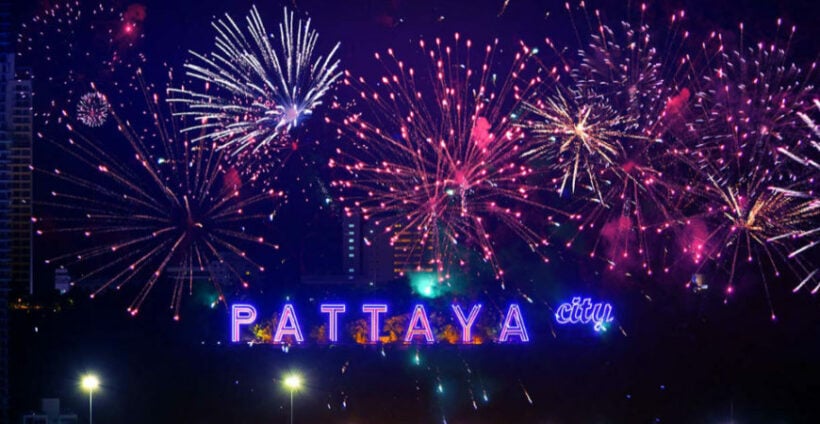 After much anticipation, the Pattaya Fireworks Festival lit up the sky this past weekend, delighting spectators with beautiful night beachside spectacle. More importantly, it was the first time Pattaya was packed with tourists since March this year, albeit mostly Thai tourists.
The event program was packed with long fireworks shows with hotels offering promotions for advanced bookings in an attempt to provide a much-needed boost to the local economy over the weekend.
To watch some of last night's events from Mike Bridge, click HEREand HERE.
The annual festival saw Thais and foreigners taking part in the festivities as local bars, pubs, restaurants, and food vendors enjoying a bit more padding in their pockets. Organisers didn't disappoint as they carried out their assurances to provide a world-class show with 4 fireworks shows per night. Such titles as "Shining in Sky," "Paradise Pattaya, Everyday for Everyone," "Pattaya Twilight, Decorated Stars," and "Light is Life," summed up the shows' themes.
During one of the shows' breaks, a 45 minute concert by popular Thai artist "Mean" graced the ears of onlookers, while an elephant show, by the Pattaya Elephant Camp, proved to be a sight for sore eyes. Marching bands featuring local Thai students started from the North Pattaya area and parading down Beach Road to the main stage area, located near Central Festival Mall filled the air with music, along with tiger shows and an art show by Nong Nooch Botanical Garden rounding up the schedule.
The popular Thai rock band "Big Ass" wrapped up the last fireworks show at 9:30 pm, with another popular Thai band "Boom Boom Cash" rocking out the night.
SOURCE: Bangkok Post
Keep in contact with The Thaiger by following our
Facebook page
.
Never miss out on future posts by
following The Thaiger
.
Tokyo Olympics may cost almost US$2 billion more due to Covid delay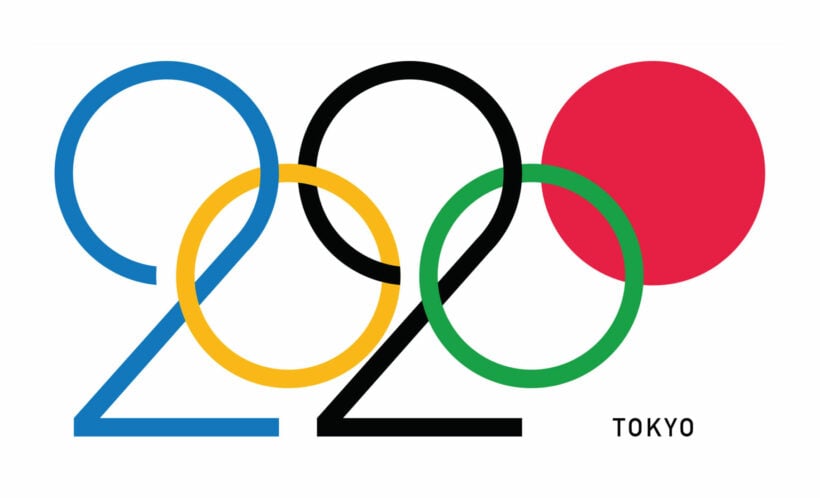 The Tokyo Olympics may cost almost US$2 billion more than its original budget of US$13 billion, after it has been delayed due to the coronavirus pandemic. Olympic organisers say they will decide on the increased budget for the Games after communicating with Japan's government and Tokyo. The Games were postponed by 1 year after Covid-19 spread worldwide, with its opening date set to July 23, 2021. Of all the events postposed because of Covid-19, the Olympics was the biggest and most complex to postpone.
Such a delay has yielded new costs, from retaining the organising staff, rebooking venues and transportation. Not to mention, the question of if the event can actually proceed safely. But Olympic officials are reaffirming that the Games can, indeed, be held following safety measures.
Such covid safety measures are reportedly another reason why the price of the event has increased, although the new estimated cost doesn't include such measures. Officials say they are expecting the additional costs to be paid for by the Japanese government. Organisers and officials are reportedly considering a long list of possible virus countermeasures that they hope will make the Games possible, even if a vaccine is not yet available.
A dialed-down, lower-cost Olympics plan was announced in September, with banners, mascots, meals, and athlete welcome ceremonies being scrapped along with fewer free tickets to be offered. A senior official has said that Tokyo Olympics test events will resume in March with a decision on fan attendance to be made in the spring season.
Thomas Bach, the International Olympic Committee Chief says he is very confident that the Games will have attending fans. However, fan enthusiasm has decreased inside of Japan, with summer polls indicating only 1 in 4 Japanese people wanting the Games to happen, with most wanting them to be postponed or even fully cancelled.
So far, Tokyo has reported just over 40,000 cases of Covid, with Japan reporting 145,000 cases since the pandemic began.
SOURCE: Bangkok Post
Keep in contact with The Thaiger by following our
Facebook page
.
Never miss out on future posts by
following The Thaiger
.
5 family members killed in early morning collision in Nakhon Ratchasima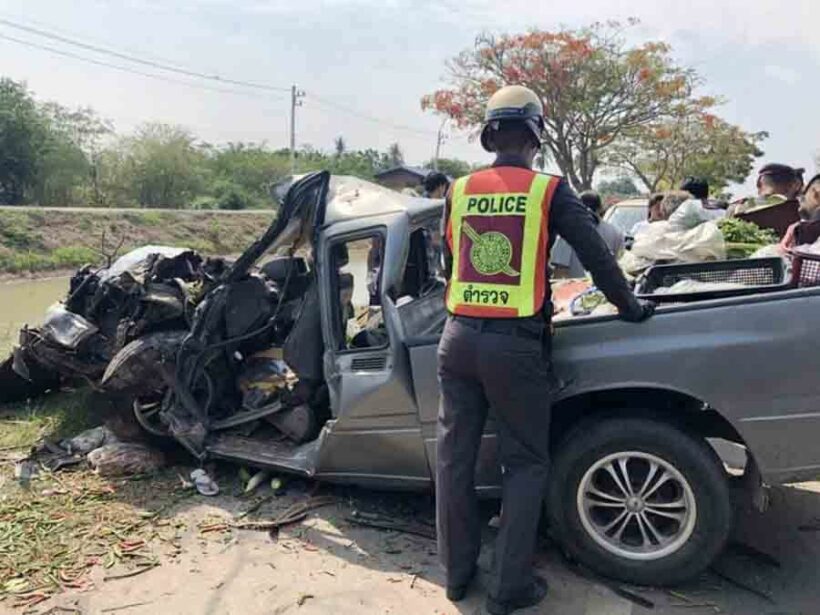 An early morning collision today has taken the lives of 5 family members in Thailand's lower northeastern province of Nakhon Ratchasima. One boy, aged 5, and two girls, aged 3 and 11, along with other family members, were killed when a pickup and sport utility vehicle collided in the Non Daeng district at around 6:40 am on the Mitrapap highway near the Ban Krok village of tambon Yao Yai, which lies north of Nakhon Ratchasima town. 4 men were also injured in the crash.
28 year old Anuwat Onnual, the driver of the Isuzu pickup, told police that he and 2 other male passengers were returning to Bangkok after unloading meatballs in Nong Khai province, when he lost control of the pickup, causing it to swerve across the highway median and collide with an oncoming Toyota SUV in Non Daeng district. Anuwat admitted he had fallen asleep at the wheel.
The other family members apart from the children killed were a 30 year old woman, who was driving, and another 35 year old woman. 2 other men who were in the SUV were also seriously injured along with 2 other men in the pickup. Those who were injured were separately admitted to Khong, Sida and Non Daeng hospitals, which are situated along the Mitrapap highway where the accident occurred.
Police say all 7 people who were travelling in the SUV were of the same family, in which 5 of those family members were killed. Police say an investigation was underway.
The accident is the latest in Thailand's ongoing dangerous road saga, as 2 days ago, a Thai singer died after crashing his carinto a lamppost while on a video call with his girlfriend. 23 year old Akkarachai, known as Ice, was found dead at the scene on Pahonyothin Road, or Route 1.
SOURCE: Bangkok Post
Keep in contact with The Thaiger by following our
Facebook page
.
Never miss out on future posts by
following The Thaiger
.