SUNDAY MORNING NEWS BRIEFING – All your local news in 3 minutes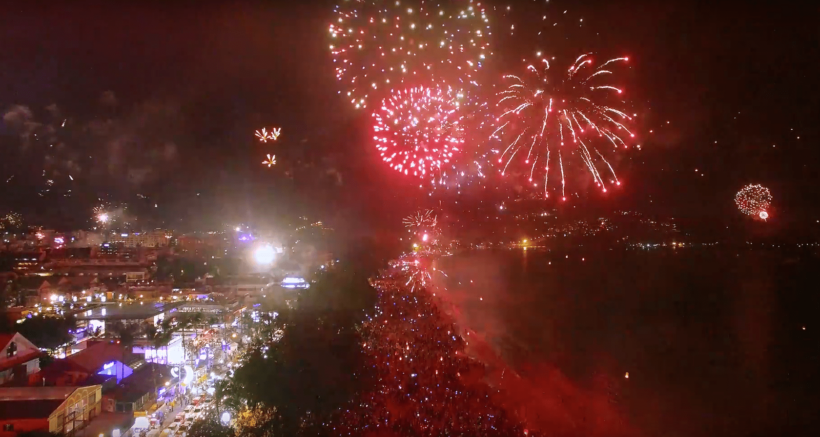 Last day for 2017. But it's the middle of the 'Seven Days of Danger' and the road carnage continues despite an all out effort of Thailand's police to stem the flow. Not surprisingly, drunk-driving is still the leading cause of deaths on our roads. PLEASE be safe tonight, make arrangements ahead of time for your safe return home after celebrations. We look forward to seeing you again tomorrow for the start of 2018. Let's see what's in the news for the final day of 2017…
More Facebook pics of Yingluck in London surfacing
In what's turning out to be a bit of a UK travel blog, more pictures are surfacing, said to be of former PM and fugitive Yingluck Shinawatra strolling around London shopping.
Facebook page 'secret100million' posted more photos showing a woman who looks like Yingluck and a boy, who resembles Yingluck's 15 year old son Supasek in a shopping mall.
(Looks like Facebook has been able to do something Interpol and Thailand's police force haven't been able to achieve so far.)
Yingluck fled the country a few days before the Supreme Court was set to rule in August in a case against her government's rice-pledging scheme. She has not been seen in public since.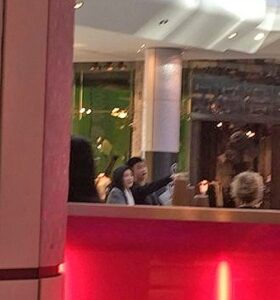 Chalong searching for 6, missing off Karon
Chalong police are following up a report about 6 men who went missing while fishing off Karon in a local boat.
The boat, called Jarin, headed off on the morning of December 29 from Chalong Pier. A mother of one of the missing men says he contacted her when they were off Kata Beach the same afternoon saying that there was a fuel leak and they were running out of fuel. The mother and other relatives have been searching for the 6 ever since and haven't had any contact with them since Friday afternoon.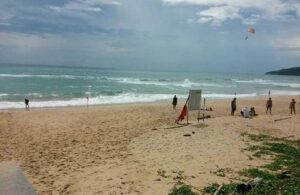 Breakdown of first two day's road statistics – Seven Days of Danger
A total of 92 people were killed and 1,107 injured during the first two days of the 'seven days of danger' around the country.
More than 42 per cent of the accidents had been caused by drunk driving, followed by speeding at 23 per cent. 78 per cent of the vehicles in the accidents were motorbikes. And 68 per centof the accidents happened on straight roads.
Meanwhile, Prime Minister Prayut Chan-o-cha says he will assign the Transport Ministry to figure out how to improve road networks by creating web-like transport routes to avoid traffic congestion.
He's also asking relevant government agencies to better inform drivers of alternative routes so that they could avoid the heavily congested main roads.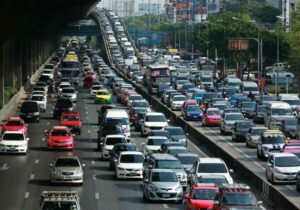 90% occupancy in Phuket for New Year period – TAT
Hotels and resorts in Phuket report an average of 90 per cent capacity for the New Year holidays, according to the director of the Phuket office of the TAT (Tourism Authority of Thailand).
The local TAT is reporting the occupation rate was about 10 per cent higher than last year, and tourists had arrived from China, Russia, Australia and Europe.
Phuket Old Town will be the venue for the "Amazing Thailand Countdown 2018 @ Phuket" at the Charter Bank intersection tonight, as well as Government-organised celebrations at Saphan Hin and Patong.
Richard Hearne captures last year's fireworks over Patong…
Passenger vans biggest cause of accidents in public transport
Most of the road accidents involving public transport in 2017 were caused by vans, this from the chairman of Project for Safety Passengers of the Foundation for Consumers.
Passenger vans had 236 accidents for the first 11 months this year, or just over 21 accidents per month, injuring 906 people or 82 people per month. Accidents in passenger vans have been responsible for 113 deaths over 2017.
Regular public buses had 102 accidents and 26 killed during the same period.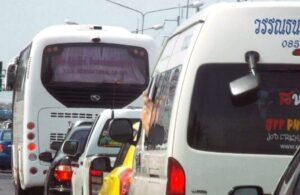 Second airport approved for Chiang Mai
The cabinet has given a go-ahead for the construction of a second international airport in Chiang Mai.
The cabinet's also endorsed the Transport Ministry's proposal to expand the current passenger's terminal at Chiang Mai airport so that it will be able to accommodate up to 20 million passengers a year from 10 million passengers as it is now. New passenger terminals are also planned to be built at Mae Sot, Phrae and Phetchabun airports and their runways extended.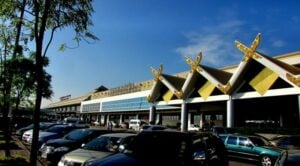 Keep in contact with The Thaiger by following our
Facebook page
.
Hostage drama in Chiang Mai – Man holds seven 7-Eleven employees hostage.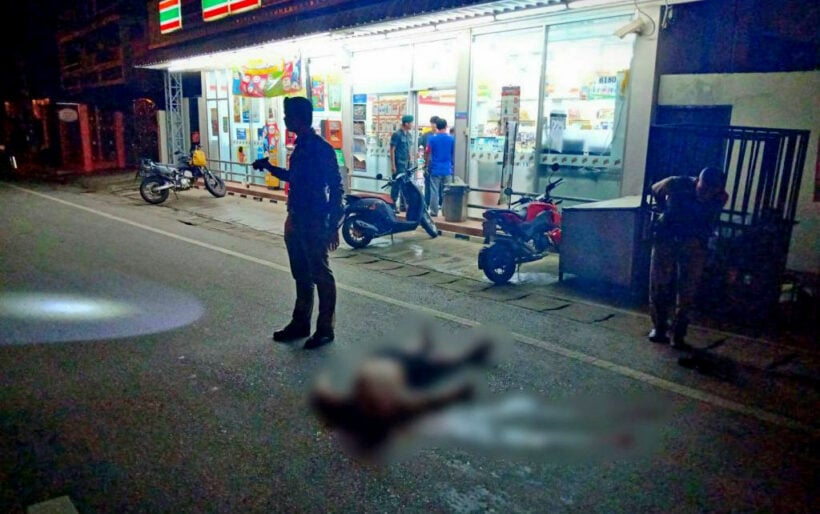 PHOTO: Chiang Mai City Life
A former Thai soldier has killed himself following a stand-off with police in Chiang Mai where he had taken seven 7-Eleven employees hostage. Eyewitnesses told Chiang Mai Citylife that a man with a gun arrived at the 7-Eleven in Mae Rim district on Chotana Road at around 5am yesterday and took one of the employees hostage.
The sergeant, who is described in reports as being "frantic and depressed", demanded that staff in the 7-Eleven live-stream the event on LINE, which they did.
Local police were called and were attempting to negotiate with the man when he shot himself in the head. Sergeant Punghong was rushed to Nakhon Ping Hospital where he later died from his injuries three hours later.
The dead man has been named as Sgt. Phongphan Kunhong, a 37 year old former soldier from Pha Mueang Force in the Chiang Rai district.
The soldier's superior confirmed to police that the man had been suffering from a depressive disorder. He died after several attempts to save him.
SOURCE: Chiang Mai City Life
Keep in contact with The Thaiger by following our
Facebook page
.
Less monitoring, more enforcement – Prawit warns northern officials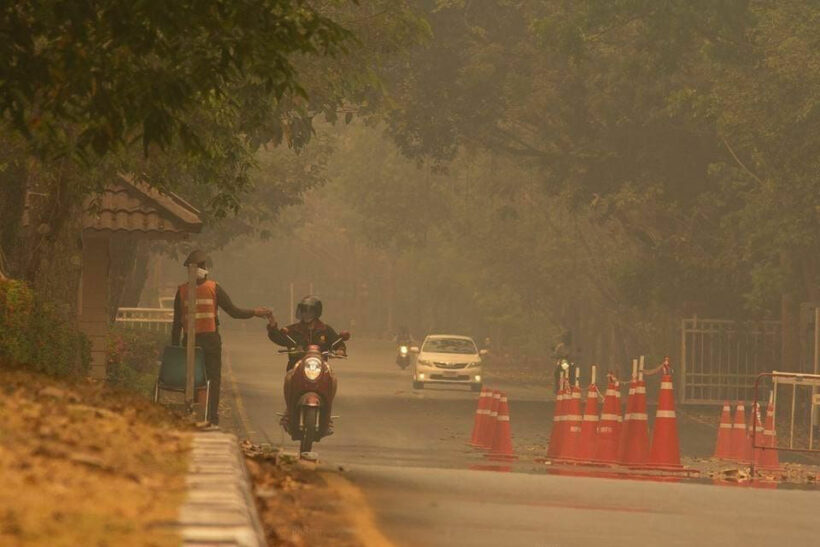 PHOTO: The Thaiger
Thai Deputy PM Prawit Wongsuwan and Natural Resources and Environment Minister Varawut Silpa-archa were in Chiang Mai yesterday to give provincial governors and state agency officials a 'heads up' in preparation for another looming season of forest fires and haze.
The North suffers perennial choking smog from approximately February to April, and Prawit passed on a message from PM Prayut Chan-o-cha who, he said, was fretting over the impact on people's health.
He said the Environment Ministry would take the lead in coordinating with neighbouring countries and related local authorities to monitor the fire problem both in and outside Thailand.
The fires are lit in northern Thailand, and over the border in Myanmar, as burn-offs to prepare for the next year's crops. Last year's choking smoke haze was headline news for months.
SOURCE: The Nation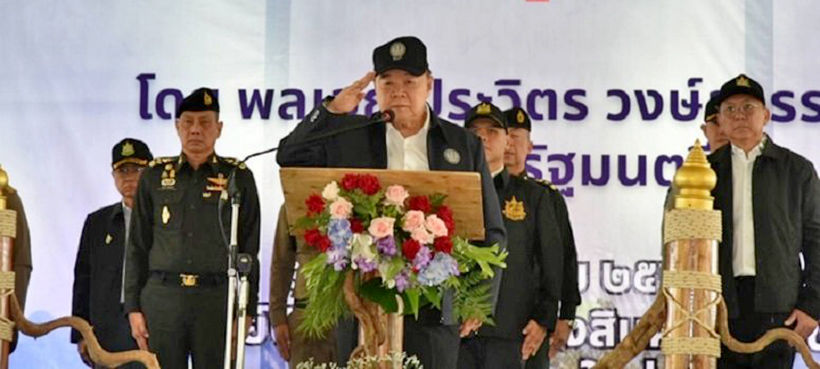 Keep in contact with The Thaiger by following our
Facebook page
.
Chiang Mai hotels face a quiet end to 2019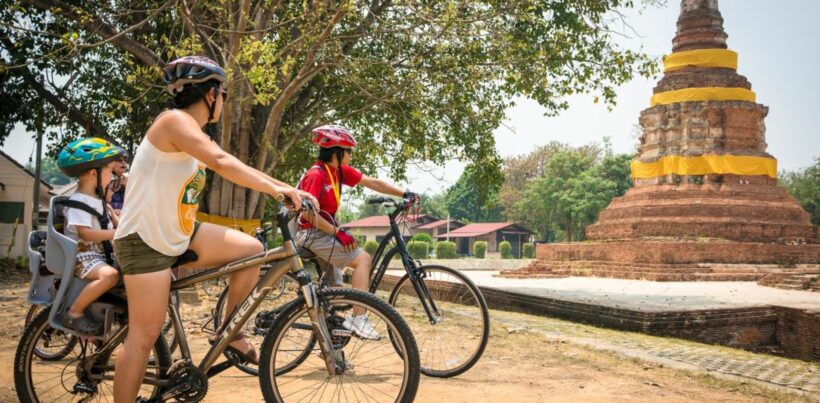 PHOTO: Spice Roads
Chiang Mai hotels are bracing for a quiet end to 2019, along with other Thai tourist hotspots, due to the strength of the baht, an over-supply of rooms and the growing popularity of home-sharing accommodations like Airbnb.
Hoteliers in the northern city are also suffering the fall-out from the smoke haze crisis earlier in the year which put off a lot of forward tourist bookings.
Occupancy rates have fallen in Q3 20%, compared to an 80% rate at the same time last year. Hoteliers say that, usually, this is a relatively busy time for the northern city with school holidays in Europe and China. This year's Chinese 'Golden Week' (October 1-7) was also very quiet compared to previous years.
They predict the average occupancy rate of less than 60% may be the 'norm' for the rest of the year. At the same time the number of rooms in Chiang Mai has risen an additional 10,000 rooms to 60,000 rooms in just two years, so there is a glut of rooms competing for dwindling business.
The rise of home-sharing accommodation in northern Thailand is further exacerbating the problem for the traditional hotel market. Hoteliers are also blaming this year's negative publicity about the smoke and haze during March and April.
According to the Bangkok Post, in the first eight months of this year Chiang Mai welcomed 6.38 million tourists, down 2.2% compared to the same period last year.
SOURCE: Bangkok Post
Keep in contact with The Thaiger by following our
Facebook page
.