Students protest at Srinagarindra the Princess Mother School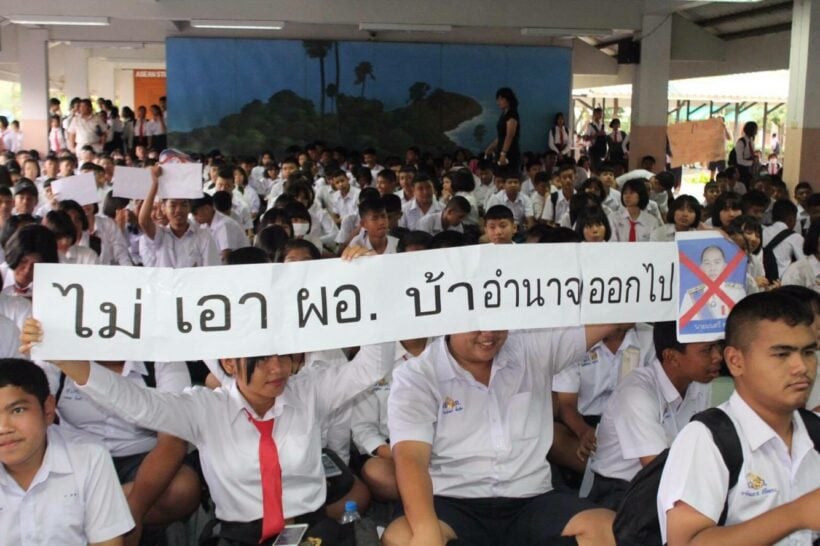 About 500 students alongside some teachers and parents of Srinagarindra the Princess Mother School in Phuket, gathered this morning (September 11) to call for the School Director to resign following several criticisms about his work.
The signs written by students were presented at the protest showing many issues such as "Megalomaniac, get out!", "Go use your power somewhere else. We don't want you here", "What Teacher Soh said was right and for the benefit of students. Why did you have to insult him until he was shocked and sent to hospital?", "Why do you have to ask all teachers to pay 10,000 for each building pillar and threatened to expose whoever does't obey on the school board?" and "When your student had an accident, have you ever paid attention?"
Wichit police went to the school to control the unfolding protest. Students and teachers who led the mob were asked to have a talk with the school's administrative board. However, they couldn't make any agreement as they required a negotiator.
Later in the afternoon, Phuket's Governor ordered local authorities to schedule a meeting with the two sides.
After 2 hours of meetings, the Deputy Chief of Phuket Provincial Education Office, Sutat Kaewpoon, alongside the Deputy Director of the school, explained to the protestors that there were two outstanding problems. The first one is the administrative and management style of the Director which also includes the way he treats his subordinates. The second one pertained to the budget spending on school and education development.
After the meeting at the school the cases will be filed with the Governor and the Phuket Provincial Education Office as well as School District Office Region 14 who is directly responsible for the school and who will decide on the cases. During the consideration, the School Director will remain in his position.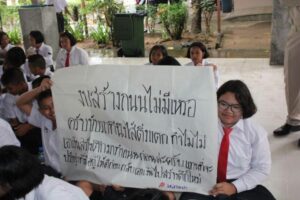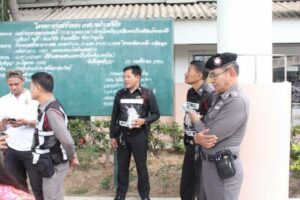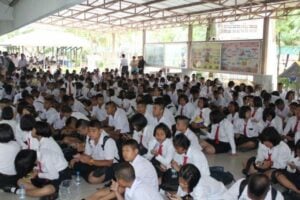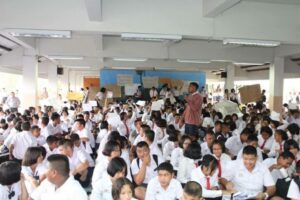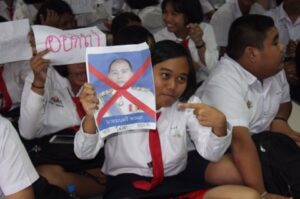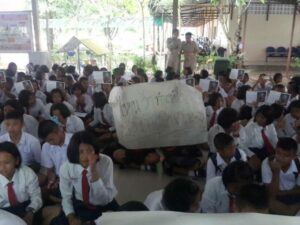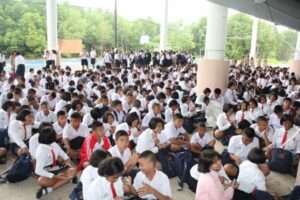 Keep in contact with The Thaiger by following our
Facebook page
.
Measures outlined to reach 39.8 million tourists' target by end of 2019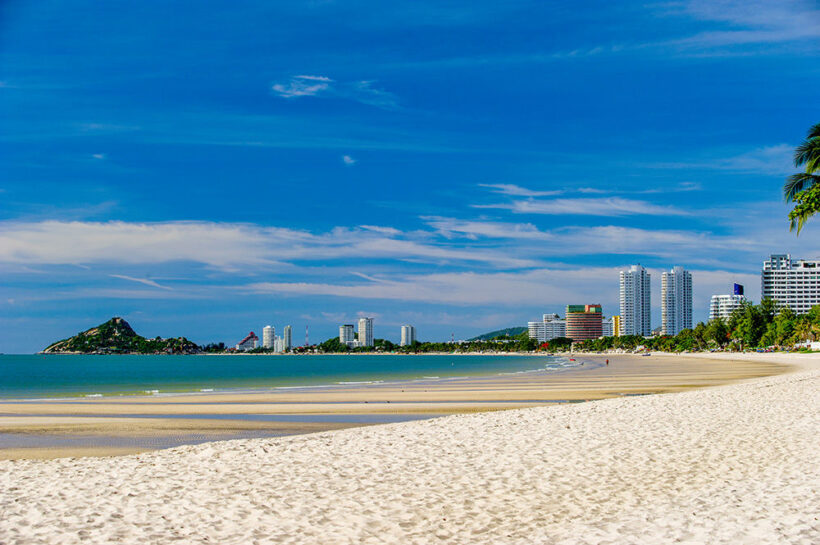 PHOTO: TAT News – Hua Hin Beach
The cabinet of economic ministers has approved 18 measures with the aim of attracting 39.8 million tourists in the coming year.
A government spokesperson says the measures "comprise short, medium and long-term initiatives". They include financial and legal steps to stimulate tourism markets, such as the Amazing Thailand Grand Sale "Passport Privileges" which will offer a 30-70% discount for tourists. Medium and long-term measures include special credits for lodging operators and the organising of world-class events, exhibitions and activities nationwide.
One measure being introduced under the Thailand Tourism project consists of two campaigns: one called ''100 Baht for All Destinations Throughout Thailand'' will be open for registration on November 11-12 and December 11-12. People can register via the Tourism Authority of Thailand's website.
The other campaign, called "Shocking Price on Weekdays," will be offered to those who travel to a Thai destination from Mondays-Thursdays, beginning in November until the end of the year.
SOURCE: National News Bureau of Thailand
Keep in contact with The Thaiger by following our
Facebook page
.
Piyabutr warns Army Chief's remarks will deepen national divide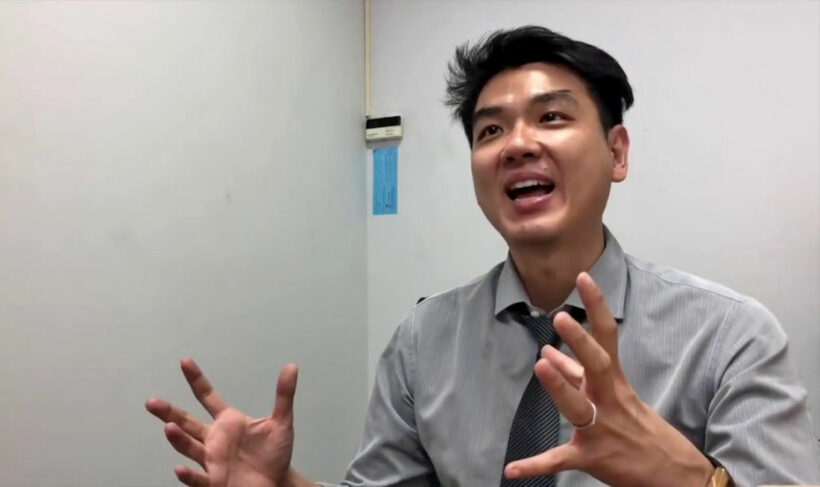 The Future Forward Party secretary-general says that Army chief General Apirat Kongsompong's remarks on politicians, academics and national security could deepen the political divide in the country and spark a "clash of generations".
Piyabutr Saengkanokkul made the remarks at a seminar where he spoke on "homeland from the democratic perspective and the role of the people in building the nation". The seminar was held in response to Apirat's special national security speech on Friday.
During his speech, Apirat warned of the continuing threat to Thailand from communism and dissidents. He claimed some former communists had become politicians, and some had become academics but the "communist ideology chips were still implanted in their heads".
He also cited threats from information warfare and propaganda, and the spread of fake news, which he saw as a collaboration between former communists and "foreign-graduated leftists and unethical scholars".
Meanwhile, in his speech Piyabutr emphasised respect for difference of opinion, human dignity, rights and liberty.
"National security is equal to the people's security".
SOURCE: The Nation
Keep in contact with The Thaiger by following our
Facebook page
.
Nigerian astronaut needs $3 million to get home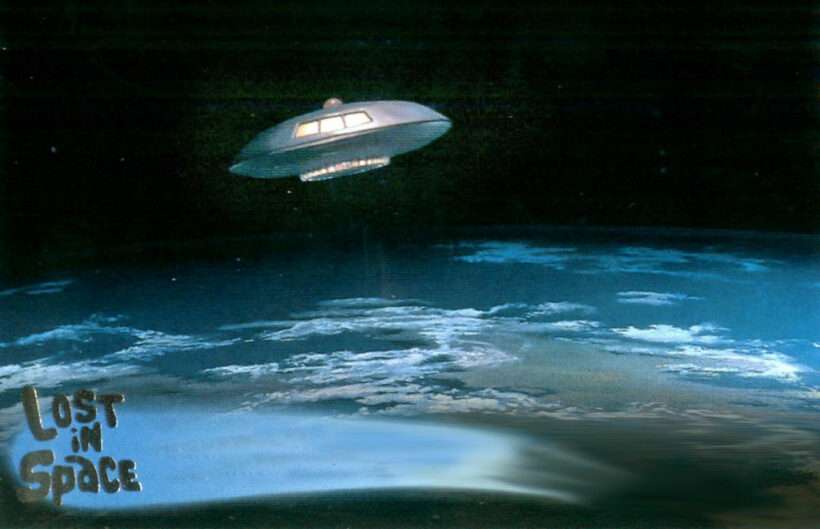 PHOTO: Lost In Space? Or lost in reality? Maybe someone will fall for it – Lost in Space's Jupiter 2
The Nigerians have somewhat of a reputation for scams and scammers. Who hasn't received an email offering loads of cash in return for your bank account and a moderate deposit? But this letter takes the famous Nigerian Scam to another level. Or perhaps it's true (we don't think so…)?
Subject: Nigerian Astronaut Wants To Come Home
Dr. Bakare Tunde – Astronautics Project Manager
National Space Research and Development Agency (NASRDA)
Plot 555, Misau Street, PMB 437
Garki, Abuja, FCT NIGERIA
Dear Mr. Sir,
REQUEST FOR ASSISTANCE-STRICTLY CONFIDENTIAL
I am Dr. Bakare Tunde, the cousin of Nigerian Astronaut, Air Force Major Abacha Tunde. He was the first African in space when he made a secret flight to the Salyut 6 space station in 1979. He was on a later Soviet spaceflight, Soyuz T-16Z to the secret Soviet military space station Salyut 8T in 1989. He was stranded there in 1990 when the Soviet Union was dissolved. His other Soviet crew members returned to earth on the Soyuz T-16Z, but his place was taken up by return cargo. There have been occasional Progrez supply flights to keep him going since that time. He is in good humor, but wants to come home.
In the 14 years since he has been on the station, he has accumulated flight pay and interest amounting to almost $ 15,000,000 American Dollars. This is held in a trust at the Lagos National Savings and Trust Association. If we can obtain access to this money, we can place a down payment with the Russian Space Authorities for a Soyuz return flight to bring him back to Earth. I am told this will cost $ 3,000,000 American Dollars. In order to access the his trust fund we need your assistance.
Consequently, my colleagues and I are willing to transfer the total amount to your account or subsequent disbursement, since we as civil servants are prohibited by the Code of Conduct Bureau (Civil Service Laws) from opening and/ or operating foreign accounts in our names.
Needless to say, the trust reposed on you at this juncture is enormous. In return, we have agreed to offer you 20 percent of the transferred sum, while 10 percent shall be set aside for incidental expenses (internal and external) between the parties in the course of the transaction. You will be mandated to remit the balance 70 percent to other accounts in due course.
Kindly expedite action as we are behind schedule to enable us include downpayment in this financial quarter.
Please acknowledge the receipt of this message via my direct number 234 (0) 9-234-XXXX only.
Yours Sincerely, Dr. Bakare Tunde
Astronautics Project Manager
XXXX@nasrda.gov.ng
Keep in contact with The Thaiger by following our
Facebook page
.