Unidentified body found floating in Ranong lake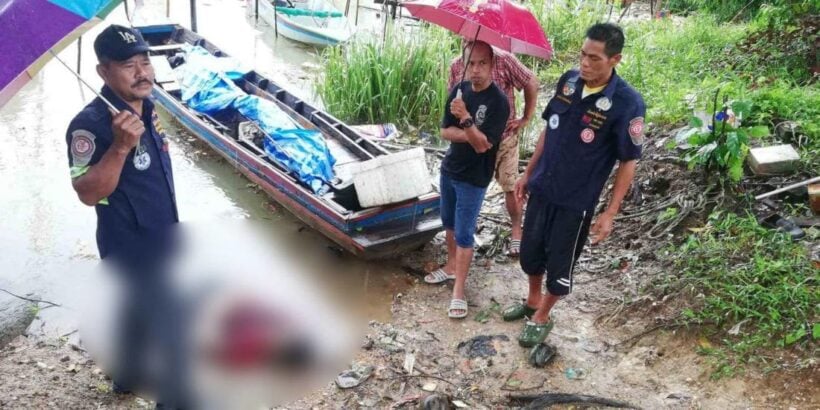 The body of an unidentified Thai man has been found floating in a small Ranong lake this morning.
The body, without any obvious signs of identification, was found on the lake in Moo 2 village in Tambon Bang Bon in Muang district at 8.50am. Police say the man appeared to be around 40 to 50 years old without any identification documents on him when he was found.
Local residents say they don't know who he is, but remembered seeing him collecting oysters in the pond recently.
The body was sent to Ranong Hospital for identification and contact with relatives.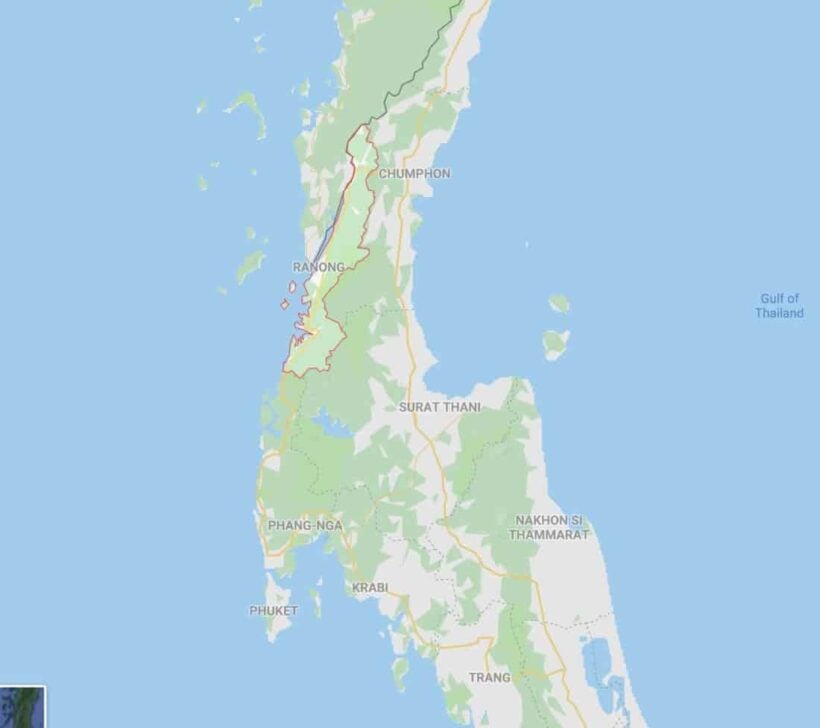 Weather warning for southern and eastern Thailand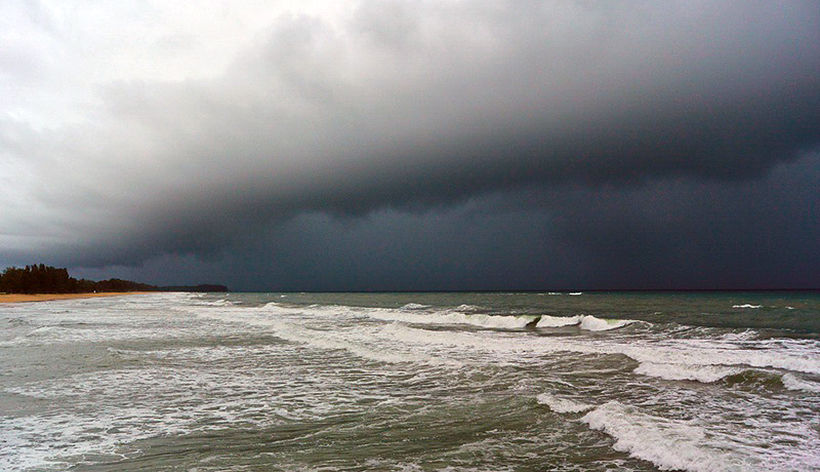 Five day forecasts for Phuket, Pattaya and Koh Samui below
The Thai Meteorological Department has issued a weather warning to alert people to approaching heavy rains and strong winds in the South.
The TMD predicts more rain from from today up to July 21 in the Southern and Eastern regions due to a tropical depression approaching westward from the Pacific, which is likely to gain strength and move through The Philippines into the northern South China Sea, and the strengthening southwest monsoon that prevails over the Andaman Sea and the Gulf of Thailand.
"Outbreaks of heavy rain are also possible for those areas. People should be aware of severe conditions that may cause flash floods and heavy water runoff."
The warning says that waves in the Andaman Sea are likely to be 2-3 metres high and, in the Gulf, about 2 metres high. In storm areas, they will reach 3 metres.
The affected areas listed by the TMD are Nakhon Nayok, Chachoengsao, Chon Buri, Rayong, Chanthaburi and Trat in the East, Chumphon, Surat Thani, Nakhon Si Thammarat and Phatthalung in the South's east coast, Ranong, Phang Nga, Phuket, Krabi, Trang and Satun in the west coast.

Phuket's five day forecast

Pattaya's five day forecast

Koh Samui's five day forecast
Thai politician sought after quartet arrested with large drugs haul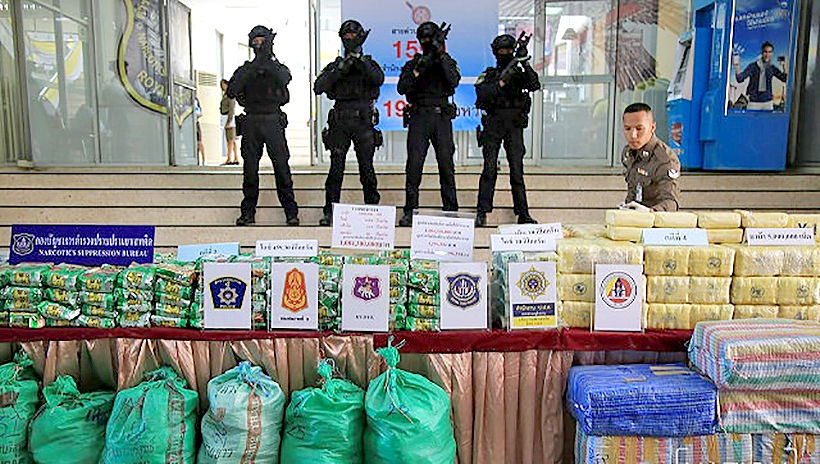 by Jessada Chantharak
A Narathiwat politician is on the run following the issuing of an arrest warrant after being implicated in a major local drug bust.
A politician at the Narathiwat OrBorTor has been implicated by four drug suspects as the person who hired them to move 459 kilograms of crystal methamphetamine, a very large quantity of 'ice'.
Three men, aged between 32 and 57 plus a 33 year old female accomplice were arrested with the drugs and were charged with possession of drugs with intent to sell last week.
Officers had extended their inquiries and identified the alleged mastermind as a Narathiwat district-based politician, 58 year old Waeng Kareeya Jehmamah. An arrest warrant was issued on July 12. Police are now hunting the elusive politician, who was also allegedly the man who financed the drug smuggling operation.
The bust stemmed from an investigation into a drug trafficking ring that was based in a Burmese border town of Tachileik. It is claimed the gang would smuggle drugs into Thailand via the Chiang Rai border with Myanmar before heading south to central provinces, Bangkok and on to the south of Thailand.
Warawuth and Angsuree were arrested by a roadside in Bangkok's Bang Khun Thien district where they were driving in a pick-up truck loaded with the "ice", before police went on to arrest Phosa and Koseng at a gas station in Songkhla province.
SOURCE: The Nation
Visiting time to see baby dugong Mariam is now restricted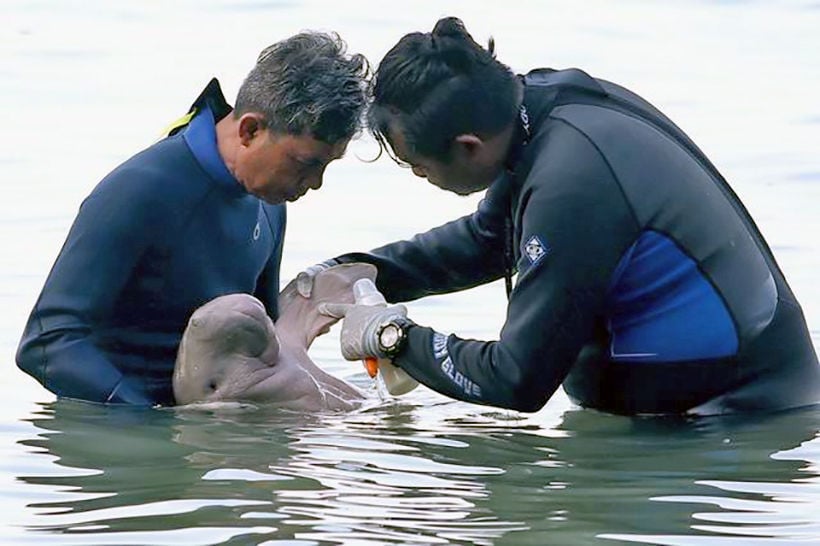 Tourists and local well-wishers are flocking to get a glimpse of 'Mariam'. She's become an internet hit. But that's also caused other problems.
The high number of Thai and foreign tourists heading to Duyong Bay in Tambon Koh Libong in Kantang district, Trang, to watch officials looking after seven month old orphan dugong Mariam is prompting authorities to issue regulations to regulate their numbers.
Mariam became an internet sensation after being rescued in Krabi province on April 29 and placed under care in a dugong conservation area at Koh Libong. She became the new face of sea conservation and is helping boost public awareness on the extinction risks faced by some 300 dugongs in Thai waters.
Mariam is the first baby dugong in Thailand raised by humans in a natural environment and her activities, especially a bird's-eye view of a volunteer cuddling Mariam in the sea, went viral.
The Department of Marine and Coastal Resources has set up cameras for live broadcast of Mariam's life but tourists said they would like to have a chance to see the baby dugong with their own eyes.
The high number of tourists prompted the department's officials at the site to hold a meeting where they resolved to allow only 30 tourists at a time to enter the restricted zone to get up close and personal with the title pink mammal. Operators of group tours are now also required to inform the authorities in advance of the arrival of their tourists.
The authorities sought cooperation from operators of resorts and tuk tuk drivers to inform tourists not to make noise when they visit the site. The officials said the baby dugong has gained two kilos, going from 30 to 32kg and the authorities have extended the milk feeding period to 10 pm.
SOURCE: The Nation