Former negotiator says peace in Thailand's deep south can be reached with ongoing discussions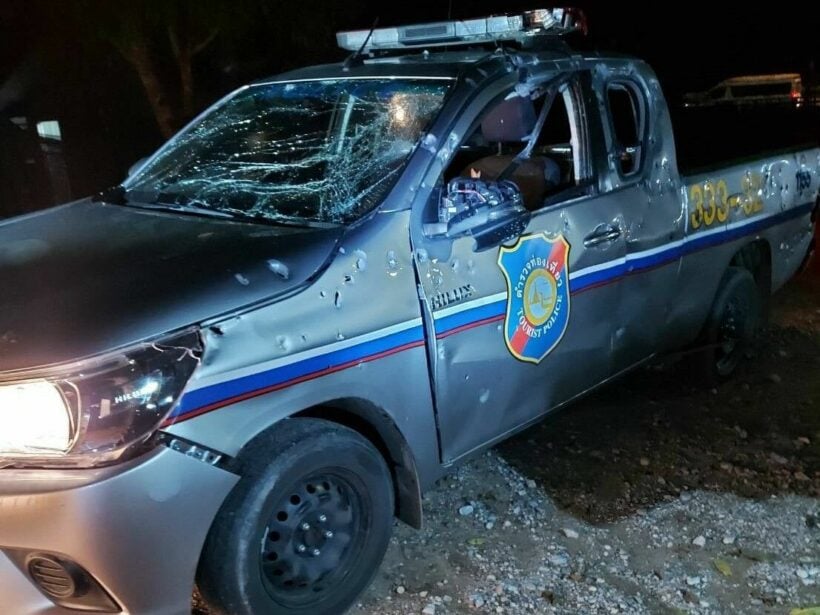 With the ongoing violence from the religious separatist insurgency in Thailand's deep south, a former member of the Thai negotiating team says the discussions between the government and Malay-Muslim dissidents need to continue to bring peace and unity.
The Southern provinces Yala, Pattani, and Narathiwat near Malaysia have been plagued with violence for years. Since the separatist movement in Thailand's deep south re-emerged in 2004, there have been 7,224 deaths and 13,427 injuries linked to the conflict from early 2004 to February 2021, according to the Deep South Watch Database.
Just last night, a 31 year old police officer in Yala was killed in an explosion after suspected militants threw a pipe bomb at a police observation post in the Raman district. Another officer, who is 29 years old, was injured in the blast.
Saturday morning in Pattani, 3 family members driving through the area were attacked by suspected insurgents. Shots were fired at the family's car and a bullet hit the driver's head, killing him. Reports say the attackers then poured petrol on the vehicle and set it on fire. One family member was able to flee the scene before the car erupted in flames.
Former deputy permanent-secretary for defence, Nipat Thonglek, who had served as an appointed member of the Thai negotiating team, says he's optimistic about the process of achieving peace in the South. He says there must be ongoing discussions to reach resolutions and agreements.
"From my experience when I had the opportunity to attend meetings with these dissidents….. all want to see their people in the deep South enjoy a good quality of life and strong health so they will be better able to spend their lives normally… They want to see their children have a better education and their people get the sleep they need each night and have enough food to eat."
In the past, Nipat had negotiated with the Barisan Revolusi Nasional, an Islamic organisation in the area known as the leader of the Southern Thailand insurgency, to set up safety zones that were free from violence for 15 days. He says his work in the past set the basis for the government's current plan to declare safety zones.
"I see the number of attacks and casualties is falling when compared with past years."
SOURCE: Bangkok Post
Want more from the Thaiger family?
📱 Download our app on Android or iOS for instant updates on your mobile
📧 Subscribe to our daily email newsletter
👍 Like/Follow us on Facebook
🔔 Subscribe to or Join our YouTube channel for daily video updates
More illegal border crossers from Myanmar arrested in western Thailand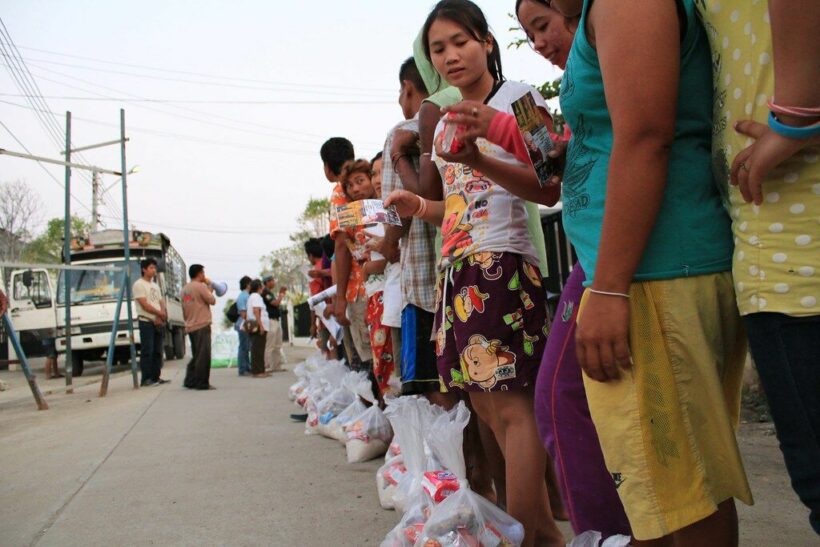 In Thailand's western province of Kanchanaburi, police have caught 2 more groups of migrants crossing the border from Myanmar. Police say they arrested them and their guide as they crossed over the border illegally, searching for jobs. An army ranger patrol says they saw 20 people carrying baggage. They were walking along a track at Ban Patrudan border village in Ban Kao at around 5pm yesterday.
The patrol says they stopped the group of 11 men and 9 women, and found they had no travel documents. The group said they had travelled from Dawei township in Myanmar to the border of the province. They said it took them 4 days to cross the border on a foot along a natural path. They said their guide was to take them to a location in which they would then be picked up and transferred to jobs in central Thailand. The fee for this was anywhere from 13,000-20,000 baht each to a broker in Myanmar. The migrants' temperatures were checked, with police saying the results were normal.
The same patrol later caught a second group of illegal migrants, consisting of 7 men and 2 women. Those migrants told the police that they were being transferred to Samut Prakan province, which shares a provincial border with Bangkok, for jobs.
The latest group of migrants adds to the thousands of foreign nationals that have been arrested this year for illegally crossing land borders into Thailand. From January 1 to May 9, a total of 15,378 people have been arrested for illegally crossing land borders into Thailand. Out of the people arrested, 6,072 were from Myanmar, 5,114 were from Cambodia and 882 were from Laos.
The Thai Immigration Bureau is working with border patrol officers to tighten security along Thailand's borders, the bureau's chief Sompong Chingduang told the Bangkok Post.
"Those who enter Thailand illegally will be prosecuted under the immigration law, the communicable diseases and the emergency decree."
In Thailand's last wave of Covid-19 infections in December and January, fingers pointed at illegal Burmese migrants as the epicentre of infections were concentrated at a fishing hub in Samut Sakhon, affecting a large migrant worker population.
SOURCE: Bangkok Post
Want more from the Thaiger family?
📱 Download our app on Android or iOS for instant updates on your mobile
📧 Subscribe to our daily email newsletter
👍 Like/Follow us on Facebook
🔔 Subscribe to or Join our YouTube channel for daily video updates
Man, posed as Bangkok modelling agent, arrested for allegedly raping 36 women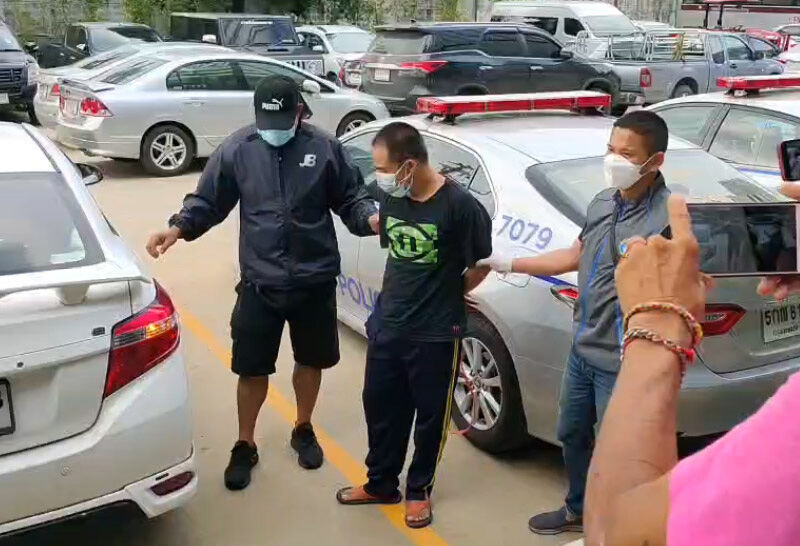 A man in Bangkok was arrested on rape charges after 36 women came forward to police, claiming the man posed as a modelling agent to lure the women into an in-person meeting, then threatening them to take drugs and forcing them to have sex with him.
The victims say 39 year old Denphum Wattanachotpinyo had posed as an agent, saying he could connect them with jobs as hostesses serving drinks at private parties and hotels.
Some Thai models who are known as "pretties" often work as hostesses at private parties where sex, drugs and excessive drinking are often involved. With the work looked down upon by Thai society, women have been less likely to report abuse.
The dangers many "pretties" face have been brought to light recently after the deaths of 2 "pretty" models. In 2019, a 25 year old model died from "extreme alcohol intoxication." Her body was found dead in the lobby in a Bangkok condominium. Another model died 2 months ago after working as a hostess at a private party in Bangkok.
Police in Bangkok recently arrested Denphum Wattanachotpinyo, who is from Nonthaburi, a suburb outside the capital. Police say Denphum Wattanachotpinyo told women that he was a modelling agent and said he wanted to meet in person before arranging a job.
Victims say Denphum used a knife to threaten them, telling them to take drugs and then raping them. They say he recorded the sexual acts on video and used it as blackmail. Some victims say Denphum also stole from them.
Denphum was wanted on 3 arrest warrants issued by the Criminal Court and Thon Buri Criminal Court. He faces charges of rape, threatening to cause harm, depriving others of their freedom, threatening and intimidating others, and theft. Police say that Denphum denies the charges and claims the sex was consensual.
Want more from the Thaiger family?
📱 Download our app on Android or iOS for instant updates on your mobile
📧 Subscribe to our daily email newsletter
👍 Like/Follow us on Facebook
🔔 Subscribe to or Join our YouTube channel for daily video updates
Police step up border patrols and checkpoints, arresting 49 illegal migrants today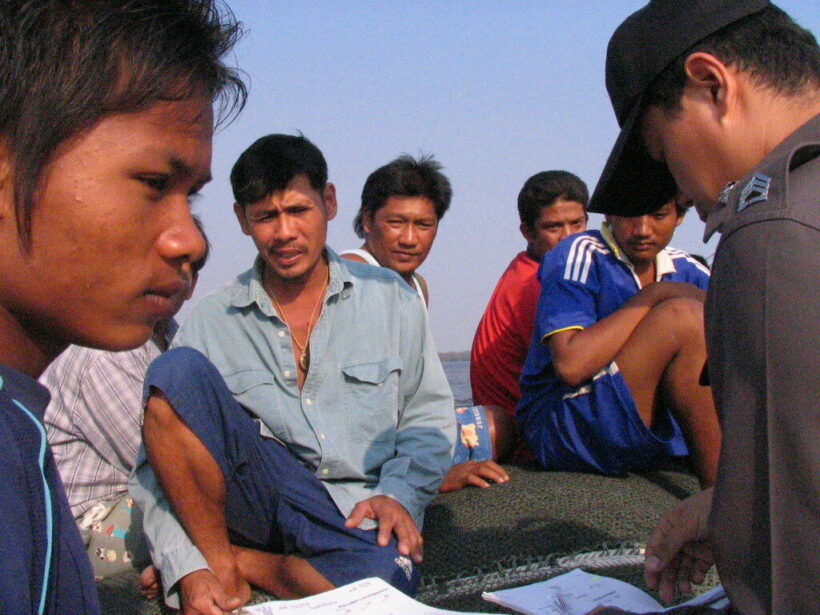 Police are stepping up border checkpoints and patrolling as 49 more illegal migrants from Myanmar are arrested today. In the North, Trairong Piewpan, deputy commissioner of Provincial Police Region 6, says checkpoints have been set up along the roads, waterways and natural foot trails in an effort to block all possible channels for illegal border crossings from Myanmar. In Songkhla, a southern border province, combined police units were deployed heavily among the mountainous areas of the border with Malaysia, to stop border crossings.
The border crossings bring fears of the Indian and South African Covid-19 variants, as well as more infections of the original virus. Yesterday, 10 Burmese job seekers were arrested after crossing over the Malaysian border and into Thailand. And, today, 49 illegal Burmese migrants and 3 guides were arrested near a border village in Lat Ya province. None of them were carrying travel documents.
Soldiers in PPE suits took their temperatures, with none displaying a fever. The illegal border crossers said they had walked 3 days along natural trails from Dawei to the Thai border. They were to pay 13,000-20,000 baht each in brokerage fees for jobs in Thailand, but say they had not made a payment yet. The 3 guides were charged with human trafficking as well as illegally entering the Kingdom and violating the emergency decree. The others were charged with the same offenses minus the human trafficking. Police say they were given food and water before being handed to the Muang district police to face legal action on the charges detailed above.
It has not been disclosed whether the migrants were tested for the Covid-19 virus, but we will update the information if more is given concerning the migrants' virus status.
Meanwhile, Thailand reported 1,630 new Covid-19 cases and 22 coronavirus-related deaths today. There are now 29,376 active Covid-19 cases. Since the start of the pandemic last year, the CCSA has reported 85,005 Covid-19 cases and 421 Covid-related deaths.
Want more from the Thaiger family?
📱 Download our app on Android or iOS for instant updates on your mobile
📧 Subscribe to our daily email newsletter
👍 Like/Follow us on Facebook
🔔 Subscribe to or Join our YouTube channel for daily video updates