Facial recognition security push in Thailand's South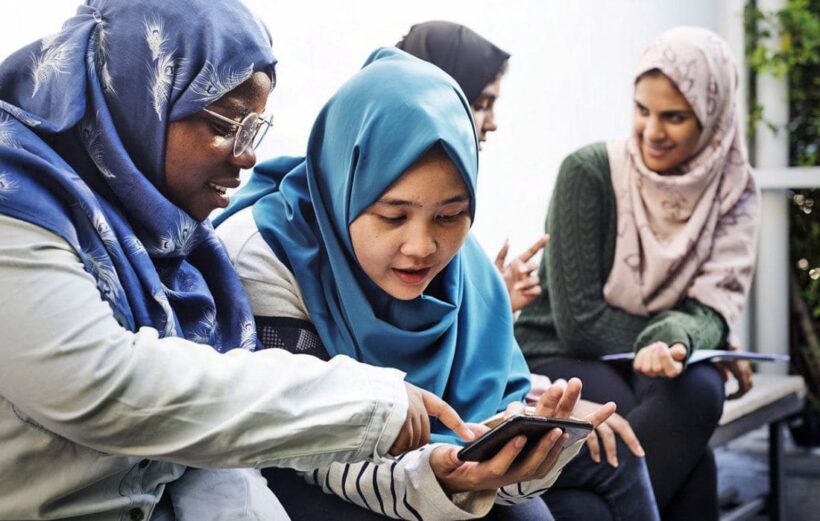 Concerns are being raised over the move to force all mobile phone users in Thailand's South to submit their photos for facial-recognition identification. The edict says those who fail to do so by October 31 will have their mobile phone service blocked.
The Cross Cultural Foundation says the order given to Thailand's telecom operators was 'racial profiling'.
"The use of facial-recognition technology risks violating people's privacy and freedom. It also mean users could be discriminated against. Racial profiling may lead to the arrest and prosecution of the innocent."
The predominantly Muslim provinces of Pattani, Narathiwat and Yala provinces, and four border districts of Songkhla, namely Chana, Na Thawi, Saba Yoi and Thepha, are the areas covered under the new security arrangements. These areas have been hit by insurgency-related violence that has claimed thousands of lives over the past 15 years, including security officials and civilians.
In the face of the violence, the region is under an emergency decree with a heavy military presence and limitations on people's basic rights.
Cross Cultural Foundation director, Pornpen Khongkachonkiet, says the NBTC should publicly explain why cellphone users' photos must now be collected and what assurances service providers would offer that images would not be leaked to unauthorised persons.
"We are worried that these pictures may be abused," Pornpen said.
She said that in her experience, a suspected insurgent arrested for possessing a single gun could easily be charged with 10 more offences, often without grounds.
"What charges will a person face if their SIM card happens to be found at a crime scene?" she asked.
Korreeyor Manuchae, an independent lawyer and a Yala resident, said many locals did not trust state officials and were thus wary of the requirement to submit their pictures.
"We don't oppose the move. But we are worried about it," she said. She added that family members of suspects were often coerced into providing DNA samples by security agencies.
National Human Rights Commission member Angkhana Neelapaijit is among those who received a surprise short text on her cellphone from ISOC4, telling her to re-register her SIM card with her picture on June 21.
ISOC4 is associated with the Internal Security Operations Command Region 4, the agency tasked with security matters in the deep South.
Colonel Pramote Prom-in, spokesman for the Forward Command of the ISOC4, said the ISOC had simply helped raise awareness of the timeframe for people to submit their photos.
"But we have not sent any short text messages to all cellphone users. We don't know their numbers," he said. Earlier, he complained of how SIM cards sold online were often used in bomb attacks in the deep South.
Meanwhile, PM General Prayut Chan-o-cha is urging residents of the deep South to comply with the new rule.
"Just a photo is needed to prove your identity. It's not a violation of rights."
SOURCE: The Nation
Former BRN negotiator slams Thailand as being insincere at peace talks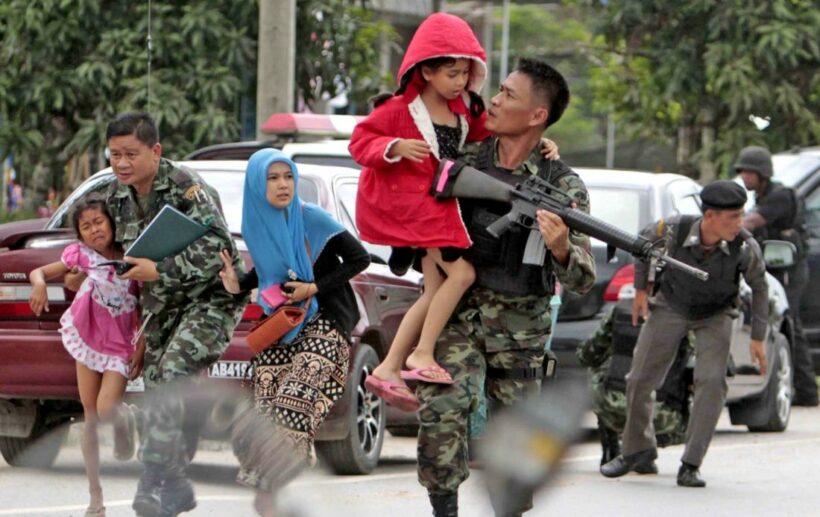 PHOTO: thailandchatter.com
A similar number of people have been killed in the Southern Insurgency in Thailand as in the conflicts at the Gaza Strip and West Bank in Palestine over the past 15 years. But the religious and realestate conflict at the southern Thai border with Malaysia has had a lot less international media coverage.
One of the Malay negotiators, who has been part of peace initiatives over the past four years, resigned in May. He has spoken to Benar News about his frustrations with Thai negotiators.
The lead negotiator, Sukree Hari, for Muslim rebels fighting for a separate state in southern Thailand, has slammed the Thai government as "insincere and indifferent" in peace talks.
He has headed a rebel delegation at peace talks with the Thai government for the past four years. He resigned in May this year citing health issues. He was part of a three-person delegation at talks representing the largest group fighting in Thailand's South, the Barisan Revolusi Nasional (BRN).
MARA Patani, the panel representing separatist groups and factions at the Malaysia-brokered talks, has not yet named a replacement for Sukree, according to its spokesman.
Sukree claimed the Thai government "is not sincere about resolving the conflict in Patani. The negotiations held thus far were a tactic for wasting Malay Patani people's time."
The talks involve to the three southernmost provinces of Thailand – Narathiwat, Pattani and Yala – and the ethnic Malay Muslims who live there.
"Whatever was agreed together at the negotiating table, the Thai side was not willing to sign, and that is clear proof that the Thai side was just pretending in the negotiations, playing for time," he said in a recent interview with BenarNews in northern Malaysia.
Talks launched in 2015 under the junta that ruled Thailand until earlier this month have been on hold, and their only outcome – a proposed ceasefire in one province or "safety zone" – never took place.
The negotiations were dogged by allegations that rebel leaders in touch with fighters on the ground were not participating in the talks and did not support the effort. But Sukree denied this.
When speaking to Benar News he declined to answer when asked if BRN was responsible for attacks in the south in recent years that are never claimed by any group but typically blamed on "militants" and "insurgent" by Thai security forces. The region has been under martial law almost continually since 2004.
In the latest attack yesterday (Wednesday), three soldiers patrolling a road in Bacho district of Narathiwat province were seriously injured when suspected insurgents detonated a bomb.
Read The Thaiger story HERE.
And on Monday, three marines were injured in a roadside bomb attack in the same district while traveling in a light armoured vehicle.
Thai officials meanwhile stress that talks were under way at various levels, although the last publicly announced formal meeting with MARA Patani was in 2017.
"At present, we still have peace talks in accordance with national strategy. The Thai government is always open for all dissident groups to talk, without forcing anyone to," retired Lt. Gen. Udomchai Thammasarorat, the chief Thai negotiator, told Benar News.
SOURCE: Benar News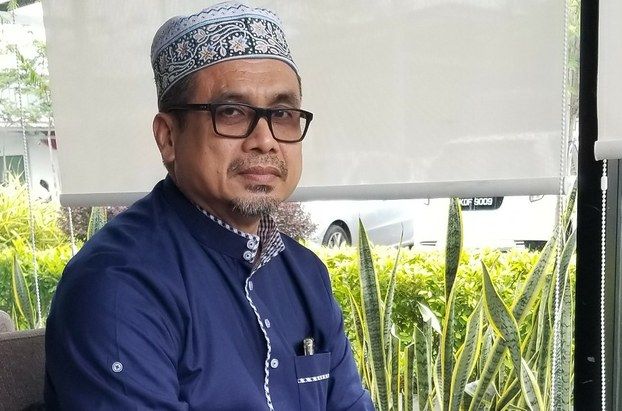 PHOTO: Sukree Hari – Nani Yusof/Benar News
Roadside bomb in Narathiwat critically injures three rangers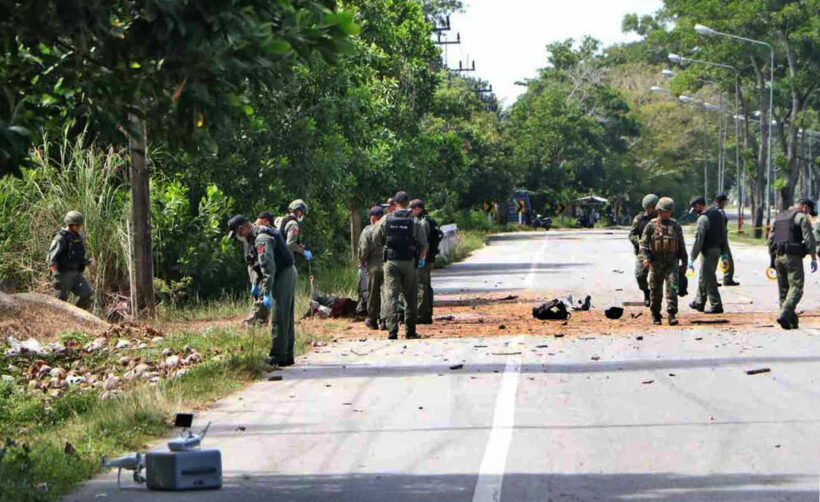 PHOTO: Waedao Harai
Three paramilitary rangers have been injured in Narathiwat following the explosion of a bomb in a roadside stall this morning just after 8am. Security officials say the bomb had been detonated remotely as the three rangers were patrolling past the stall. The stall was under construction at the time.
The bomb was encased in a cooking gas cylinder located under the stall. It critically injured the three rangers who were on foot patrol in the Ban Buerawae village of the Bacho district. The explosion completely destroyed the incomplete roadside stall leaving a 30 centimetre crater in the ground.
The rangers' blood-stained bullet-proof vests and helmets were scattered around the scene of the explosion. The three were treated at the scene for shrapnel wounds on their bodies and legs before being rushed to nearby hospitals.
At this stage security officials are blaming the ongoing insurgency for the attack.
Two defence volunteers killed by suspected insurgents in southern Thailand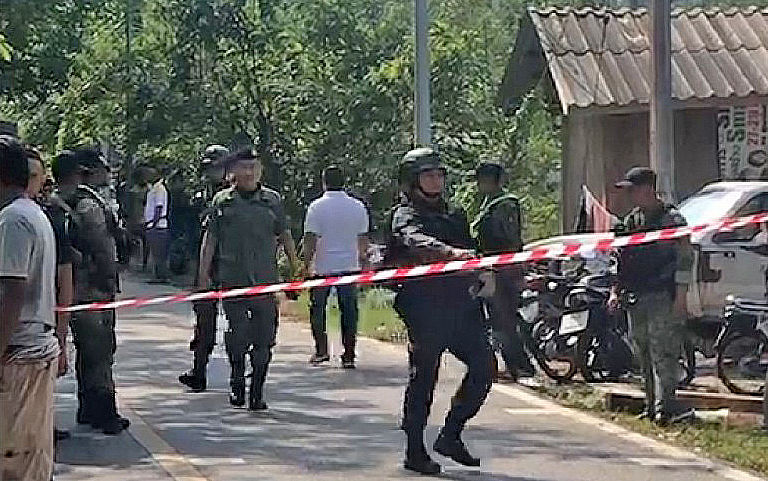 Two defence volunteers guarding a road checkpoint in Yala, southern Thailand, have been shot dead while a third volunteer and a villager have been wounded in an attack by suspected insurgents.
According to witness accounts, six suspected insurgents, riding three motorcycles, approached the checkpoint in Tambon Lampaya yesterday afternoon (Sunday) and the three pillion passengers opened fire at the volunteers at the checkpoint.
Killed at the scene were Abdulloh Waedoloh and Suriya Rakmuang, while another unidentified volunteer and a civilian were injured.
The attackers then grabbed two of the victim's assault rifles and all six of them fled the scene.
ORIGINAL SOURCE: Thai PBS
The South Thailand insurgency is an ongoing geographical and religious conflict centered in three southern Thailand provinces. It originated in 1948 as an ethnic and religious separatist insurgency in the historical Malay Patani Region, made up of the three southernmost provinces of Thailand and parts of a fourth, but has become more complex and increasingly violent since 2001. Over 6,500 people died and almost 12,000 were injured since 2004.