Sleeping on the job – NLA members caught napping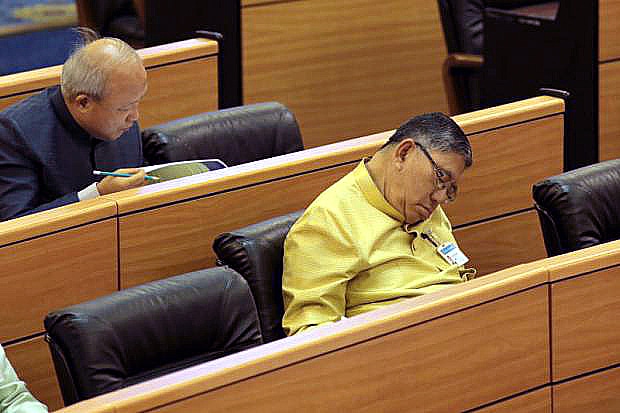 Two legislators caught nodding off during a serious discussion involving the 3 trillion bah national budget were actually hardworking lawmakers who fell asleep because of their poor health, National Legislative Assembly (NLA) vice president Peerasak Phochit said yesterday.
Peerasak, who is in charge of NLA's professional ethics, said their behaviour was not a serious enough breach of professional ethics to warrant their removal.
The two NLA members – Air Chief Marshal Charlie Chanruang and Thamrong Thatsananchalee – had been captured dozing off by media cameras when the NLA was debating the national budget on Thursday. PM Prayut Chan-o-cha took part in the discussions and spent some 90 minutes defending the plan.
The leaked photos raised questions among the public whether the coup-installed legislature was working hard enough and in the public interest while members were drawing a monthly salary of at least 113,560 baht over the past four years.
Peerasak apologised for the incident. "I understand the public sentiment and opinion that it was an important legislation and the NLA should have been more hardworking. So, I have to apologise," he said.
He insisted the two had been working hard, going out in the field to meet people, but right now they were suffering from some poor health conditions. Charlie recently had a heart surgery while Thamrong had also been ill, he explained.
Also, they were not asleep while the PM was presenting the budget plan, the NLA vice president said. They fell asleep only when other legislators were debating the issue, he added.
NLA heads had discussed the matter and concluded that they would seek cooperation from members but were unlikely to issue regulations or measures to specifically direct how they work, he said.
Meanwhile, in a separate interview yesterday, Prayut said he had kept a record of everything. Those found sleeping during the meeting would not get any positions in the future, he said.
"I have already sent the photos to the NLA president [Pornpetch Vichitcholchai]. He has already seen them and probably will find out what happened," Prayut said.
Clearly upset about the incident, the PM said he would rather see the media pay attention to how he had presented the case for the 3 trillion baht budget than on NLA members taking a nap during the assembly.
The two legislators involved declined to discuss the issue.
Charlie said he would rather not clarify anything. He did say, however, that he wasn't bothered his inappropriate photo was in the news and he was firm about continuing as an NLA member. Thamrong refused to talk to the press, saying he was in a meeting.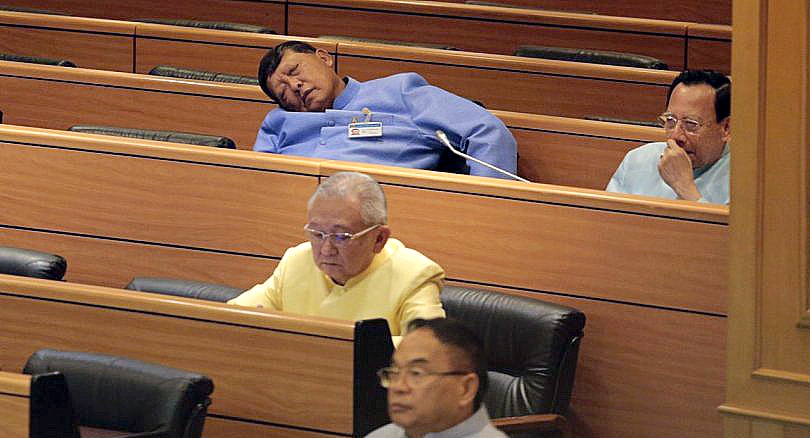 STORY: The Nation
Keep in contact with The Thaiger by following our
Facebook page
.
Pattaya's bars desperate to reopen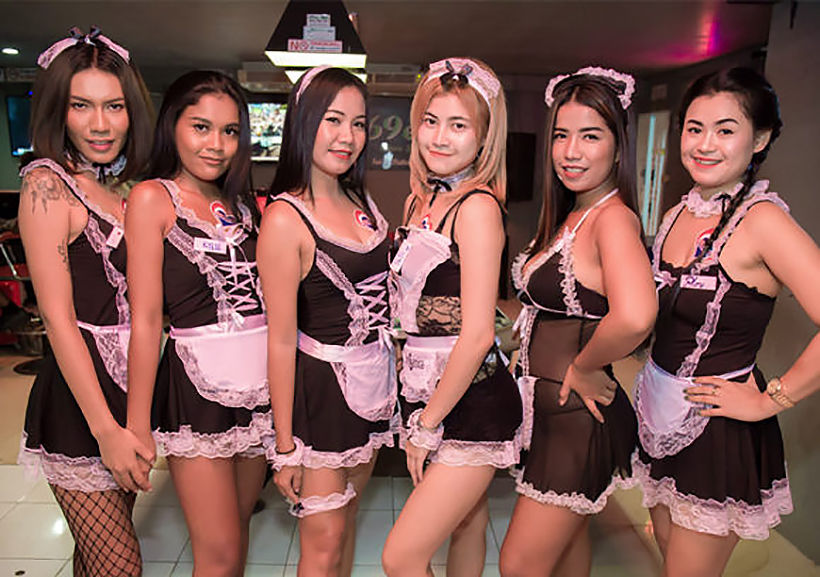 The Covid-19 pandemic has hit Pattaya's bar owners terribly. Some among the 10 in Soi Wong Amat, aka Soi Na Klua 18, have packed up and gone. The remainder are desperate for the government to ease restrictions on them opening. There is still rent to pay, accommodation and food for staff and utilities. They don't want to abandon their employees. 2 owners spoke to the media.
59 year old "Saengdeuan", who has run the well known TJ Bar for 16 years, was in tears as she told Nation TV how she won't abandon her 20 staff.
"What else am I going to do?" I'll just have to wait for the tourists to return, whenever that is."
The 'whenever' could be months away. And even if the government allows the bars to re-open at the start of July (the hot tip), the sight of foreign tourists may not be familiar until the end of the year.
44 year old "Buapha", who owns the Blue Marlin pub begged the government to let her open. She says there may be no foreign tourists but she could serve Thais in the meantime.
"At least that would be something."
Pattaya's economy is almost entirely dependent on tourism. While the city's beaches were allowed to reopen last Monday, pubs and bars remain shuttered and restaurants are prohibited from selling alcohol, leaving tens of thousands still out of work. Many of the workers have returned 'up country' to live with their families.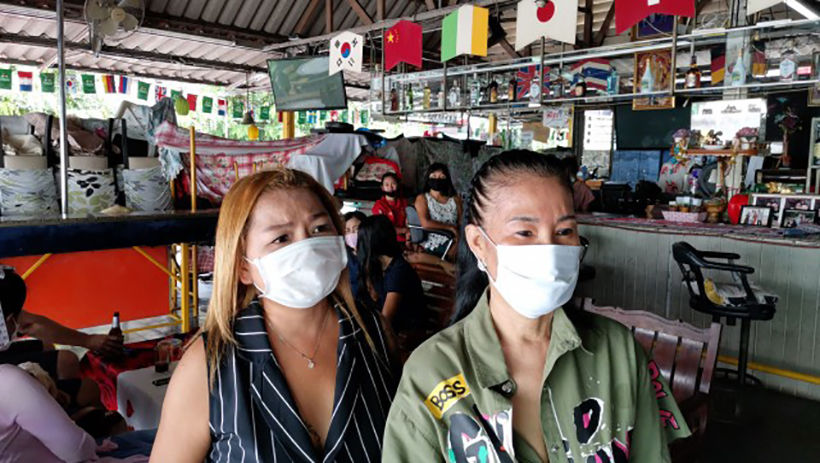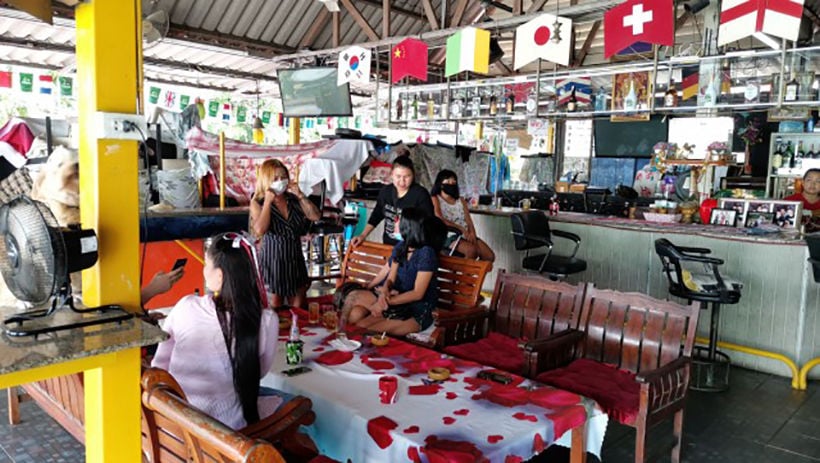 Facebook page
.
Thailand to rebrand itself as "trusted" tourist destination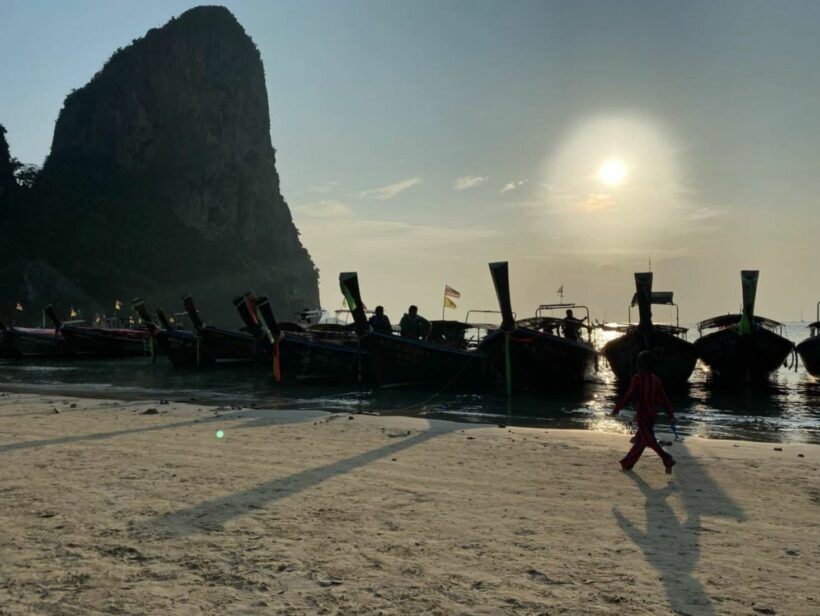 Tourism in Thailand, like most of the world, has been devastated by the Covid-19 pandemic and the ensuing lockdowns and travel restrictions. Now, though, capitalising on its relative success in containing the outbreak, Thailand is preparing to position itself as a "trusted" destination for international tourists after travel restrictions ease. As the first country to report a Covid-19 virus case outside of China, Thailand wants to build on its reputation and remake its image to bring back big tour groups.
"After COVID eases, we plan to refresh the country's image to a trusted destination where tourists will have peace of mind," according to the TAT.
The PR campaign, to be launched later this year, will be aimed at "affluent young travellers" from places that are now considered low-risk such as China, South Korea and Taiwan, according to the Tourism Authority of Thailand's deputy governor for marketing and communications.
"It will highlight scenic beaches and parks, part of a 'tourism bridge' that could emerge in Asia including Hong Kong and Japan."
The government has rolled out a health certification system for hotels and restaurants so that travellers can be reassured.
"The certificate is a tool to build trust and showcase Thailand as your amazing, trusted destination."
Thailand, with Southeast Asia's second largest economy, has so far reported just over 3,100 cases and 58 deaths – far less than other major regional economies, with the exception of Vietnam. Local transmission has dropped to 0, with the last recorded case on May 25. The tourism industry, which accounts for up to 18% of the economy, collapsed after the outbreak. Thailand had 39.8 million foreign tourists last year, and projects around 14 million for 2020.
Thailand has banned international flights until at least June 30, and foreign tourists aren't expected until later in the year due to rumoured quarantine requirements and other restriction that the government is likely to impose when they first nudge open the international borders.
In the meantime, the government is drawing up a stimulus package to promote domestic tourism from July to October. When international travel resumes, Thailand will promote the "trust" concept, as hotels safety measures and offer special packages. Central Plaza Hotels, which manage 46 hotels and resorts across Thailand, will seal rooms once they are cleaned and disinfected so guests will be confident, according to its deputy CEO.
"We may limit occupancy at 50% on some properties so guests experience social distancing that they are comfortable with."
SOURCE; Reuters
Keep in contact with The Thaiger by following our
Facebook page
.
Disabled Austrian swindled out of 10 million baht by "girlfriend"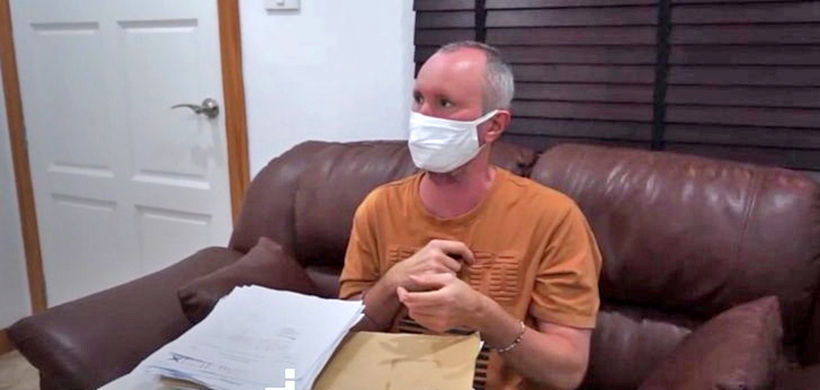 Sanook reports that a 49 year old disabled Austrian man, who thought he had found his soulmate in Chiang Mai, has been swindled out of about 10 million baht by his sweet-talking lover. Love blossomed as they continued their relationship online, and marriage was in the air… or so he thought.
The pair were the same age and she would care for him and help him cope with his disability. He bought her a house, 2 expensive cars and financed a shop. Then a man turned up claiming to be her brother, but in reality was her ex-husband. Now she's disappeared and it turns out the house was never bought at all.
Police and lawyers have demanded cash and now the man is staying at a retirement home in Hua Hin while he figures out what to do. He's in need of money for an expensive surgery, and has offered a reward for anyone who can track down the supposed love of his life, who turned out to be a common fraudster.
2 years ago "G.P." came on holiday to Thailand, and despite a spinal injury that left him with limited mobility, he travelled all over the kingdom before arriving in Chiang Mai.
There he met "Amy," also 49, a taxi driver. They immediately hit it off and she took him under her wing and they travelled extensively together. A relationship blossomed. Then he went back to Austria. They kept in touch via social media and his feelings grew stronger.
He made the decision to move to Thailand and promised to improve Amy's life. Then came the financial commitments. He bought her a 4.5 million baht house, a 2.9 million baht Mercedes Benz, a 1.1 million baht Honda HR-V, paid a million for decorations for the house and financed her dream of a silver shop.
They decided to marry, making it easier for him to reside in Thailand. Then her "brother" turned up. He was obliged to buy frequent expensive meals for them all, often at a cost of 5,000 – 6,000 baht. Later he discovered this was her ex-husband.
Then it emerged that the money supposedly paid for the house was not 4.5 million at all but just a 250,000 baht down payment. She kept the rest, and the silver shop never existed. Now she has completely disappeared and he's discovered that she has changed her name 5 times.
"G.P." contacted Chiang Mai police and a lawyer, but they both needed money to act on his behalf. He says he'll be happy if he gets back just some of his money and won't press charges if he can get a settlement.
Facebook page
.