Six top officials sacked on King's orders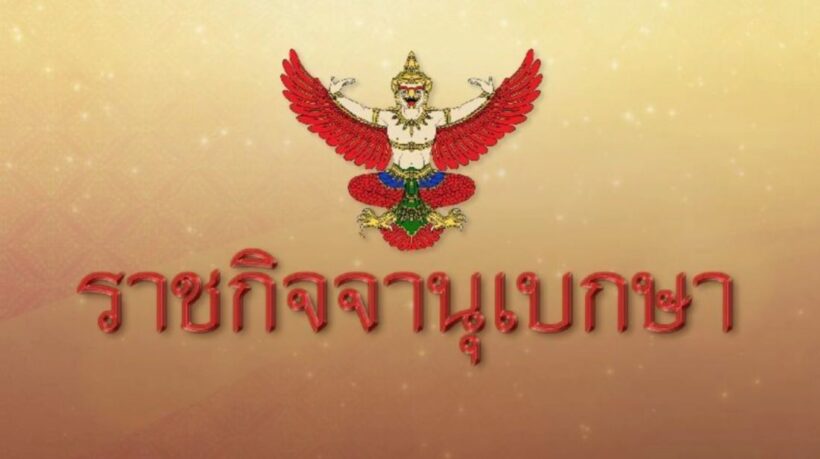 His Majesty the King has sacked six senior palace officials attached to Royal Guard units and the Royal Household Bureau, stripping them of their rank and recalling their royal insignias, citing severe disciplinary misconduct and accusing them of exploiting their positions for personal gain. The dismissals were announced in two royal commands, reported Wednesday October 23 by the Royal Gazette.
The first command ordered that Lieutenant General Sakolket Chantra of the Royal Household Bureau be dismissed and stripped of his rank and royal decorations, saying he had acted deplorably by misusing his state position for his own and others' gain and failed to perform his duty in line with regulations, causing serious damage to the state. The order took effect retroactive to September 1.
The second command, also dated October 23, ordered the dismissal of five state officials, who were also stripped of military rank and any royal decorations.
They are Major General Khun Tharinee Rodson, Khunying Thidarat Thamraksa, Major General Warinporn Kanisornsophon, Lieutenant Peera Mongkolchairerk, and Lieutenant Chayanan Pangsang, all attached to units of the Royal Guard.
The command cited their deploable conduct which breached disciplinary rules. Like Lieutenant General Sakolket, they abused their official positions for their own and others' gain and failed to comply with regulations, causing serious damage to the state.
The command took effect retroactive to Tuesday.
Earlier in the week His Majesty stripped Sineenat Wongvajirapakdi of her "Chao Khun Phra" or noble consort title as well as her military rank, due to her "undesirable behaviour" as a Royal servant and being disloyal to the Royal Family.
The statement said Sineenat was against the appointment of Queen Suthida and gave orders under the name of Their Majesties for personal benefit. She also reportedly engaged in activities without His Majesty's approval, causing confusion among the public.
SOURCES: bangkokpost.com
Keep in contact with The Thaiger by following our
Facebook page
.
Bangkok shooter granted bail despite drugs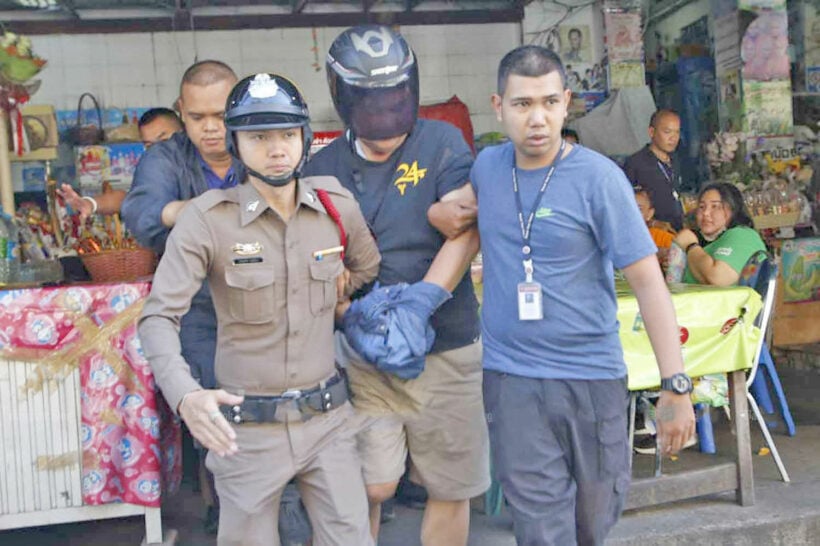 A Bangkok shop owner who set off a panic by firing dozens of gunshots on Friday morning was released on bail after his first court appearance yesterday. Forty-eight year old Ekachai Jaruksin faces charges of attempted murder, discharging a firearm in a public area, narcotics possession and using illicit drugs.
Police took him to the Criminal Court yesterday morning to seek his detention for 12 days while they investigate the case. But the court granted temporary release on 350,000-baht bond, on condition that he do nothing else to threaten public safety.
The drama began when shots were fired from the building of the Best Sports shop in a local market at around 4am Friday. Police found the man firing from the third floor of the shop. They cordoned off the area and asked relatives of the man, later identified as Ekachai, the shop's owner, to calm him down. After negotiation, he surrendered around 10:30am and was taken into custody.
Police searched his room inside the shop and found two pistols, many rounds of ammunition, an undisclosed amount of crystal meth and drug paraphernalia.
The suspect told police he fired the shots in anger over family and business problems. He insists he had no intention of hurting anyone. But the incident caused panic in the neighbourhood, coming just days after the mass shooting which left 30 people including the gunman dead in Nakhon Ratchasima.
SOURCE: Bangkok Post
Keep in contact with The Thaiger by following our
Facebook page
.
Attempted murder charge for Bangkok gunman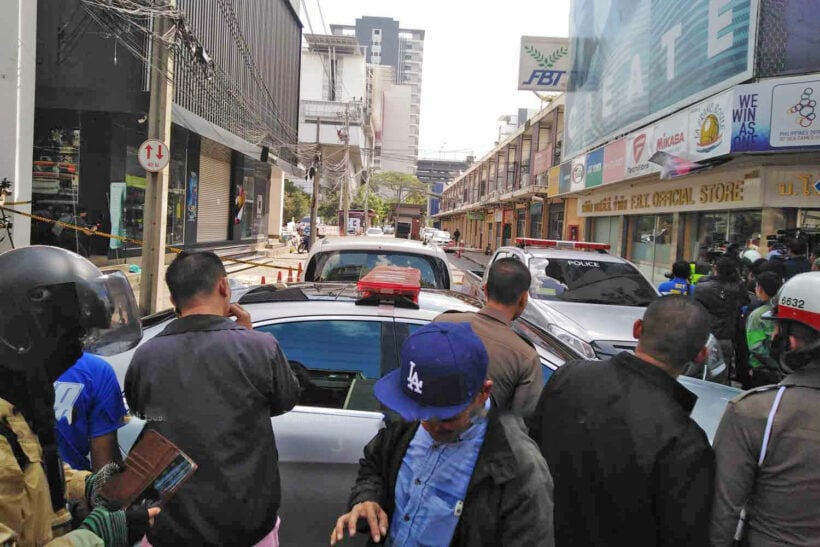 Multiple charges have been lain against against the man who allegedly fired more than 50 shots in downtown Bangkok early yesterday, including attempted murder. Police say the charge was filed because a ballistic examination showed some of the gunshots were aimed at people opposite the suspect's position.
Other charges include carrying gun without a permit, discharging a firearm in a public place and narcotics charges. The man's identity has not yet been released.
The incident began at about 4am near Chulalongkorn University, at a market for locally made sports garments. Periodic gunfire continued for more than an hour.
Police rushed to scene and cordoned off the area, telling locals to stay indoors. A police negotiator talked the shooter into surrendering and no injuries were reported.
An eyewitness told police that the shots were fired by a man about 40 years old and he and some friends went for a look. The man fired on them, forcing them to run for cover.
The suspect reportedly told police he was under stress caused by family and business problems.
The incident comes less than a week after a rogue soldier went on a murderous rampage in the northeastern province of Nakhon Ratchasima, killing 29, including three police officers. The gunman was shot dead at the Terminal 21 shopping mall, the scene of a dramatic 12 hour siege.
If you or anyone you know is in emotional distress, please contact the Samaritans of Thailand 24-hour hotline: 02 713 6791 (English), 02 713 6793 (Thai) or the Thai Mental Health Hotline at 1323 (Thai).
SOURCE: Thai PBS World
Keep in contact with The Thaiger by following our
Facebook page
.
Bangkok "auntie" arrested for robbing cabbies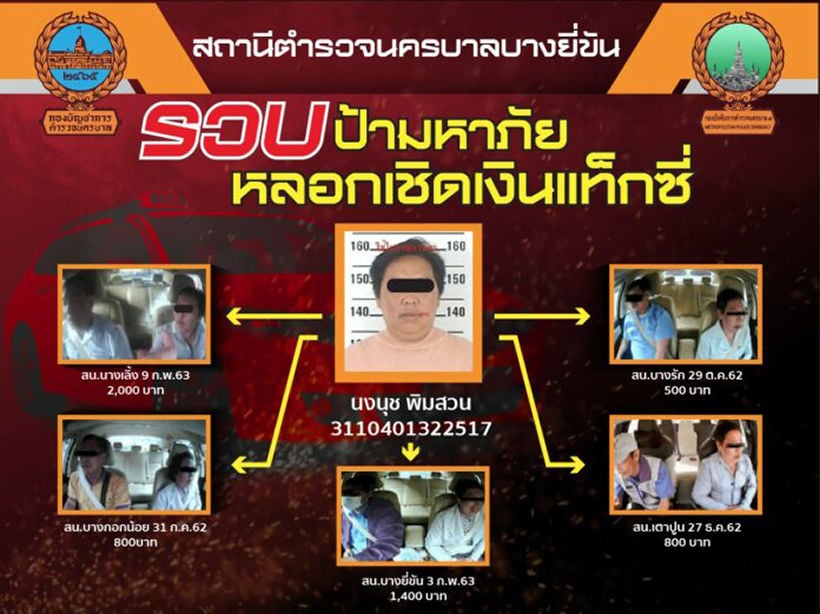 An "auntie" in Bangkok has finally been arrested after stealing money from numerous taxi drivers. Police arrested 55 year old Nongnuch Pimsuan of Kanchanaburi province at around 5pm yesterday. The suspect had an arrest warrant in her name from the Taling Chan Court.
Police were notified as early as February 4 that a passenger had stolen 1,400 baht from a taxi driver near a mall in Bangkok's Pinklao district. Investigators gathered information from the victim and other sources including a Facebook page called Smart Taxi. It appeared it wasn't the first time "Auntie Nongnuch" had stolen money from taxi drivers; she has a history in Bang Rak and at least three other districts.
The latest case took place on February 9 when she stole from a driver in Nang Loeng, Bangkok. Nongnuch told the cabbie she didn't have any cash on her and needed to use an ATM. She asked to borrow the driver's money and promised to return it with her taxi fee. She went inside a mall and never returned.
Officers of the Bang Yi Kun Police Station received orders to take immediate action as the suspect tended to change districts after each crime to avoid being recognised or identified. Police learned her identity and arrested her at her home. Auntie Nongnuch admitted to the thefts, saying it was "her way of making money."
SOURCE: Thai Residents
Keep in contact with The Thaiger by following our
Facebook page
.