Six top officials sacked on King's orders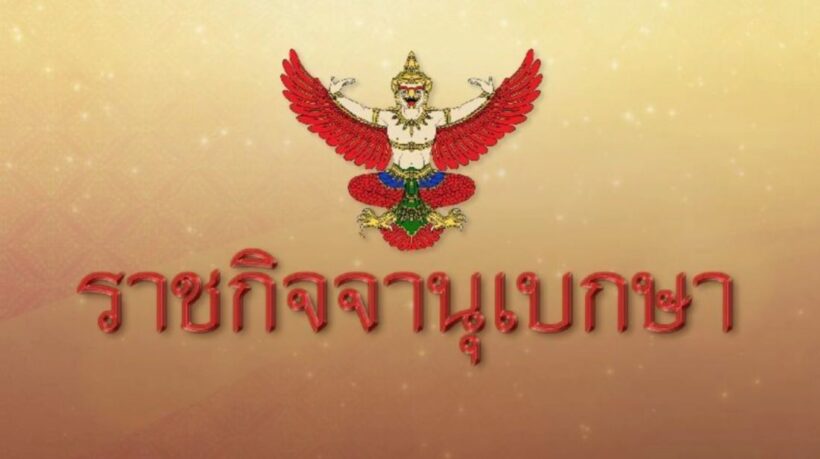 His Majesty the King has sacked six senior palace officials attached to Royal Guard units and the Royal Household Bureau, stripping them of their rank and recalling their royal insignias, citing severe disciplinary misconduct and accusing them of exploiting their positions for personal gain. The dismissals were announced in two royal commands, reported Wednesday October 23 by the Royal Gazette.
The first command ordered that Lieutenant General Sakolket Chantra of the Royal Household Bureau be dismissed and stripped of his rank and royal decorations, saying he had acted deplorably by misusing his state position for his own and others' gain and failed to perform his duty in line with regulations, causing serious damage to the state. The order took effect retroactive to September 1.
The second command, also dated October 23, ordered the dismissal of five state officials, who were also stripped of military rank and any royal decorations.
They are Major General Khun Tharinee Rodson, Khunying Thidarat Thamraksa, Major General Warinporn Kanisornsophon, Lieutenant Peera Mongkolchairerk, and Lieutenant Chayanan Pangsang, all attached to units of the Royal Guard.
The command cited their deploable conduct which breached disciplinary rules. Like Lieutenant General Sakolket, they abused their official positions for their own and others' gain and failed to comply with regulations, causing serious damage to the state.
The command took effect retroactive to Tuesday.
Earlier in the week His Majesty stripped Sineenat Wongvajirapakdi of her "Chao Khun Phra" or noble consort title as well as her military rank, due to her "undesirable behaviour" as a Royal servant and being disloyal to the Royal Family.
The statement said Sineenat was against the appointment of Queen Suthida and gave orders under the name of Their Majesties for personal benefit. She also reportedly engaged in activities without His Majesty's approval, causing confusion among the public.
SOURCES: bangkokpost.com
Keep in contact with The Thaiger by following our Facebook page.
Never miss out on future posts by following The Thaiger.
Education minister's wife plans to run for governor of Bangkok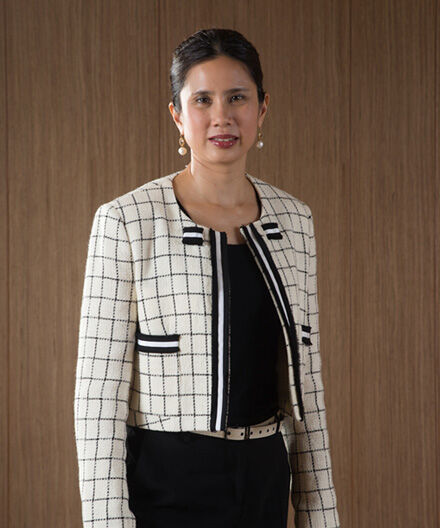 The education minister of Thailand's wife is planning to run for the governor of Bangkok when the city poll is called, in a move that puts her in direct competition with others for the backing of the ruling Palang Pracharath Party.
Nataphol Teepsuwan confirmed on Friday that his wife Taya Teepsuwan, a former core member of the now-defunct Peoples' Democratic Reform Committee, would contest the unscheduled gubernatorial election.
Natapol met briefly with PM Prayut, with some speculating that the Government House meeting was centred around his wife's future political career. But Natapol denied that was the focus of the meeting.
Her decision to run could be problematic as Bangkok governor Aswin Kwanmuang or former police chief Chakthip Chaijinda are expected to run under the Palang Pracharath banner. Both of those candidates were close to the party back when PM Prayut was the junta leader.
Chakthip has given signs of his intentions to run as he set up a Facebook page this month, while Aswin has not officially made up his mind whether to run or stand aside for the former national police chief.
But Natapol says his wife, who is a former deputy Bangkok governor, plans to a run as an independent if she is passed over by Palang Pracharath. The education minister said he had informed party leader Prawit Wongsuwon of his wife's intention.
Taya is the youngest child and only daughter of the late business tycoon Chalermbhand and Khunying Sasima Srivikorn. Along with her husband, she co-founded the Rugby International School in Chonburi.
Taya was also the managing director of Srivikorn School and holds a Bachelor's Degree in Economics from Thailand's Chulalongkorn University as well as a Master's Degree in Business Administration from the Sasin Graduate Institute of Business Administration at Chulalongkorn University. She also has a Master's in Analysis, Design and Management of Information Systems from The London School of Economics & Political Science.
SOURCE: Bangkok Post
Keep in contact with The Thaiger by following our Facebook page.
Never miss out on future posts by following The Thaiger.
CCSA Update: 309 new Covid-19 infections in Thailand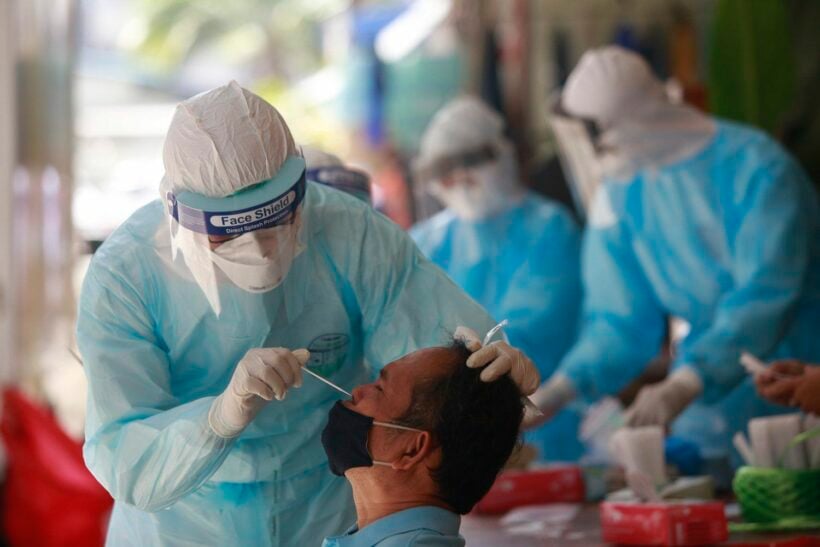 The CCSA's daily briefing today started with an update about a NBT news presenter who has attended the daily briefings at the CCSA studio and testing positive for Covid-19. The CCSA spokesman then announced that all people working in the CCSA studio, including himself, are defined as a "low risk" group for infections.
The CCSA spokesman says he, together with all those involved with any risk, will take a swab test this afternoon and will report the test results to the public later on. The infected NBT newscaster has been sent to the hospital already.
Today, 309 new Covid-19 cases were announced from the last 24 hours. The majority of the infections were detected from active case testing, accounting for 217 cases. Most of them were migrant workers. 80 were local transmission, while 12 cases were detected in state quarantine.
According to the CCSA spokesman, key measures to be rolled out next week will be the acceleration on proactive testing in Samut Sakhon and the outer western areas of Bangkok where the infection rate is still high. Numbers and reports from the active findings are expected to be complete by the end of next week will serve as key factors for a review of the current restrictions in place.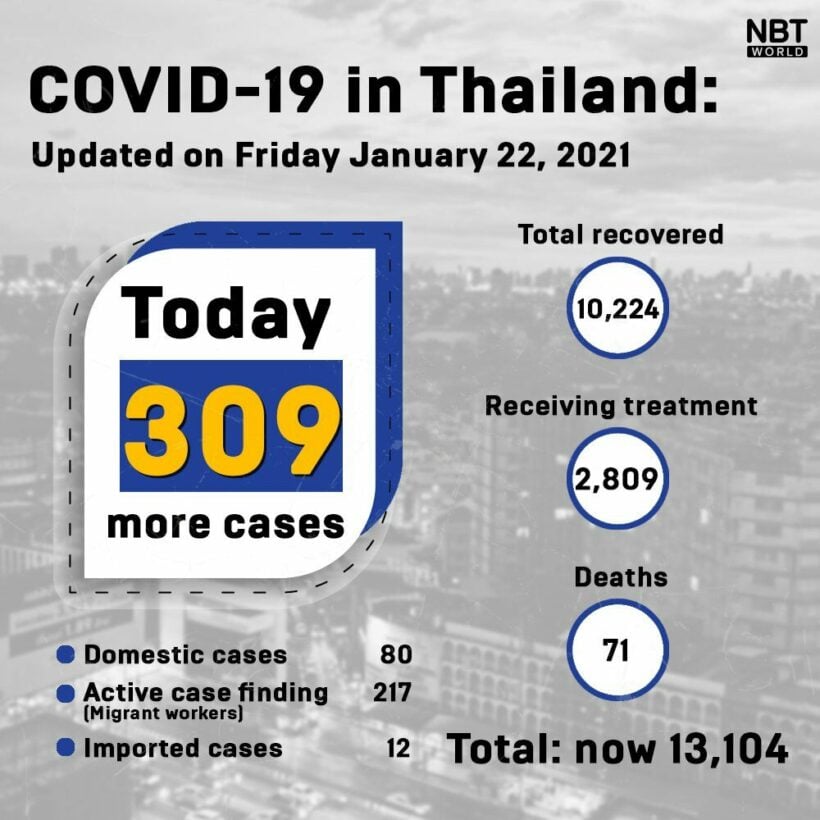 SOURCE: CCSA Daily Briefing
Keep in contact with The Thaiger by following our Facebook page.
Never miss out on future posts by following The Thaiger.
Smog across Bangkok can be blamed on a 'Dust Dome' of pollutants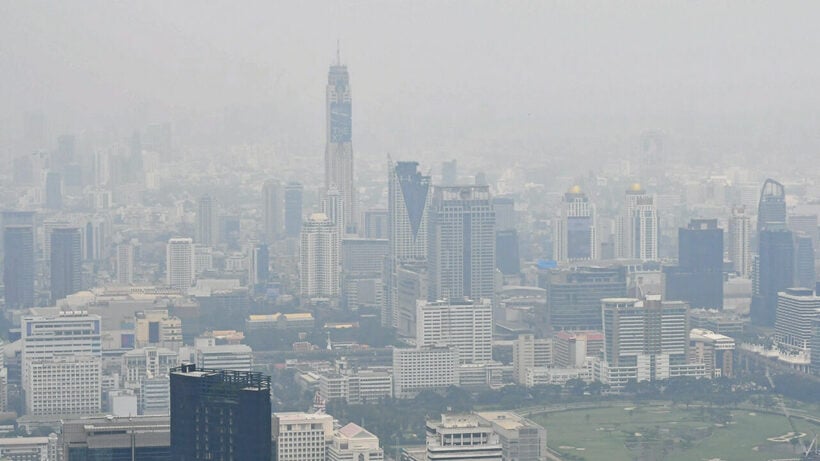 Poor air quality across Bangkok in the past week are not just caused by the PM2.5 dust. We can blame a 'dust dome' that is formed with low atmospheric pressure, dust and pollutants from the farmland waste burning, and greenhouse gases.
Natural Resources and Environment Minister Varawut Silpa-archa says that the pollutants come from "the improper disposal" of farming waste around Bangkok's northern outskirts. He also asked provincial governors to ask farmers to avoid burring farm waste. If they refuse to cooperate, there might be an order to ban all outdoor burning activities in the future, while suggesting that farmers should sell their agricultural waste instead of burning it.
The mentioning of the agricultural sector being major contributors to Bangkok's smog problems is a rare official recognition of the pollution 'elephant in the room'.
People in Bangkok are also being encouraged to avoid outdoor activities and wear their masks when going outside to prevent both the pollutants and Covid-19. While "unhealthy level" of PM2.5 has been reported in many areas over the past week, the Department of Pollution Control is considering both short-term and long-term measures to tackle the air pollution problems.
Measures that have been rolled out include an extension of the work-from-home policy, lowering the price of low sulphur fuel in the capital and its vicinity, extensive monitoring of waste burning on farms, as well as offering higher prices for sugarcane products which were made in a sustainable manner.
For a long-term plan, the department is considering setting a new standard of air quality by lowering the "safe" threshold for PM2.5 exposure below the current level, but this is likely to happen in the next 5 years. Also, the government aims to apply the Euro-5 standard for vehicle emissions by 2024.
He also says that the pollution situation in Thailand has seen improvement after the measures were implemented. And, the number of days where [air quality] exceeded safe standards was less than 20% of the year.
SOURCE: Bangkok Post
Keep in contact with The Thaiger by following our Facebook page.
Never miss out on future posts by following The Thaiger.