Six arrested in child-porn crackdown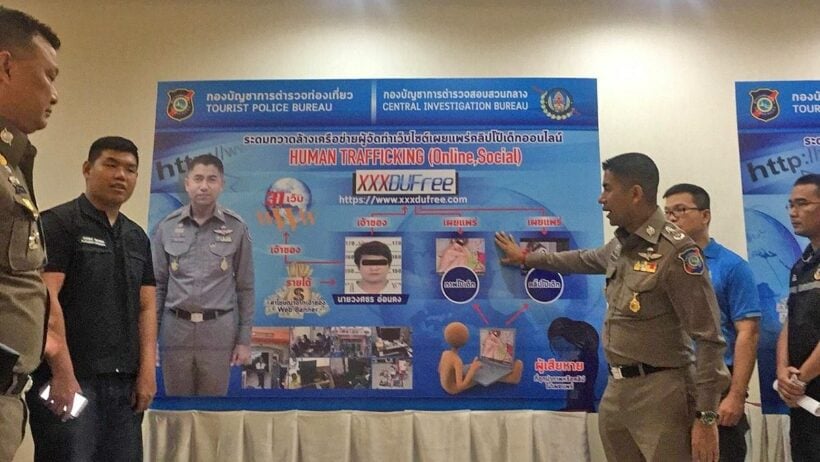 Six suspects have been arrested in nationwide crackdowns on child pornography websites.
Pol Maj Gen Surachet Hakpal says five suspects from three networks carrying online child pornography have been arrested under warrants and their accounts led to an arrest of another suspect.
He said the suspects were arrested in Samut Prakan, Surat Thani and Ubon Ratchathani.
Surachet said police learned from one suspect, identified only as 29 year old 'Oh', that the networks had sponsors and had several websites.
The officer said police were tipped off by non-governmental organisations to carry out the crackdowns. He says over 500 child-porn websites have been blocked.
Anti-trafficking chief Pol Maj Gen Kornchai Klayklueng says pornographic websites were human trafficking crimes and most of the offenders are programmers or experts in doctoring photos.
Kornchai said sometimes young boys were duped into masturbating on webcams by offenders who pretended to be women and they recorded the clips to show on their websites.
Meanwhile the Royal Thai Police have established two new divisions in a bid to tackle human trafficking crimes on the Internet, said RTP adviser and Pol General Thammasak Witcharaya yesterday.
The divisions will focus on computer and social media evidence gathering, and in suppression of child trafficking and child pornography.
Speaking in his capacity as the director of the RTP's centre tackling human trafficking and the protection of children, women and families, Thammasak said an emerging human trafficking method was to lure female and male youths to take indecent photos and video clips to sell via social media.
The Thailand Internet Crimes Against Children (TICAC) Task Force was set up two years ago to tackle this and similar crimes and has made many arrests. Most culprits were Thai nationals, and not foreigners as Thai police had originally assumed based on the Interpol database at the time.
Thammasak said his centre had initially pulled all available resources to tackle issues. But as workloads expanded, he proposed two new divisions be set up – the digital forensic science division and the TICAC division – and the national police chief approved the plan. The centre now works closely with the 150strong TICAC on digital investigation.
The digital forensic science division will recruit 100 bachelordegree holders from within the police force and outside for computer, social media and telephone evidence gathering, he said. Approval for the division focused on child pornography has meant a permanent status, structure and staffing positions for TICAC. US authorities have provided useful advice to TICAC over the past two years and have in turn praised TICAC as a good model for child trafficking suppression work in Southeast Asia, he added.
Thammasak hoped factors – especially Thai authorities' continuing measures to prevent and suppress humantrafficking crimes – would improve the country's position from Tier 2.5 on the watch list to Tier 2 in the US Trafficking in Persons (TIP) Report 2018, which will be released in June.
Meanwhile, Nakhon Phanom social development and human security official Apinya Chompoomas led police and administrative officials to inspect night entertainment venues in Muang district on Thursday night as part of efforts to prevent human trafficking crimes.
They gave a formal warning to a karaoke bar in Tambon Tha Khor that employed some girls under 18. The bar's owner insisted the youths worked as dishwashing staff and not waitresses, while another beer and karaoke bar employed six Thai and seven Lao women with proper work permits. Apinya said the authorities have to be more vigilant now that human traffickers are using various techniques including abduction, and are luring foreign women into prostitution via marriage.


Read more headlines, reports & breaking news in Thailand. Or catch up on your Thailand news.
Belarusian 'Anastasia' will be in Moscow detention another 3 days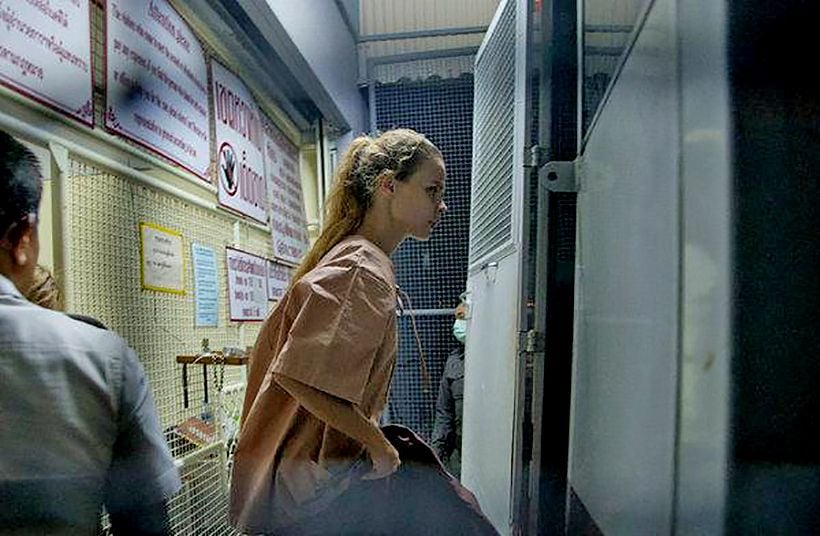 Anastasia Vashukevich, aka. Nastya Rybka, the Belarusian model/sex-educator/Instagramer who spent a year in a Thai jail awaiting last week's Court case, and was then deported, remains in a Moscow jail as of last night after the presiding judge decided to extend her detention by 72 hours.
She was arrested at Moscow airport on Thursday after being deported from Thailand on Tuesday night. She, and seven others, pleaded guilty last Tuesday for participating in a "sex training course" in Pattaya nearly 12 months ago.
During a hearing yesterday in Moscow, she said she did not want to "in any way compromise aluminum mining magnate, Oleg Deripaska".
According to Interfax she said in the hearing, "I have had enough."
Her lawyer Dmitry Zatsarinsky, told reporters that his young client "has committed no crime" and had "nothing to do with" Deripaska and "still less with US President Donald Trump".
On Friday her lawyer denounced Anastasia's arrest, which was made while she was in transit in Moscow after a flight from Thailand on her way to Belarus.
The Belarusian gained notoriety last year when she claimed she had proof of Russian collusion with the Trump Presidential election campaign. She has now had her detention in Moscow extended by three days by a Russian court.
According to Interfax reports, she told the court she denied the accusation of prostitution, telling the court that "I am not guilty of what I am accused."
She unexpectedly pleaded guilty in a Bangkok court to charges of prostitution relating to last February's sex training course in Pattaya. The Thai judge suspended the group's sentences but deported them, effective immediately.
Anastasia had been in custody in Thailand since a police raid in what AFP described as the "sleazy seaside resort of Pattaya" last February.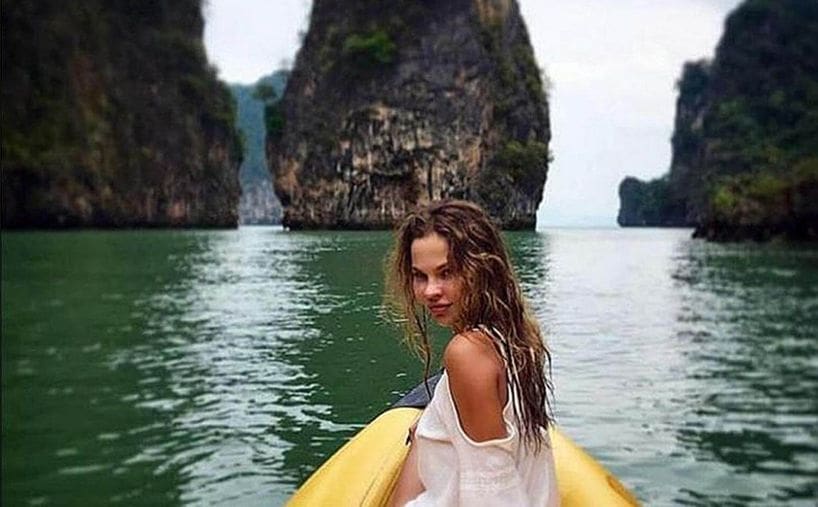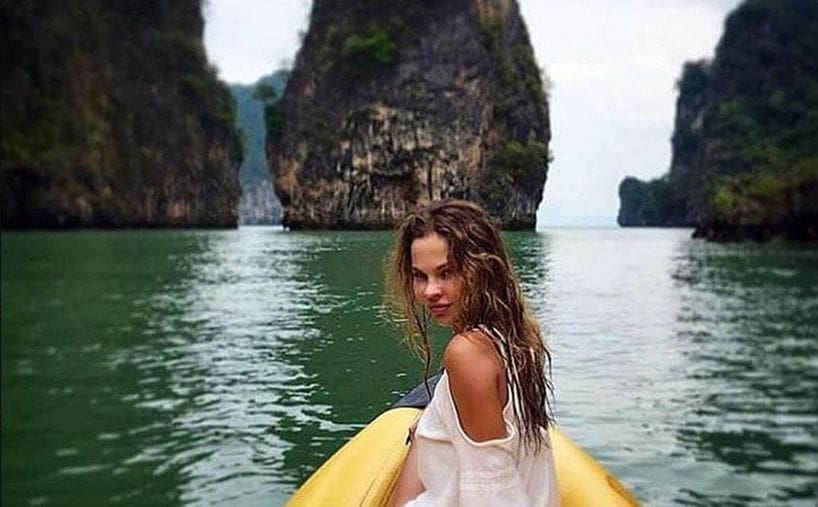 Anastasia cruising around Phang Nga in 2017 – Instagram
New 500 baht fine for drunk cycling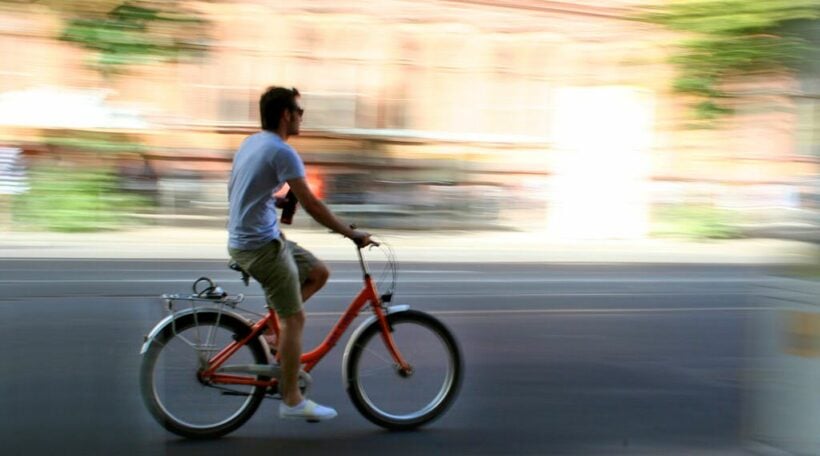 Up to now drink-driving cyclists have not been included in the laws governing drunk drivers of other vehicles in Thailand. But with the rising popularity of cycling as a fitness trend, that's about to change with a new 500 baht fine if bought drunk in control of a bike.
Drunk bicyclists who are currently immune to litigation because there is no law to make drunk cycling an offence. The new laws are covered in the upgraded traffic bill which passed the first reading of the National Legislative Assembly last week.
But, according to the Bill drafters, riding bicycles in public while being drunk is still regarded as a petty offence and the penalty would be just a 500 baht fine.
The same new traffic bill also seeks to empower traffic police to seize driving licenses of drivers found to be drunk behind the wheels and judged incapable of driving.
The bill will also merge the Land Transport Department and police databases to coordinate and share information on backgrounds and traffic violations records of drivers and motorcyclists.
A score system is being introduced under which law-breaking drivers will have their scores cut for every traffic violation.  Everyone will start a 12 month period with 12 points. If the scores are down to zero, the drivers will have their driving licenses suspended for up to 90 days.
Bangkok smog: Police get out their hoses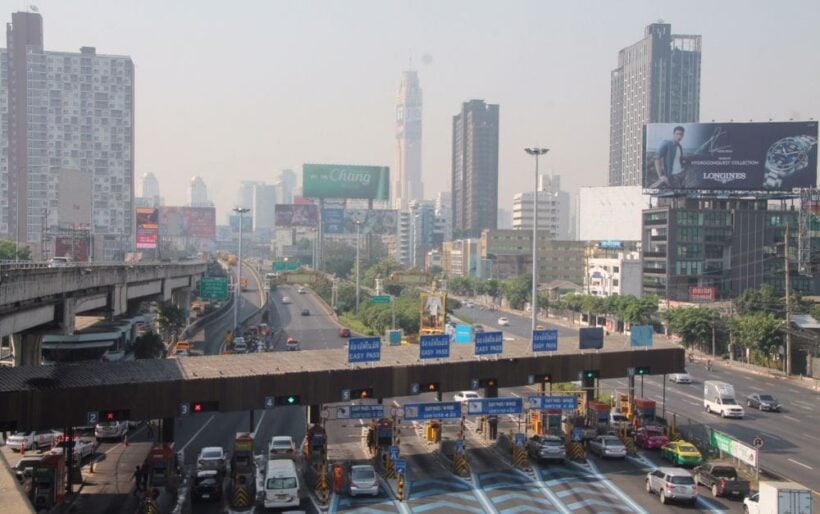 by Kornkamon Aksorndech 
Traffic police and volunteers sprayed water at four locations in Bangkok this morning in a bid to curb the dust and smog pollution.
Pol Maj General Nithithorn Jintakanon, commander of the Traffic Police Division of the Metropolitan Police Bureau, presided at the dispatch of 150 police officers and volunteers from his headquarters on Vibhavadi-Rangsit Road.
They chose four high-traffic locations and sprayed water in front of the Government Complex on Chaeng Wattana Road, the Din Daeng expressway toll gates and at the Ratchadapisek-Lat Phrao intersection on Lat Phrao Road and a Ramkhamhaeng Road intersection.
#pissinginthewind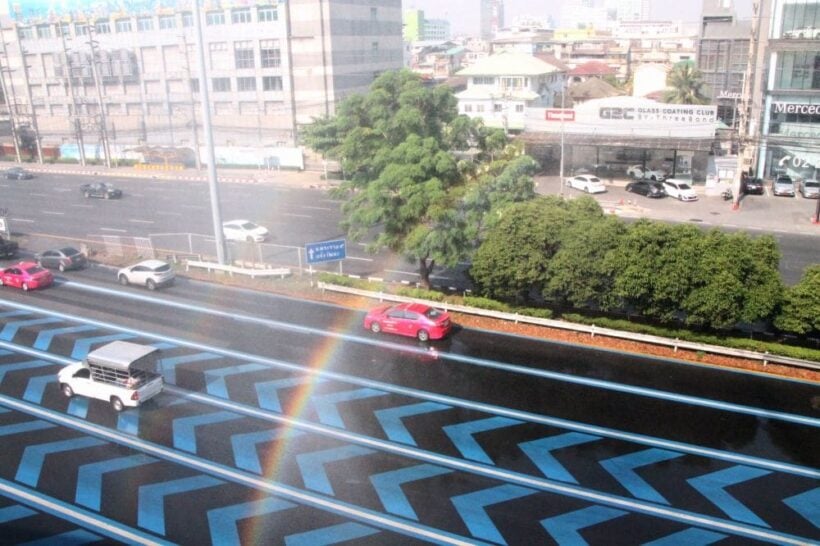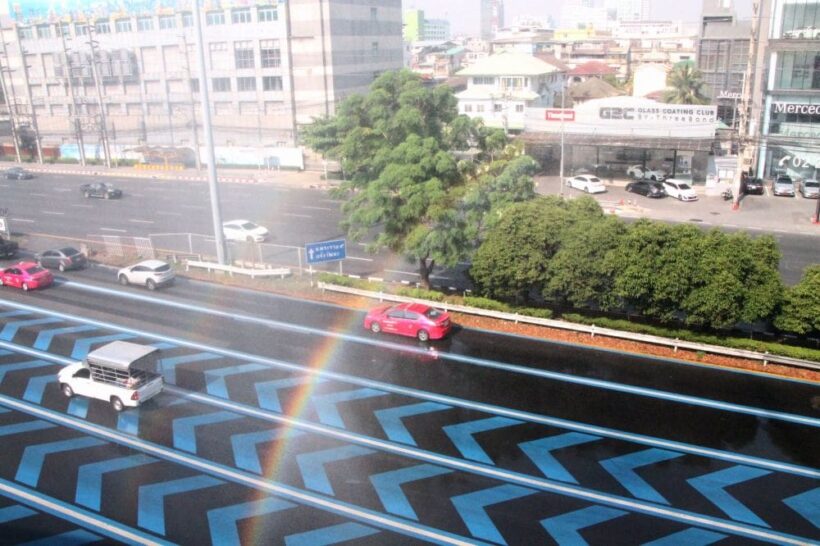 SOURCE: The Nation