Shooting at a Thalang rubber plantation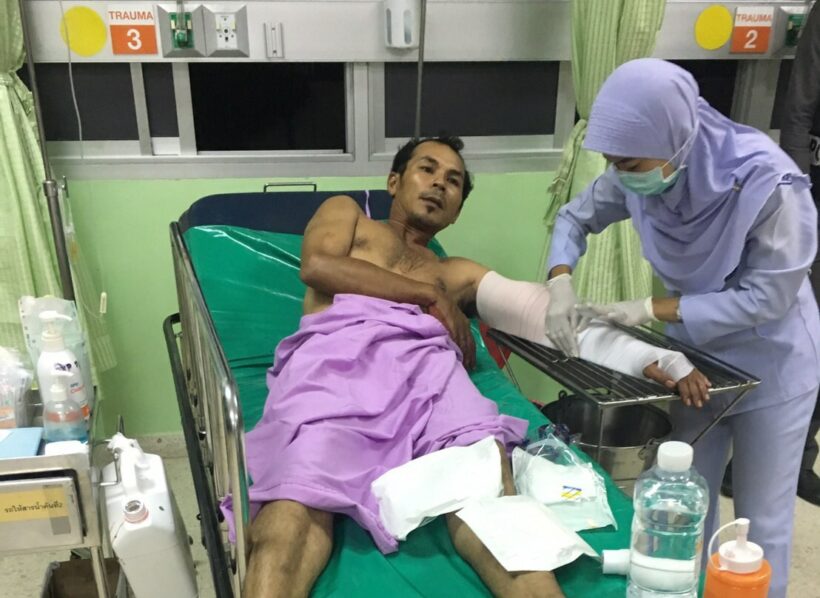 40 year old Danudech Maliwan from Phang Nga, a worker at a rubber plantation in Thalang, has been shot on his left arm by an anonymous shooter driving a white car. Police found a .357 bullet left at the scene.
The rubber plantation is located at the entrance of the Tonsai Waterfall in the Thepkasattri sub district. Danudech told the police that he was told to wait for a worker who the company believes was stealing rubber at the scene. Someone driving a white car showed up and shot him in the arm and fled. He was unable to read the license plate or identify the vehicle. His workmate brought him to Thalang Hospital.
Thalang police are checking CCTV camera footage and are investigating the witnesses around the nearby area including his fellow for more information about the shooter. The investigative team is also tracking down for the plate number of this car. They are still unsure about the cause of the shooting.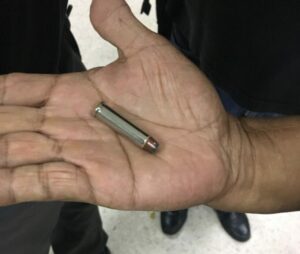 Keep in contact with The Thaiger by following our
Facebook page
.
Charter court will hand down ruling on Thanathorn share case on November 20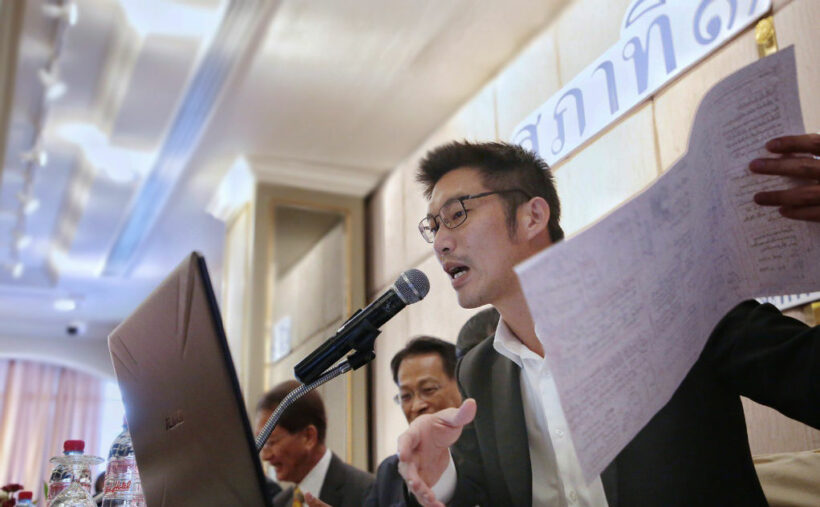 PHOTO: Thai PBS World
The Thai Constitutional Court is set to issue a ruling in Future Forward party leader Thanathorn Juangroongruangkit's media share ownership case on November 20. The court wrapped up its inquiry yesterday with the questioning of ten defence witnesses, including Thanathorn who arrived at the court greeted by well-wishers.
Thanathorn, who held 675,000 shares in V-Luck Media, has repeatedly insisted they were sold to his mother on January 8, weeks before he registered to run as a candidate.
As judges fired questions at him during today's hearing, the usually cool-headed party leader appeared tense, saying he couldn't recall the legal details of divesting the shares. His supporters say the case has been trumped up to take out Thailand's most popular politician and deliver a gut punch to the FFP and its radical reform agenda.
Read more about the case HERE.
Both Thanathorn and the Election Commission, which filed the case with the Constitutional Court, were given 15 days from today to submit their closing statements to the court.
SOURCE: Thai PBS World
Keep in contact with The Thaiger by following our
Facebook page
.
Soi Dog assisting displaced animals in flood-ravaged north east Thailand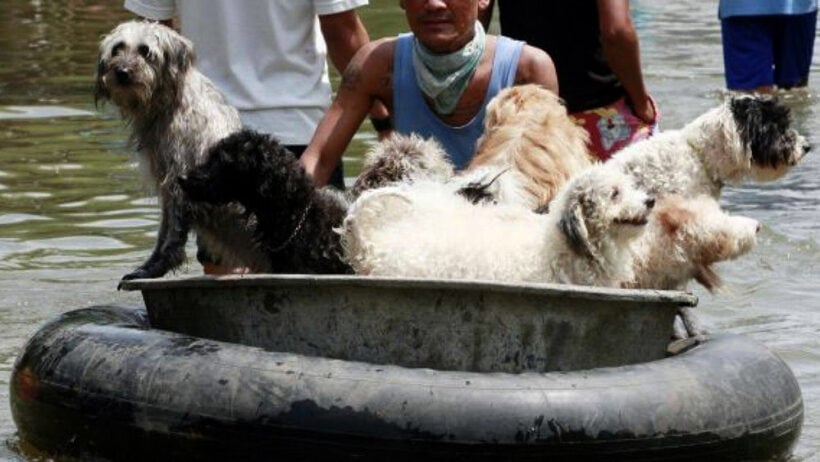 PHOTO: Fox News
The record flooding in September in the province of Ubon Ratchathani, north east Thailand, lead to the destruction of many homes, the fleeing of hundreds of people to safe areas and the subsequent leaving behind of many owned pets, as well as the displacement of a large number of stray animals who live in the area.
The Soi Dog Foundation has cooperated with the Department of Livestock Development in Ubon Ratchatani to help both the domestic and stray animals affected by the floods.
Focusing on their well-being, especially dogs, the foundation joined the campaign to raise help using the #SaveUbon hashtag with Facebook fan page posts, and supported with the donation of 10.8 tonnes of dog and cat food, and 5 bamboo pavilions for stray dogs stranded in an open space without protection from the sun at the area of ​​Tha Kok Hae temple, Muang District. There are still many dogs that need to be taken care of.
Soi Dog has also provided a mobile sterilisation clinic to neuter and vaccinate these dogs from both Muang and Warin Chamrap districts throughout October.
Together with Chomromkhonraksard Ubon (Ubon Animal Lovers Club), Soi Dog is also helping to find owners of the dogs that became lost during the flooding. The foundation had moved 60 dogs to house of Ms.Orathai Saisena, an Ubon Ratchatani woman who has a history of helping stray dogs around the town by providing temporary shelter at her home, including many dogs in the area which were scattered after the floodwater receded.
Right now, Soi Dog and the Ubon Animal Lovers Club are coordinating to help reunite owners and pets.
For further information about Soi Dog, and their work, click HERE.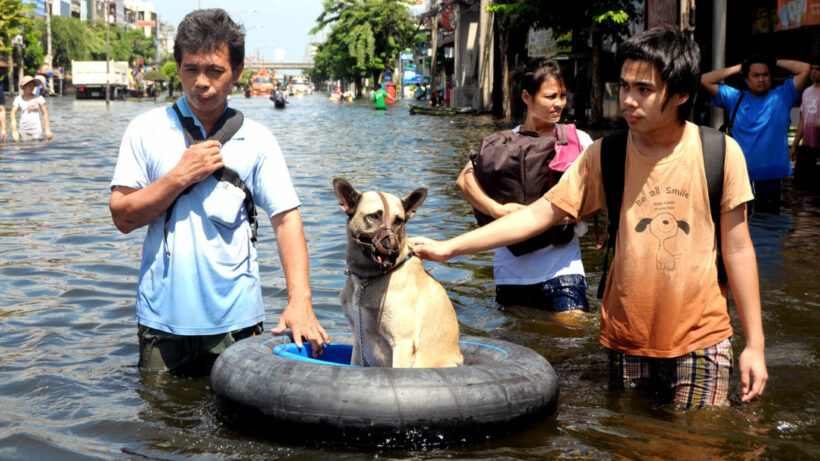 PHOTO: grist.org
Keep in contact with The Thaiger by following our
Facebook page
.
Opinion: Retirees and medical insurance in Thailand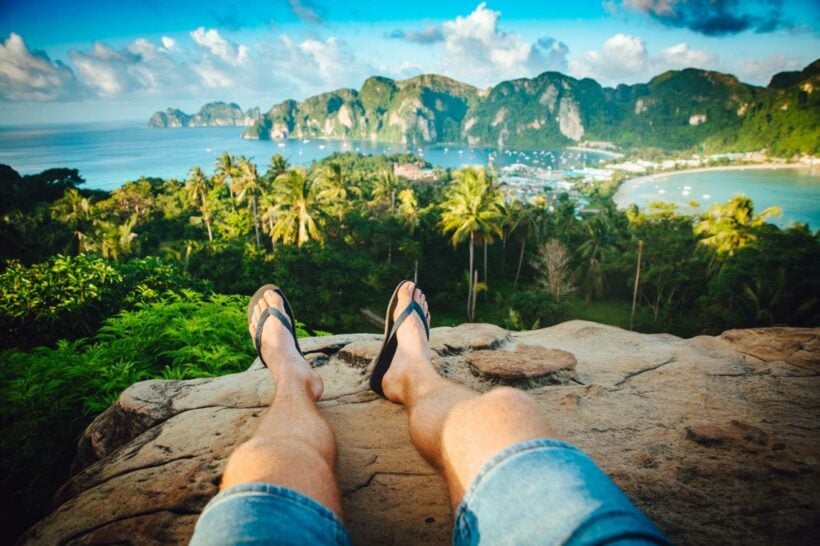 By Barry Kenyon of The Pattaya Mail
Thai government spokespeople, in recent years, have emphasised that that Thai hospitals are not free for foreigners. They have cited examples of sick and crowd-funded aliens desperate to get back to their home countries, or annual reports from public hospitals bemoaning the unpaid bills of foreign nationals.
So far not a lot has happened. Holders of one year 0/A visas or ten year 0/X, issued by Thai consulates and embassies abroad, do now require medical insurance worth at least 400,000 baht for in-patient treatment and 40,000 baht for out-patient care. But the vast majority of expat retirees in Thailand receive their annual extensions of stay at a Thai immigration office. They do not currently require insurance.
Will that change? It's not clear. The government has already stated that long-stay aliens with a history of physical illness may be checked out before an extension of stay is granted. What this means, if anything, is unclear but it could signify the immigration bureau's refusal if an applicant is discovered to have unpaid hospital bills.
One substantial reason for leaving well alone is that many expat retirees self-insure because they are too old or infirm to obtain medical insurance. But these wealthier retirees contribute billions of baht annually to (mostly) private hospital coffers when significant surgery is required. They would be forced out of the country if unobtainable medical cover was made compulsory, thus leading to a gigantic loss of income.
It's also true that the mandatory insurance requirement for 0/A visa holders is modest. A sum of 400,000 baht may seem a lot but is unlikely to cover the total bill for heart surgery, most cancer operations and stays in an intensive care unit, at any rate in the private sector.
Read the rest of the editorial HERE.
Keep in contact with The Thaiger by following our
Facebook page
.