SATURDAY MORNING BRIEFING – All your news in 3 minutes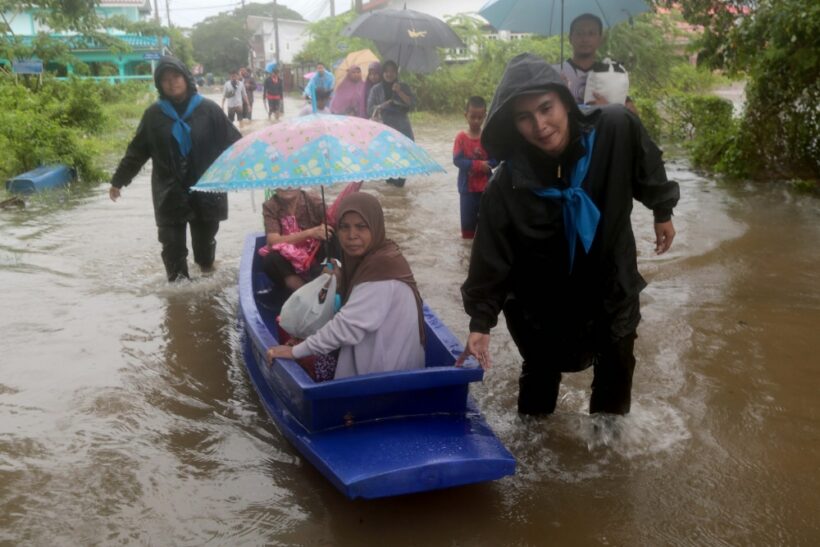 Welcome to the weekend. As usual you can start your day with all the main local news stories from Phuket and Thailand. During the day we also have weather updates every 30 minutes on The Thaiger 102.75 FM (download the free App on your phone).
Southern floods claim two, one missing
A highly regarded nurse of 12 years service in Trang has drowned inside her car after her vehicle fell off the bridge on a flooded road, while a policeman's body has been found in the back of his flooded home.
They were Trang's first flood fatalities since heavy rains and floods hit the South during the week. A 38 year old also remains missing since Thursday. Floods continued to affect some 80,000 residents and inundated about 170,000 rai of farmland in Trang.
Yala, Narathiwat and Pattani continue to be hard-hit by flood with water levels steadily increasing from swollen rivers due to heavy rain.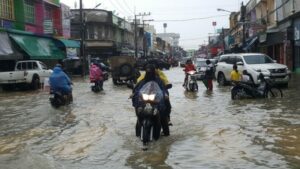 NCPO blame 'threat' for not allowing resumption of political meeting
As the clock ticks down to election day, the ruling junta is warning it might not lift political restrictions any time soon because of the recent discovery of active military weapons might mean that the country is once again "being targeted for an attack".
Deputy PM and Defence Minister Gen Prawit Wongsuwan yesterday claimed that intelligence indicated that "some movements" had started, which could make it difficult to lift the NCPOs ban on political activity. The junta placed political restrictions against political gatherings of five or more people shortly after its 2014 coup, resulting in all politics-related activities, including party meetings, being prohibited.
A call to lift the ban from political parties and pressure groups is growing as the election, scheduled for November 2018, draws near.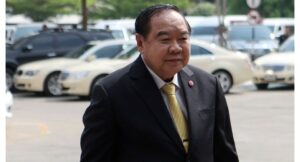 Toon heads for BKK
Bangkok police are deep into preparations to welcome charity runner Artiwara "Toon" Kongmalai, who is due to arrive in the capital on Monday at about 3 pm.
Yesterday, the 31st day of the marathon, Toon started his run from Cha-am district, Phetchaburi province toward Pak Tho district, covering a distance of 70 kilometres. As usual, people showed up to give him moral support and made donations throughout the running route.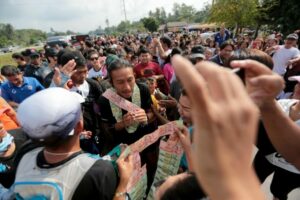 Shoot-out on the Mekong
Police have seized 76 kilograms of heroin while they were being smuggled across the Mekong River from Laos following a shootout with a group of foreign traffickers early yesterday.
Police report that the gunfire between police and drug traffickers happened about 200 metres from the Mekong riverside in Samngkhom district.
Police received a tip-off that a drug gang would smuggle the drugs across the river into Thailand. When police intercepted 10 men crossing the river, the gang opened fire. Following the gunfight, the men retreated to the river.
Police found 200 heroin bars in three bags weighing 76kg.
Police have since learned that the drugs were supposed to be transported to Songkhla province to be smuggled into Malaysia.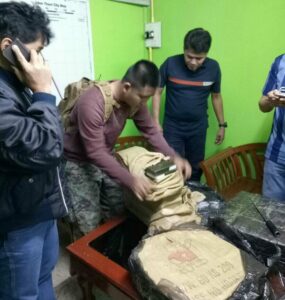 Smuggled tortoises discovered at airport
Thai authorities have seized 330 live Indian Star tortoises hidden in three suitcases at Suvarnabhumi Airport but the suitcases had no luggage tags linked to any flights.
Customs officials found three suspect suitcases piled on a trolley at the airport's arrival hall.
An X-ray of the unusually heavy suitcases found they contained the endangered tortoises, estimated to be worth at least 1 million Baht on the illegal market.
Police are on the hunt for the smugglers. In the meantime the tortoises have been transferred to the National Parks, Wildlife and Plant Conservation Department for some tortoise love as officers decide how to return the reptiles to the wild.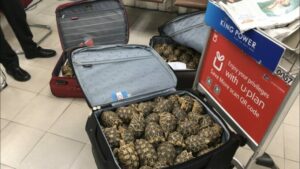 Phuket's stray dogs being rounded up
Phuket's Governor has announced a new management strategy for Phuket's stray dogs, following the project "Disease-Free Animals, Rabies-Free Humans" – a project sponsored by HRH Princess Chulabhorn.
The Governor reported that there is an estimated total of 11,500 dogs in Phuket, of which a thousand of them are stray dogs that live in public areas including around tourism attractions, and are at risk of rabies.
Officers are now focusing on areas known to have fierce dogs, such as Toh Sae Hill and Chalong Temple. The dogs from these places are being sent directly to the dog shelter in Thalang.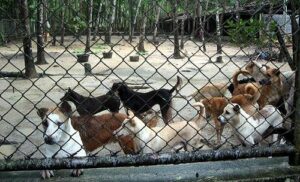 Pope doesn't utter the 'Rohingya' word whilst in Myanmar
Pope Francis is in Bangladesh through Saturday after four days in Myanmar, formerly known as Burma. He is expected to meet with Rohingya refugees in Bangladesh, but will not travel to the border where more than 600,000 Rohingya refugees are trying to survive. Scheduled well before the August violence against the Rohingya, the pope's seeming effectiveness is being called into question because of one word. VOA's Steve Reddish explains HERE.
Daily briefings compiled from The Nation, Phuket Gazette and VOA.
- The Thaiger & The Nation
Machete-wielding BKK motorist jailed for threatening woman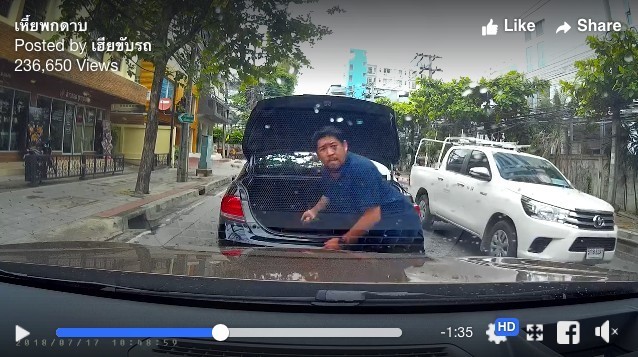 The South Bangkok district court has handed down a sentence today on a male driver. He's been sentenced to 2 months and 15 days behind bars.
The sentence follows the man's indiscretion caught on a dash cam (video and story below), threatening a female driver with a knife on July 18, after he drove against the traffic to cut in front of her car.
Read the original story and watch the video HERE.
42 year old Sitthiporn Suayngarm was arraigned in court by officers from the Thung Mahamek Police Station this morning (Saturday) and the court swiftly handed down the sentence after the defendant pleaded guilty. The video clip was used in evidence.
The court declined to suspend the jail term despite Sitthiporn pleading guilty, as the court regarded his act as a serious crime. Sitthiporn turned himself in to police on Friday and issued an apology to the woman, saying he was in a bad mood after quarrelling with his girlfriend.
The man was slapped with five charges: damaging another person's asset, intimidating another person, carrying a knife in a public place without licence, parking car in a prohibited area and changing lane unlawfully.
The crime took place on Tuesday morning at an intersection on Suan Plue Road in Bangkok's Sathon district near the Bangkok Technical College and was recorded by the dashboard camera of the 64 year old woman.
The clip from the dashboard went viral and had more than a 1 million views. The clip shows a man at the wheel of a black Toyota Camry repeatedly trying to cut in front of a car whose dashboard cam recorded the incident, by driving against the traffic. The man finally managed to complete the illegal overtaking manoeuvre after they drove through an intersection. He then stopped his car, exited, opened the trunk and pulled out a long knife.
The dashboard video showed him walking towards the woman's car before he disappeared from the clip.

STORY: The Nation
Singapore Airlines back on top. Thai Airways in 10th place.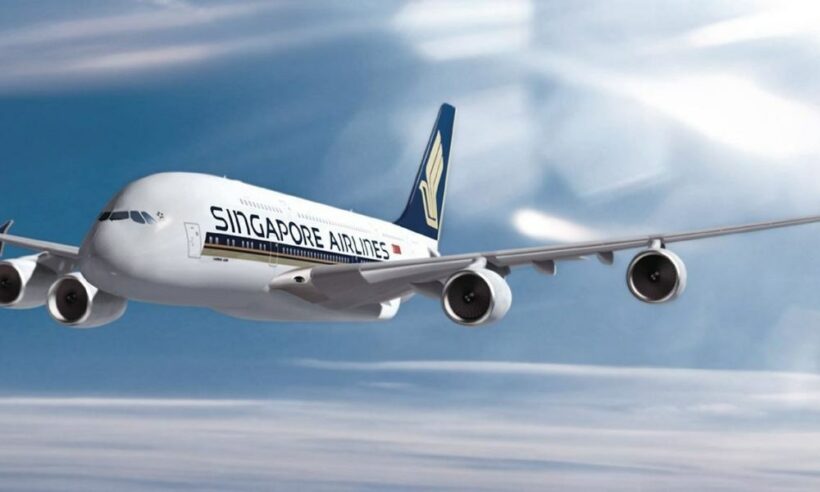 PHOTO: Flyer Talk
Singapore Airlines is back on top after a decade held out of the top airline position by middle-eastern competition. It's their fourth win since the Skytrax World Airline awards started back in 2001.
The island nation's national carrier was named Airline of the Year at the 2018 Skytrax World Airline awards. Singapore Airlines was last top of the list in 2008. This year it forced out last year's top honours winner, Qatar Airways, into second place.
Yeoh Phee Teik, Singapore Airlines's senior vice president of customer experience, said "We're very ecstatic."
The airline  also claimed best airline in Asia, best first class and best first class seat.
Asian airlines made a return to the winner's list this year with ANA All Nippon Airways receiving third place, Taiwan's EVA Air in 5th position, Cathay Pacific in 6th, Hainan Airlines in 7th, Garuda Airlines in 9th (an extraordinary achievement considering their reputation only a decade ago) and Thai Airways in 10th place.
Singapore's victory marked a resurgence in Asian carriers in the annual UK-based aviation industry review. Skytrax began its awards in 2001 and is recognised for its fairness due to passengers voting in all categories. Aside from a win by Hong Kong's Cathay Pacific back in 2014, all past seven years have all gone to middle east based airlines.
"We're glad that our work has been recognised and our customers have voted for us to be the world's best," said Yeoh.
Garuda Airlines, which has turned its service around since the early days of Skytrax, when it was banned from flying into European airspace, was presented with the prize for best cabin staff along with its 9th place overall.
Not one US airline picked up a single award.
Locally Air Asia picked up an award for Best low coast airline – Asia, Thai Airways won the award for best airline catering in Economy Class (The Thaiger thinks the voters weren't flying on the same flight when Thaiger experienced the economy class 'food') and Bangkok Ailines won Best Regional Airline – Asia.
The top 10 world's best airlines for 2018
1. Singapore Airlines
2. Qatar Airways
3. ANA All Nippon Airways
4. Emirates
5. EVA Air
6. Cathay Pacific
7. Lufthansa
8. Hainan Airlines
9. Garuda Indonesia
10. Thai Airways
Best airlines by global region
Northern Europe – Finnair
Western Europe – Lufthansa
Eastern Europe – Aeroflot Russian Airlines
Africa – Ethiopian Airlines
Australia / Pacific – Qantas Airlines
Central Asia / India – Air Astana
China – Hainan Airlines
Central America / Caribbean – Copa Airlines
South America – Avianca
North America– Air Canada
Asia – Singapore Airlines
Middle East – Qatar Airways
Europe – Lufthansa
Best low-cost airlines
Africa – Mango
Australia & Pacific – Jetstar Airways
Asia – AirAsia
Central Asia / India – Indigo
China – West Air
South America – Sky Airline
North America – WestJet
Middle East – Flynas
Europe – Norwegian
Best airline catering
Economy – Thai Airways
Premium economy – Aeroflot Russian Airlines
Business – Austrian Airlines
First class – Air France
Best airline seats
Economy – Japan Airlines
Premium economy – Air New Zealand
Business – Qatar Airways
First class – Singapore Airlines
Best regional airlines
Africa – Royal Air Maroc
Asia – Bangkok Airways
South America – Azul Brazilian Airlines
Central Asia / India – Azerbaijan Airlines
Europe – Aegean Airlines
Best airline lounges
First class – Qatar Airways
Airline alliance lounge – Star Alliance Los Angeles
Independent airport lounge – Plaza Premium Heathrow Terminal Two
First class lounge dining – Air France
Airline lounge spa facility – Thai Awards
Best airlines staff service by global region
Africa – South African Airways
Australia / Pacific – Qantas Airways
Central Asia / India – Vistara
China – Hainan Airlines
Central America / Caribbean – Copa Airlines
South America – Azul Brazilian Airlines
Asia – ANA All Nippon Airways
Middle East – Emirates
Europe – Austrian Airlines

Burmese maid returns bag containing $11,000 to tourist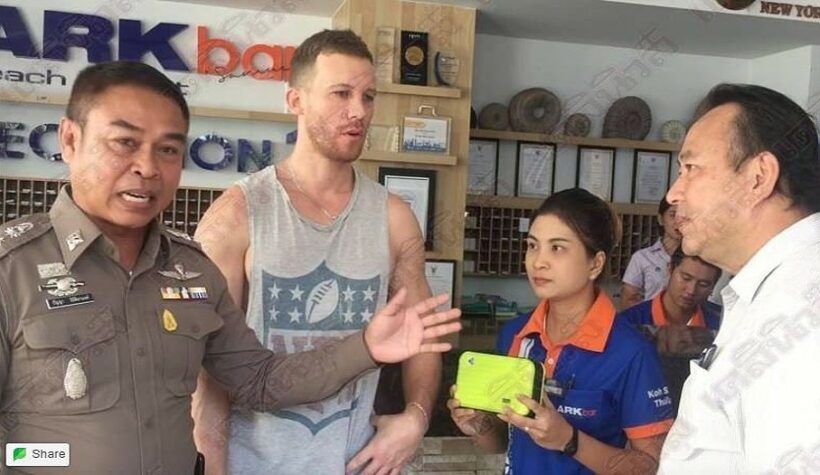 Daily News is reporting that a tourist from the Netherlands has thanked a Burmese maid at his hotel on Koh Samui. 37 year old Sawee Let Mau showed it was not just the Thais who are high up in the honesty stakes.
Sawee found the green bag under some stairs – it contained AUD$ to the tune of 280,000 baht – several years wages for a maid.
Police were called to the Ark Bar Hotel in Chaweng and CCTV was checked before 31 year old Alexander Joseph was confirmed as the rightful owner.
He gave the honest maid $100 as a reward. Daily News praises the maid for helping the tourist image of Thailand.
SOURCE: Daily News