The Koh Samui tunnel – "it definitely had all the proper documentation"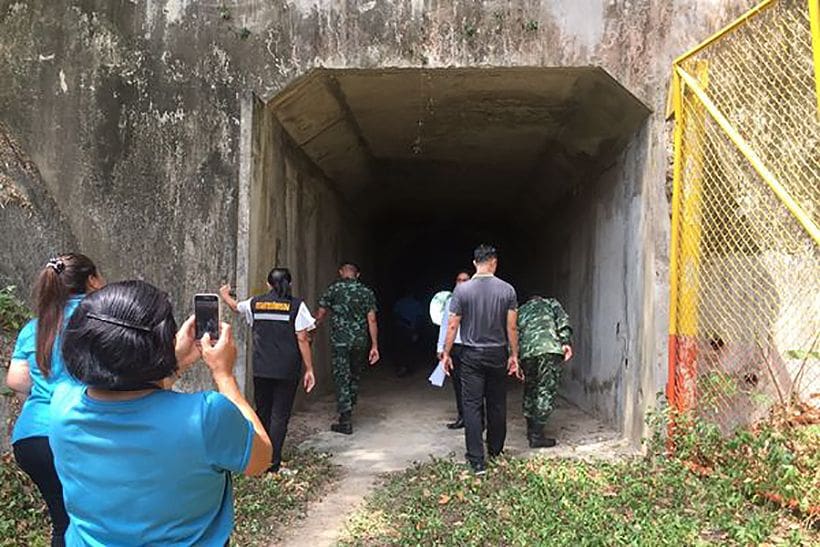 The 84 metre tunnel, rediscovered last week by a foreign tourist visiting the north of Koh Samui, is starting to reveal more of its secrets.
This week island authorities announced they would prosecute the builders of the tunnel because they were unable to find any supporting documentation or permissions for the construction.
The Koh Samui land office could, however, confirm that the land either side of the tunnel, was properly titled and owned by the same entity – the Ban Thai Beach Company based in the British Virgin Islands.
The tunnel connects the beach at Ban Tai with a private road and undeveloped piece of forest land two hundred metres from the island's main ring road in the Mae Nam district. It was earlier reported that the tunnel was part of an uncompleted hotel development.
The Thaiger has discovered that the tunnel was probably built around 2005 by the land owner who was seeking access to the land behind the hill because there was no direct access from the existing roads. So the tunnel would provide access to the 2nd property.
Our source has reveled that it was proposed to be a 'grand entrance' with a waterfall 'gate' in front of the tunnel that would open up to allow access through the tunnel and into the property behind.
It is not understood at this stage why the owner didn't progress beyond the construction of the 3.5 x 3.5 metre tunnel.
Our source also said there were many professionals working on the project at the time and it was inconceivable that the tunnel could have proceeded without the proper permits and legal documentation. The source suggested it was far more likely to be a problem with the Koh Samui land office documentation systems rather than the professional design and legal team working on the development at the time.
Read more about the tunnel HERE.
And the Thai authorities' response to the tunnel HERE.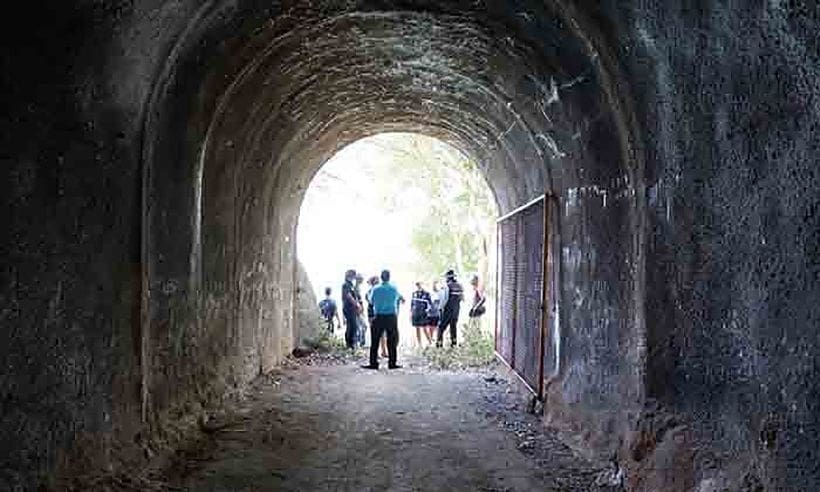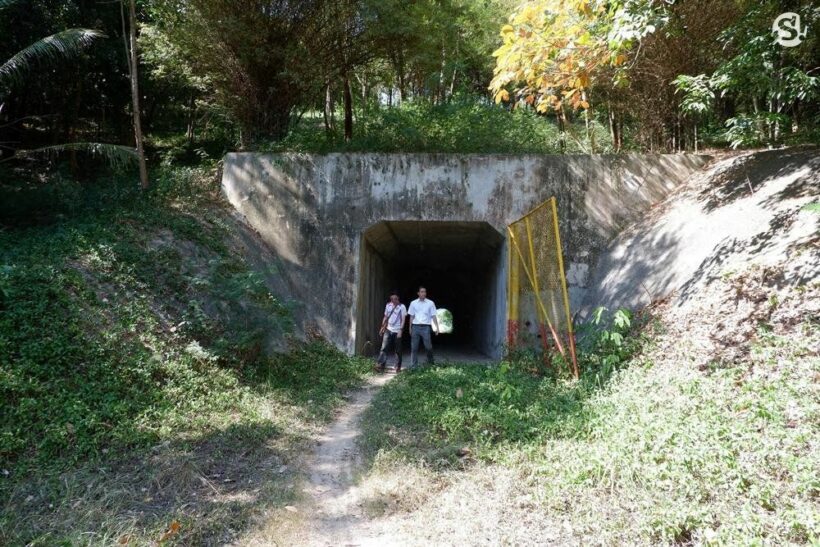 Keep in contact with The Thaiger by following our
Facebook page
.
Never miss out on future posts by
following The Thaiger
.
Krabi man arrested for animal abuse after allegedly killing pet dogs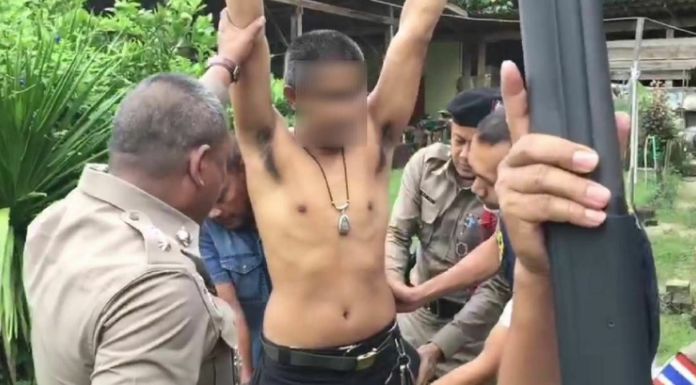 A Krabi man was arrested on animal abuse charges after he allegedly shot and killed his pet dogs. The non-profit Watchdog Thailand filed a police complaint yesterday with a statement from a witness.
Police arrested 39 year old Surasak Kongduang at his home in Krabi's Muang district. Surasak allegedly admitted to police that he shot both his pet dogs in the head and buried them in the backyard. Officers searched his home and found 3 guns and a bow. All weapons are legal and registered, police say.
Surasak allegedly told police that his wife fled and left the dogs behind after an argument a few days prior. He allegedly told officers that his mother is old and he felt bad about leaving her to care for the dogs, adding that one dog is lame while the other is sick.
Surasak was charged with animal abuse and for unlawful discharge of a firearm.
SOURCE: Nation Thailand
Keep in contact with The Thaiger by following our
Facebook page
.
Never miss out on future posts by
following The Thaiger
.
Thief makes off with over 500,000 baht in Bangkok bank robbery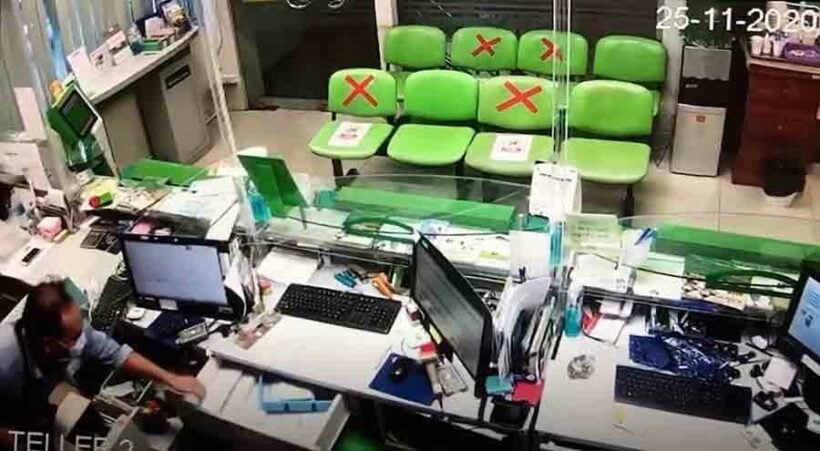 A man who robbed a Bangkok branch of the Government Housing Bank at gunpoint has escaped with over 500,000 baht. Nation Thailand report that the robbery took place yesterday afternoon, at the bank's Bangbon branch on Soi Ekachai 86 in the capital.
A security guard at the branch told police that the thief jumped over the counter, before grabbing the cash and running out. It's understood nobody was hurt in the incident. CCTV footage shows a man wearing a long-sleeved grey shirt and a face mask entering the branch, before producing a gun and pointing it at employees. He produces a plastic bag, before jumping over the counter and grabbing cash from a drawer and making his escape.
It's understood additional footage shows the man fleeing in a vehicle, headed towards Ekachai Road. The police investigation is ongoing.
SOURCE: Nation Thailand
Keep in contact with The Thaiger by following our
Facebook page
.
Never miss out on future posts by
following The Thaiger
.
Coming back to Thailand? Here are some of the steps you need to know about.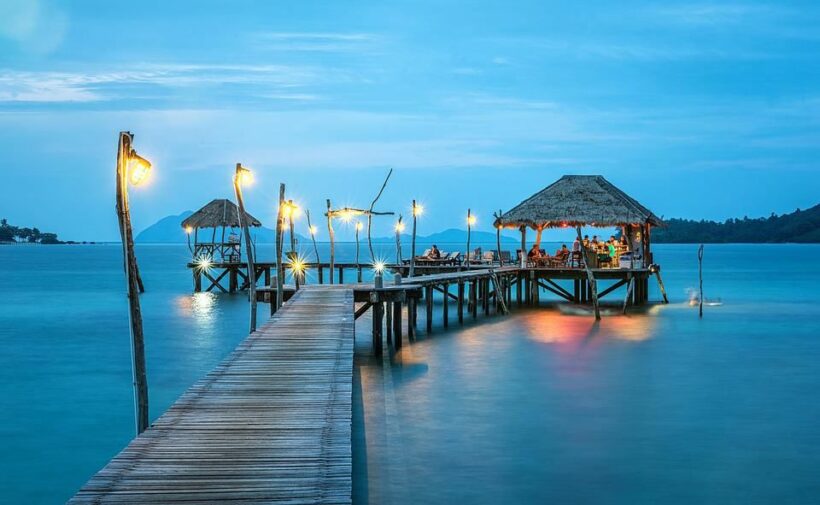 Want to come back to Thailand? Whilst the borders are still closed to simple visa-on-arrival and general tourism, you CAN get back to the country at this time if you have the resources, patience and need to get the requisite paperwork together. There will be red tape, stumbles and conflicting information. But be persistent and you'll be able to travel to Thailand at this time.
The country is open, the beaches are pristine and mostly empty, and the shops are open in many locations, especially around Bangkok. Sure, many parts of the more touristy locations are still largely closed but there are plenty of Thai experiences still awaiting you as the country slowly re-opens for tourism. There's also plenty of bars and nightlife re-opened and happy to welcome you back.
Please, before you do anything else, check with your country's Thai Embassy to confirm the current situation for re-entry to Thailand for citizens of your country. In many cases the 500,000 Thai baht minimum bank balance requirement has now been dropped. Financial requirements are now, routinely, US$700 for a single traveller or US$1,500 for a family.
The situation is also continuously evolving. The Thaiger routinely publishes all changes and modifications to the visa and quarantine requirements at this time.
Quarantine
There is still a mandatory requirement for 14 days quarantine at an ASQ, Alternative State Quarantine, a registered hotel that has paid up with a local hospital. HERE's a list of registered ASQ hotels. Prices for your quarantine stay range from 23,000 – over 100,000 depending on the quality and space you desire. One of the main differences will be the quality of the food, so ask about the menus available – you'll be stuck with little choice for your 14 day stay! In most cases you'll be required to pay upfront and provide proof of payment as part of your visa applications. Some hotels allow a deposit and balance on arrival.
A few people have catalogued their journey through quarantine and the paperwork. Read HERE, and HERE and HERE and HERE. And watch Nick Davies interview with The Thaiger.
Flights
You'll also need to present proof of your airline ticket to Thailand. New flights are being added all the time back into Thailand as previously grounded airlines are slowly dusting off their aircraft and adding new flights as demand increases. We would recommend searching for flights through an aggregator like skyscanner.com but, when you find a flight at the right time and price, book directly through the airline as it's easier to deal directly through the airline at this time if things change (and they do, especially at this time).
Testing
You will need to provide proof of a negative PCR Covid test within 72 hours of your departure date. The test and results should take less than 24 hours. You should contact your local health providers or insurers ahead of time so that you will be able to schedule this to fit in with your plans.
Fit-to-fly certificate
Depending on your country, you will be able to get this from a local health practitioner or GP, and even online in some cases. but You'll need to forward your negative Covid-19 test as evidence for the "fit-to-fly" certificate to be issued.
Insurance
You will need specific medical insurance covering US$100,000, including cover for Covid-19. The TAT (Tourism Authority of Thailand) has published its preferred list of Thai insurers HERE, but there are plenty of others. Safety Wing also has coverage HERE. And AXA has bespoke policies for medical insurance at this time HERE. This insurance is not overly expensive.
Certificate of Entry
A certificate of entry is required for every person entering Thailand. Go to this website HERE and follow the links.
VISA
Apart from all the other paperwork, created by Thailand's desire to control potential threats from new Covid cases entering Thailand, you'll also need a visa. There are a few options at the moment including the STV, Special Tourist Visa, the updated 60 day tourist visa and Elite Visas through the Thailand Elite Visa program. You should discuss your options at your local Thai embassy.
Do your homework before you undertake this venture as your timing of the various elements will be critical to a smooth flow of the red tape required. Also do a complete budget of the elements required to get back to Thailand.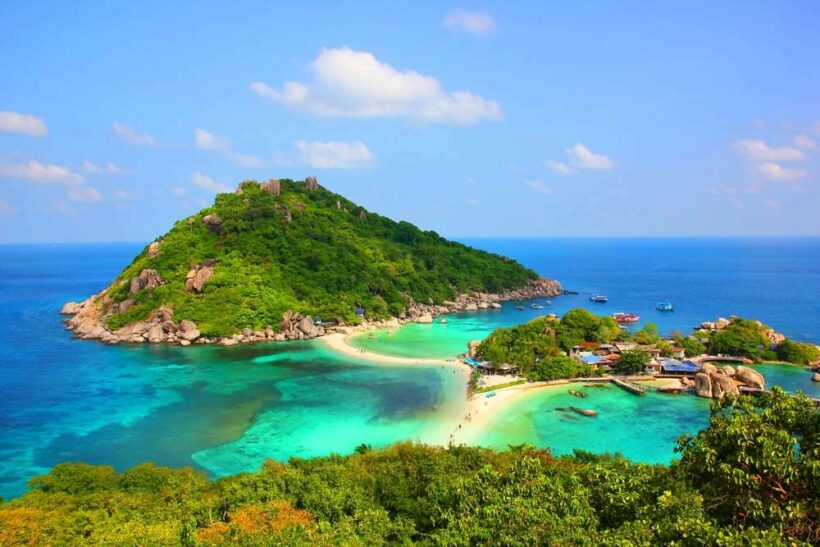 Keep in contact with The Thaiger by following our
Facebook page
.
Never miss out on future posts by
following The Thaiger
.