Chinese resurgence, Russian stability feature in tourist arrivals for the start of 2019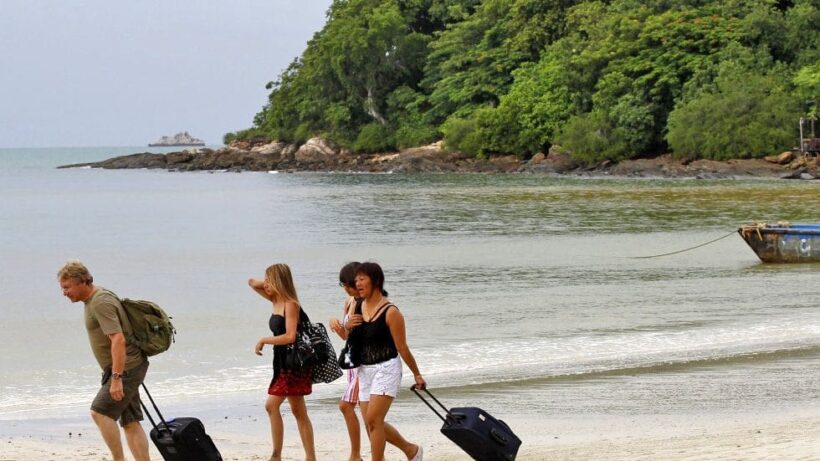 The Chinese returned in numbers at the start of 2019 giving the Land of Smiles a spectacular start for the year with a total of 3.7 million visitors in January 2019. This was a nearly 5% rise in total tourist numbers from the same month last year.
Mainland China continues to lead Thailand's source market with just over a million arrivals in January, a 9.3% growth year on year and an astonishing 20% growth against December 2018's arrivals.
The report from the Ministry of Tourism and Sports represents a firming up of the 'new normal' where the distinction between the old high and low seasons has mostly vanished as the tourism mix diversifies and Thai tourism matures into an all-year tourism destination.
The turnaround, following last July's tragic Phoenix boat incident where 47 Chinese tourists drowned south west of Phuket, is significant and gives Thailand's 'teflon' tourist industry an excellent start for the year.
Following the Phoenix disaster negative social media and some ill-conceived comments from Thai leaders caused a significant drop in Chinese tourism, particularly in the southern island of Phuket where bookings dropped off between 20-50% in various hotel sectors. At the time six Chinese airlines cancelled flights between Chinese cities and Phuket.
For non-Asian arrivals, Russia retains its place as the largest source market for Thailand with 229,518 arrivals in January, a small rise year-on-year. At the same time German, French, Finnish and Swedish arrivals declined, between 3.5 and 14.6%, respectively.
Arrivals from the UK and Norway increased by over 3% in the same period.
Three Eastern European Countries – Poland, Kazakhstan and Ukraine – also registered arrivals over 100,000 visitors and increases in numbers compared to 12 months ago. Tourists from the US and Canada also rose in the same period. Australian visitors dropped a small 1.5% and New Zealand visitors down 5.7%. Australian visitors to Thailand has been consistent for almost 20 years, never rising or falling very much, despite the changes in fortune for the AUD vs the Thai baht.
One of the big improvers, and increasingly important feeder market is Indian tourism. January 2019 saw a rise of nearly 25% compared to the year before. It is projected that Indian tourism will continue to rise throughout this year.
The Thai Ministry of Tourism and Sports forecasts 41.1 million foreign tourists for 2019 with China, ASEAN countries and Europe contributing rises this year.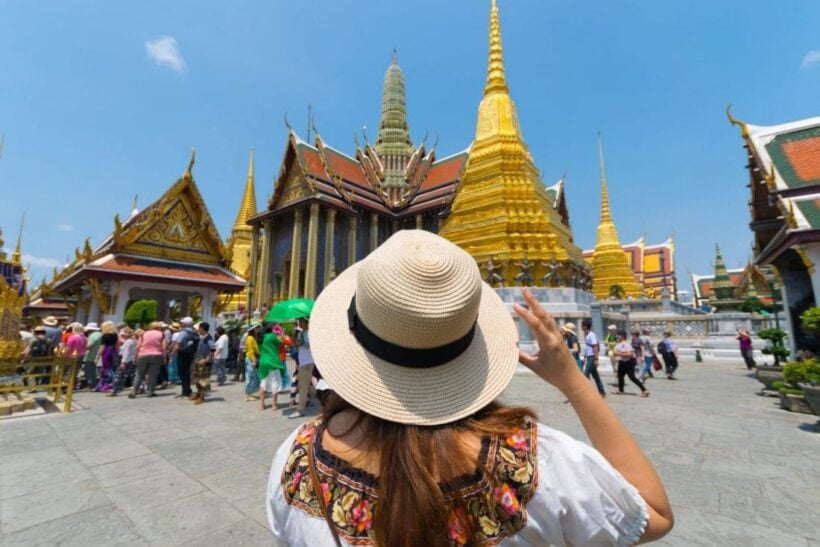 Looking to jettison some items before jetsetting away or chartering a yacht? Look no further than Thaiger Classifieds where you can find and post items, work, property and more for free. Be sure to check out YonderTours for things to do in Thailand and tours across the country.

Read more headlines, reports & breaking news in Thailand. Or catch up on your Thailand news.
Some election results out by 8pm Sunday night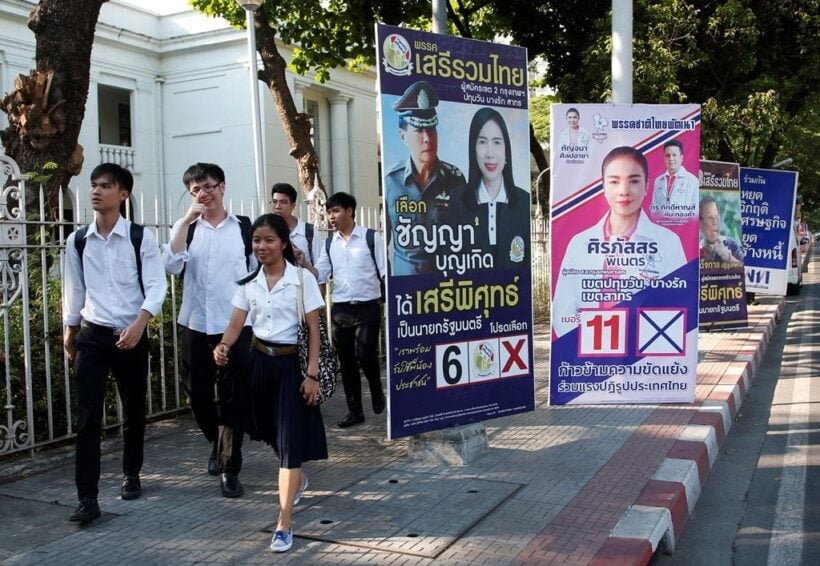 More than 92,000 polling stations will be operating this Sunday for the national poll to elect a new Government. Seven million new voters, eligible since the last poll in 2011, will make a new impact on the election results making predictions more complex than in the past.
Election results will start dribbling out of smaller polling booths just an hour after voting in this Sunday's national election.
Voting will close at 5pm on Sunday, according to the Election Commission.
The EC secretary-general Jarungvith Phumma says results can be expected in less than an hour from smaller polling stations, adding that unofficial results from at least 95 per cent of the polling stations should be ready by 8pm on Sunday.
These results will reveal the number of constituency seats won by each party, but figures on party-list seats will not be released until after the EC has officially endorsed the election results, Jarungvith added.
"The agency will not do the calculations to find out the number of party-list MPs on Sunday. Also, numbers may change, especially if by-elections are required or if ballots need to be recounted in some areas. We can only reveal the results once we have endorsed the votes," he said.
A private group led by rights watchdog iLaw have launched the vote62.com website to serve as a platform for updates on election results and as a means to prevent fraud during the counting of ballots.
Those participating in ballot counting can take photographs of the counting board and post the pictures on the website, while those keeping track of the vote-count on TV or online platforms can enter tallies or upload photos on the website.
The group said the results displayed on the website will later be compared by the official results released by the EC to ensure transparency.
Meanwhile the Health Department is issuing tips advising voters to get at least six hours sleep before casting their vote.
Voters are being urged to wear light clothes because the temperature on Sunday is expected to rise up to 40C in central and northern parts of the country and up to 35 or 36 in southern areas.
SOURCE: The Nation
800 million baht of drugs seized in three recent busts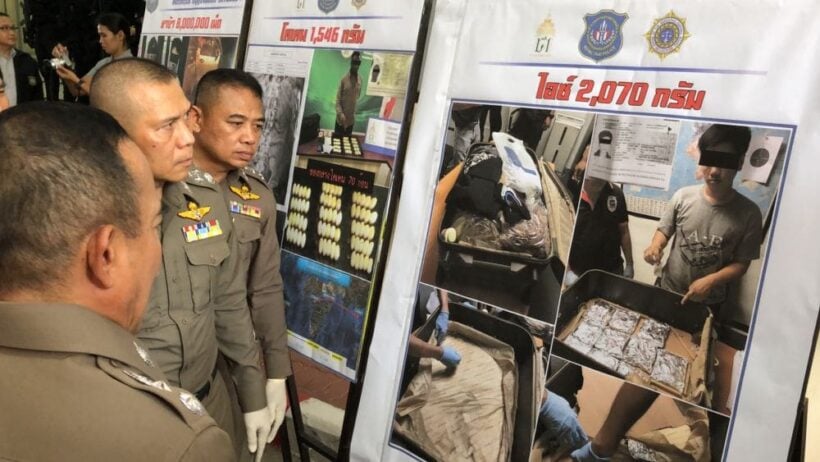 by Jessada Chantharak
Police have seized a total of eight million methamphetamine pills, 2,070 grams of crystal methamphetamine and 1,546 grams of cocaine with an estimated street value of 800 million baht from three recent drug busts.
Four suspects were arrested and a fifth was killed during arrest.
The report from the national police deputy commissioner Pol General Chalermkiat Srivorakan.
In the first case, police arrested three hill tribe men aged between 23-27
27 year old Boonsong Wusueku was killed in a gunfight with police during the arrests.
Eight million meth pills, three pick-up trucks, a pistol and five cell phones were seized in the March 16 bust in Chiang Rai province.
The three men had been charged with having illicit drugs in their possession with intent to sell.
In the second case police and customs officials arrested 47 year old Bamba Adama, from Ivory Coast, who allegedly smuggled 1,546 grams of cocaine in his stomach at the Suvarnabhumi Airport.
He has been charged with smuggling cocaine into Thailand and possessing cocaine with intent to sell.
In the third case, a 28 year old Thai man, Anucha Krinwongsa from Nan, was arrested on March 19 with 2,070 grams of crystal methamphetamine at Suvarnabhumi Airport.
His arrests followed a tip-off a day earlier about a batch of drugs to be smuggled out of the country via the airport.
Anucha was apprehended after officers found the "ice" hidden in his luggage. He was charged with drug possession with intent to sell and attempting to smuggle drugs out of the country.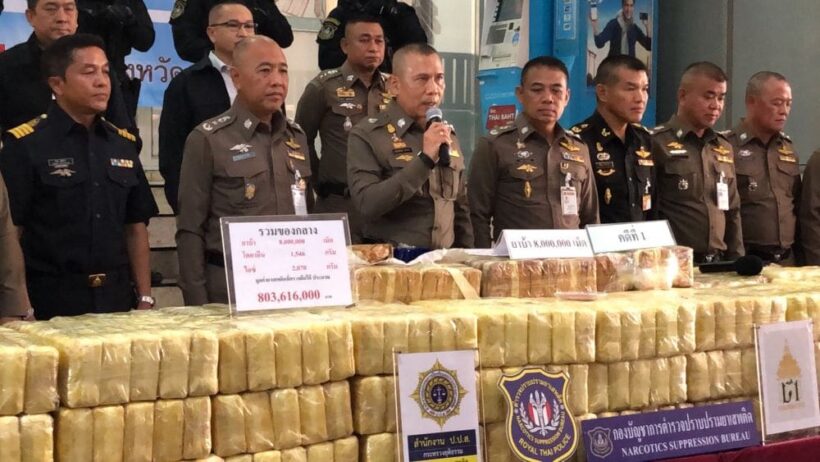 SOURCE: The Nation
Foreign Affairs denies attempts to extradite Thaksin from Hong Kong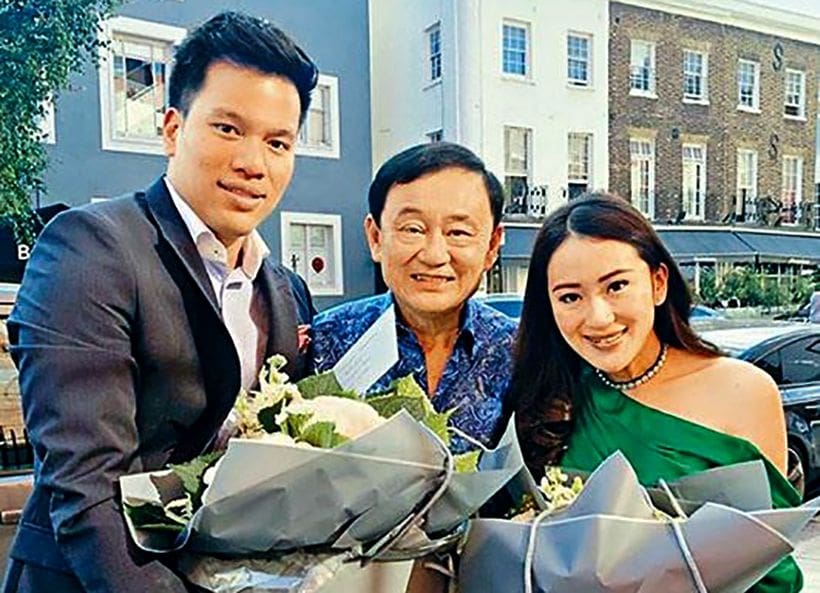 PHOTO: The happy couple and 'dad', in HK for tomorrow's wedding
The director of the foreign affairs department of the public prosecutor's office in Thailand says media reports that the Thai officials are trying to extradite former PM and fugitive Thaksin Shinawatra in Hong Kong, are wrong.
Daily News reports that Chatchachom Akkhapin says there was no truth in stories of efforts to extradite Thaksin from Hong Kong.
Thaksin is in Hong Kong from tomorrow (Friday) to attend the wedding of his youngest daughter Paetongtarn "Ing" Shinawatra to a commercial pilot.
Chatchachom says no contact had been made with Hong Kong authorities but he concedes that, even  though Thailand and Hong Kong have no formal extradition treaty, it would still be possible to request the return of a wanted fugitive if the evidence presented was sufficient.
In the first instance he says they would need to ascertain the address of Thaksin in Hong Kong and the public prosecutor's office don't know where Thaksin is staying.
The denial follows a post on "Thaksinlive" on Instagram earlier this week that indicated Thaksin would be in Hong Kong for "Ing's" wedding on March 22.
Read The Thaiger's report, that the Department has now denied, HERE.
SOURCE: Daily News