Chinese resurgence, Russian stability feature in tourist arrivals for the start of 2019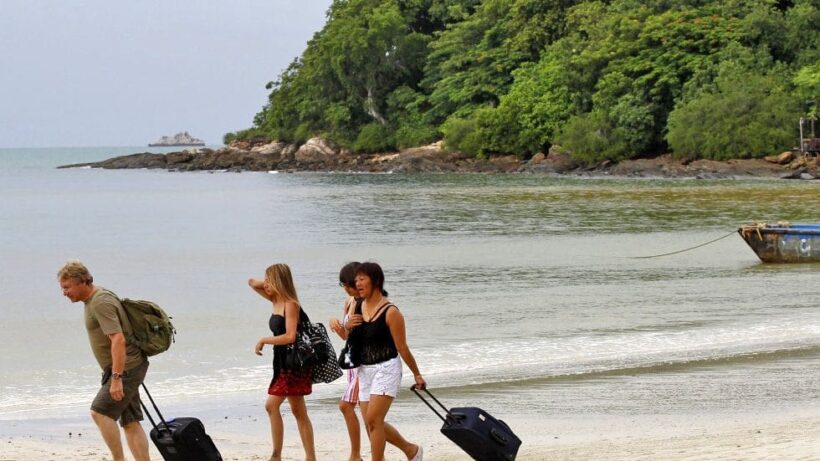 The Chinese returned in numbers at the start of 2019 giving the Land of Smiles a spectacular start for the year with a total of 3.7 million visitors in January 2019. This was a nearly 5% rise in total tourist numbers from the same month last year.
Mainland China continues to lead Thailand's source market with just over a million arrivals in January, a 9.3% growth year on year and an astonishing 20% growth against December 2018's arrivals.
The report from the Ministry of Tourism and Sports represents a firming up of the 'new normal' where the distinction between the old high and low seasons has mostly vanished as the tourism mix diversifies and Thai tourism matures into an all-year tourism destination.
The turnaround, following last July's tragic Phoenix boat incident where 47 Chinese tourists drowned south west of Phuket, is significant and gives Thailand's 'teflon' tourist industry an excellent start for the year.
Following the Phoenix disaster negative social media and some ill-conceived comments from Thai leaders caused a significant drop in Chinese tourism, particularly in the southern island of Phuket where bookings dropped off between 20-50% in various hotel sectors. At the time six Chinese airlines cancelled flights between Chinese cities and Phuket.
For non-Asian arrivals, Russia retains its place as the largest source market for Thailand with 229,518 arrivals in January, a small rise year-on-year. At the same time German, French, Finnish and Swedish arrivals declined, between 3.5 and 14.6%, respectively.
Arrivals from the UK and Norway increased by over 3% in the same period.
Three Eastern European Countries – Poland, Kazakhstan and Ukraine – also registered arrivals over 100,000 visitors and increases in numbers compared to 12 months ago. Tourists from the US and Canada also rose in the same period. Australian visitors dropped a small 1.5% and New Zealand visitors down 5.7%. Australian visitors to Thailand has been consistent for almost 20 years, never rising or falling very much, despite the changes in fortune for the AUD vs the Thai baht.
One of the big improvers, and increasingly important feeder market is Indian tourism. January 2019 saw a rise of nearly 25% compared to the year before. It is projected that Indian tourism will continue to rise throughout this year.
The Thai Ministry of Tourism and Sports forecasts 41.1 million foreign tourists for 2019 with China, ASEAN countries and Europe contributing rises this year.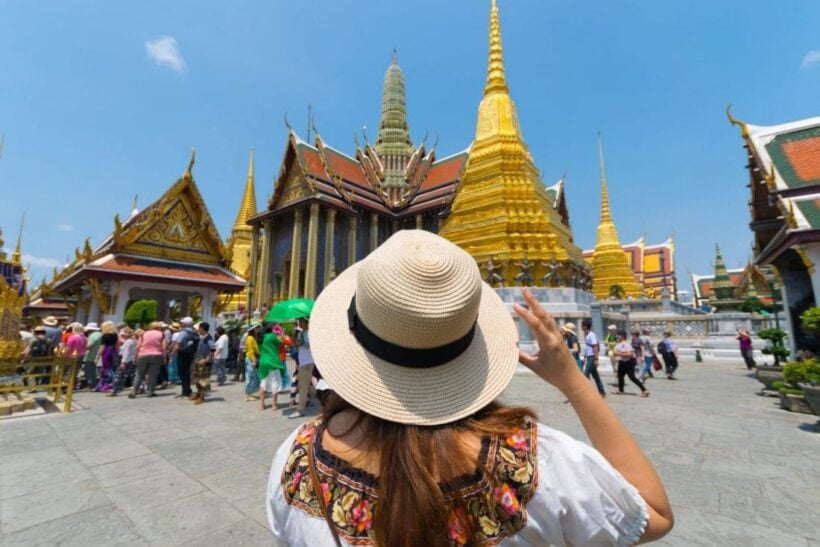 Keep in contact with The Thaiger by following our
Facebook page
.
Never miss out on future posts by
following The Thaiger
.
No vaccine, no flight – Qantas will require international travellers to be vaccinated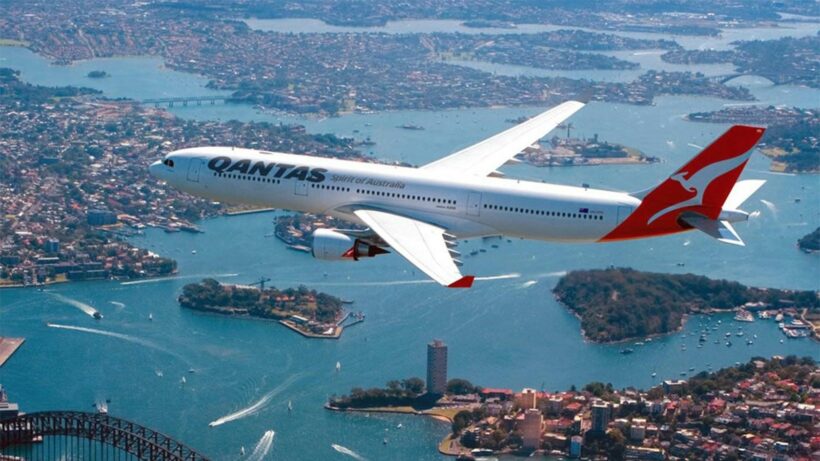 Qantas, Australia's national airline, is announcing a new requirement that all international travellers will need to have a vaccination against Covid-19 in a move that could become the norm for the world's airline industry. Qantas CEO Alan Joyce says the Australian flag carrier would implement the measure once a coronavirus vaccine was made available to the public.
"We are looking at changing our terms and conditions to say for international travellers that we will ask people to have a vaccination before they can get on the aircraft."
"Whether you need that domestically, we will have to see what happens with Covid-19 in the market but certainly, for international visitors coming out (to Australia) and people leaving the country, we think that is a necessity."
Joyce says the new rule is likely to become a standard practice by all airlines worldwide as many governments are now working to introduce electronic vaccination passports. Vaccination requirements are already widely used around the world for those wishing to enter certain countries, with many countries wanting travellers show they have been inoculated against yellow fever if they are coming from regions where that disease could be acquired.
The International Air Transport Association has also announced it is in the "final stages" of developing a digital health pass that it says can be used to record Covid-19 tests or vaccinations and will "support the safe reopening of borders."
"We are bringing this to market in the coming months to also meet the needs of the various travel bubbles and public health corridors that are starting operation."
Australia's borders have been closed since March to help stop the spread of the virus, which has taken the lives of more than 1 million people worldwide. The country has even limited its own citizens arrivals from abroad by implementing a weekly quota that has left thousands stranded overseas. Qantas has grounded more than 200 planes and let go 8,500 staff members as it attempts to offset a US 1.9 billion loss.
SOURCE: Bangkok Post
Keep in contact with The Thaiger by following our
Facebook page
.
Never miss out on future posts by
following The Thaiger
.
Positive test for ketamine was a "technical error"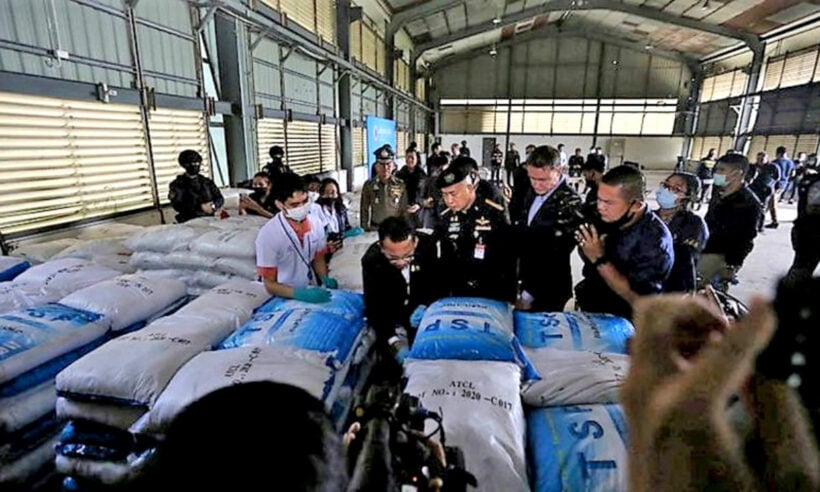 A "technical error" in field testing had led to the false claim that 11.5 tonnes of ketamine had been seized at a warehouse in Chachoesngsao province. Justice Minister Somsak Thepsuthin, made the admission at a media briefing called to clear up the matter.
The 475 sacks containing were seized by ONCB officials during a raid on a warehouse at tambon Tha Kham in Bang Pakong district, in Chachoengsao province, on November 12 which prompted authorities to tout the discovery as the biggest drug bust ever. But officials jumped the gun as the testing fluid that turned purple, indicating ketamine was found, was wrong after 66 sacks were further tested.
The further testing revealed the sacks were filled with trisodium phosphate, a compound used legally as a food additive and stain remover. Somsak said a "technical error in the field" led to the assumption it was ketamine as trisodium phosphate would also turn the testing fluid purple. The large TSP labels on the sacks could have been a valuable clue as Thai police paraded proudly in front of the contraband.
"No matter, we have admitted the mistake, and it may not be corrected in the short term."
Asked if the blunder could affect the credibility of the Justice Ministry and the ONCB, Somsak said he accepted all criticicism and to make the matter clear, he would ask the police Forensic Science Division, the Department of Medical Science and the ONCB to make lab tests with results being known this week.
"I accept the fact it might have been premature to hold a press conference to announce the seizure of a substance suspected to be a kind of drug. But in this case, the ONCB had been informed of the seizure of ketamine in Taiwan, investigated and found an undeniable link to it. It would have been a mistake if I did not make it public."
"The United Nations Office on Drugs and Crime said this also happened two or three times in other countries. This was the first time in Thailand. Moreover, on the day I held the press conference, I did not say it was 100% ketamine."
Authorities are saying they would find out where the substance in the warehouse came from, and for what purpose as they believed it could be used to conceal illicit drugs, including ketamine. The ONCB chief said the man who rented the warehouse to store the sacks had fled before the raid and avoided arrest. However, they are currently compiling a case to apply for a court warrant for his arrest in connection with the seizure of ketamine in Taiwan.
SOURCE: Bangkok Post
Keep in contact with The Thaiger by following our
Facebook page
.
Never miss out on future posts by
following The Thaiger
.
Clash with kratom smugglers by Songhkla border leaves 1 Malaysian cop killed and 1 injured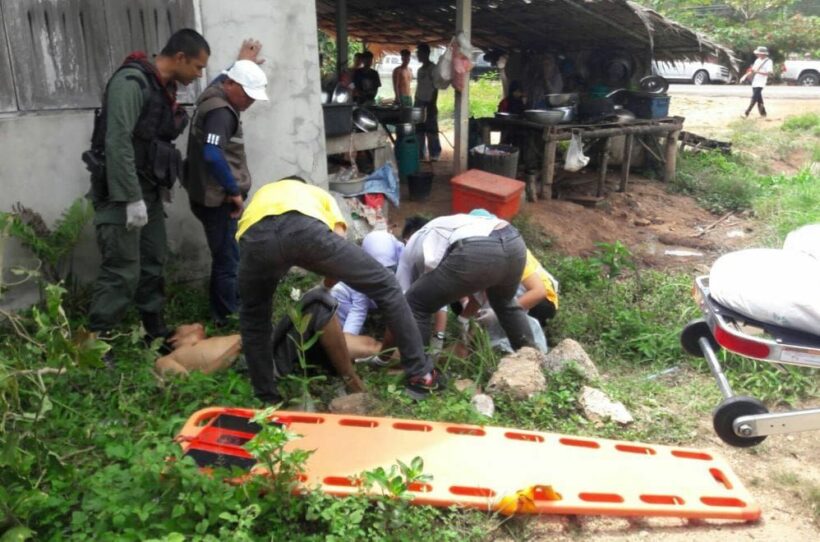 A clash with kratom drug smugglers by Thailand 's Songhkla border has left 1 Malaysian cop killed and 1 injured. The clash happened at around 2am this mornign as a Malaysian policeman came up on 13 men acting suspiciously near the border on the Malaysian side, which is opposite of Sadao district.
Gunshots were exchanged and 2 Thai smugglers were arrested with 3 other Thais wounded. The wounded Thais attempted to cross the border but were caught and sent to Hat Yai hospital for treatment. 54 year old Baharudin bi Pramli, was shot and killed whils 39 year old Norihan A/L Tari was wounded.
The kratom smugglers were believed to be both Malaysian and Thai nationals. Kratom, is a mild narcotic, which has been categorised as an illegal drug in Thailand. 1 of the injured men was taken to the area, as police say he was well enough to identify the scene of the clash and the gang's escape route. Across the border, Malaysian police reportedly arrested 2 Thai smugglers. One was 38 year old Sahamadyusob Talah from tambon Ban Khuan of Muang district, while the other was unnamed.
Recently, a Burmese man was busted with 20 kilograms of kratom after he illegally crossed a natural border into Thailand in the southern Muang district in Prachuap Khiri Khan. Border patrol police and administrative officials were patrolling Ban Hup Phueng, a village near the natural pass on the Myanmar border, after Thailand authorities sealed the border earlier due to an outbreak of Covid in Myanmar. Such arrests of illegal border crossing have been more prevalent in recent months as the province has stepped up surveillance of the border due to the Covid-10 pandemic.
Just last weekend, a Burmese refugee contracted Covid after sneaking across the border to visit his native country and upon coming back, he tested positive for the virus, causing officials to lockdown the refugee camp in Tak province.
SOURCE: Bangkok Post
Keep in contact with The Thaiger by following our
Facebook page
.
Never miss out on future posts by
following The Thaiger
.