Singapore aims for paper-less border arrival by 2021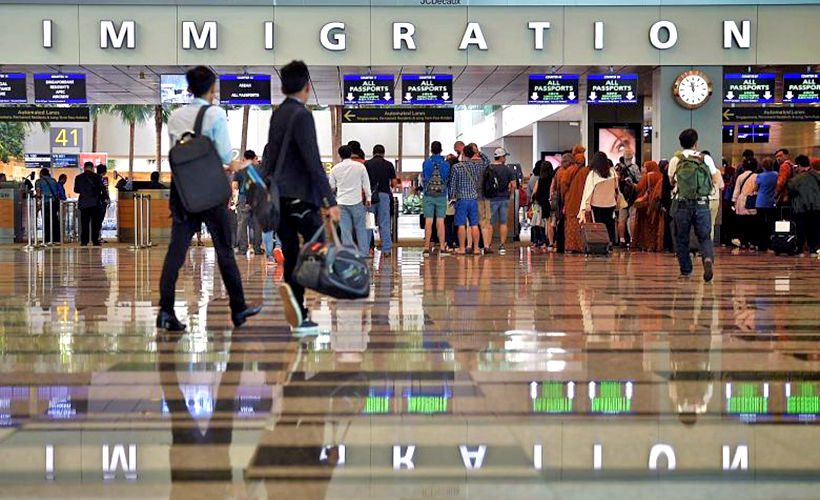 Singapore is extending its SG Arrival Card trial that will allow visitors to submit an electronic arrival card in advance to speed up processing at border checkpoints
The Immigration & Checkpoints Authority has announced the beta trial of the SG Arrival Card project last week. The trial has been ongoing since last year and will phase out the paper arrivals card for a more efficient e-arrival process. The plan is to phase out the paper arrival system by 2021 by eventually extending the electronic arrival card system to all travellers.
The announcement says foreign visitors travelling with "selected transport operators" can now submit the electronic arrival card up to 14 days ahead of their arrival in Singapore. Singapore's Today news service identified the selected transport operators that are participating in the beta trial version.
Airlines
AirAsia, Jetstar Asia, Cathay Pacific and Singapore Airlines
Bus
Transtar Travel
Ferries
BatamFast Ferries, Bintan Resort Ferries, Horizon Fast Ferry and Majestic Fast Ferry
This means that they will only need to produce their passports for immigration clearance upon arrival, as ICA's immigration system will already have the electronic arrival cards, which they submitted in advance.
The SG Arrival Card e-Service and Mobile Application is available as an e-Service at the ICA's website HERE.
It can also be downloaded as a free mobile application from Apple App Store and Google Play.
Users of the mobile application will have the option of scanning their passport biodata pages and enjoy the convenience of not needing to key in the information manually. The mobile application will also save previously submitted information for use on subsequent trips to Singapore.
SOURCE: ICA and Today
Keep in contact with The Thaiger by following our
Facebook page
.


Looking to jettison some items before jetsetting away or chartering a yacht? Look no further than Thaiger Classifieds where you can find and post items, work, property and more for free. Be sure to check out YonderTours for things to do in Thailand and tours across the country.

Southern Thailand smog well above safe levels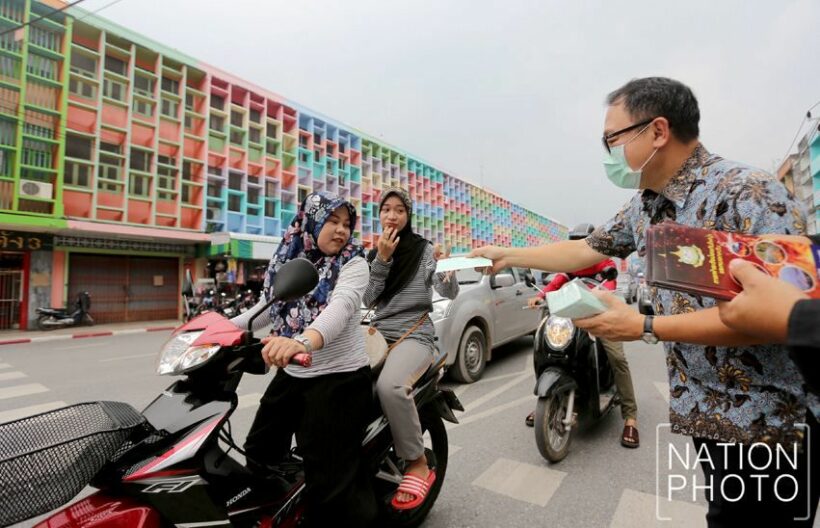 PHOTOS: Charoon Thongnual – The Nation
Hat Yai, the main city in Songkhla, has been among the worst hit by the smog engulfing parts of southern Thailand, Malaysia, Singapore and the Indonesian islands of Sumatra and Borneo.
The business district of Hat Yai has been hard hit with PM2.5 particles exceeding the safety standards of 50 (set by the World Health Organisation). But some rain yesterday afternoon provided a short respite. This morning it is up to 158 again.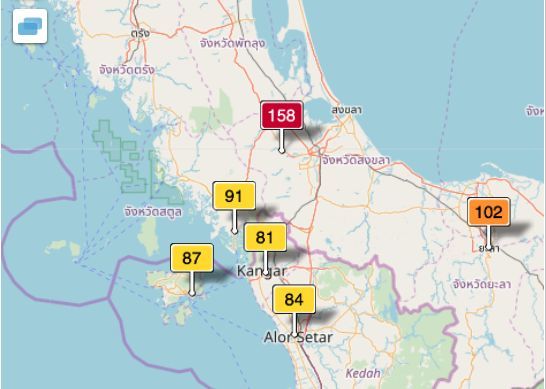 Two other areas facing similarly poor air quality are Yala and Satun provinces, according to Tananchai Wansuk, the chief of the area's environment office.
"The smog from the Indonesian island of Sumatra is expected to cloud southern Thailand for at least the next three days."
Meanwhile, measures have been put in place to protect public health in southern Krabi province amid a seasonal recurrence of haze drifting from Indonesia, the chief of the provincial health office said yesterday.
Dr Aphichai Limanont said hospitals of all sizes had been instructed to communicate information about coping with the smog, with those at most risk, such as children, the elderly, and people with chronic respiratory problems are being warned to be especially vigilant.
Aphichai acknowledged that Krabi had witnessed dense smog every year recently, but said the authorities had been able to cope.
The southern Thai provinces struggle perennially with the smoke from forest fires burning on Indonesia's Sumatra Island and Kalimantan and it reappeared this week in Yala and Songkhla. Malaysia and Singapore have been suffering for several weeks with government environmental officials pointing fingers and trading insults.
Meanwhile, Indonesia's President Jokowi has acknowledged the problem while 30,000 Indonesian army, firefighters and emergency responders are in the fire zones battling the intentionally-lit plantation fires.
SOURCE: The Nation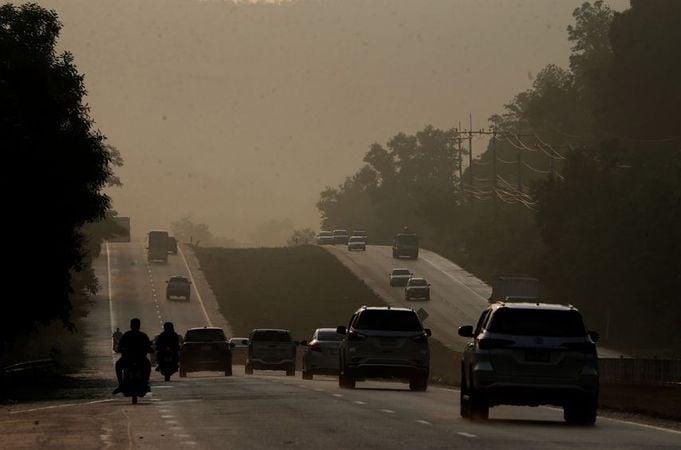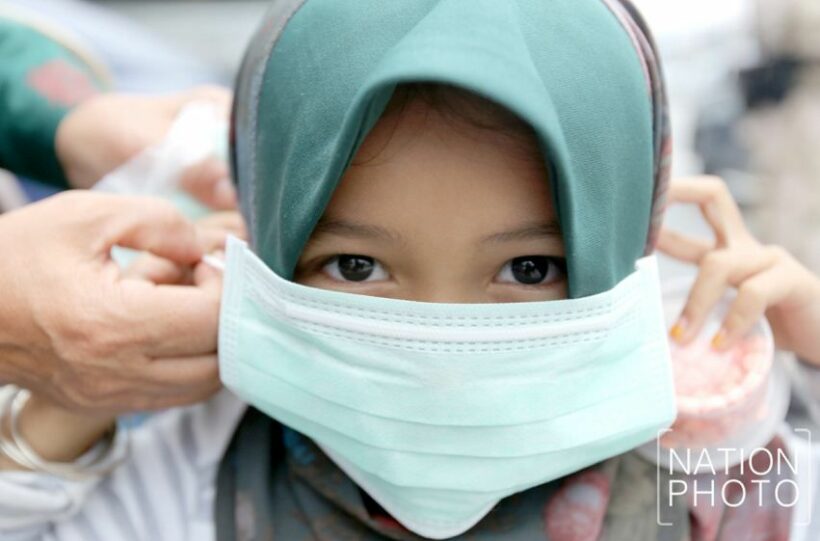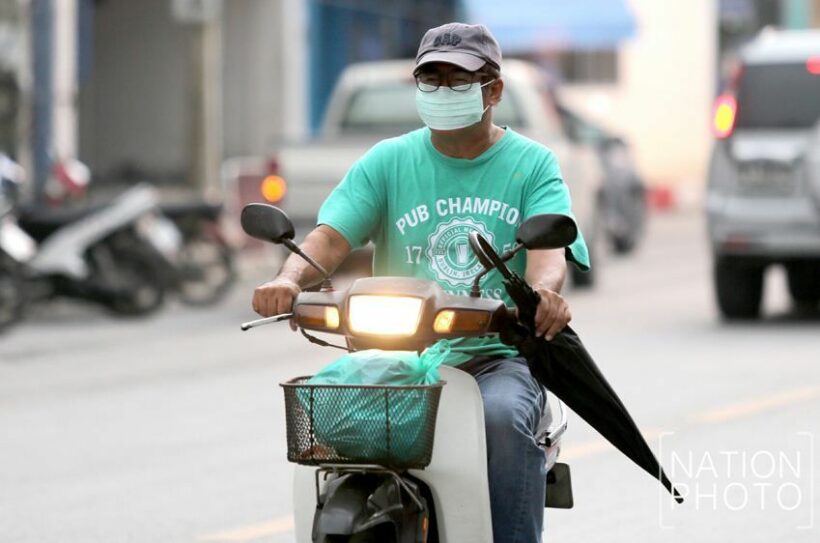 Keep in contact with The Thaiger by following our
Facebook page
.
Can Hamilton pull off a Singapore hat-trick in the haze?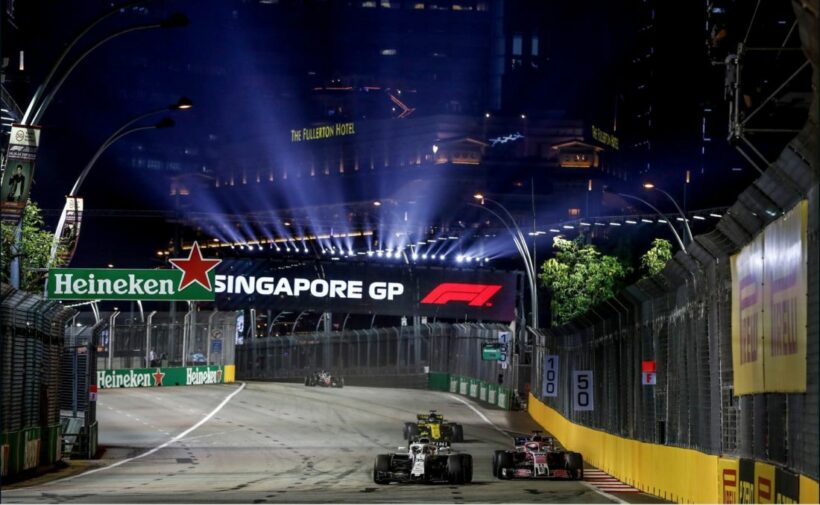 Lewis Hamilton is hoping his march towards a sixth Formula One world title Singapore this week won't be affected by smoke from wildfires raging next door in Indonesia. The city state has been plagued with smoke drifting across from nearby Indonesia's Sumatra island over the past week.
The National Environment Agency is forecasting pollution at the "low end of the unhealthy range" for Sunday's showpiece night race.
Formula One bosses are reported to have a contingency plan in place should the "highly changeable" air quality deteriorate, though the race weekend is still scheduled to go ahead as planned.
Hamilton, who has a 63 point lead in the title race over teammate Valterri Bottas after winning eight grands prix this season, and Mercedes have prospered in the past at the Marina Bay Circuit.
But they could do little to prevent Ferrari's Charles Leclerc from storming to consecutive victories on power-friendly layouts in Belgium and Italy in the two races since the summer break.
Hamilton has taken four of Mercedes' five victories at the demanding 23-turn city street circuit and is looking for a third consecutive triumph in race that even without the threat of smog is traditionally draining because of heat and high humidity.
But Hamilton remains wary of Leclerc, who has outshone his error-prone Ferrari teammate Sebastian Vettel since joining the Italian team at the start of the season.
"I am not looking forward to the next race thinking it will swing our way," Hamilton said of the 21-year-old from Monaco. "I hope that it is competitive between us — I want this battle to continue."
Mercedes team principal Toto Wolff also expects Ferrari to be in the shake-up in Singapore, despite the Italian marque struggling on circuits lacking long straights this season.
Red Bull have enjoyed 12 podium finishes in Singapore since 2008, including three wins, and the Milton Keynes-based outfit will be hoping Max Verstappen can improve on his second-place finish from a year ago to stay ahead of Leclerc in their battle for third in the overall standings.
Vettel knows his chances of recording a first victory since Belgium last year will have diminished due to the nature of the remaining circuits on the calendar, but the German four-times world champion will be looking to seize on any opportunities that may fall his way.
SOURCE: Agence France-Presse
Keep in contact with The Thaiger by following our
Facebook page
.
Smoke from Indonesian illegal plantation burn-offs causing acute problems for south east Asian neighbours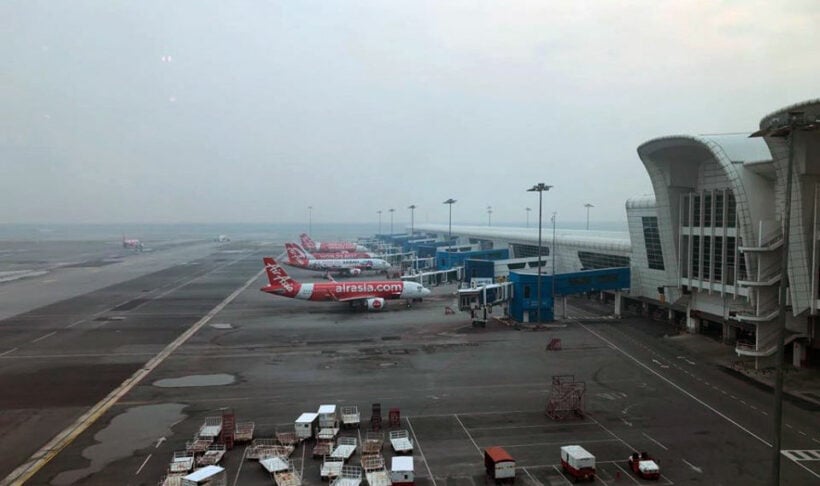 PHOTO: Visibility down to less than a kilometre at KL airport yesterday
Flights cancelled, schools closed and regional environmental ministers trading insults. The minister's fiddle whilst Indonesian islands burn.
Parts of Indonesia are now opening temporary clinics to treat thousands of people suffering from acute respiratory illnesses in the smoke haze stricken regions around Sumatra island as authorities stepped up efforts to douse forest and peatland fires.
Dangerous smoke from illegal burning to clear land for palm oil and paper plantations is prompting school closures and disrupting travel in the region. But the air quality in Singapore, which slipped to unhealthy levels over the weekend, is now forecast to improve in the next few days.
The fires, an annual burn-off of plantations to prepare for the new year crops, is causing major disruptions and a health hazard for other south east asian countries in the wake of the smoke, including Malaysia, Singapore and southern Thailand.
More than 300 schools in Malaysia's southern state of Johor were closed on the weekend after the Air Pollutant Index hit very unhealthy levels. (Johor's weekend is Friday and Saturday with Sunday being a normal work day.)
Authorities have distributed perfunctory face masks to people in Riau, Jambi, South Sumatra and Kalimantan as the ash and smoke from more than 2,500 hotspots blanket the region. Authorities now say they have deployed more than 9,000 personnel, with the help of 42 helicopters, to fight the fires.
The total number of hotspots in Indonesia fell to 2,583 on Monday from 2,862 on Sunday, with the Indonesian part of the Borneo island alone accounting for almost 1,200 forest fires. The hotspots have affected 328,724 hectares of forest and farm land this year, data from the National Disaster Mitigation Agency show. The agency stands ready to undertake cloud-seeding to douse the fire, it said.
Kuching and Kuala Lumpur in Malaysia, Hanoi and Jakarta were among the world's top 10 cities with the poorest air quality, according to IQAir AirVisual pollution data yesterday. The air quality index in Kuching in haze-hit Sarawak state was 241 yesterday, a level well in excess of the WHO upper level of 50.
In KL yesterday the levels reached 130.
Meanwhile PT Garuda Indonesia airlines, the national carrier, was forced to cancell 12 flights on Sunday and several of its jets were either diverted or delayed as the haze lowered the visibility.
Keep in contact with The Thaiger by following our
Facebook page
.