Singapore aims for paper-less border arrival by 2021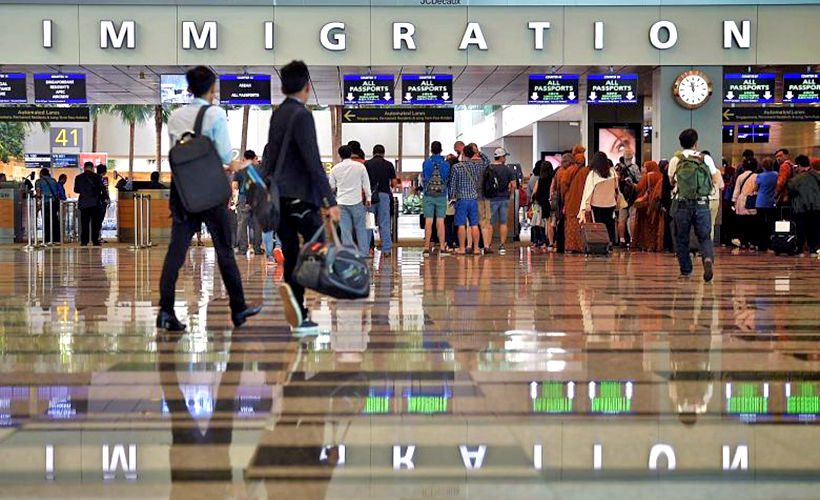 Singapore is extending its SG Arrival Card trial that will allow visitors to submit an electronic arrival card in advance to speed up processing at border checkpoints
The Immigration & Checkpoints Authority has announced the beta trial of the SG Arrival Card project last week. The trial has been ongoing since last year and will phase out the paper arrivals card for a more efficient e-arrival process. The plan is to phase out the paper arrival system by 2021 by eventually extending the electronic arrival card system to all travellers.
The announcement says foreign visitors travelling with "selected transport operators" can now submit the electronic arrival card up to 14 days ahead of their arrival in Singapore. Singapore's Today news service identified the selected transport operators that are participating in the beta trial version.
Airlines
AirAsia, Jetstar Asia, Cathay Pacific and Singapore Airlines
Bus
Transtar Travel
Ferries
BatamFast Ferries, Bintan Resort Ferries, Horizon Fast Ferry and Majestic Fast Ferry
This means that they will only need to produce their passports for immigration clearance upon arrival, as ICA's immigration system will already have the electronic arrival cards, which they submitted in advance.
The SG Arrival Card e-Service and Mobile Application is available as an e-Service at the ICA's website HERE.
It can also be downloaded as a free mobile application from Apple App Store and Google Play.
Users of the mobile application will have the option of scanning their passport biodata pages and enjoy the convenience of not needing to key in the information manually. The mobile application will also save previously submitted information for use on subsequent trips to Singapore.
SOURCE: ICA and Today
Keep in contact with The Thaiger by following our
Facebook page
.
Death sentence handed down via video call in Singapore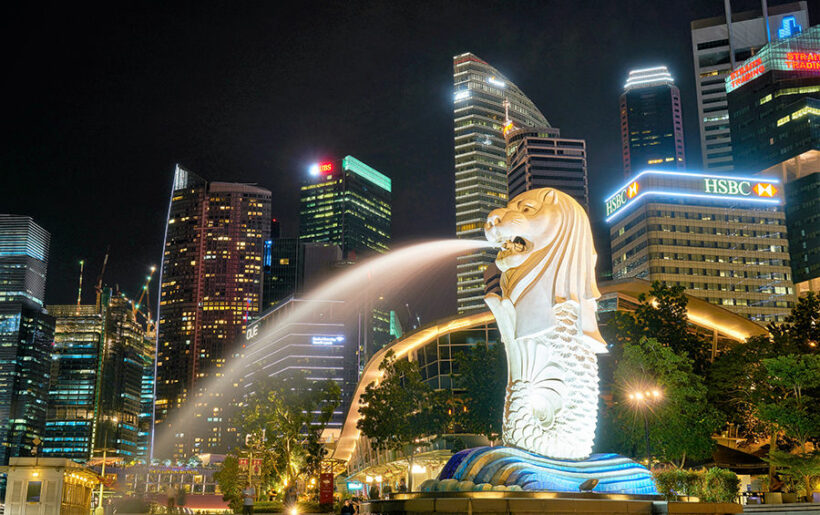 A prisoner in Singapore has been sentenced to death via a Zoom video call, the first time the city state has delivered capital punishment remotely.
Thai PBS World reports that 37 year old Malaysian citizen Punithan Genasan was handed the death penalty as punishment for a 2011 heroin smuggling operation. Like Thailand, Singapore operates a zero-tolerance policy for drug trafficking offences. The criminal trial was conducted remotely as a result of ongoing restrictions in Singapore's fight against the Covid-19 pandemic. But unlike Thailand, Singaporean authorities do carry out capital punishment sentences much more frequently.
The city-state had the second highest per-capita execution rate in the world between 1994 and 1998. In 2018, 13 people were executed and in 2019 another 4 people, 2 of them related to drugs cases. Execution is carried out in Singapore by long-drop hanging.
However, Phil Robertson from the Asia division of Human Rights Watch has criticised the use of video-conferencing to communicate such decisions.
"Singapore's use of the death penalty is inherently cruel and inhumane, and the use of remote technology like Zoom to sentence a man to death makes it even more so."
For his part, the defendant's lawyer, Peter Fernando, says use of the technology was acceptable as it was only conveying the judge's verdict and not being used to present legal arguments. However, he adds that his client is considering an appeal.
So far, there has been no comment from technology giant Zoom, whose video-conferencing platform has garnered millions of new users thanks to restrictions imposed as a result of the Covid-19 pandemic.
SOURCE: Thai PBS World
Keep in contact with The Thaiger by following our
Facebook page
.
Singapore nurse leads Covid-19 patients in dance routine – VIDEO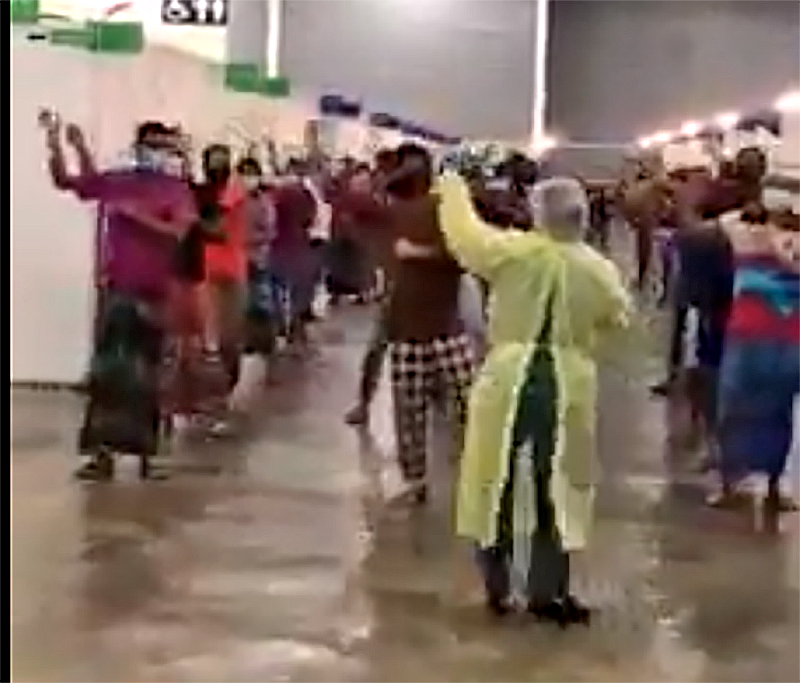 A video posted online shows a Singaporean nurse at a Covid-19 isolation facility leading a group of patients in a morning dance routine. The patients are all migrant labourers now recovering after being treated for the virus. Singapore experienced an unexpected second wave of infections when over 20,000 migrant workers, all living in close proximity, caught the virus, with hundreds of new cases still being detected every day.
Coconuts reports that the dancing nurse is one of a team of healthcare workers at a Singapore Expo isolation facility that has housed Covid-19 patients since early April. While the number of patients at the facility is not known, it can accommodate up to 950 in 10 separate halls.
Now the nurse is attempting to brighten up mornings for those recovering from the virus, leading them in a dance routine as a team of laughing healthcare workers follow her lead from behind.
Dance the virus away! 🕺🏾 No matter what the naysayers say about Singapore's handling of our migrant workers, our migrant workers are really well taken care of physically and mentally! 🙂

Posted by Everyday SG on Wednesday, May 13, 2020
In total, Singapore is treating 19,479 patients across a number of similar locations. To date, the city state has had 26,098 cases of the virus, with 21 deaths. At least 23,008 patients came from migrant worker dormitories.
SOURCE: Coconuts
Keep in contact with The Thaiger by following our
Facebook page
.
Singaporean visa forger sentenced, fined, awaiting deportation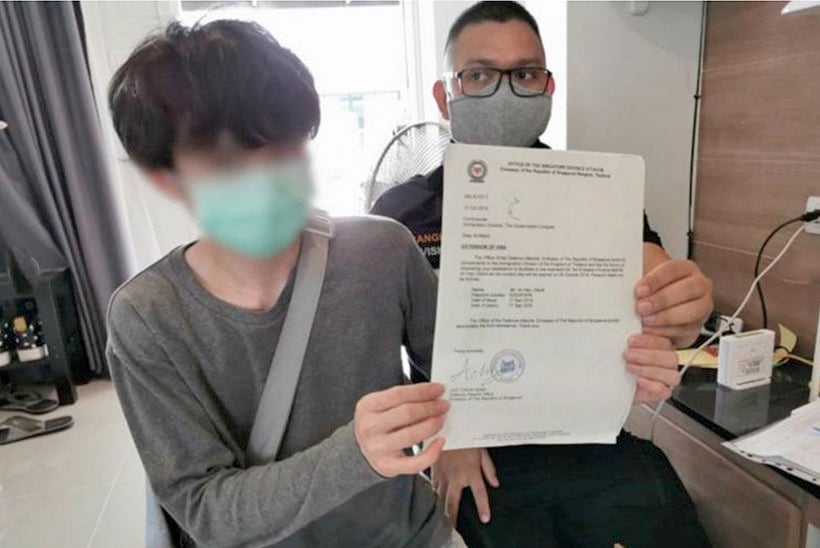 A Singaporean former-embassy staff was yesterday handed a suspended 114 months sentence by a Thai court after being convicted of 38 counts of forging Thai visa documents. When arrested by police in the northern province of Chiang Rai police on Tuesday, 26 year old David Han was found to have forged employment documents, salary slips, and certificates from universities both in Thailand and abroad.
The Bangkok Court yesterday fined him 190,000 baht and suspended his jail sentence. As of last night he was being detained at Bangkok's immigration detention centre awaiting deportation. He will be blacklisted from re-entering Thailand.
Police say Han submitted a forged letter from the Singapore defence attaché, among other visa documents.
"We are still investigating whether he worked with other people even though he confessed to doing it alone."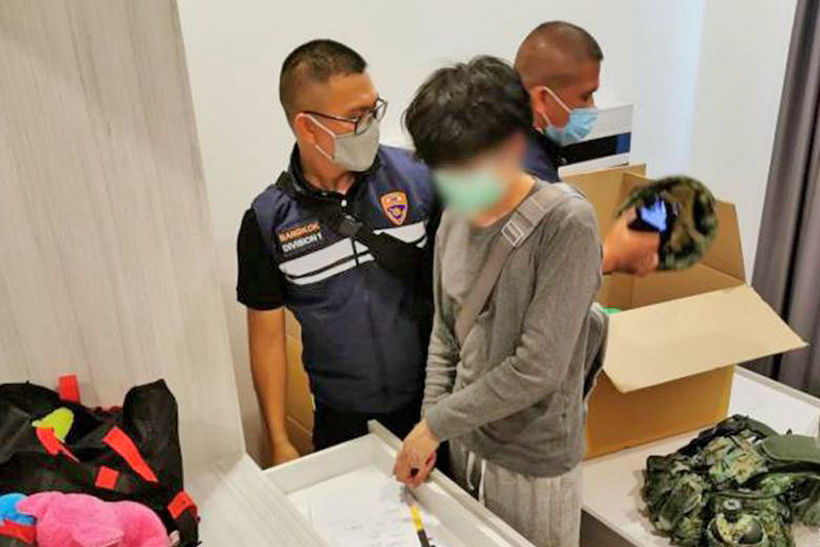 "We found many suspicious elements, like a visa sticker that might be made in his country. Consequently officials are now working with the Singapore police to find out more."
Immigration police say Han worked at the defence attaché's office at the Singapore embassy in Bangkok from 2013 to 2014. From 2015 to this year, he applied to extend his 90 day visa with forged Thai visa documents 19 times. He also also opened a bank account, obtained credit cards and opened a stock trading account. He had reportedly run up 700,000 baht in credit card debt.
The visa documents he presented to officials were mixed with genuine ones, "making it difficult to spot the fakes."
Han was arrested at a hotel in Chiang Rai, where police say his girlfriend was studying. In response to queries from The Straits Times, Singapore's foreign ministry said: "The Ministry of Foreign Affairs is aware of the incident and is rendering consular assistance to the Singaporean."
Source: Chiang Rai Times | Straits Times
Keep in contact with The Thaiger by following our
Facebook page
.