Government has repatriation plan for Thai citizens if Burmese situation deteriorates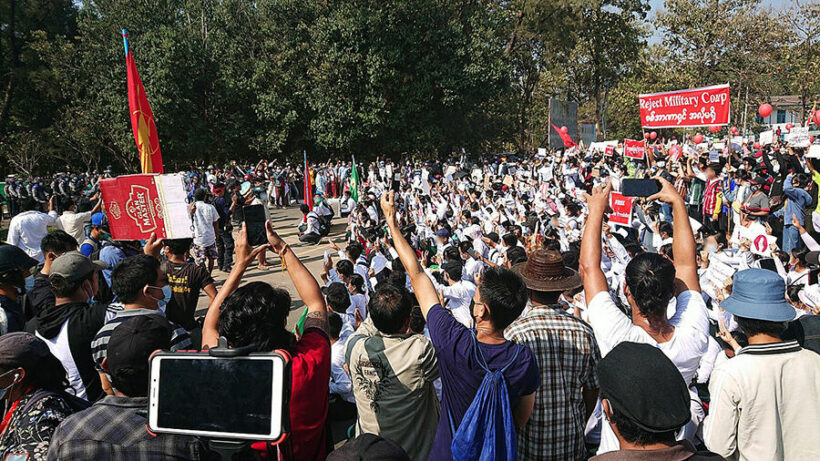 The Ministry of Foreign Affairs says it has formulated a plan to evacuate Thai citizens from Myanmar should the situation deteriorate further. Spokesman Tanee Sangrat says the Thai Embassy in Yangon has confirmed that protests against the ruling junta are ongoing, but deliveries of food have not been affected. According to a report in the Bangkok Post, Tanee says the government is keeping an eye on things in the neighbouring country but doesn't feel there's any need to repatriate Thai citizens at this time.
He says Airbull Suttiwan from the Royal Thai Air Force has ordered crew at Bangkok's Don Mueang airport to prepare a fleet of transport aircraft in the event that Thai citizens need to be brought home.
"The air force chief gave the instruction once the protests against the military coup began in Myanmar. The aircraft will fly off immediately at the behest of the government."
Tanee says the Thai government is concerned about the violence in Myanmar, along with reports of more casualties. He says they have asked their Burmese counterparts to refrain from using violence against the protesters and to release more detainees. He adds that Thailand continues to work closely with other ASEAN members to find a solution to the conflict in Myanmar and to bring peace to the country's citizens.
Addressing the issue of Burmese refugees arriving in Thailand, he says the country is experienced in dealing with refugees in accordance with humanitarian principles. It's understood injured refugees are being admitted to Thai hospitals for treatment. As of Wednesday, 2,788 refugees had fled into Thailand, but of those, Tanee says 2,572 have already returned home. He denies reports that appeared in some media outlets, both here and internationally, that alleged they were forced to return. He says of the 216 refugees that remain, most are women, children, and elderly people. They have all tested negative for Covid-19.
Thousands of ethnic Karen were forced to flee Myanmar when the Burmese military launched an air strike on their village, which is located in an area controlled by the Karen National Union. The KNU is an armed political group that campaigns for the self-determination of the Karen people and has been fighting the Burmese government since the country gained independence from Britain.
SOURCE: Bangkok Post
📱 Download our app on Android or iOS for instant updates on your mobile
📧 Subscribe to our daily email newsletter
👍 Like/Follow us on Facebook
🔔 Subscribe to or Join our YouTube channel for daily video updates
Myanmar summit Saturday tests ASEAN's effectiveness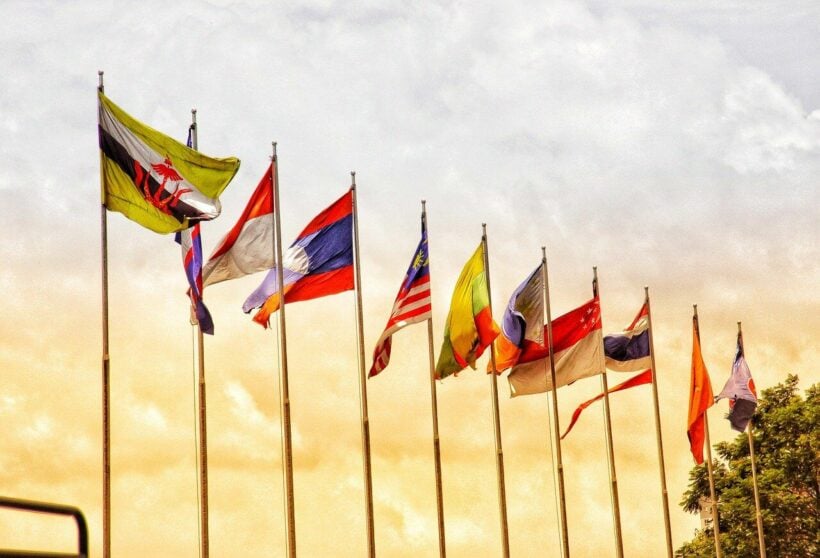 Leaders from the 10 countries of ASEAN will meet Saturday at a summit to discuss the crisis in Myanmar in what many see as a credibility test for the organisation. As the military junta in Myanmar have ramped up violence and lethal force against pro-democracy protestors, the country is descending into what the UN high commissioner for human rights referred to as a Syrian-style civil war.
With at least 739 fatalities at the hand of the Burmese military security forces since their coup on February 1, a UN envoy estimated about 250,000 people are displaced in the country.
The world is watching now, with heavy stress on the Association of Southeast Asian Nations to deliver some solutions or at least progress on the Burmese quagmire. Expectations are high with pressure on this summit to prove that ASEAN is a stable and credible diplomatic organisation, capable of resolving conflict in Southeast Asia and affecting change. ASEAN usually maintains a laissez-faire stance on their member countries' internal conflicts and controversies, but this crisis may spurn the organisation to action.
Countries around the world have condemned Myanmar's military coup and called for action and sanctions. The US Treasury department just declared pearl and timber exports will be sanctioned, stating that these natural resources are state-owned and helping fund the Burmese military.
Some have pushed for Myanmar to be removed from ASEAN altogether. Activists and human rights organisations have demanded leaders of the military junta be barred from participating in Saturday's summit in Jakarta. But Min Aung Hlaing, the military chief who led the coup, say he will travel to Jakarta this weekend to attend the summit of ASEAN, his first international trip since helming the military junta. The UN's special envoy to Myanmar will also travel from Bangkok to participate in the summit.
Whether or not the Burmese military chief will end up actually going to the meeting, or will instead appear virtually online, is still hotly debated.
The ASEAN meeting will have 2 noticeable absences so far (perhaps 3). The Burmese shadow government made up of the original democratically elected government and its appointees had petitioned for representation at this ASEAN summit, a request that so far has not been accepted. And Thai PM Prayut Chan-o-cha has also decided to skip the summit, stirring some controversy by sending his veteran Foreign Minister Don Pramudwinai as a stand-in. Some see this as a shirking of international responsibility as the coup and crisis in neighbouring Myanmar may stir the international public's memory of Thailand's recent coup and military leadership, as well as create the perception of being aligned with Burmese coup quasi-supporters China and Russia.
A Thai Foreign Ministry spokesman asserted that PM Prayut's ASEAN summit absence is not political, but rather a necessity as Covid-19 has been rampaging throughout Thailand and the current third wave outbreaks require his immediate attention.
PM Prayut did speak with Indonesian president Joko Widodo this morning about the upcoming meeting. He conceded that the Burmese crisis threatens stability in Southeast Asia and is a challenge for peace amongst ASEAN countries.
SOURE: Macau Business
📱 Download our app on Android or iOS for instant updates on your mobile
📧 Subscribe to our daily email newsletter
👍 Like/Follow us on Facebook
🔔 Subscribe to or Join our YouTube channel for daily video updates
PM Prayut will send Foreign Minister to Myanmar summit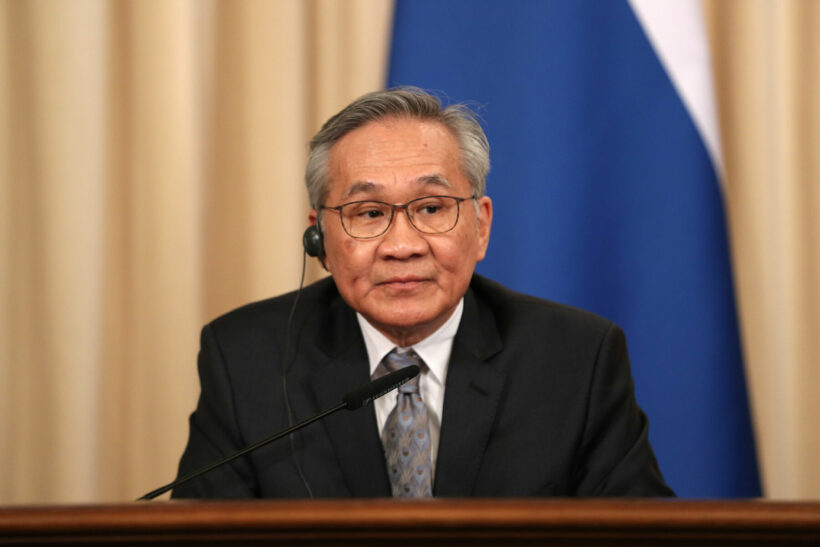 PM Prayut Chan-o-cha announced that he won't attend the ASEAN summit regarding Myanmar, but will send Foreign Minister Don Pramudwinai in his place. The summit, to be held in Jakarta this Saturday will address the increasingly dangerous situation in Myanmar where fear is growing that the ongoing protests against the February 1 coup could descend into civil war.
The meeting will be the first of national leaders, minus PM Prayut, as previous discussion of Myanmar has been between foreign ministers. Myanmar army leader Gen Min Aung Hlaing will attend the Myanmar summit, and the shadow government ousted by the coup has requested representation at the meetings as well.
Indonesia, stepping into a peacekeeping middleman role Thailand had played in the past, has been pushing to quell the growing crisis.
This time Thailand may be caught in the middle, with the Western world reevaluating its perception of the country. China and Russia's tacit, if not financial, support of Myanmar's junta, and Thailand's hesitation in condemning the Burmese coup, shines a spotlight on Thailand's own close relationship to China.
The lack of concrete condemnation of the Burmese junta, and possibly PM Prayut's decision to skip the Myanmar summit, is also a reminder that the current Thai government also came into power in a coup 7 years ago. And the last year of young protests in Thailand calling for the repeal of lese majeste laws and a replacement of the current government further a realignment of the country's perceived position on the scale of democratic freedom and authoritarianism.
Thailand is also closely connected to Myanmar not just by the geographic border, but also through 7 to 8 billion baht invested into the country. Behind only China first and Singapore second, Thailand is fearful of a complete collapse on their investments with trade shackled by civil unrest.
Exports fell 13% last year due to Covid-19, and are down another 15% in the first few months of this year and expected to fall even further. Thai business owners from manufacturing to massage shops are shuttering with staff refusing to work in the civil disarray while banking and trade have been throttled as well. Owners are calling for the Finance Ministry to restart trade assistance previously used from 2010 to 2015 before Burmese democracy.
On top of all these issues, sanctions from western nations may further cripple the Burmese economy. With Thailand's close connections to Myanmar, and the spotlight on the situation growing globally, Foreign Minister Don will face pressure to navigate the delicate situation at Saturday's Myanmar summit in Jakarta.
SOURCE: Bangkok Post and Thai Examiner
📱 Download our app on Android or iOS for instant updates on your mobile
📧 Subscribe to our daily email newsletter
👍 Like/Follow us on Facebook
🔔 Subscribe to or Join our YouTube channel for daily video updates
Burmese prisoners granted amnesty on first day of Myanmar's New Year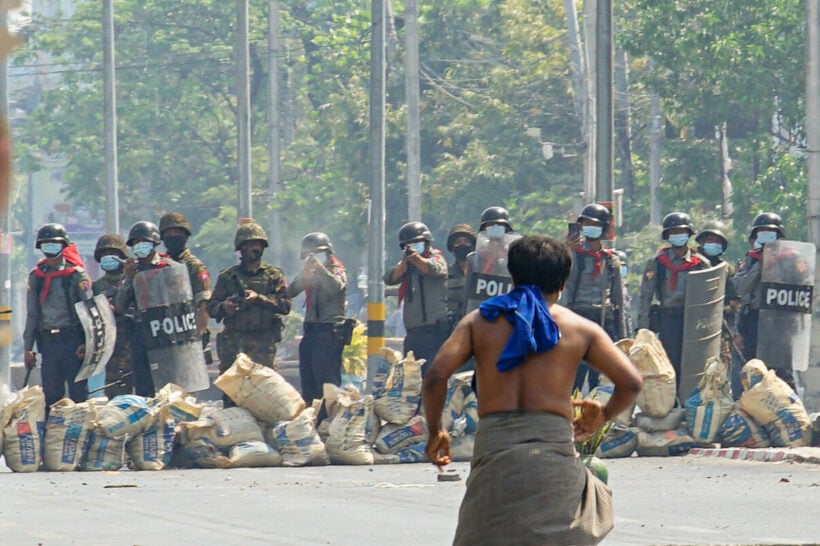 Over 23,000 Burmese prisoners and student political activists are enjoying freedom after being released yesterday in an amnesty on the first day of the country's Lunar New Year celebrations. The state-owned MRTV reported that 23,407 prisoners were released under sections of a penal code. In the Yangon region alone, over 800 prisoners were released, while Mandalay saw around 2,800 released from 5 prisons.
But, with the recent military crackdown on protesters and civilians, the law's ambiguity may be used against those released. As the law allows for the conditional release of prisoners, that means authorities can re-arrest the prisoners without warrant at any time.
Zayyar Lwin, Paing Ye Thu and Paing Phyo Min were among the released student political activists. The 3 were arrested for writing political Thingyan poems and rhymes. They were arrested under Section 505(a) of the penal code and Section 66(d) of the Telecommunications Law, both of which are regarded by many as draconian tools to oppress dissent.
The junta-led State Administration Council also issued a statement releasing 130 foreign prisoners under the same conditions. There have been 2 other mass releases since the coup. The first was in mid-February, which rights groups feared was a move to free up space for military opponents, and the second on the eve of Armed Forces Day when the regime released around 900 detained demonstrators.
But prisons continue to fill up as more than 3,100 people, mostly anti-coup protesters have been detained. The Assistance Association for Political Prisoners has been keeping track of detainees as well as injuries and deaths allegedly at the hands of the junta. It is stil unclear, however, if those released yesterday were post-coup detainees.
Meanwhile, the Burmese military leader, Gen Min Aung Hlaing, is expected to attend an ASEAN summit in Jakarta where representatives of the bloc are expected to discuss Myanmar's situation. Thailand's Foreign Ministry spokesman, Tanee Sangrat, made the announcement.
SOURCE: Thai PBS World
📱 Download our app on Android or iOS for instant updates on your mobile
📧 Subscribe to our daily email newsletter
👍 Like/Follow us on Facebook
🔔 Subscribe to or Join our YouTube channel for daily video updates