Rain expected in many provinces in Thailand up to the weekend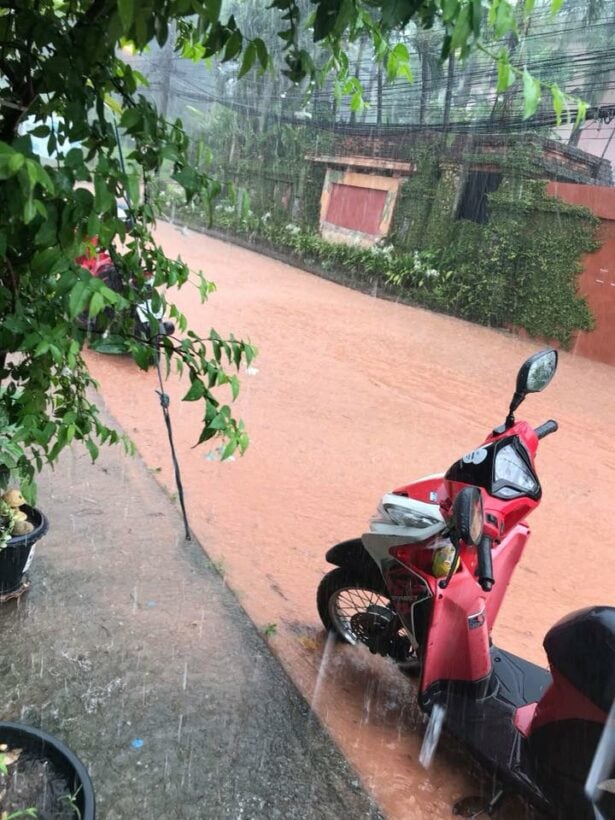 PHOTO: Colin Gallagher
All regions in Thailand are expecting increased rainfall from now until the weekend while officials in many provinces are mopping up the damage left behind by recent storms.
TMD has issued weather warnings for thunderstorms and heavy rain up to May 13 as a high-pressure trough from China extends across the upper part of Thailand while southeasterly winds continue to produce humidity over the South China Sea and in the Gulf of Thailand.
The precipitation is expected to taper off on May 14-15. However, the northern region is likely to remain wet even on the 14th due to the influence of westerly winds.
Extensive damage has already been reported in Nakhon Si Thammarat province, with three villages in Sao Thong subdistrict of Ron Phibun district battered by a 'tornado'.

In Tha Bo district of Nong Khai province, gusty winds caused damage to 15 homes, most of which had their roofs blown off, while many large trees were felled. Soldiers and officials from many agencies were deployed to clear away the debris.
In Bueng Kan, local administrators in So and Kham Kaeo subdistricts of So Phisai district joined local soldiers and community leaders to assess damage following heavy rains. Many large trees and electricity poles were found to have been knocked down by strong winds, damaging over 30 residences.
Phuket has experienced some localised storm cells over parts of the island in recent days causing some local flooding, mostly around the middle of the island.
The forecast predicts a 60% of rain for Friday and only 40% chance over the weekend for the island.
SOURCES: The Nation, The Thaiger
Keep in contact with The Thaiger by following our
Facebook page
.
Student activists gather in Bangkok to oppose emergency decree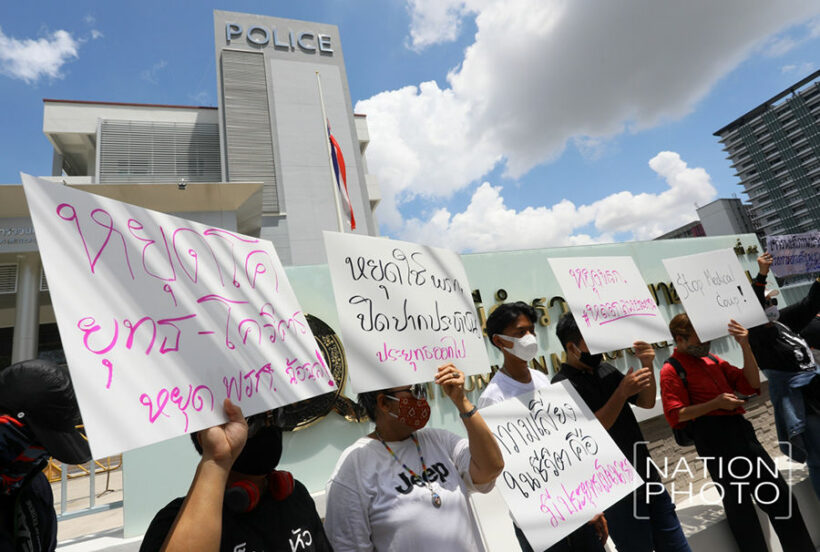 Members of the Student Union of Thailand have come together to protest the government's emergency decree, gathering outside Pathumwan police station in Bangkok. Officials have extended the decree by another month after it was originally set to expire at the end of June. Human rights activists and critics of the government have slammed the extension as politically motivated.
The latest protest comes after some students tore up a summons handed down to them for allegedly violating the decree on June 5. At that time, they were drawing attention to the disappearance of Wanchalearm Satsaksit, a Thai activist kidnapped in Cambodia, where he was living in exile.
The activists were later criminally charged for tying white bows around various monuments in Bangkok to draw attention to the plight of the missing activist, as they demanded answers from the Thai and Cambodian governments.
The students also received a summons for unlawful assembly on June 24, when they came together to commemorate the 88th anniversary of democracy in Thailand.
SOURCE: Nation Thailand
Keep in contact with The Thaiger by following our
Facebook page
.
US Covid-19 cases surge past 3 million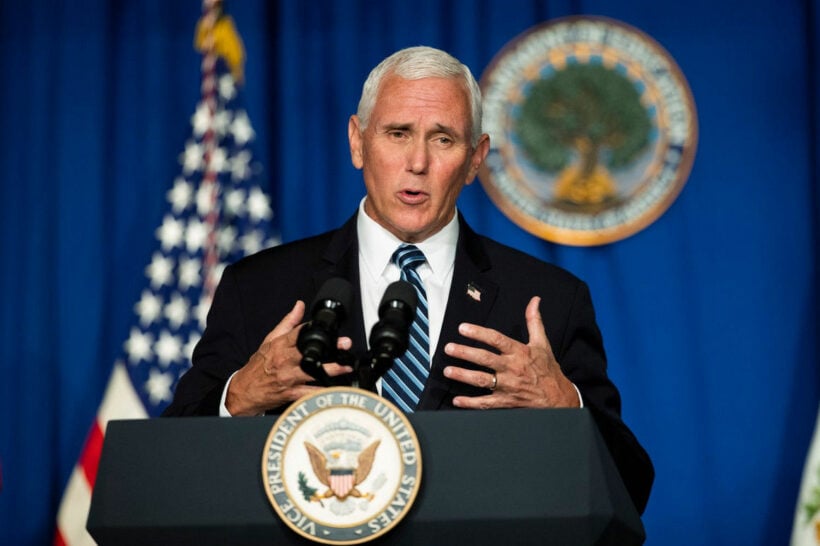 Over 3 million people in the US have now tested positive for Covid-19 since the start of the outbreak (3,158,932 as of midday Thai time).
Nearly 135,000 deaths have been recorded and the country is now facing an acceleration of new cases in a number of key states, notably Florida, Texas, California, Arizona, Georgia and Tennessee. On a positive note, the country's death rate from Covid-19 has flattened out as treatments improve and many of the new cases are being seen in younger patients.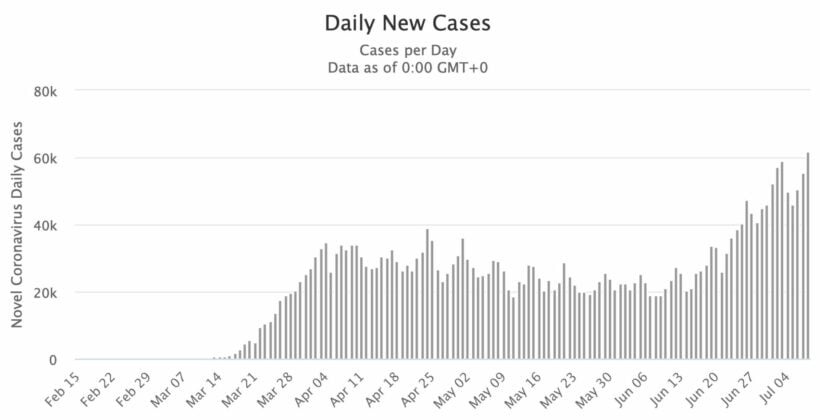 SOURCE: worldometers.com
Despite the rising number of cases and hospital admissions, the White House has been pushing forward on the re-opening of businesses, including schools, around the country. The US Vice-President Mike Pence, heading up the White House Coronavirus Taskforce, argued rules should not be "too tough".
He stated, against the evidence, that "cases were flattening out", while the US President Donald Trump said on Tuesday that America was "in a good place" regarding the pandemic.
In the past 24 hours the US has recorded 61,848 new confirmed Covid-19 cases, a new daily record for the US. Texas and Florida have recorded the highest numbers of new cases with 10,199 and 9,989 respectively.
Dr Anthony Fauci, an infectious disease expert and adviser to the President and the White House Coronavirus Taskforce, says the US was still "knee-deep" in only its first coronavirus wave.
Meanwhile, Mr Pence defended the Trump administration's response to the pandemic at the US Department of Education yesterday, whilst wearing a mask for most of his speech.
"While we mourn with those who mourn, because of what the American people have done, because of the extraordinary work of our healthcare workers around the country, we are encouraged that the average fatality rate continues to be low and steady."
He pushed forward on the country's re-opening of schools saying that the US Centres for Disease Control and Prevention is issuing new guidelines after the US President criticised a plan put forward by the CDC was "very tough and expensive" and threatened to cut off funding to schools that weren't prepared to re-open in late August, early September.
Referring to the CDC guidelines in a Tweet, the US President said… "They are asking schools to do very impractical things. I will be meeting with them!!!"
In Oklahoma, health officials in the city of Tulsa say the President's campaign rally held on June 20 in a large sports stadium, and the protests that were taking place outside the venue "likely contributed" to a new spike in local cases , according to Associated Press.
Tulsa City-County Health Department Director Dr Bruce Dart says that there has been almost 500 new cases… "and we had several large events just over two weeks ago, so I guess we just connect the dots."
On the business front, United Airlines is warning that unless flights dramatically increase, the company would have to lay off nearly half of its workforce, some 36,000 employees.
And more than 5,600 companies in the US fossil fuel industry have taken a minimum of US$3 billion in coronavirus aid from the federal government. The businesses include oil and gas drillers, and coal mine operators, as well as refiners, pipeline companies and companies providing services for the industry.
SOURCES: BBC | USA Today | Bloomberg | Worldometers
Keep in contact with The Thaiger by following our
Facebook page
.
Yala ramps up security after fatal shooting of volunteer ranger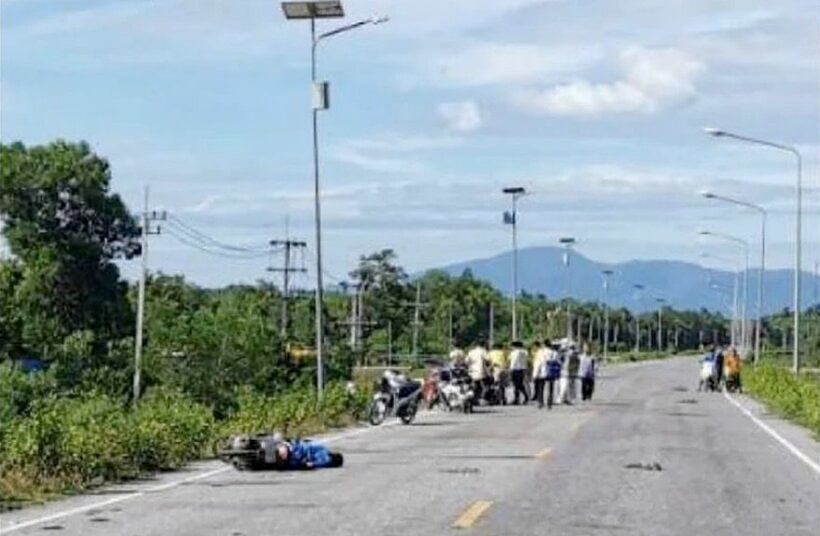 Following yesterday's fatal shooting of a volunteer ranger in Thailand's southern Yala province, security in the province's Muang district has been stepped up. Buddhist communities are being warned to exercise increased caution and to be careful of strangers, as authorities are bracing for potential attacks by southern insurgents.
The volunteer ranger was identified as 43 year old Nikorn Sombatthong, who was part of the 41st paramilitary battalion. He was reportedly murdered as he arrived in front of a school in Tambon Wang Phaya at about 8:30am, after returning from neighbouring Pattani province.
People entering the district by road are being subjected to searches and identification checks by police and military personnel manning checkpoints on all the roads leading to the township.
Intelligence sources say some insurgents have sneaked into the district, possibly to carry out attacks on "soft targets."
Yala and its neighbouring provinces of Pattani, Narathiwat, and Songkhla along the Malaysian border, are home to a decades-old separatist insurgency – which to date has claimed more lives than the Palestinian conflict in the Middle East.
Read more about Thailand's Southern Insurgency here and here.
SOURCE: Thai PBS World
Keep in contact with The Thaiger by following our
Facebook page
.