From ping-pongs to the real-deal. The evolution of sex-shows in Bangla Road.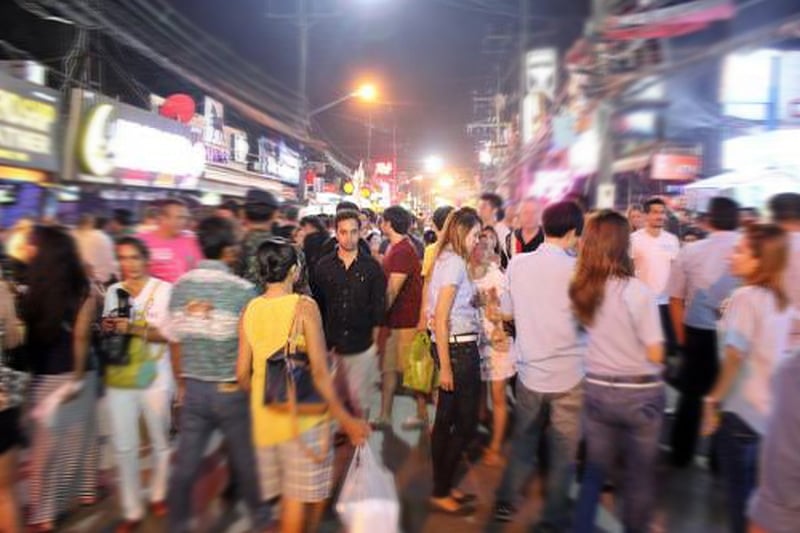 PLEASE NOTE: This article contains material that may offend some readers.
Thailand, despite it's many natural wonders, superb street cuisine, vibrant culture and (mostly) warm weather, still has a reputation well-earned. Let's call it the three Ps – Patpong, Pattaya and Patong.
Whereas, say ten years ago, you could visit a few go go bars, see an occasional ping pong show and chat up a bar girl, these days things are getting a bit more hard core.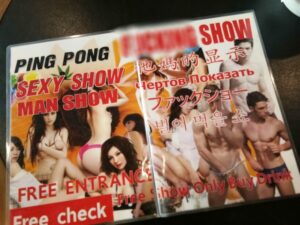 Dateline December 27, 2017: Bangla Road, Patong. No longer content with touting for some seriously over-priced drinks and the option of a ping pong show (choose your own animal accessories), now the offerings are increasingly raunchy. At least three venues along the party-strip are now offering full 'F**king Shows'. Some of the shows can attract up to 200 people at a time, all whilst plying the customers with over-priced drinks. Drinks seem to run between 300-1200 baht a pop in these venues.
The price for entering one of these shows is around 1200 baht. How much goes to the tout? Our investigation shows that the touts receive 800 baht per customer, making a career in touting for sex shows a seriously lucrative business. Do the sums yourself. There are 300-400 touts working the strip every night, some starting as early as 5pm and crossing over Rat-U-Tit road and approaching families with children trying to lock customers in to see a show during the evening.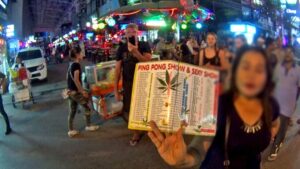 Two police officers (who spoke to us on condition of anonymity) claim that authorities don't want to clamp down on the touts because they are worried that "the young people attracting customers to these shows would end up unemployed and getting into drugs". Now these young people are getting their hands on plenty of additional, tax-free, income to buy even better drugs it seems.
When we asked more direct questions to our informants they assured me that police don't accept bribes from bar owners. Facebook page 'Spotlight Phuket' claimed in an article back in October that bars around the Bangla area were still paying local police up to 20 million baht per night to remain open past curfew and, in some case, run illegal sex shows. That number has never been denied and a crackdown and 'relocation' of several of the island's top police is still being played out.
Officially, the sex shows don't exist. In practice the shows are getting increasingly raunchy as the battle for attracting tourists into their drinking establishments gets more competitive. And as the amounts of money increase the stakes get higher attracting more crime, more players wanting a piece of the action and more 'payments' to make any closer examination unlikely.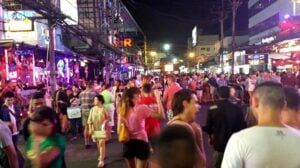 The exploitation of female and male sex workers, and others being paid to have sex in public, is just another casualty of the high-level greed being perpetuated along Bangla Road. Because the whole trade is 'hush-hush' there's also no support system for these workers as they're just a disposable part of the larger sex-show machinery.
The exploitation of sex workers isn't just the female participants in these sex shows. The same situation exists for young males, some who work in the nearby Soi Paradise establishments catering for the more hidden 'gay tourism'. One of the workers in Soi Paradise told us he's been forced into prostitution with some of his venue's customers with threats of exposing his sexuality to his family or being forced to pay back transport and accommodation 'loans' at exorbitant interest rates.
The 'system' is unlikely to be broken down – there's simply too much money involved. It's long been known and understood that there are a handful of key players who 'control' the flow of money up and down the bar scene in Patong. Local authorities appear disinclined to tackle to tip of the 'Patong Pyramid' because there's just too many people making money as the baht paid by the tourist filters its way up through the corrupt system.
These sex shows happen night after night whilst, officially, they are illegal. In stark contrast two Americans show their bare bottoms in a couple of Instagram shots and the internet melts down with people saying they're disrespectful.
The double standard of the Thai prudishness isn't helping the situation. On one hand shaking their finger and expressing their mock-shock at acts of overt sexuality whilst turning the other cheek when their daughters and sons head to work at Patpong, Pattaya and Patong in sex shows and girlie bars to help provide income for the families up country.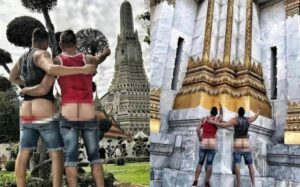 So what happens after the tourists tire of people having real sex in bars and bar owners fight for their slice of the sex-show pie? What's the next level of human exploitation these operators will come up with to keep the money flowing?
Patpong (and Soi Cowboy in BKK), Pattaya and Patong are not all about sex-shows, far from it. Most bars simply provide good, clean (if sometimes over-priced) fun. But whilst police seem either disinclined or simply unable to tackle the growth and popularity of f**king shows, there will simply be more opening up as Thai business owners continue to meet the demand with supply with little interruption.
(Phuket Gazette reporters have approached police for comment but not received any reply)
Keep in contact with The Thaiger by following our
Facebook page
.
Phuket police arrest meth dealer, discover drugs valued at 15 million baht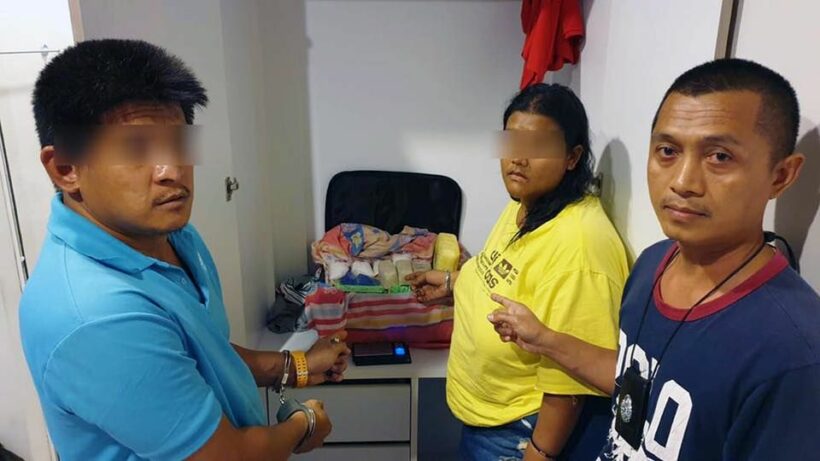 PHOTO: Newshawk Phuket
Drugs valued at 15 million baht have been seized in a drug crackdown in Phuket. On October 22, Phuket police, along with Phuket Governor Pakkapong Tawipat, reported to the media about a drug crackdown that ended up with a total seizure valued around 15 million baht.
Earlier, the police received a report from an undercover agent that a woman named 'Ying' or 'Suthicha Thirawut' was a local drug dealer trading drugs in Phuket area, so police planned to purchase drugs from the woman. They contacted Ying through another woman named 'Noina', Ying's close friend. Around 10pm on October 20, police bought 1 gram of crystal methamphetamine from Noina before arresting Ying and another man, Thanet Thongtan, at the Naka Condominium.
The two confessed that they receive the drug from a man who they weren't able to name, in order to sell in Phuket. They were paid 40,000 – 50,000 baht per time and admitted to police that they have done this for the man three times already. This time, the drugs hadn't been sold to customers as they were arrested before being able to make a sale.
Apart from 2.4 kilograms of crystal methamphetamine, valued around 4.8 million baht, the police also discovered 76,800 methamphetamine pills, worth around 11 million baht.
The three are now assisting Phuket police with their enquires related to the case.
SOURCE: Newshawk Phuket
Keep in contact with The Thaiger by following our
Facebook page
.
Out of 37 countries, Thailand has the worst pension system, says Bloomberg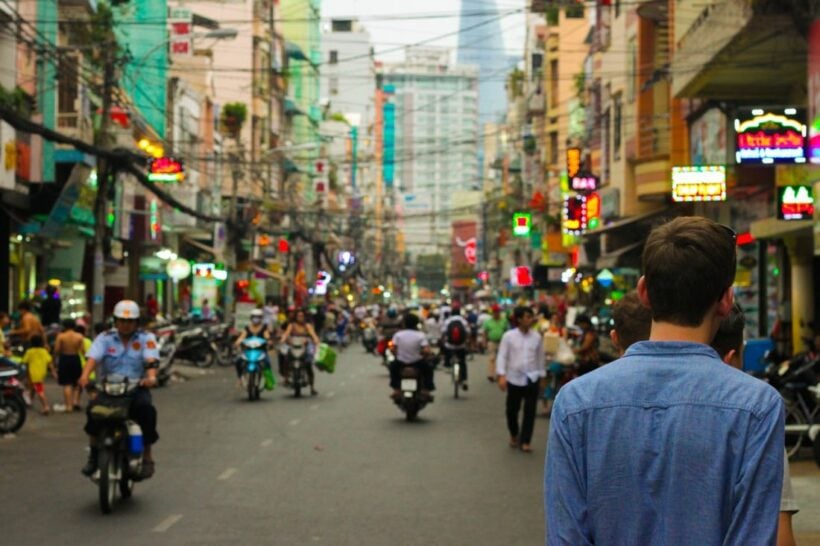 Thai Residents reports that on Sunday, Bloomberg published an article on the world's best pension systems, using information gathered from the 2019 Melbourne Mercer Global Pensions Index.
The survey looked at the pension systems of 37 countries with metrics including employee rights, savings, the number of homeowners, growth of assets, and growth of the economy. The purpose of the analysis was to determine what was needed to improve state pension systems and to gauge the level of confidence citizens had in their state pension system.
The Netherlands and Denmark were found to have the world's best state pensions, with Australia, Finland, Sweden, Norway, Singapore, New Zealand, Canada, and Chile next. Out of all 37 countries, Thailand finished last, with what the report described as an extremely ineffective and ambiguous system.
"Thailand was in the bottom slot and should introduce a minimum level of mandatory retirement savings and increase support for the poorest."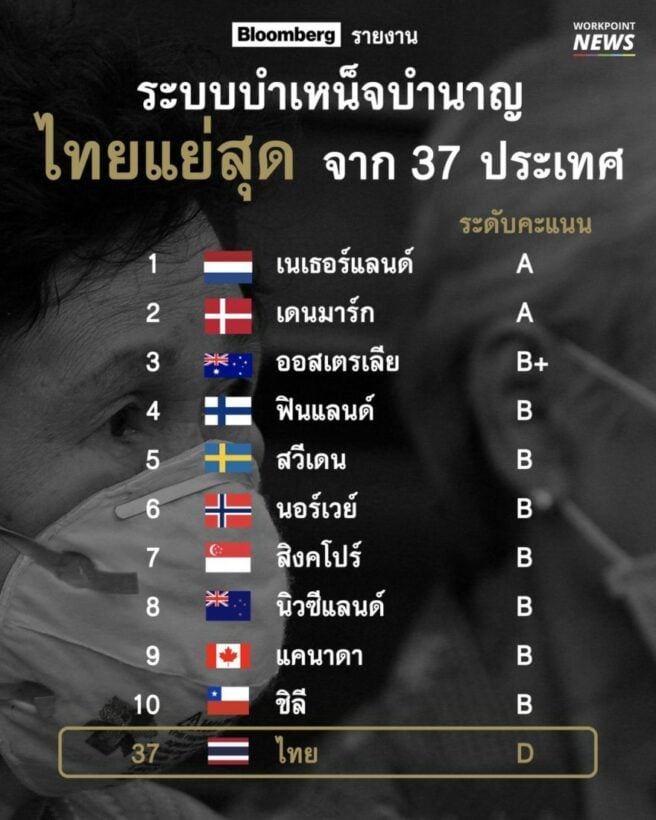 Photo: WorkpointNews
Thai Residents states that only those employed within the government system in Thailand are eligible for a pension based on salary. For most Thai citizens, pension amounts vary from 600 baht to 1,000 baht a month, depending on the recipient's age.
A report carried out by The Securities and Exchange Commission (SEC) advises Thai citizens to have at least 4 million baht saved by the time they retire, but Thai Residents reports that 60% of Thai retirees have less than 1 million baht in savings, with one in three citizens who have reached retirement age are forced to continue working in order to survive.
SOURCE: thairesidents.com
Keep in contact with The Thaiger by following our
Facebook page
.
Immigration police arrest German man in connection with death of German woman in Pattaya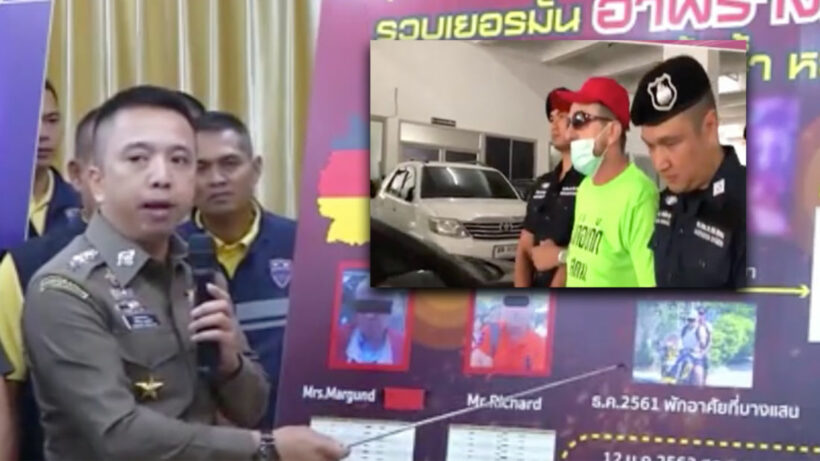 A German man who has overstayed his visa has been arrested in Pattaya in connection with the death of a German woman found dead in a canal in Chonburi province.
The Pattaya News reports the dead woman as 77 year old Marg und Schaefer and says she ran a bar with the man who was taken into custody on Tuesday.
The alarm was raised when Ms Schaefer's family in Germany contacted German police when they were unable to contact her. German authorities then contacted the police in Thailand, who tracked down the man after finding his visa had expired in June 2017. He is believed to be 52 years of age and known only as Mr Richard.
It's understood the arrested man is also facing fraud charges in his home country and fled to Thailand after allegedly conning several elderly women out of more than 6,000 euros.
Police have questioned his Thai girlfriend, who claims Ms Schaefer died in January after falling in the bathroom. She says Mr Richard then disposed of her body in a canal in Chonburi, adding that he had been spending the German woman's pension fund on a daily basis.
A warrant was issued for the man when Ms Schaefer's body was found in the canal on January 12 and he was eventually tracked down to a rented house earlier this week. He denies all charges against him.
It's understood the police will be using DNA testing to confirm how Ms Schaefer died.
SOURCE: thepattayanews.com
Keep in contact with The Thaiger by following our
Facebook page
.