Street art gallery in the ruins of Ban Roeng Chit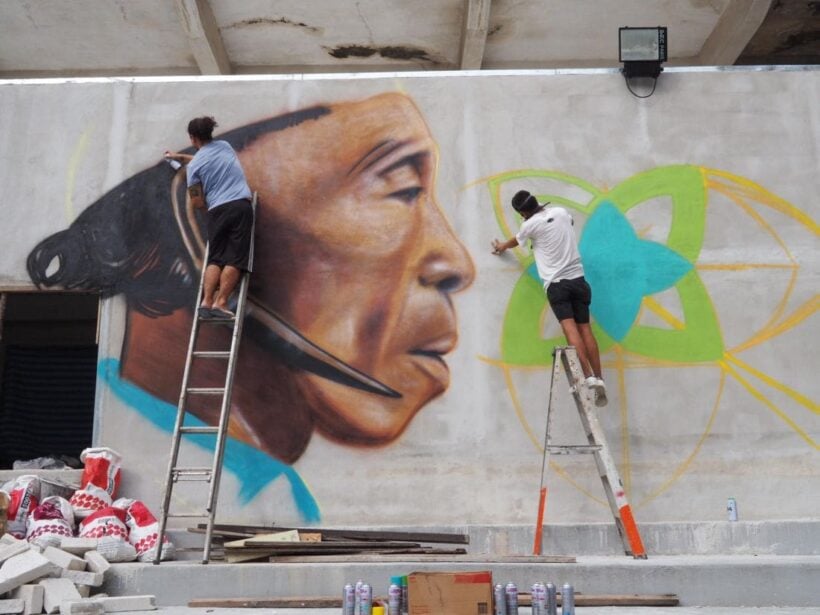 An interesting part of the Phuket Town's street art culture is that it tackles taboo social topics. It is a loud shout from street artists to express their opinions in a creative way and the former stand-alone theatre 'Roeng Chit' has become the location of Phuket street artists where they are allowed to freely spray their thoughts away.
One of the biggest pieces at the avenue is a graffiti against the elephant riding business. The ironic artwork depicts an elephant riding on an unhappy man to portray the idea of how unpleasant it is for an intelligent and loving wild animal to spend their lives exploited until the day they are retired.
"The elephant is widely respected among Thai people and they are the official national animal of Thailand, having contributed to the development of Thai history and society. They are wild animals that belong in the jungle."
"Think about it, who do we think we are that we can force them to do as we please and ride them just for entertainment. We have cancelled slavery among humans in Thailand since King Rama V but we still treat animals like uncivilised people," said Agradeth 'Amann' Tanhemnayoo, a group member of the artists behind the drawing.
"I was contacted by @thailandelephants asking us to create some street art so I said 'yes'. We don't mean to say that people shouldn't be happy spending time with elephants but our message is that people can choose to be happy by observing them with nature by their side without having to ride on them."

"I understand that we can't stop the elephant riding business immediately but we are offering an alternative way of traveling that is nature-friendly."
The crew went to create the art on World Elephant Day.
"On the opposite side of the elephant riding business is a human is a cycling activity which we proposed as an option to tag along the elephant while trekking."
"We plan to keep going back as we received a great support from the landlord, Ban Roeng Chit, and we planned together to make the avenue a centre to collect street art. So far, we have a dozen graffiti artists bringing their talents together and we want people to see the work of different creators."
No matter whether you are a professional photographer or just visiting, Ban Roeng Chit is the new spot to observe street art in the heart of Phuket town, where you'll see more than just graffiti, but also the social issues they confront.




Have something to say? Scroll down to leave a comment, or visit our Thaiger Thailand Q&A Forum to discuss people, events, to-do and more with the local community.

Read more headlines, reports & breaking news in Phuket.

Enterprising young Cambodian impresses with multi-lingual skills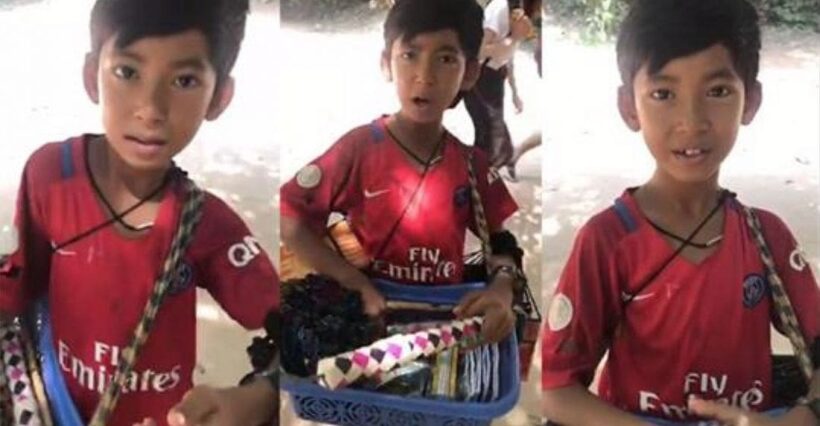 Young vendors become very resourceful at extracting money from tourists. All in the quest of making an honest living and bringing some money to their families. This young boy seems to have knowledge of at least seven languages, obviously representing the most popular languages spoken by the tourists he speaks to during his daily rounds.
Netizens are impressed by his talents but some are saying that the boy has to develop this skill in order to survive. A translation follows some of the many languages he is able to use in his daily work. Let's hope he gets the opportunity to use his skills in a prosperous career in the future.
We'll take five of whatever you're selling!
Making ends meet – washing cars for 5,000 baht a day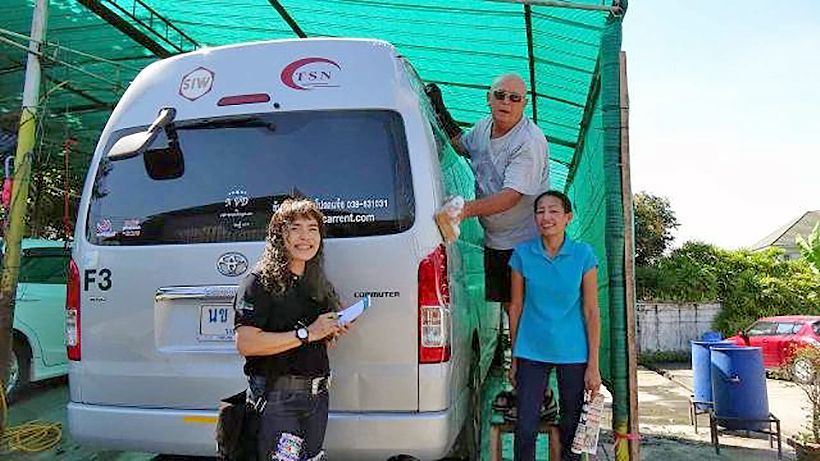 A 70 year old Aussie expat has rolled up his sleeves and ended up with a prosperous little local business in Rayong. An Australian pensioner is washing cars in Rayong to make ends meet.
And he's reported to Ban Muang reported that he and his wife are earning a decent income. Thai customers have been heaping praise on 70 year old William Pearl for his car cleaning business.
William started the "Ran O" car-care business with his wife Srinuan Sukcharoen. The shop is in the city district of Rayong on Rat-u-thit Road.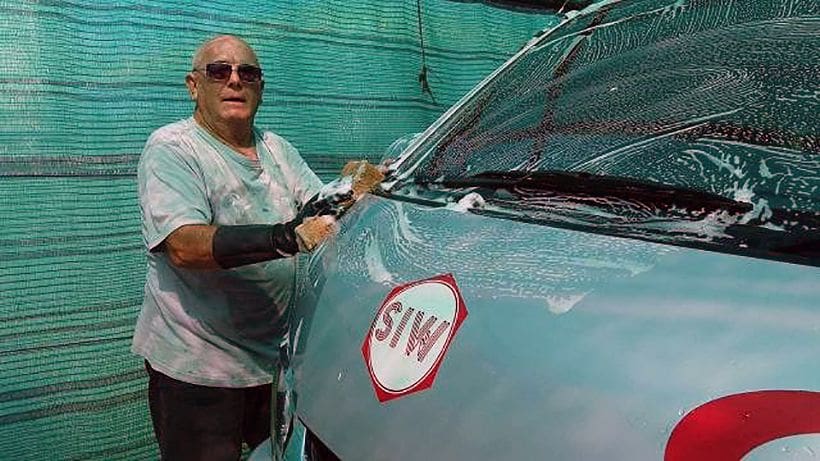 Ban Muang reports that he has been helping out with the cleaning of cars since the start of the year.
"It was much better to be out doing something useful and the shop was making 5,000 baht to 6,000 baht a day cleaning an average of 20 cars."
His wife gives the cars a wipe while Mr Pearl gets out the hose and shampoo.
"I'm not tired – I love it" he said.
Kids from the local schools are employed in their free time for 300 baht a day, he added.
SOURCE: Ban Muang
Leicester City players arrive in Bangkok for Vichai's funeral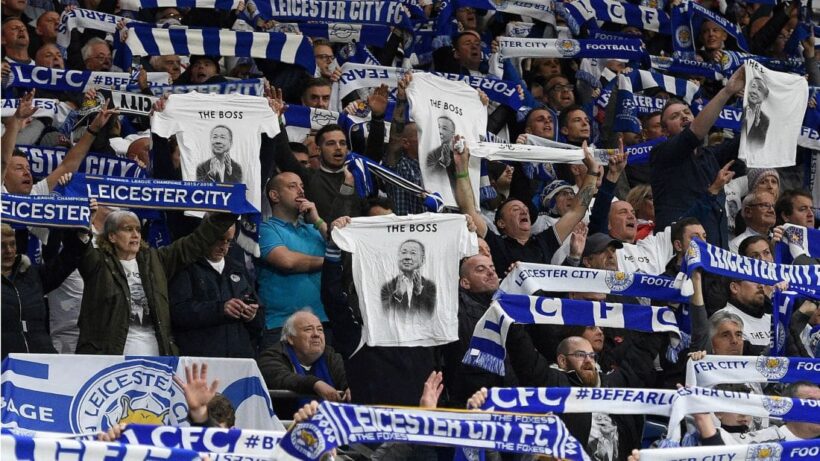 PHOTO: Goal.com
Leicester City football club players and fans have paid emotional tributes to Vichai Srivaddhanaprabha, who died in a helicopter crash last week, ahead of last night's Premier League match against Cardiff City.
Meanwhile, Leicester City players and officials have arrived in Thailand to attend the funeral of the club's owner and mentor at Wat Thepsirin in Bangkok.
His Majesty the King has provided funeral water and bestowed an octagonal funerary urn for the royally-sponred funeral rite.  Several prominent business, political, sports and entertainment figures and celebrities attended the first day the week-long rites ceremony yesterday (Saturday).
The Leicester City players attended services today and will attend again tomorrow (Monday) after beating Cardiff 1-0 in the first game since his death.
Before the match they wore T-shirts featuring a picture of Vichai while fans held banners expressing their condolences.  They stood for a minute's silence along with Leicester City staff and fans ahead of the kick-off.