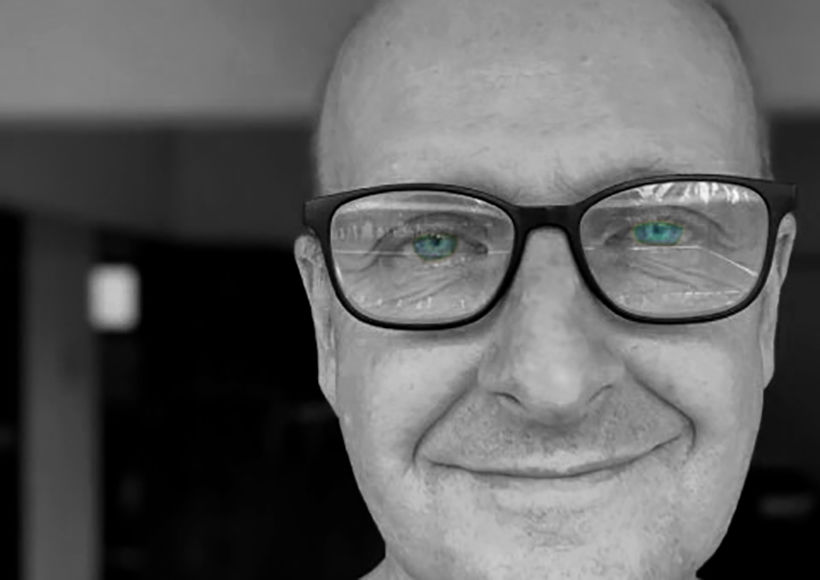 Tim Newton is the lead writer and editor of The Thaiger English.
Healthy, happy, busy and no feeling that I'm actually 61 years old. But there I was, about to undergo eye surgery that would rid me of my annoying reading glasses and give me an equivalent of the vision I had when I was a lot younger. Luckily there was a safe, long-term solution available here in Thailand. A year later, it was one of the best decisions I ever made.
As it happens there was a highly-skilled ophthalmologist right here in Thailand with thousands of successful procedures under his belt. I already knew of Dr. Captain, based at the Bright View Centre at Bangkok Hospital Phuket as some friends had already had a great experience with their surgery and raved about their 'new vision'.
I'd spent the last 20 years wearing 100 baht reading glasses, of progressively stronger power. I started off, in my 40s, starting to hold menus further away and straining to make things up close come into focus. Starting off with some light reading glasses, I slowly progressed to +3.0 glasses and reading anything at close distance without the glasses was impossible. The reading glasses weren't particularly bothersome, or expensive, and I liberally sprinkled my house and work place with the cheap solution – I had a pair sitting around in every room. But I knew the situation wasn't going to get any better and the glasses were just part of my life in the future.
Doing daily TV news for YouTube it slowly became impossible to read the autocue without glasses. I also spent a lot of time working in front of screens for my work. They just became part of my face.
Then, in the past few years, my distance vision started getting worse, and night time driving became a blur of lights and, well, was just dangerous. I'm sure I wouldn't have passed a vision test! Even during the day I could see my distance vision deteriorating quite quickly. I knew I had to get something done.
What my staff were looking forward to was the end of my constant call… "Where are my glasses?"
My issue was, like many people my age, cataracts. A slow deterioration of the lens inside your eyes. As we get older the lens becomes both less able to focus, and progressively more cloudy, making our brains work harder to form a quality image.
Having worked with ophthalmologists back in Australia on various conferences and marketing jobs, I was aware that there was a lot of development over recent decades on multi-focal lenses. These were an alternative to the single-focus artificial lenses put inside the eyes of cataract patients. With a multi-focal lens patients would, in many cases, end up not having to wear glasses again and have a better quality of vision for near, middle and distance.
A lot of people have heard of LASIK, a laser solution that re-shapes the front surface of the eye, the cornea. It's a great, and reliable, solution for younger people. But it wasn't going to be of any help to me. Like other older people the lenses inside my eyes were just worn out – they were getting cloudy (a cataract) and the muscles weren't focussing as well as they used to when I was young.
My solution was called RLE – Refractive Lens Exchange. It's like cataract surgery but instead of replacing my tired old lenses with a single-focus artificial lens, the doctor will remove my worn-out natural lenses and put a multi-focal lens inside my eye. These artificial multi-focal lenses would allow my eyes to focus for near, middle and far distance. This is different from the standard artificial lens used in thousands of cataract surgery operations every day around the world. The new multi-focal lenses would stay in my eyes for the rest of my life.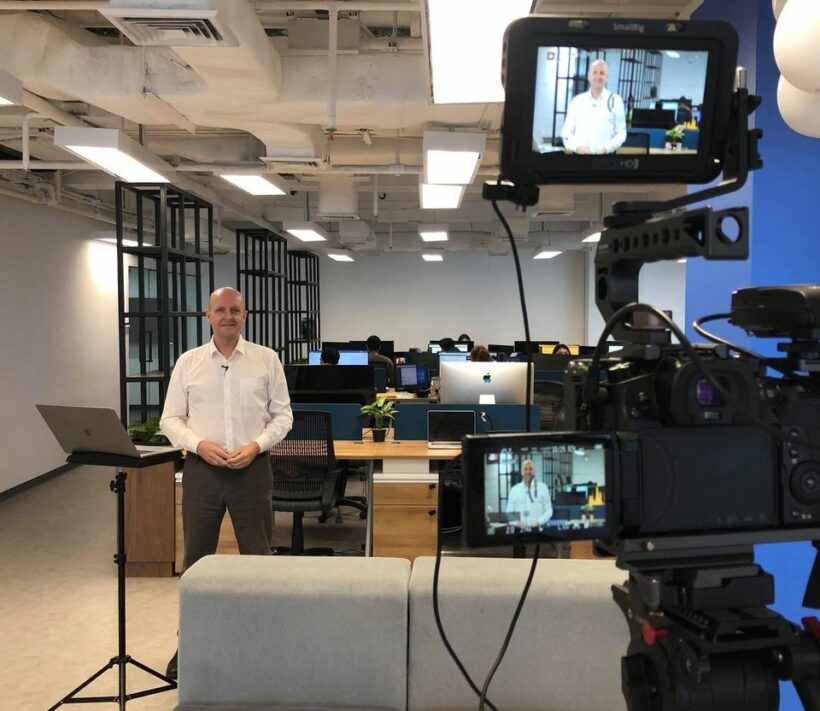 PHOTO: 11 months following the surgery and able to get back to doing the daily TV news without glasses or squinting
These artificial lenses, just like reading glasses, are selected to match your prescription. So they can largely correct your previous vision impairment. Even mild cases of astigmatism can also be corrected with another family of these amazing multi-focal lenses.
Having done my homework I was ready to visit the Bright View Centre and meet the doctor with whom I would entrust my vision. I was somewhere between excited and petrified.
CONTACT THE BRIGHT VIEW CENTRE HERE.
As it happened I was a good candidate – healthy, no medical complications, no other vision complications. I also had reasonable expectations about the outcome of the surgery. Dr. Captain warned me there could be some halos around bright lights at night. Indeed the doctor went through the entire procedure in great detail, including potential risks. There was also a LOT of tests to ensure the doctor had a comprehensive 'map' of my eyes and every aspect of my health was checked.
The procedure was done over 2 days and I'd only spend around an hour in the operating theatre each time. The surgery is very procedural. A cataract surgeon would do the same operation thousands of times a year, and have done so using much the same techniques since the late 60s.
So this is what happens, all whilst you're fully awake, but your eyes are dilated and numbed with anaesthetic eye drops. I can guarantee I didn't feel ANY discomfort at all. Actually the doctor and I chatted through much of the procedure.
A small incision (about 2.5-3mm) was made on the side of the eye. A phaco-emulsification tool is inserted into the eye, and using high-frequency sound waves to break up the old natural lens, then sucks all the bits out (I'm really dumbing all this down but it's actually astonishing micro-surgery at the hands of a skilled surgeon). The new artificial lenses are then inserted through the same incision, all rolled up, and then unfold inside my eyes where the old lens used to be.
Altogether I spent about three hours in the clinic on each of the operating days. The whole process was quite stress-free considering I had a surgeon operating on my eyes, something I'd never experienced before.
The procedure is routinely done over two separate days. In my case it was one eye on one day, then the other eye on the following day, but some surgeons prefer to leave a few more days in between. The idea being that the doctor wants to evaluate the success of the first operation before moving onto eye #2.
So how did I feel after the surgery? Was there any pain? How long would I have to wait until I could see the result?
Patients are given some time to rest straight after the surgery. The operated eye is very watery and there's an eye-patch over the front so you can't see anything anyway. But, even after the anaesthetic eye drops had worn off there was still no real pain, just a mild discomfort that was easily knocked over with a paracetamol tablet. An hour later the doctor quickly checked me and the operated eye before I was allowed to be picked up and taken home. I slept overnight without any pain but eager to wake up and look out the window the next morning.
The results were immediately apparent when I woke up. I was also told that the results would continue to improve over the next few months as my brain adjusts to the new lenses. I was also told to expect everything to be lot brighter and more colourful as my brain would have been over-compensating as my natural lenses have become cloudy and dull over the years.
Walking out onto my balcony and looking into the distance, even with just one eye operated on at this stage, it was clear there was a profound change to my sight. Yes, things WERE brighter and clearer. There was no residual pain or discomfort but I had to follow a regimen of antibacterial eyedrops and other medicines for the next few weeks. I wasn't able to get water into my eyes for at least 4 weeks, so no swimming.
The second eye, my right eye this time, was operated on the following day. After a quick check of the operated and un-operated eyes, back into the operating theatre for the second RLE procedure. More chatting during the operation (I think the doctor is quite happy if you just want to listen to music), and I was soon being wheeled out and put into the armchair for a rest before being allowed to go home.
In the following weeks I followed all the 'rules' and got used to doing the eyedrops – my aim did improve.
Just as it was explained to me, the vision, at first starkly different with its clarity and brightness, did 'settle down'. I could look to the hills and see the branches in the trees, I could read without glasses, easily. I was completely unaware that I was actually 'looking' through an artificial lens and I was just revelling in my newfound clear vision.
For me, any side-effects were an ease trade off for the return of great general vision. The halos around bright lights at night were 'a thing', exactly as they'd been described by Dr. Captain. I can't really say I've noticed any other side effects except still, after wearing glasses for 20 years, I still intuitively reach on top of my head for the glasses that aren't there any more.
Really, after the first month, I stopped being astonished and just settled into the happy reality of my permanent and improved vision.
A year after the operations and I couldn't be happier with the results. The fact that I just don't even think about it anymore is testament to the great vision I now command – no glasses, no squinting at the autocue, no feeling useless when I occasionally forgot my glasses.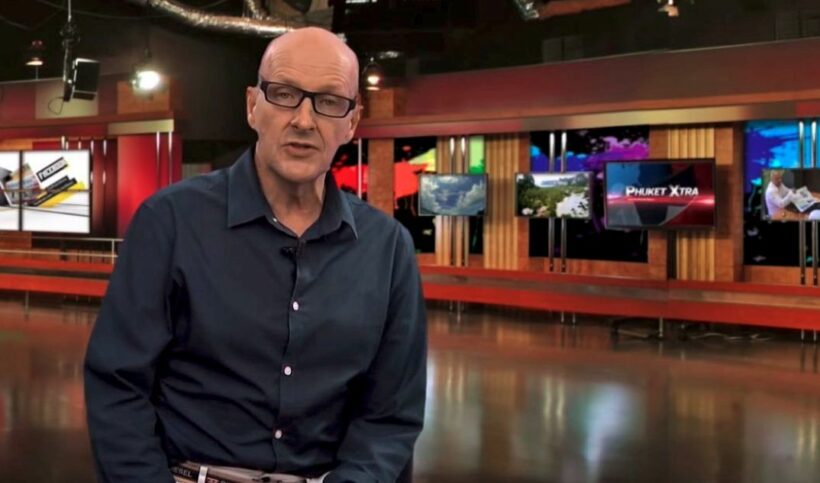 PHOTO: Reading the auto-cue on TV became difficult, then impossible, even with glasses
I paid for the surgery out of my own pocket and have been happy to deliver an honest appraisal of the whole process.
For more information, check out MyMediTravel for pricing and availability in Phuket.