Day Two – Phuket reports no fatalities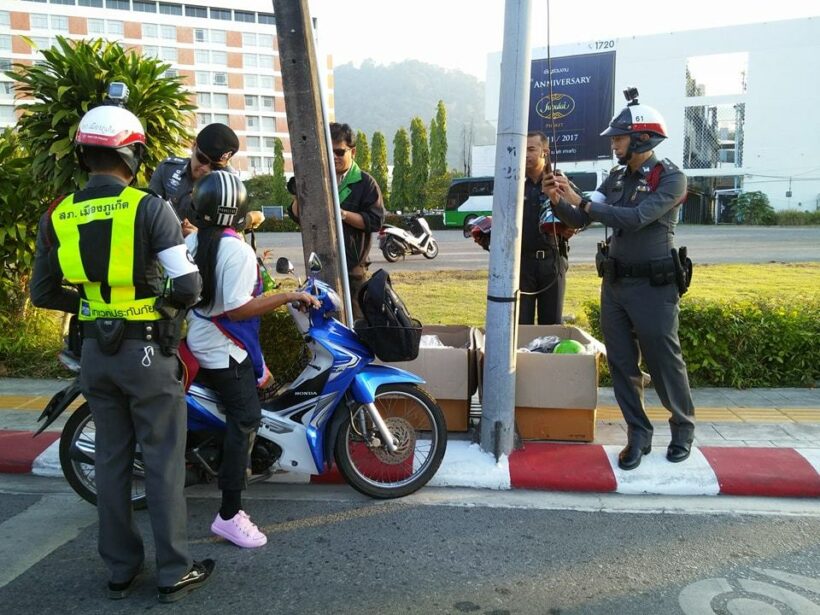 Day Two (April 12) of the "Seven Dangerous Days" in Phuket ended without any fatalities keeping the island without any fatalities for the Songkran reporting period.
The Department of Disaster Prevention & Mitigation is making daily announcements declaring the statistics for the last 24 hours.
But there were five accidents on the island's roads including three in the Muang District and two in Kathu District. Thalang District was free of accidents for the Thursday 24 hour period. A total of five people were injured in the accidents.
Police report that drunk and reckless driving is still the cause of most accidents and that motorbike riders not wearing helmets is the cause of most motorbike injuries.
Of the people pulled up by police in the 24 hour reporting period 386 were driving without a licence, 74 weren't wearing seatbelts, 61 were speeding and 44 ran a red light.
26 people were nabbed for using a mobile phone whilst driving on Phuket's roads.
The official Songkran reporting period will continue until next Tuesday at midnight.
Nationally, 99 people have been killed with another 1,085 injured after the first two days. Police say they've caught nearly 60,000 drunk drivers so far.
The number of accidents, injuries, and deaths on the road has increased this year, since on the second day of the 2017 Songkran holiday's seven dangerous days there had been 994 accidents, 1,035 injured people, and 95 deaths.

Four others rescued in Tham Luang before the Mu Pa 13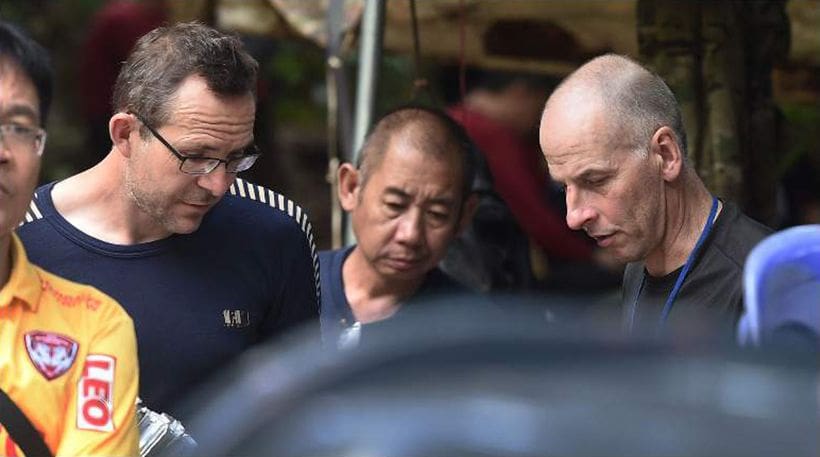 PHOTO: British cavers, Rick Stanton and John Volanthe
Dramatic new stories out of a "Hidden Earth" cave-community event where it's been revealed that the, now famous, Mu Pa 13 weren't the only people trapped inside the caves in Chiang Rai.
Two of the British divers who were part of the Tham Luang rescue effort, extracting the Mu Pa football team from a cave in Chiang Rai, claim that, before the much-publicised rescue, they'd earlier saved four other adults also stranded in the caves under the Tham Luang mountains.
The 13 team members of the Mu Pa football team were trapped by rising flood waters after they headed to the caves on June 23 as an after-practice excursion. It was only meant to last an hour.
At the time, officials leading the rescue effort called on the expertise of the international caving community, from England and Australia, who formed a diving dream team led by local Thai Navy SEALs.
British divers Rick Stanton and John Volanthen found the players marooned on a muddy bank nine days after the team entered the cave. The 13 had survived on rainwater dripping from rocks and the guidance of their older coach. They were extracted seven days later, the rescuers forced into taking swift action because of approaching monsoonal rains that would make the situation in the caves worse.
But days earlier, it's emerged, the British team of Rick and John unexpectedly found four other Thais adults who, unknown to everyone else, had become trapped by floodwaters while trying to find the 13 young football players.
Read the rest of the story HERE.
Airbnb partners with Thailand Boutique Accommodation Trade Association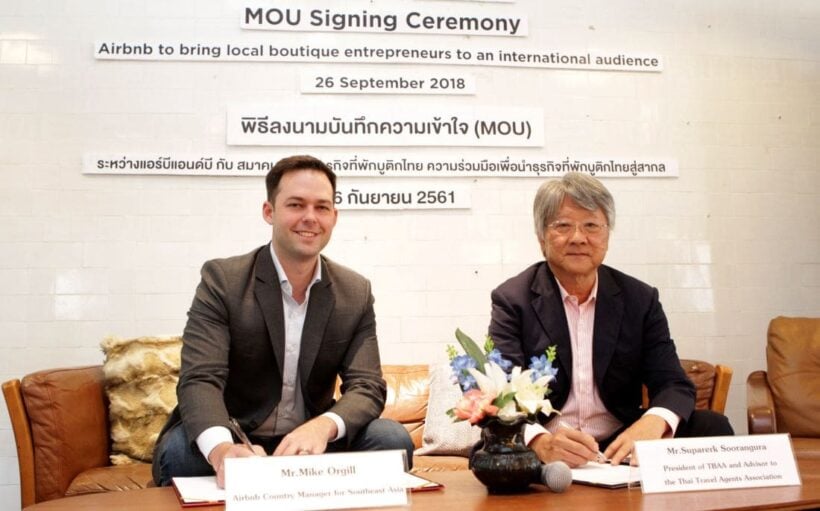 PHOTO: Mike Orgill, Airbnb Country Manager for Southeast Asia (left) and Suparerk Soorangura, President of TBAA and Advisor to the Thai Travel Agents Association (right) signing the MoU.
Airbnb, the world's leading community-driven hospitality company has announced its industry-first partnership with the Thailand Boutique Accommodation Trade Association (TBAA) to promote creative, people-powered Thai hospitality.
Through the partnership, Airbnb and the TBAA will bring boutique hotels onto Airbnb's global people-to-people platform and connect them to its international network of travellers, which has seen more than 300 million guest arrivals since it was founded 10 years ago.
Airbnb is the first travel platform in Thailand to sign a Memorandum of Understanding (MoU) with the TBAA. This closely follows the company's recent partnership with the Ministry of Interior's Department of Local Administration to upskill and onboard local homestays across all 76 provinces.
Mike Orgill, Airbnb Country Manager for Southeast Asia, and Suparerk Soorangura, President of TBAA and Advisor to the Thai Travel Agents Association, jointly launched the partnership.
With Thailand as one of the world's top global destinations, this partnership will provide travellers with easy access to more than 50 boutique hotels across 15 provinces such as Bangkok, Chantaburi, Chiang Mai, Kanchanaburi, Krabi, Nakhon Ratchasima, Phuket, Prachuab Kiri Khan, Ratchaburi and Sukhothai, all providing authentic Thai hospitality.
In today's MoU, both parties agree to:
Conduct training workshops for TBAA members to equip them with Airbnb platform know-how, and the digital skills to create, manage and promote their own listings
Empower Thai boutique hospitality entrepreneurs with global hospitality standards
Amplify Thailand's unique boutique hotels and creative design on a global stage
Revitalise local neighbourhoods by driving tourist footfall outside of traditional tourist districts
During the launch, Airbnb and the TBAA also announced the inaugural Airbnb x TBAA Thailand Neighbourhood Guide. The 17-page insider's guide spotlights five under-the-radar neighbourhoods in Thailand, each with its distinct blend of traditional heritage and new creative spaces.
In the past year alone, Airbnb's host community in Thailand has welcomed close to 1.7 million guests into their homes, creating a combined 4 billion baht (US$119 million) in income for local Thais. Earlier this September, Prime Minister Prayut Chan-o-cha highlighted Airbnb's recent partnership with the Department of Local Administration during his weekly national broadcast. In his statement on the Sufficiency Economy Philosophy to Sustainable Development Goals, he shared how Airbnb is promoting local homestays and distribute wealth across rural provinces.
Quotes
"Thailand is one of Airbnb's largest markets in Southeast Asia, and our partnership with the TBAA marks a significant step forward for our business and community here. Boutique hotels play an increasingly key role in driving the tourism ecosystem through their authentic host-led hospitality and distinctive local design." – Mike Orgill, Airbnb Country Manager for Southeast Asia
Official travel warnings about Phuket issued by the Chinese Embassy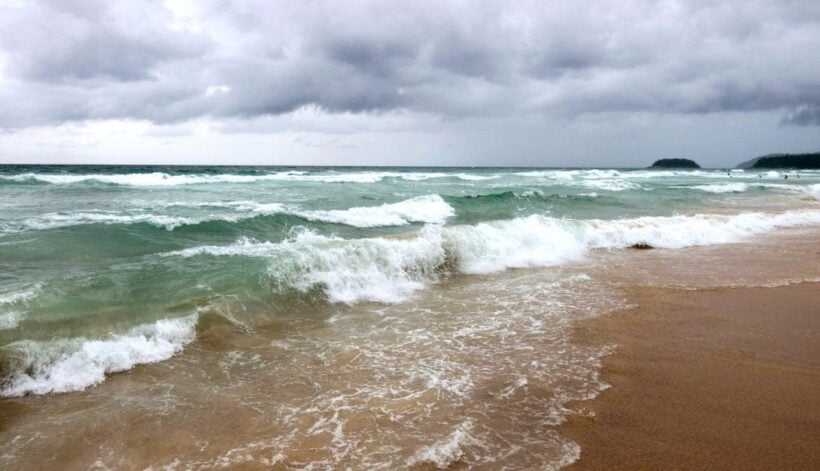 "The embassy reminds Chinese tourists to follow the rules while in Thailand stay out of the water when authorities put red flags on beaches, indicating the marine situation is dangerous."
The Chinese Embassy in Bangkok is telling travellers to take particular care in Thailand's southern resort provinces of Phuket, Phang-Nga and Krabi.
The embassy has issued an official safety warning to tourists travelling to Thailand during October's "Golden Week" holiday following six drowning incidents involving Chinese citizens in August.
The warning says that sea activities pose the highest safety risks for tourists, urging visitors to take particular care when visiting the three popular destinations.
"The weather can still be changeable, sea winds strong and the water conditions complex."
About 7 million Chinese will travel during Golden Week, up from more than 6 million during the same period last year, according to Chinese travel website Ctrip.
For the first time, according to Ctrip, bookings show that Japan is surpassing Thailand in popularity as a destination for the October holiday. More than 5.9 million Chinese visited Thailand in the first half of the year, according to figures from travel company Ctrip.
The SCMP reports that Thailand has been in the top three overseas destinations for China's outbound tourists for a long time, behind Hong Kong and Macau.
But Chinese tourists' love of Thailand has been rocked by the Phuket boat tragedy, but airports are working hard to win them back. In August several international entry airports opened dedicated lanes for Chinese tourists in five airports across the country, staffing each one with Mandarin-speaking officials.
But there's no doubt that the growth of mainland Chinese tourism to Thailand has been undermined following the deaths of 47 Chinese tourists when their tour boat, the 'Phoenix', sank after it was hit by unseasonably high waves in early July.
According to another China travel agency, Lvmama.com, which did not provide more details, many mainlanders had adopted a 'wait-and-see' attitude about travelling to Thailand following that, and other, incidents.
The warning notice from the Chinese embassy reminds travellers that waves can reach more than two metres during monsoon season, from May to October, and that swimming and sea trips are not appropriate.
SOURCE: South China Morning Post