Fake notes and drugs found on passenger at Phuket Airport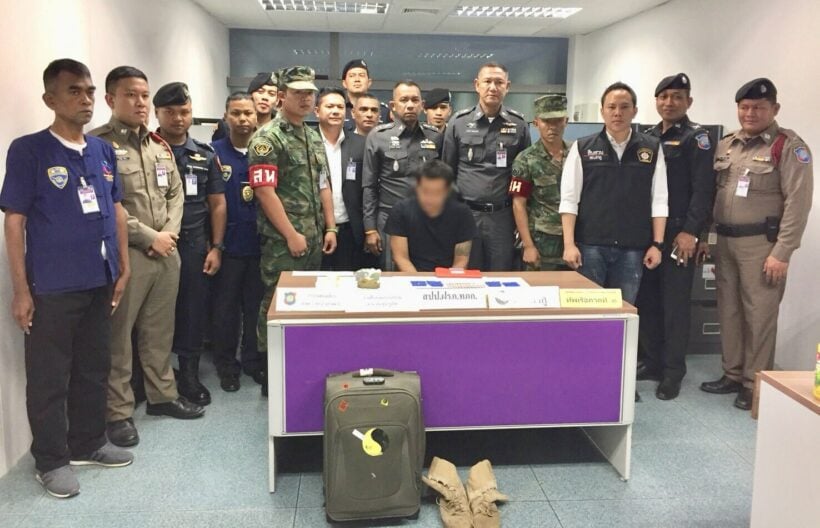 Police have arrested a man carrying 53 counterfeit 1000 baht banknotes and drugs at Phuket Airport.
Police say the 36 year old Nanawa Na Songkhla from Chiang Mai was acting suspiciously whilst going through a security checkpoint. When security staffed checked his carry-on luggage they found 800 methamphetamine pills, nearly 5 grams of crystal methamphetamine, marijuana and the fake 1000 baht bank notes.
The gentleman has been taken the Sakoo police station, had the obligatory photos taken with the police staff and charged with carrying a Category One and Category Five drug with intent to sell.
Police say they will be further investigating into how he was able to accesses the drugs and where he came into possession of the counterfeit 1000 baht bank notes.
The suspect gave unclear and confusing information only saying that he bought the drugs from a drug dealer in Phuket but he couldn't remember the name and expected to sell the drugs in Chiang Mai.


Greed unravelled the trio's grisly plot – Phrae double murder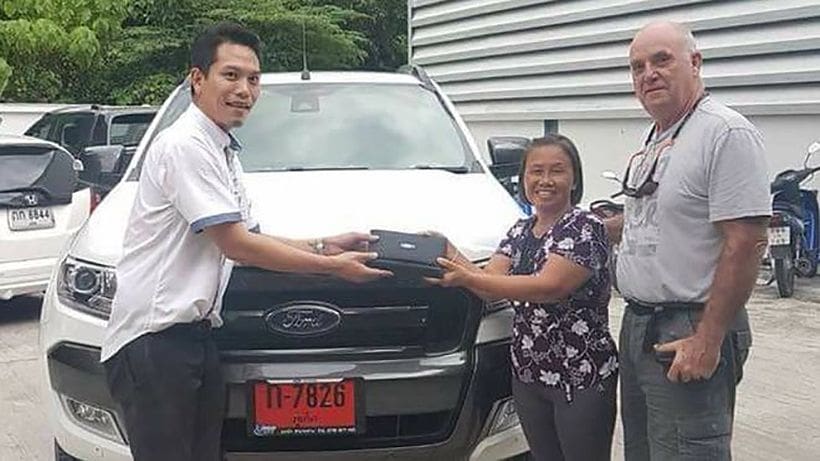 PHOTO: Alan and Nod receive the keys to their new pick-up truck.
The bodies of 64 year old Alan Hogg and his 61 year old wife, Nod Suddaen, wee unearthed yesterday morning following a short investigation where greed brought the plot unstuck for the killers.
After a few hours of interrogation three men admitted to collusion in the plot to murder the married couple.
Included in the latest interrogations was Khun Nod's brother, Warun Satchakit, who was first set free on bail after initial questioning over the couple's stolen white pick up, but was released before his later arrest when the car was located last Sunday.
The other two arrests are reportedly local friends of Khun Warut. In the confession they detailed the method of killing the pair. Warut confessed to organising and carrying out the killings. It is understood that he fired the gun that killed Mr Hogg and bludgeoned Khun Nod to death with a hammer.
Warut told police he then took the bodies to an area behind the house, near a creek, to bury them with a small excavator/back hoe. The corpses were found lying next to each other about 2 metres underground.

Happier times for the married couple – Alan and Nod
During the interrogation Warut has told police that the couple 'repeatedly criticised him' and that that he'd tired of the constant criticism and went about planning their deaths.
The plot unravelled after the killers allegedly stole the dead couple's new pick-up and tried to get a quick sale for cash. A Lao man bought the car and was driving south on Sunday night when he heard about the missing couple and the missing car. He reported to police in Ayutthaya and was able to provide police with information that led to the trio's arrest.
Police initially arrested Khun Warut after CCTV footage showed him entering the couple's home and driving away in the pickup last Thursday but he denied any involvement in their disappearance. He was charged with theft of the pick up and released on bail of 100,000 baht at the time.
Friends of the couple had alerted police about their concerns over the missing couple as early as last Tuesday, two days before Khun Warut was first arrested.

A backpack full of meth pills headed for Chiang Mai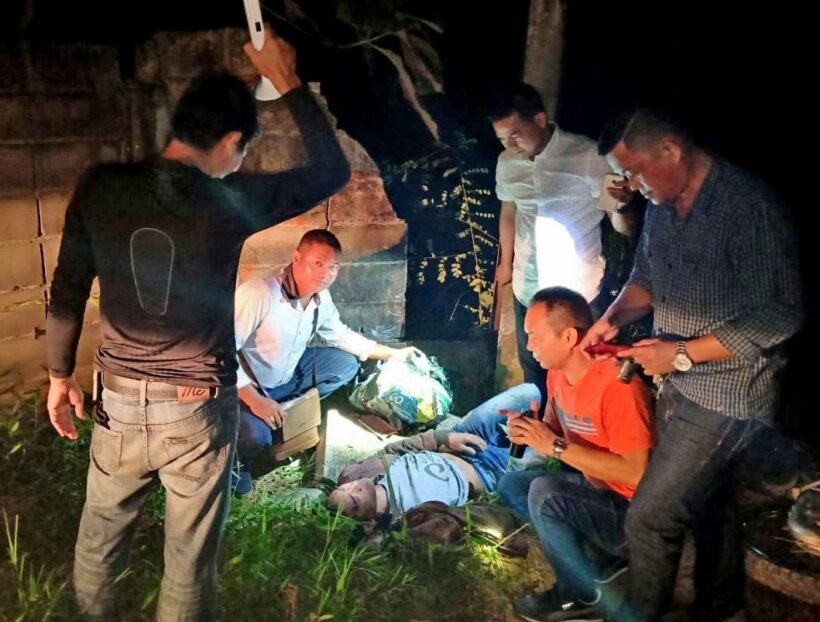 A Chiang Mai man has been arrested las night after allegedly trying to smuggle 100,000 methamphetamine pills into the city from the Myanmar border, 100 kilometres away.
Police at a checkpoint in Mae Ai district had signalled for a motorcyclist to stop but he sped off. With officers in pursuit, he lost control of his motorbike and came to grief on the roadside, tumbling off his bike.
The meth was found in his backpack.
32 year old Chana Jabu was taken to the district hospital with bruises and then arrested.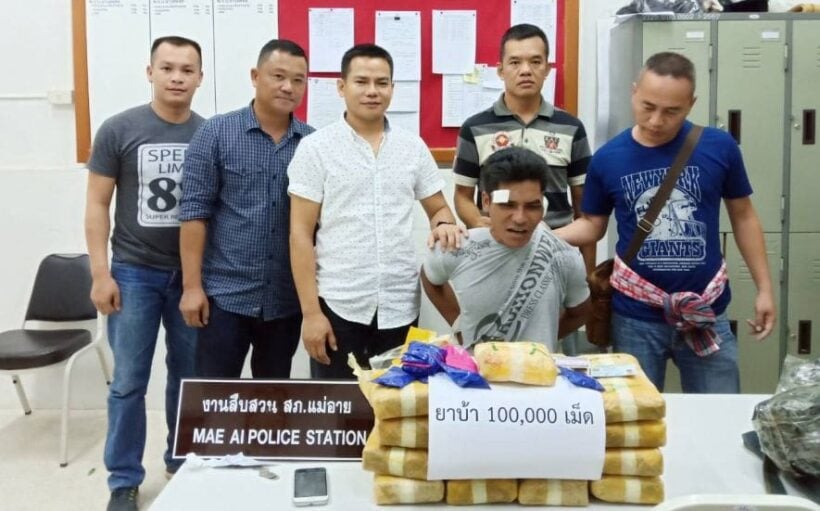 STORY: The Nation
Two motorists died in Phuket road accident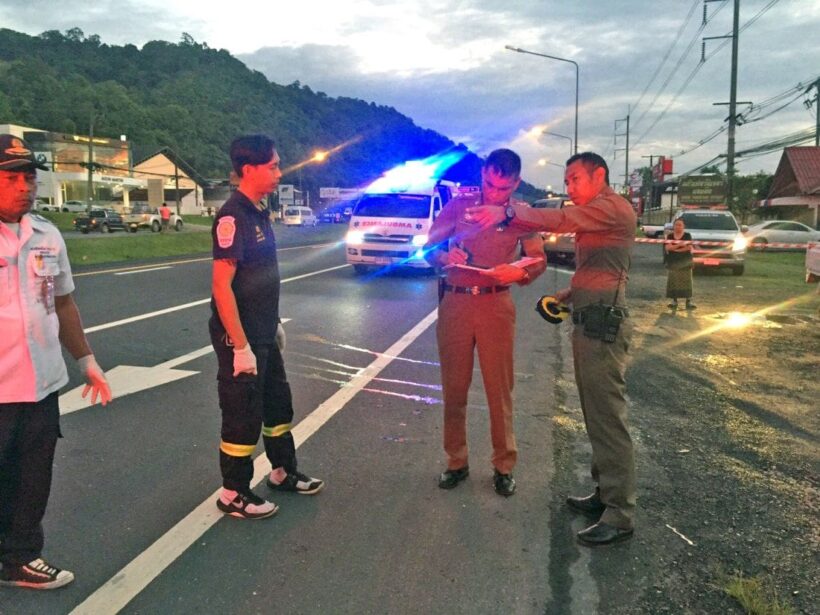 PHOTOS: CITY LAW 201 / Newshawk Phuket
Two motorists havedied in a road accident on Chalermprakiat Ror 9 Road (Bypass Road), southbound this morning.
The Phuket City Police were notified of the accident at 5.45am this morning.
Emergency responders and police arrived at the scene two find one deceased female and one deceased male.
Two identification cards were found with their personal items. The dead are 36 year old Mipha Tabe-er and 42 year old Wan Tapiaw. Both are from the Chiang Mai province.
A motorbike was found nearby. Their bodies were taken to Vachira Phuket Hospital.
At this stage police speculate that they collided with a light pole and dies instantly. Police are continuing their investigation and checking CCTV footage nearby to find the exact cause of accident.