Video Report: Aussie to circumnavigate Phuket by standup paddle board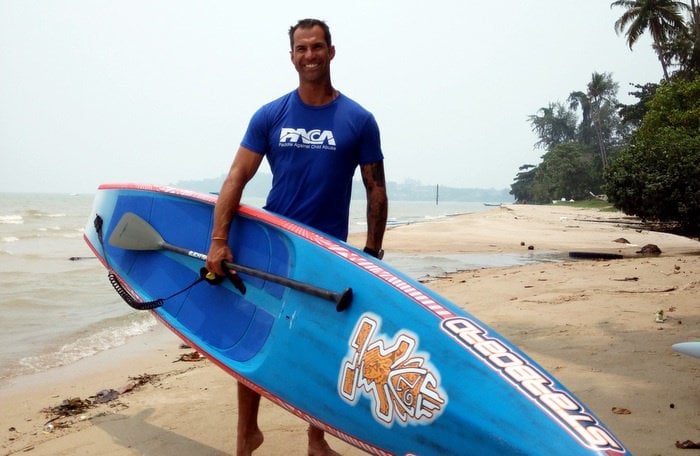 PHUKET: Damien Rider, who was dubbed 'Men's Health Man of 2015' after completing an 800km unassisted paddle boarding adventure in the shark infested waters of the Gold Coast, will depart Nai Harn Beach at 7am on October 5 as he attempts to circumnavigate Phuket on a standup paddle board (SUP).
His four-day, solo SUP journey is designed to raise awareness of child abuse as part of his self-funded organization Paddle Against Child Abuse (PACA).
Though Mr Rider's debut for PACA on the Gold Coast was sensationalized by 11 shark encounters, the Phuket challenge will have its own challenges.
"It's totally unknown waters for me, plus on a standup paddle board is new for me too," Mr Rider said.
"The biggest concern is if lightning comes from this monsoon weather and I'm in the middle of the ocean holding a carbon fiber pole," he said with a laugh. "There are a lot of mixed currents due on the scattered islands which will make sections tougher."
While training at Phuket Cleanse and Thanyapura, Mr Rider has been sharing his story with many students on the island, such as those at Phuket International Academy.
"From the age of six, my mom's boyfriend came to live with us. I never grew up with a father, so he was the only man who came into the house," Mr Rider said.
"My introduction to him was [the sight of] him beating police on the front lawn and then coming in and bashing my mom and then grabbing us and throwing us.
"It happened week after week. All the time I would just have to brace myself."
The rest of Mr Rider's childhood was filled with more abuse, and his constant attempts to flee it: sleeping in caves and under jetties – anywhere to which he could escape (Special Report on PACA and Child Abuse in Phuket here).
Though Mr Rider has enjoyed the community spirit and support he has received while training at Phuket Cleanse and Thanyapura, perhaps the most rewarding part of the program so far has been his talks with the children on the island.
"I had an amazing time with the kids at Phuket International Academy. You can tell the school is really making them aware of the challenges kids might face," Mr Rider said. "The questions ranged from asking about the size of the sharks I saw and whether or not I saw dolphins, to if a child is facing child abuse, what tools can they use to deal with it – that was asked by a nine year old."
Other questions included: What can we do if one of our friends is being abused? What would Mr Rider say to his attackers if he saw them now?
"Very intelligent children and I loved sharing my experiences with them. It has made me see that more needs to be done here," Mr Rider said. "I'd like to try to implement a Thai and English speaking helpline where kids can call for support and the community can call for professional advice."
Though Mr Rider has yet to make it around Phuket, he already has a number of other projects lined up, including a 550km paddle along the length of the United Arab Emirates in February and a paddle in the Arctic in May.
"From now until then, there are suggestions. But I'm really letting my drive for PACA guide me to where I can make the most noise on the issue," Mr Rider said.
Mr Rider's long-term goal is to establish an international network of beachfront houses for children who are suffering from abuse.
"Places that can really help and turn broken kids' lives around by providing a fit, healthy environment. Places that I can use to unite happy families and strengthen bonds."
— Isaac Stone Simonelli
Keep in contact with The Thaiger by following our
Facebook page
.
Never miss out on future posts by
following The Thaiger
.
Phuket tops travel destination list of cheapest hotel prices – Dertour 2020 Price Index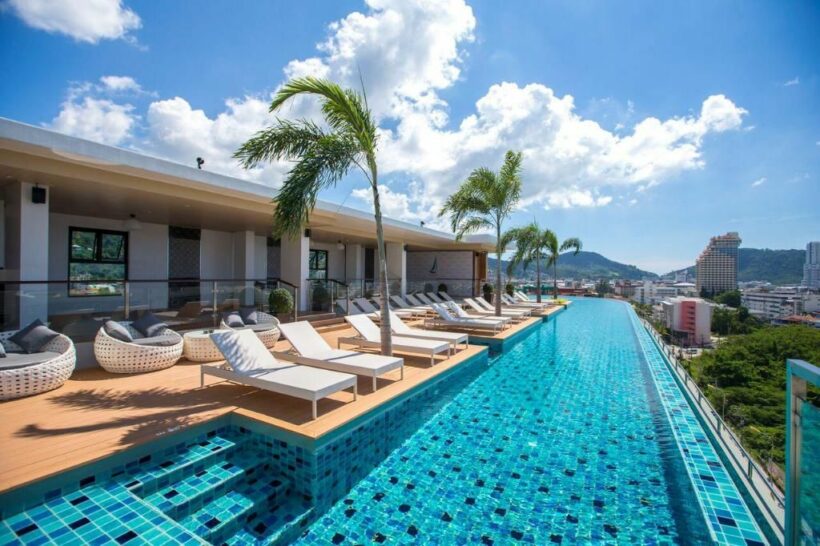 Phuket tops a list of the cheapest travel destinations with a 1 night stay at a hotel costing on average less than $30 USD, according to a study by the German travel company Dertour. Phuket is going through what some say is a "crisis", certainly a current tourist vacuum. The island province largely relies on income from foreign tourists, but with travel bans over the last 7 months, hotels and other businesses in the tourism industry have been at a loss.
For domestic tourists, Phuket currently offers a serene, peaceful tropical stay where you'll have a lot of the island to yourself. There are plenty of daily flights to the island, but all from domestic locations at this stage – the international terminal remains closed.
Along with being listed as hotels with the lowest price, Phuket also made the top 5 cities with the largest price drop from 2019 to 2020, according to Dertour's 2020 Accommodation Price Index. The company studied hotel prices for 75 popular tourist destinations around the world. Bangkok was just above Phuket at the fourth city with the largest hotel price drop. Bangkok hotel prices dropped by 34.6% while Phuket's hotel prices dropped by 33.8%.
Prices will continue to be low, CEO DER Touristik Central Europe Ingo Burmester says…
"Travel itself will be cheap in 2021… Although it has been a challenging period, we have seen a great deal of interest in domestic travel. We also predict a major catch-up effect for Mediterranean destinations, European trips and long-haul routes in 2021 as soon as travel restrictions are lifted."
Phuket ranks as the destination with the cheapest accommodation prices at an average price of $29 USD, according to the list. Average prices for 3-star hotels are $26 USD and an average of $54 USD for 5-star hotels.
Bangkok followed, ranking fifth on the list of cities with the lowest hotel price at an average of $43 USD per night. 3-star hotels in Bangkok average at $30 per night and 5-star hotels average at $93 USD.
Top 5 destinations with the lowest price in accommodation
Phuket: Average of $29 USD per night
Delhi: Average of $34 USD per night
Kuala Lumpur: Average of $36 USD per night
Bali: Average of $36 USD per night
Bangkok: Average of $43 USD per night
Top 5 destinations with the largest price drop in accommodation
Amsterdam: Dropped by 51.6%
San Francisco: Dropped by 39.2%
Vancouver: Dropped by 37.1%
Bangkok: Dropped by 34.6%
Phuket: Dropped by 33.8%
To read Dertour's full report, click HERE.
Catch up with the latest daily "Thailand News Today" here on The Thaiger.
Keep in contact with The Thaiger by following our
Facebook page
.
Never miss out on future posts by
following The Thaiger
.
Man arrested after allegedly slicing a man's face with sickle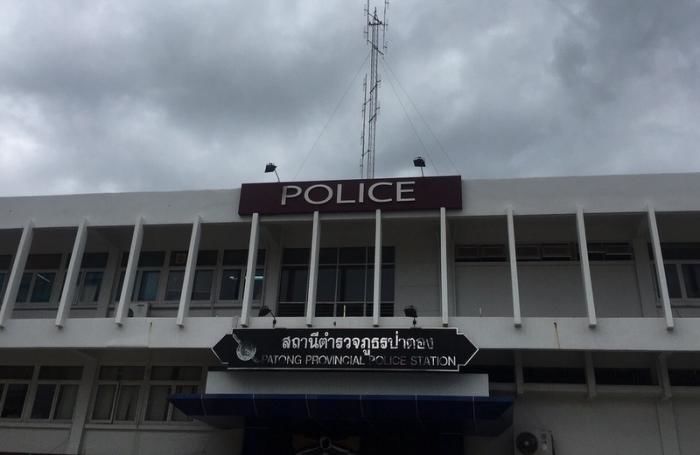 A man was arrested on charges of grievous bodily harm after he allegedly sliced his friend's face with a sickle, causing a gash about 25 centimetres long.
3 men, identified as Saeng, Ta and Rop, had been drinking at a shanty in Phuket's Rassada district where Rop lived. An argument broke out over money. A bank transfer was apparently made, but no one received any money, according to Rop as he related the story to police.
The men didn't come to an agreement and ended up going to bed. Ta stayed awake and slapped Saeng twice while he was falling asleep, Rop says. Saeng then got up, grabbed the sickle and swung the hooked blade across Ta's cheek, Rop says.
Reports don't go into detail about Ta's condition, but photos of the scene by the Phuket News show a significant amount of blood on the concrete floor.
SOURCE: Phuket News
Catch up with the latest daily "Thailand News Today" here on The Thaiger.
Keep in contact with The Thaiger by following our
Facebook page
.
Never miss out on future posts by
following The Thaiger
.
PM to visit Phuket on Monday as island's economy lies in tatters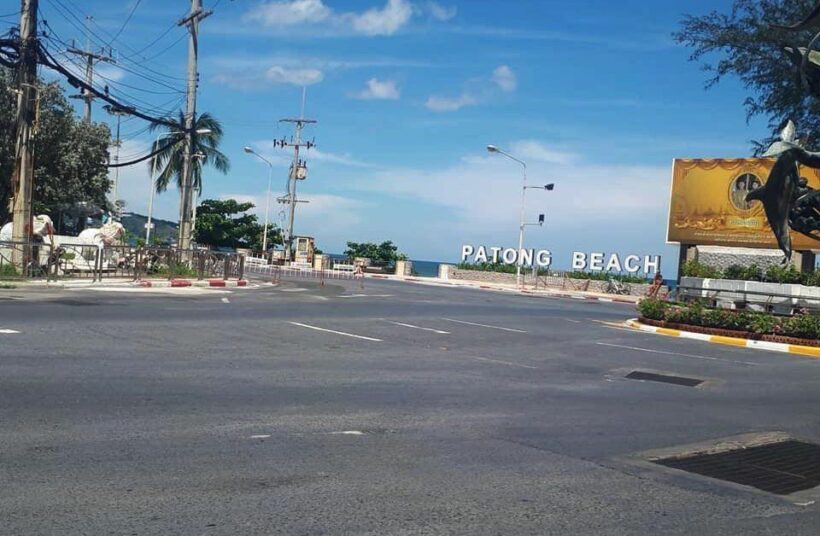 PM Prayut Chan-o-cha is to arrive in Phuket on Monday, where he will meet with local business leaders and discuss proposals for reviving the southern island's devastated tourism sector. It's understood a representative of Phuket's Old Town area is to put forward an idea for promoting the historic centre as a tourist destination.
Since borders were closed in late March, in an effort to protect the country from the Covid-19 pandemic, Phuket's tourist revenue has plummeted to practically zero, with countless businesses shuttered and thousands of jobs lost.
In addition to hearing suggestions from local operators on how to revive tourism on the island, the PM will also listen to requests for additional help from central government. The much-discussed Phuket Model never materialised, despite being seen at one point as the pilot project on which a wider re-opening of borders would be based.
While hotel occupancy in the province has increased from a pitiful 13.4% in June, September's rates were still woefully low, at just 30%. This is despite a stimulus package introduced by the government in an effort to boost domestic tourism.
SOURCE: Nation Thailand
Keep in contact with The Thaiger by following our
Facebook page
.
Never miss out on future posts by
following The Thaiger
.