Phuket
Victories down to seconds at Phuket King's Cup Regatta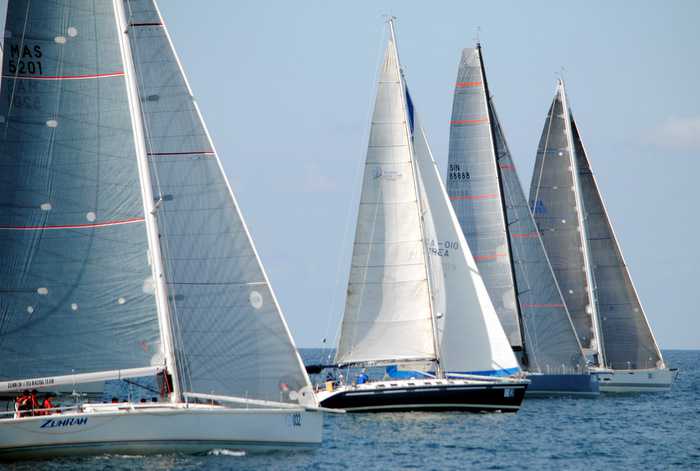 PHUKET: Racing began in earnest in the Phuket King's Cup Regatta yesterday with a fleet of 93 keelboats and catamarans from 16 countries, jostling in close-quarters competition in honor of the birthday of HM King Bhumibol Adulyadej.
Neil Pryde's HiFi team opened their account with a six-second win on corrected times over Team Beau Geste in light winds in Race One in IRC 0 class.
Pryde's two-times Rolex China Sea Race-winning Welbourne 52 performed well to stake an early claim for 2014 King's Cup victory, looking to add to their previous Phuket wins.
HiFi were runners-up in Race Two with rivals Team Beau Geste taking the win, again by a small margin – classic Phuket King's Cup neck-and-neck action.
Hong Kong competitors Team Beau Geste maintained their powerful display to beat their rivals and compatriots HiFi once again in Race Three – just half a minute the difference.
In Race One of IRC 1, Paul Winkelmann skippered Hong Kong-registered Island Fling to the win, ahead of four other rivals including Kevin Whitcraft's Wan Ma Rang, which placed third.
Whitcraft's crew struggled in the second race, although the spread of the field time-wise was very tight; Race Two went to regatta veterans EFG Mandrake on their new boat, with Winkelmann's Island Fling coming back again to win Race Three easily – although just four seconds split second and third places.
The IRC 2 fleet yielded to Hannes Waimer's TBG Team Premier in Race One, with Foxy Lady managing a hard-fought third place.
Bill Bremner's 2013 Regatta-winning Foxy Lady will have their work cut out to be champions this year with many possible winners competing in this division. They came back strong in Race Two to win ahead of TBG – this is shaping up to be another too-close-to-call class, with the two boats swapping the lead throughout Race Three, with TBG eventually victorious.
The wealth of the competing pack finished within a few minutes of each other.
In IRC3, the Royal Thai Navy could do no better than mid-division finishes (5th and 6th of nine runners), leaving Australians Foreign Affair to claim Race One victory.
Peter Dyer's Madame Butterfly took the win in Race Two and Race Three, with Royal Thai Navy 1 skippered by CPO.1 Wiwat Poonpat coming home as runner-up.
Both Navy teams will look to escalate quickly as they attempt to dominate the class throughout the rest of the week.
In Premier class, Ithinai Yingsiri on Pine-Pacific looked to consolidate on last year's great regatta performance with a win in both races. This is definitely the team to beat in this nine-boat class.
Bareboat Charters were split into two classes this year (A and B) to add to the close and competitive racing.
Anatoly Kuzmenko skippering Isabella and Sergey Musikhin skippering Sarawadee won yesterday, demonstrating ever-increasing Russian dominance in the sport. Open Charter hosted a single run today also, won by the Venture team from Australia.
Firefly 850 Sports, a high performance multihull class, looks to be a class dominated by British entrants this year. John Newnham skippered the familiar Twin Sharks to win Race One and Race Two, with the final round of the day going to Neil Ayre and his Advance Racing team, also from the UK.
Of the Multihull Racing entrants, Asia Catamarans Hurricane, another veteran King's Cup racing team, won both races today. Alan Carwardine's team remains the benchmark in this group.
In Multihull Cruising, there are just two registered vessels, resulting in a division that sees Russia versus Japan. Konstantin Kalmykov and Starfruit took the first race, with Masami Yamashita and his crew on Minnie looking for more pace tomorrow.
Among the other classes, Thai competitors Sansiri Windstar took the win in Modern Classic, Chris Mitchell skippering Lady Bubbly was fastest of the Cruising yachts, while Rob Devlin skippered SY Ravensong, the quickest of the two Classic boats.
All results are provisional and subject to any protests filed.
For the full results, visit www.kingscup.com
Inaugurated in 1987 to celebrate the 60th birthday of His Majesty the King of Thailand, the event has been held during the first week of December every year since.
Under Royal Patronage, the Phuket King's Cup Regatta is organized by the Phuket King's Cup Regatta Organizing Committee under the auspices of the Royal Varuna Yacht Club, in conjunction with the Yacht Racing Association of Thailand, the Royal Thai Navy and the Province of Phuket.
Sponsors of the 2014 Phuket King's Cup Regatta include Kata Group Resorts Thailand, PTT Global Chemical, Jaguar Land Rover, FINCA de MALPICA by Siam Winery, Singha Corporation, and Haadthip PLC. Media Partners include Phuket Gazette, Phuket Today, Sail-World.com, SEA Yachting, YachtStyle Asia, Prestige, Real Life Magazine, The Guide Phuket, Image Asia, Art & Culture, and Phuket Marine Guide.
This event is proudly sponsored by the Phuket Gazette and PGTV's nationwide 'Phuket Today' show, which broadcasts daily on True Visions channels 85 and 59.