Phuket
Thai Pencak Silat fighters bring home gold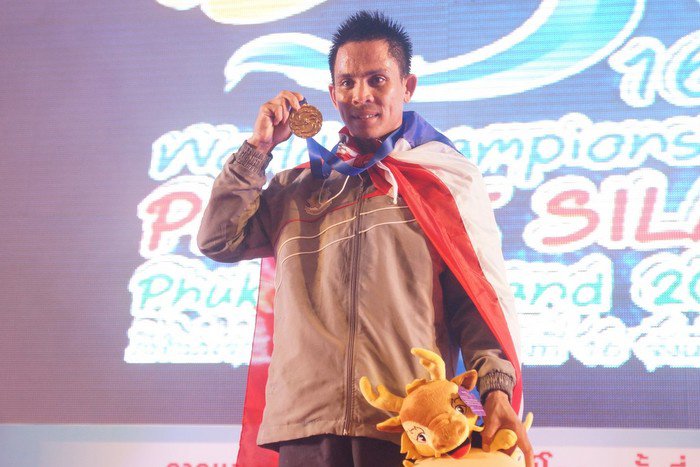 PHUKET: The 16th Pencak Silat World Championships ended yesterday with Thai fighters walking away with four gold, one silver and six bronze medals.
"So many people attended the closing ceremony to cheer on Thailand. There were lots of students and teenagers from Phuket and other provinces – the 4,000-seat stadium was packed," said Chayanee Saiyasuk, presenter and representative of the 16th World Pencak Silat Championship 2015.
"This event was even more successful than we expected – the Thai people were so supportive and proud. In the future, we would be delighted to come back to Phuket."
Six gold medals were up for grabs on the final day of the championship.
In the first fight of the day, Surasak Dekli defeated Tri Juanda Samsul Bahar from Indonesia to win the the third gold medal for the Kingdom in the men's 80-85kg division.
Nantachai Kansakorn won gold for Thailand against Aprin Ardianto from Indonesia in the men's 50-55kg division, the fourth and final gold medal for the Kingdom.
Pham The Hung from Vietnam defeated Eldiansyah from Indonesia to win the gold medal in the men's 85-90kg division.
Sheik Farhan Bin Sheik Alau'ddin from Singapore won gold after he defeated Mach Quoc Hung from Vietnam in the men's 90-95 kg class.
The gold medal in the men's above 85kg division went to Hoang Van Bac from Vietnam. The silver went to Samir Ghanim from Great Britain.
Siti Rahmah Binti Mohamed Nasir from Malaysia was able to fight off Thailand's Suparat Keukaew in the women's 65-70kg division to bring home a gold.
Indonesia took home the most gold medals in the competition – a total of nine – along with seven silver and three bronze medals.
The final medal tallies are as follows:
Indonesia: nine gold, seven silver and three bronze
Vietnam: seven gold, seven silver and five bronze
Thailand: four gold, one silver and six bronze
Malaysia: three gold, four silver and 13 bronze
Singapore: one gold, three silver and seven bronze
The Philippines: one silver and one bronze
Great Britain: one silver
The Netherlands: five bronze
Australia, Brunei Darussalam, France, Kazakhstan and Pakistan each walked away with one bronze medal.
— Chutharat Plerin