Phuket
Surprise opinions at Patong plan public hearing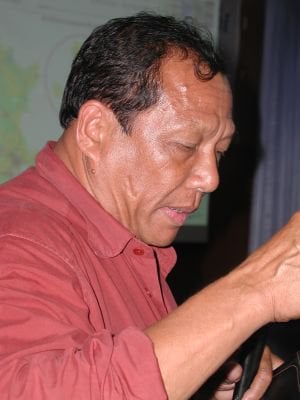 PATONG: A public hearing to discuss a town plan for Patong took place at Patong City Hall yesterday.

The meeting drew about 80 people, an assortment of government officers, academics, local businessmen and residents.

Listening to the feedback were researchers from Consultants of Technology (COT) Co, a Bangkok-based consulting firm, and representatives of the Department of Public Works and Town & Country Planning.

Dr Supornchai Siriwoharn, a member of the COT research team, told the meeting that the new town plan would affect future generations and urged participants to think in the long term – up to 30 years into the future – when making their recommendations.

"Our company will gather all the suggestions and opinions we receive and come up with a draft plan that conforms with the needs of Patong residents. Then we will return and present the draft for public scrutiny to ensure that it is really what people want," Dr Supornchai said.

Speaking as a local businessman, Pian Keesin pointed to a map of Patong and noted that the area along Nanai Rd, now home to over 1,000 apartments and private residences, was still zoned as agricultural land.

K. Pian, whose election as Mayor in June has yet to be approved by the Election Commission, served his last stint as Mayor of Patong from October 1998 to 2001.

He said that public areas have been built upon with no regard for the town's future and urged the planners to enact zoning regulations that would prevent further encroachment on public waterways. He called for an improved network of drainage canals and asked the planners to allow for the development of public parks along their banks in the future.

Speaking of Patong's traffic woes, he said that the plan should also solve Patong's oversupply of tuk-tuks and motorbike taxis.

"First we need to learn their exact number. Then we need to establish suitable places for them. But I am not sure if the Governor, the police and other bodies are really committed to the law enforcement effort that would be needed [to solve the traffic problem]."

"I once suggested to PM Thaksin Shinawatra that the government buy back the land on which the Phuket Cabana and Patong Bayshore hotels are built, to make a parking area. I am a partner in both these hotels, but I don't mind selling the land back at actual cost and demolishing the hotels if it is in the public interest," he said.

Regarding overcrowding along Patong Beach, K. Pian said that only about 10% of the five-kilometer stretch of beachfront property was actually titled, so it should be easy to rectify the problem if government officials were really committed to the effort.

Patong resident Boonchuai Ruanpetch agreed that planning was needed, but added that poor public relations had meant that few residents knew anything about the hearing in advance, and therefore it was a failure.

K. Boonchuai also blamed a lack of political leadership in the past for Patong's chronic woes.

"There were former Patong Chief Administrative Officers who were keen to solve Patong's problems, but there was a powerful politician – and I don't want to name him – who derived his power base from the people who were causing all the problems," he said.

Malinee Setanant, Director of Planning Standards Development Division of the Department of Public Works and Town & Country Planning, assured those in attendance that the plan finally adopted would reflect public needs.

Once finalized, the plans and new regulations associated with them could go into effect immediately a new order is issued by the Ministry of Interior, she said.

She said her department and the consulting firm had already identified the need to prevent flooding in Patong, and that new regulations prohibiting residents from filling in drainage courses would likely be adopted. The town's natural waterways would be returned to the public, she said.

The consultants and government planners held similar poorly-attended public hearings for Kamala and Cherng Talay today, and have scheduled another for Mai Khao tomorrow at 8 am, at the Aerothai Building.