Phuket
Special Report: Is my neighbor a contract killer?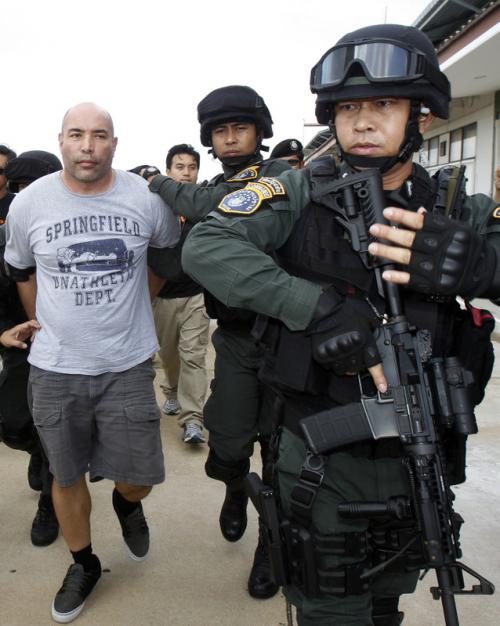 Special Report:
PHUKET: Soldiers and other security personnel arriving on the island to enjoy R&R leave or even to retire in the sun is nothing new to Phuket, but the arrest of ex-US soldier Joseph "Rambo" Hunter this past week (story here) has raised the disconcerting question: Do you know who your neighbors really are?
Hunter lived the quiet life here. He did not venture out often, instead choosing to stay at his rented villa beside the Loch Palm Golf Course with the curtains closed.
Staff at the Garden Villas Baan Suan Loch Palm housing estate said his only request was that the maid clean his villa once a week – not twice a week, as other tenants preferred – and only while he kept a close eye on the cleaner.
Other than that, he was an ideal tenant.
"He always paid the rent – about 70,000 baht per month – on time. He never made loud noise or disturbed his neighbors. He always behaved and stayed quiet," an estate staff member told the Phuket Gazette.
"He rented the villa in April and lived alone most of the time. Sometimes a Filipina visited him. She is about 20 years old and stayed five to six days at a time, then went away for two weeks and came back again. It always happened this way," another estate employee explained.
Hunter was not a member at the neighboring golf club, nor did he use the clubhouse facilities.
The Gazette received no reports of him being involved in any altercations in bars, and despite his long career as a marksman, he was not known at any of the popular shooting ranges, either by the name Hunter or by his known aliases Frank Robinson or Jim Riker.
He simply kept a low profile, perhaps not surprising given the circumstances.
A security guard at the gate to the housing estate even described Hunter as an amiable fellow.
"We never spoke in depth about anything. We only smiled at each other. Sometimes I said 'Sawasdee krab' and he said 'Hi' back, but we never had a conversation," he explained.
"Most of the time he rode out on one of his two big bikes and returned about 30 minutes later carrying 7-Eleven bags," the guard added.
What is known about Hunter's movements in Phuket is that he frequently visited "friends" at another house in the estate.
"Often, during the day, he took a short walk to his friends' house, where about five people are staying. I always saw him walk to their house, but I never saw them visit him," another guard said.
The "friends" were questioned by police, but later released after investigating officers were confident the five had no idea of Hunter's chosen profession as a drug smuggler and leader of an international team of assassins.
"We always check prospective tenants' backgrounds carefully before letting them rent a house," said one of the management team at the estate.
"We ask to see their passport and visa, and check with immigration to make sure they are legal and not wanted for any crimes. Now, we have to be even more careful," he said.
HISTORY OF VIOLENCE
Whether a background check on the likes of Hunter would reveal anything untoward is unlikely.
Like many other expats in Phuket, Hunter was, on paper, no more alarming than any other retired servicemen who have chosen Thailand as their new home.
Hunter joined the US Army in 1983. He led air assault and airborne infantry squads, served as a sniper instructor and trained soldiers in marksmanship and tactics as a senior drill sergeant before he left the service in 2004.
Despite more than two decades as a soldier, however, the highest rank he attained was sergeant first class.
Leaving the soldier's life behind likely brought its own problems. Hunter was arrested late on May 17, 2008 in his hometown of Owensboro, Kentucky, after police were called about a disturbance.
Police say that when they arrived, Hunter began yelling at them.
He was arrested for disorderly conduct.
Hunter was booked in the county detention center on May 18 and posted a US$1,000 bond, reported local news syndicate 14 WFIE.
But the charges he now faces allege that he soon embarked on a long career as a provider of "security personnel" for drug cartels, picking up "bonus work" as a contract killer on the side.
More disturbingly for most Phuket residents, though, was that Hunter revealed to undercover DEA agents that he had arranged for two female real estate agents to be killed.
Where and when those murders took place have not been disclosed by the authorities.
The question whether Hunter and his elite hit squad ever met in Phuket also remains unanswered, though General Preawphan Damapong, the assistant police commissioner in charge of national drug suppression, who led the officers in arresting Hunter, confirmed that five other suspects in the case were being detained in Thailand.
Again, no details have been released regarding those arrests.
COSTA DEL CRIME
The tendency of international criminals to call Phuket home seems to be growing.
Dave Allen, head of the fugitives unit at the UK's Serious Organised Crimes Agency (SOCA), says Thailand is high on the list as a destination of choice among international criminals.
"The attraction for Spain [among British criminals] is still there, as there is a huge expat British population," he told The Guardian earlier this year.
But some are now looking further afield: "The places we're seeing them go now are Thailand, certainly, South Africa, and the United Arab Emirates," Mr Allen said.
Meanwhile, famed ex-con-cum-criminal lawyer Jason Coghlan, who has long served international fugitives living on Spain's Costa del Sol, is now setting up an office in Bangkok.
Mr Coghlan, a former armed robber from Manchester who served time at the British detention facility Strangeways, runs the law firm JaCogLaw in Marbella.
He says that Spain is now off the list as the international fugitives' ultimate getaway.
"If you're a villain on the run in Spain, you're just in a queue waiting to get nicked. What a lot of them don't realize is that the Spanish police can even trace where your emails are coming from.
"Being on the run is no life – and it's no life for the family of someone on the run either. Some of them think that with the passage of time their sentences will be reduced. But the sentences don't go away," he said.
While such advice may encourage more criminals to flee to Asia, the Thai authorities are doing their best to deter undesirables from reaching these shores.
ACT OF JUSTICE
The arrest of Hunter and the five other suspects in Phuket came just one day after the Prevention and Suppression of Transnational Organized Crime Act was enacted in Thailand.
"The act came into effect very recently – on September 24 – and with this act, officers tackling transnational crime cases now have the right to conduct searches without having to wait for a court to issue a search warrant," said Deputy Commissioner General Chongrak Chutanon.
However, law-enforcement officers are still required to present their ID and documentation showing that they have reason to suspect the individual before carrying out the search.
"This new Act will make our work easier and life for international criminals and fugitives more difficult, as they will have less time to flee the long arm of the law," Lt Gen Chongrak said.
— Orawin Narabal

Join the conversation and have your say on Thailand news published on The Thaiger.
Thaiger Talk is our new Thaiger Community where you can join the discussion on everything happening in Thailand right now.
Please note that articles are not posted to the forum instantly and can take up to 20 min before being visible. Click for more information and the Thaiger Talk Guidelines.