Special Report: Understanding Phuket corruption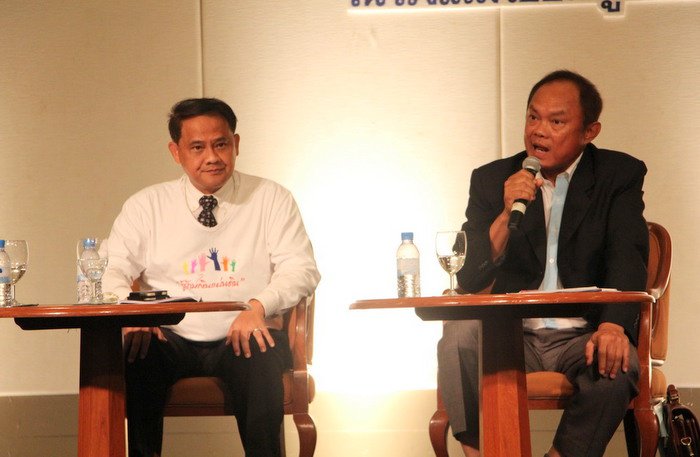 PHUKET: Though the recently deceased Phuket Provincial Administration Organization (PPAO) President Paiboon Upatising will no longer be called to task for alleged corruption in the development of the PPAO Hospital, the case will continue, confirms Preechanun Pumlek, Chief of the Phuket office of the National Anti-Corruption Commission (NACC).
To see the much respected and loved elected official removed from office through Article 44 might have come as a surprise to those new to the island. However, seasoned expats, frequent visitors and local Thais know the island is rife with corruption at all levels. Nonetheless, prior to his death from colon cancer, Mr Paiboon was sure that the charges levied against him by the Auditor General Office (OAG) would be swept away.
Corruption is not unique to Phuket, or even Thailand, which was recently ranked 85 out of 175 countries by global corruption watchdog Transparency International (TI). However, rampant graft in Phuket is driven by several unique qualities of the province that are not seen to such a degree elsewhere in Thailand, explains Surin Bamrungphol, founder and president of the Phuket Anti-Corruption Network.
"Three major factors continue to contribute to corruption on the island: the tradition of illegally fast-tracking projects, which has been around since the tin mining era; the vast amount of money flowing into the island via the tourism industry; and the nationwide standardization of government employee salaries regardless of the cost of living," said Mr Surin.
"Perhaps the largest issue of the three comes down to income. Officers do not make enough money to live in Phuket, as it is significantly more expensive to live here than any other province. Additionally, Phuket often attracts high-ranking officers from outside the province, who the local officers have to host and support with money from their own pockets."
From 2007 to 2012, overall inflation in Thailand was measured at about 16 per cent, but Phuket saw a 5-year inflation rate of 26 per cent. In other words, during that period, the cost of living in Phuket rose at a rate about 60 per cent higher than that for Thailand as a whole. Nonetheless, government officers are paid based on their rank and position, with no adjustments made for location.
To better understand corruption on the island and to highlight which offices are the 'most corrupt', Dr Surin began a three-part, Thai-language corruption survey in 2013. Dr Surin is not yet ready to release the results for 2015, which explore solutions for corruption on the island. However, he did go into details about last year's results.
From May 2013 into 2014, 1,200 surveys were handed out to students, government employees, local business owners and residents of all ages. The team received 611 responses.
"The questionnaires asked participants to rank the top ten most corrupt offices in Phuket. Additionally, it sought information about the type of corruption perceived or witnessed," Dr Surin said. "We asked questions such as, 'When you did official business with this department, did you have to pay money under the table?'"
A number of studies have called into question the validity of survey-based data collection methods. Probably the most widely debated issue, with regard to corruption surveys, is the relative value or reliability of perception-based versus experience-based data, reports Transparency International (TI) in its publication 'Gateway Corruption Assessment Toolbox'.
"While there is far from a consensus on the issue, experience surveys are usually considered more reliable to measure petty corruption, while perception surveys are deemed more appropriate for shedding light on the prevalence of grand corruption (policy capture, nepotism and so on). Furthermore, while there is some good evidence of a strong correlation between corruption experience and perception, this trend is uneven across countries," the publication states.
"There may, in some cases, be increased levels of tolerance toward (and hence more favorable perceptions of) corruption in areas where corruption experience is high, or conversely, heightened awareness of (and hence less favorable perceptions of) corruption in areas where there is a greater focus on tackling corruption by authorities.
"Other factors which may affect the perception of the level of corruption in a country, regardless of actual experience, include economic development, trust in government institutions, press freedom, population size, education, age, employment status, or the business environment."
The business environment in Phuket is exceptionally fertile for corruption, says Dr Surin.
"The island is developing rapidly, with new businesses opening all the time, bringing in fresh money," he says. "Additionally, more and more people are moving to Phuket to take advantage of the economic growth, despite the increased cost of living. These factors make it a prime location for the continued growth of corrupt practices."
The top ten 'most corrupt' offices out of the 25 options presented in the survey in 2014 were the local police; the Land Department in Phuket Town and Thalang; local government bodies, including the Phuket Provincial Organization (PPAO), local administration organizations (OrBorTor) and tessabaans; Thalang District Office; Muang District Office; Kathu District Office; Phuket Immigration Police; Natural Resources and Environment Phuket Office; the Phuket Tourist Police; and Satree Phuket School.
As the survey was in Thai-language only, it was not sent to international tourists or members of the expat community, notes Dr Surin. Nonetheless, Phuket Immigration Police and the Phuket Tourist Police made the top ten list.
A number of corrupt activities were flagged in the survey as regularly occurring in Phuket. They ranged from getting students into well-established schools, to officers making payments to higher-ranking officials in order to secure better positions.
"The list of forms of corruption is extensive. However, expediting services is a commonly cited form of it, as is paying bribes to gain special permission for services, registrations or verifications. There were also allegations of medical equipment purchases being centered around the medical company providing free overseas trips to doctors," said Dr Surin. "However, corruption in the police forces, which made up three of the top ten government bodies in 2014, is by far the worse problem."
In general, commanders are effectively in charge of controlling their officers, explains Dr Surin.
"And ultimately, money buys loyalty," he adds.
Phuket Provincial Police Deputy Commander Peerayuth Karajedee was not surprised when confronted with the results from last year's survey.
"I cannot deny that there is a problem with police corruption throughout Thailand, including Phuket," Col Peerayuth said. "The Royal Thai Police is a big organization and every organization has good and bad people working for it."
However, the results ultimately are not helpful for police attempting to rein in corruption, said Col Peerayuth.
"The results show overall perceptions, but fail to provide the leads necessary for us to take action," Col Peerayuth said. "We need everyone out there to help us ensure government officers are dutifully fulfilling their responsibilities. The police force in Phuket is simply too small given the number of people on the island."
Dr Surin hopes that his anti-corruption network will continue to strengthen, in order to take more direct action and support police officers attempting to curb corruption.
"At a national level, we already have organizations that do this. However, having our own anti-corruption network on Phuket is more effective," he said. "This is the power and responsibility of a civil society. We utilize numerous aspects of Phuket for our own benefit and should not ignore illegal activities here."
Dr Surin says that one of the largest battles in the war on corruption is the battle against apathy.
"Some people think corruption has nothing to do with them because they do not see how they are directly affected," Dr Surin notes. "However, we are all affected by corruption. We pay taxes and our taxes must be spent for the benefit of our society as a whole, not just to be put into the pockets of some individuals."
The alleged misappropriation of government funds is exactly what led to the suspension of Mr Paiboon by the OAG, which recently launched a public campaign about its fight against corruption.
"I would urge everyone to keep an eye on government projects," said OAG Auditor-General Pisit Leelavachiropas. "If you see anything suspicious about the way state money is spent, please inform us through our anonymous hotline."
The OAG can be contacted at 02 271-8000 at all time.
— Chutharat Plerin
Keep in contact with The Thaiger by following our
Facebook page
.
Never miss out on future posts by
following The Thaiger
.
Phuket's annual Vegetarian Festival lowers flags, spirits return to the heavens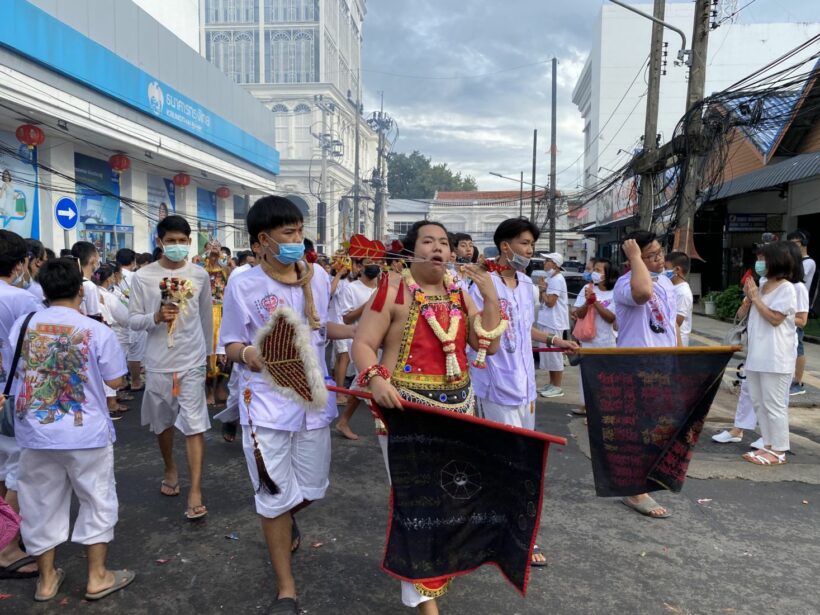 WARNING! Content below contains photos of self-mutilation that some may find disturbing.
The flags on Go Teng poles were lowered on Monday, ending Phuket's annual Vegetarian Festival and symbolising that the spirits have returned the heavens. The flags are raised at the start of the festivities each year at participating shrines, calling on the spirits to descend from the heavens.
This year, 2 men were electrocuted while taking down the festival flags. A steel pole with the flag touched a power pole, electrocuting and burning the workers as they were trying to lower the flags. They were taken to the hospital.
During the festival's street processions and ceremonies so-called "mah songs" channel the descended spirits. They enter a trance-like state and many practice self-mutilation to channel the spirits. "Mah" means horse in Thai, and some say the mah song acts as a horse for the spirit to ride.
Some mah song pierce their cheeks and other parts of their body with steel spikes and sometimes swords or other bizarre choices (we've seen petrol pumps, javelins, samurai swords and kitchen utensils). During the street procession, they walk for hours with the self-inflicted piercings, seemingly posessed by 'spirits' and muttering all sort of strange chants, verging on mild cases of Tourette syndrome. A team of devotees for each mah song wipe away blood and keep the wounds clean. Some mah songs even slice their tongue for the street procession. Blood drips on their chest and the ground. Waiting bystanders line the streets hoping for the blessing of a passing mah song. Some mah songs carry a black flag.
The event is an annual spiritual 'cleansing' for those in watching the processions. Onlookers lining the street bow their heads and place their hands in the "wai" position as the mah song waves flags and banners over their heads. Businesses along the procession route often set up an altar outside their shop and mah songs stop at each one to do a short ritual.
The Phuket government gave the festival organisers the "okay" to hold this years event with hopes that it would increase domestic tourism and generate much-needed revenue after the Thai government's response to the Covid-19 pandemic crippled Phuket's tourist economy. Before this year's festival, Phuket City Mayor Somjai Suwansupana asked that the mah songs "limit the level of torturing." He also called for a limit on the number of people at ceremonies to prevent the spread of the coronavirus.
His calls were largely ignored.
The spirits will again return in 2021 to Phuket again cleanse the island's large Thai-Chinese community.
Photos of the 2020 Vegetarian Festival by Marina Krasnopolska.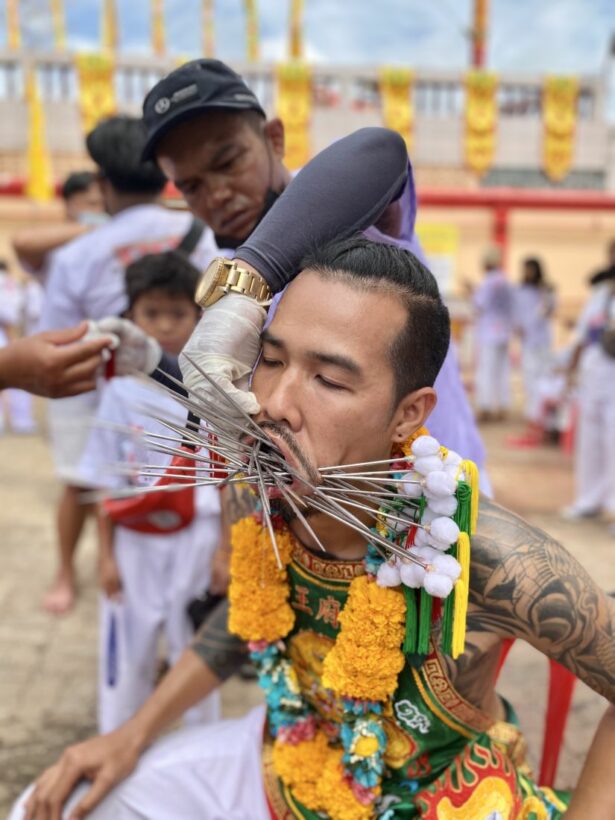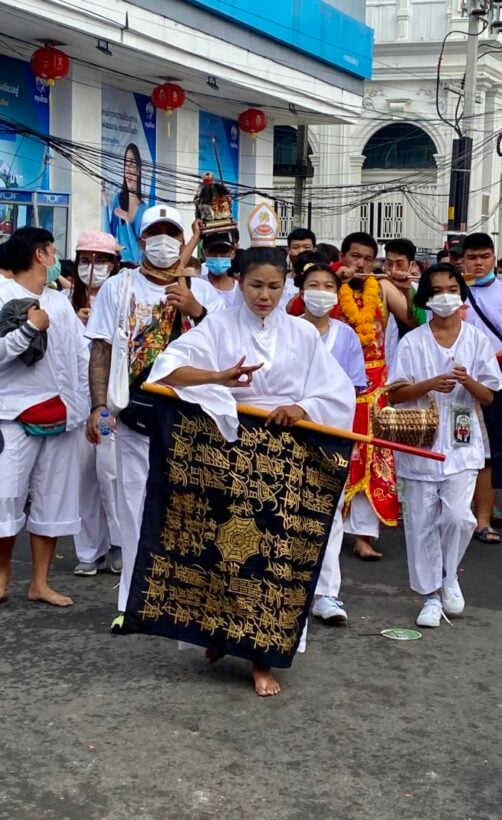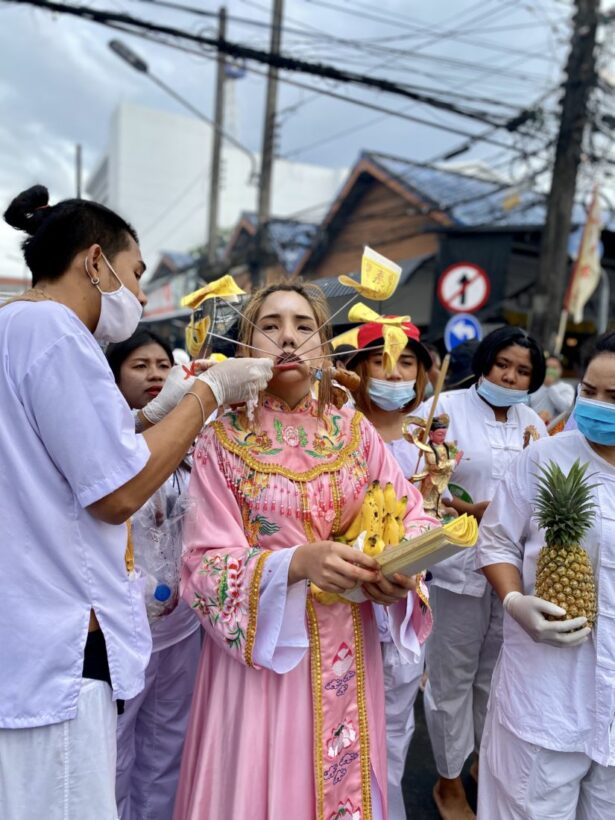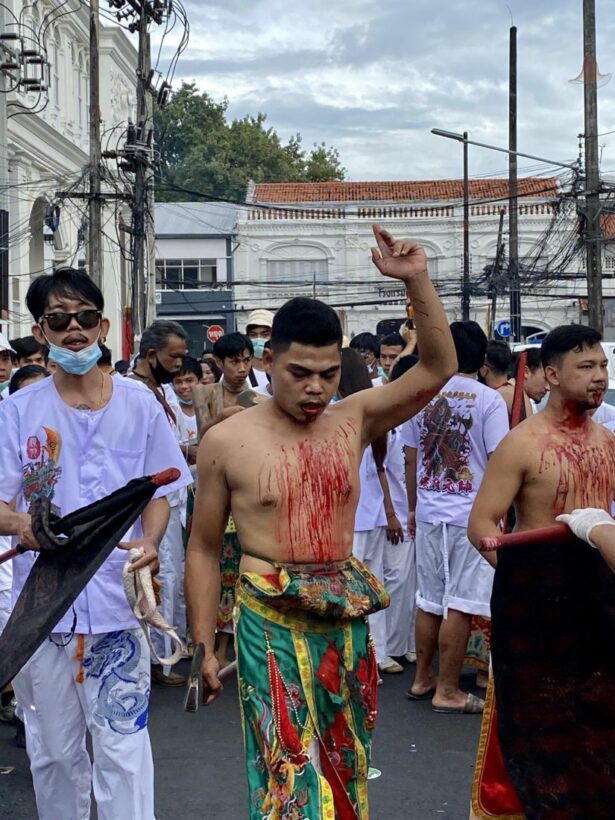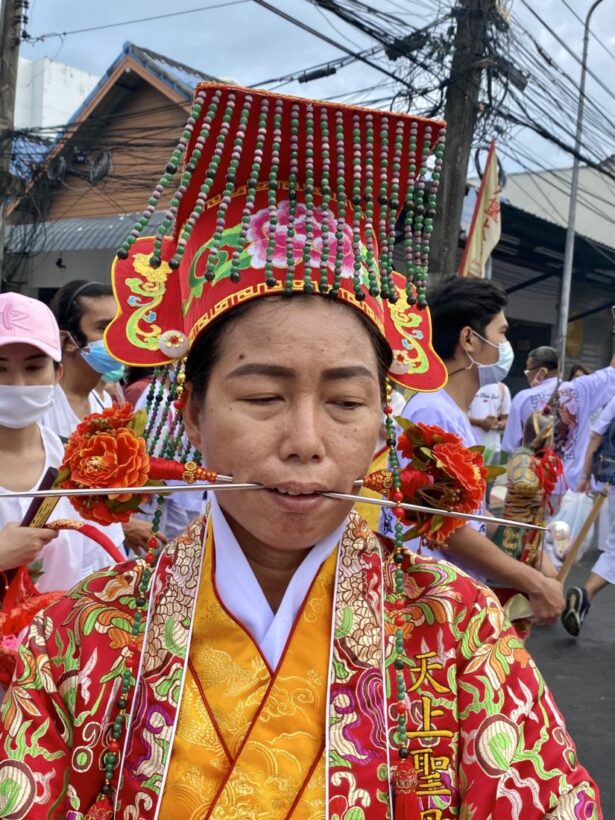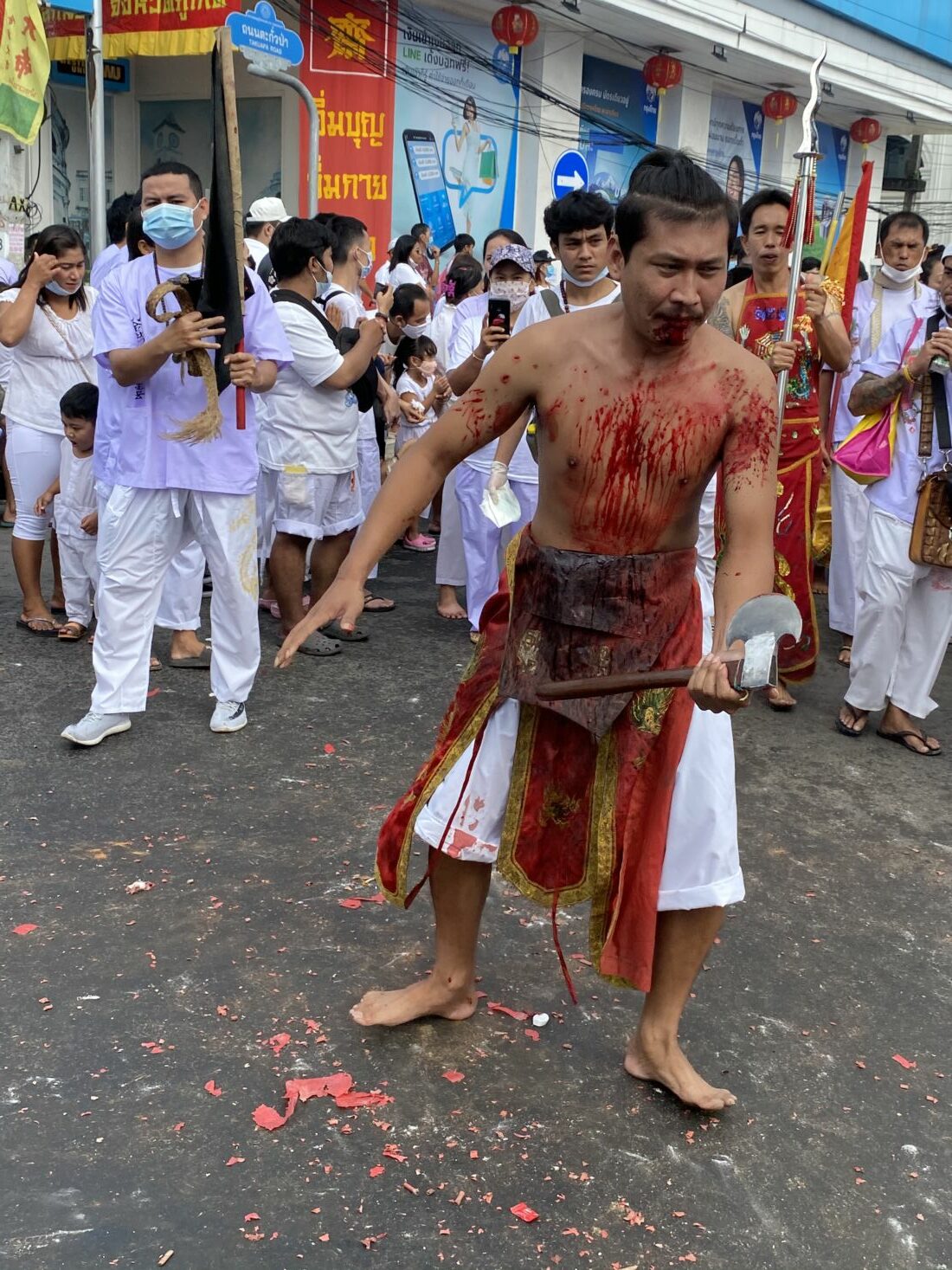 SOURCE: Phuket News
Catch up with the latest daily "Thailand News Today" here on The Thaiger.
Keep in contact with The Thaiger by following our
Facebook page
.
Never miss out on future posts by
following The Thaiger
.
Phuket told to prepare "response plan" in case of second Covid-19 outbreak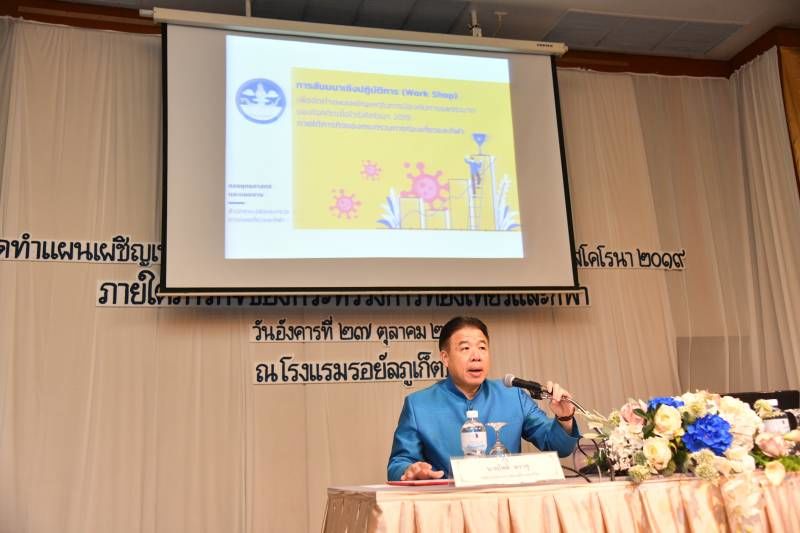 As Phuket awaits foreign tourists, city officials are told to prepare a "response plan" in case of a second wave of Covid-19. An official from the Ministry of Tourism and Sports held a workshop in Phuket today to discuss the risk of another outbreak as the country opens up to those on the Special Tourist Visa.
The ministry's permanent secretary Chote Trachu says now that the country is allowing tourists (who are required to quarantine upon arrival) an infection "may somehow slip through." He says a response plan needs to be in place in case this happens, adding that there should be corporation from the Ministry of Public Health and Ministry of Defense.
"If any tourists are found to be infected, the disease must not be allowed to spread among the people. There should be no panic, and public health officers will investigate the case. Tourist Police will track down the suspected person in an investigation with the Ministry of Public Health."
Chote says all provinces – not just Phuket – should have a response plan. Although tourists must go through a mandatory 14 day quarantine upon arrival, Chote says there are some cases where the incubation period for Covid-19 is longer than 14 days.
"There are a variety of cases. Sometimes, the infection does not show after 14 days, or even 15 or 16 days. Each situation is different."
Recently, a woman in Koh Samui tested positive for the coronavirus 5 days after she was released from a Samut Prakan quarantine facility. Traces of the virus were found on gym equipment the woman used at the quarantine, leading health officials to suspect she was infected before arriving to the island.
"We urge Thai people to not let their guard down. Everyone must wear masks, wash their hands and take care of personal hygiene. This will help prevent them from contracting the disease."
SOURCE: Phuket News
Keep in contact with The Thaiger by following our
Facebook page
.
Never miss out on future posts by
following The Thaiger
.
Approval sought for multi-billion-baht Phuket medical hub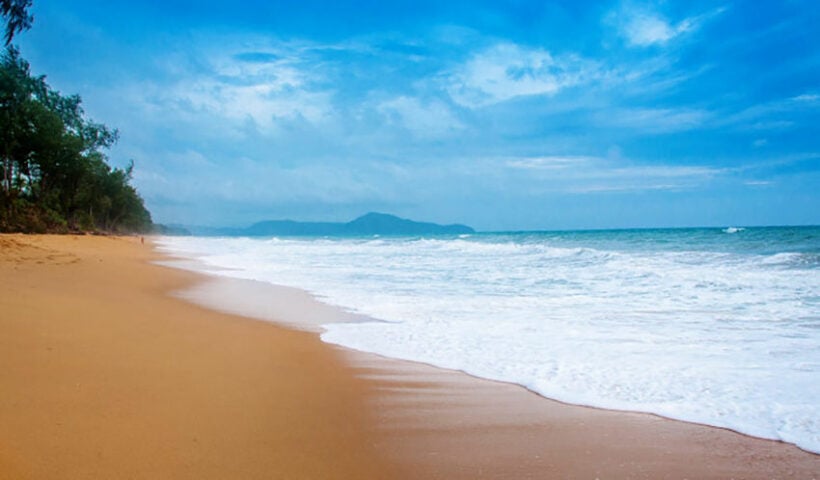 Industry officials are seeking the go-ahead for a project to transform over 140 rai of government land in Phuket into a world-leading medical hub. The project is budgeted at 3 – 4 billion baht, depending on which report you read. Kitkong Tantijaraswarodom, from the Federation of Thai Industries, believes the development of a medical and wellness hub in the sub-district of Mai Khao, north Phuket, will help revive the southern island's battered economy. Phuket has become increasingly reliant on a steady flow of tourists over the past 2 decades.
The southern division of the FTI covers Phuket, Krabi, Phang Nga, Nakhon Si Thammarat, Trang, Patthalung, Surat Thani, Ranong, Satun, Chumphon, and Songkhla.
"The FTI will ask the government to green-light the project during the scheduled mobile cabinet meeting on the island on November 3."
Kitkong says businesspeople in the south are anxious for the government to approve the project, which will provide both locals and foreign medical tourists with state-of-the-art medical care. The facility is expected to include long-term care, hospice and rehabilitation services, in addition to a dental hospital, sports therapy centre, and a medical training school for doctors, nurses, pharmacists and medical laboratory scientists.
The chair of the FTI's southern chapter is also calling on officials to provide small and medium-sized businesses with additional support, in the form of access to loans, in order to deal with cash shortages.
"In the short term, the FTI wants the government to help SMEs, especially those in the tourism sector."
SOURCE: Bangkok Post
Keep in contact with The Thaiger by following our
Facebook page
.
Never miss out on future posts by
following The Thaiger
.