Special Report: Trafficking abuse of Myanmar Rohingya spreads to Malaysia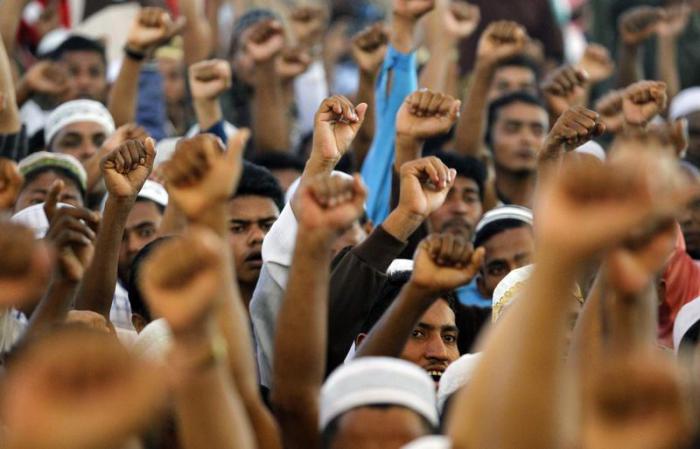 SPECIAL REPORT
PHUKET: Human traffickers have kept hundreds of Rohingya Muslims captive in houses in northern Malaysia, beating them, depriving them of food, and demanding a ransom from their families, according to detailed accounts by the victims.
The accounts given to Reuters suggest that trafficking gangs are shifting their operations into Malaysia as Thai authorities crack down on jungle camps near the border that have become a prison for the Muslim asylum seekers fleeing persecution in Myanmar.
Police in the northern Malaysian states of Penang and Kedah have conducted several raids on the houses in recent months, including an operation in February that discovered four Rohingya men bound together with metal chains in an apartment.
But Reuters' interviews reveal a trafficking network on a far bigger scale than authorities have acknowledged so far, with brokers herding groups of hundreds of Rohingya at night over the border and holding them captive in the Southeast Asian country.
The abuse in Malaysia is the latest oppression against the Rohingya. They are mostly stateless Muslims from western Myanmar, where clashes with majority Buddhists since the middle of 2012 have killed hundreds and forced about 140,000 into squalid camps.
Many of the tens of thousands of Rohingya fleeing Myanmar by boat have fallen into the hands of human traffickers at sea who then hold them hostage in remote Thai camps near the border with Malaysia until relatives pay thousands of dollars to release them, according to a Reuters investigation published on December 5 (story here).
Some were beaten and killed, others held in cages where they suffered malnutrition. The Reuters investigation found Thai authorities were sometimes working with the traffickers in an effort to push the Rohingyas out of Thailand because immigration detention camps were getting overwhelmed with asylum-seekers.
In January, Thai police said they rescued hundreds of Rohingya Muslims from a remote camp in southern Thailand, a raid they said was prompted by the Reuters investigation, and had launched a manhunt for the "kingpins" who routinely smuggle humans through southern Thailand to Malaysia with impunity (story here).
The intensified trafficking of Rohingyas into Muslim-majority Malaysia threatens to undermine its anti-human-trafficking record, which is at imminent risk of being downgraded by the United States to a par with North Korea.
It also highlights the porous state of Malaysia's 500km -long northern border, with thousands of Rohingya entering unhindered at a time when the government has taken a tough public stance against illegal immigration.
For the desperate Rohingya, Malaysia is the promised land, where at least 30,000 already live. The country does not give them full refugee rights, but has allowed them to stay and register with the United Nations. Thousands have picked up work at the bottom rungs of the informal economy.
Now we don't have land
Mohamed Einous, a 19-year-old Rohingya from Buthidaung township, felt relief sweep over him as he scrambled over a border wall in a group of 270 refugees in mid-February, about a month after he left Myanmar. The crossing took place at night using two ladders supplied by his captors.
"I believed I could make money here," Einous told Reuters.
His hope of freedom was short-lived. Handed to a new gang of brokers on the Malaysia side of the border, the Rohingya were packed into vans and driven to a house with blacked-out windows the traffickers said was in the border town of Padang Besar.
Once there, the brokers beat Einous with long wooden sticks and threatened to kill him if he did not secure a payment of $2,000 from his parents in Myanmar. Distraught at Einous' cries over the telephone, his parents sold their family home for $1,600 and borrowed the rest from relatives, Einous said.
"There are no words to express how sorry I feel," Einous told Reuters on February 21, just hours after the brokers dumped him near a market in the town of Bukit Mertajam in Penang, ending his eight-day nightmare in the house.
"Now we don't have land. My parents have nowhere to live."
Einous said the brokers in Thailand had told him he could pay a much smaller amount ("whatever I wanted") to be released once in Malaysia. He said the refugees only received rice once a day in the house and were packed so tightly into two rooms that they couldn't lie down.
Abdul Hamid, a 23-year-old motorbike mechanic from Sittwe, in Myanmar's Rakhine state, recalled similar conditions at the compound where he was imprisoned for a week with more than 200 others in Penang.
About 16 guards kept watch over them in two shifts. The traffickers' boss, a man in his 30s known as "Razak" who wore a suit and steel-rimmed spectacles, regularly kicked, beat and threatened the cowering prisoners, Hamid said.
"They said we don't have money to give you food. You need to get money if you want to be free," Hamid told Reuters in Kuala Lumpur following his release in mid-February.
Malaysia, a labour-short country with an estimated two million undocumented workers that offers higher wages than its neighbours, has long struggled with a reputation as a haven for human trafficking. Like Thailand, Malaysia is at risk of being downgraded in the U.S. State Department's annual Trafficking in Persons report from the Tier Two watchlist to the lowest rank of Tier Three.
The scale of the problem appears to have surged in recent months.
"It is definitely increasing," said Chris Lewa, coordinator of Rohingya advocacy group Arakan Project, who regularly interviews those who make the journey. "In more and more stories I have heard recently they [Rohingya] have been detained in Malaysia."
Several of the 10 witnesses cited the brokers as telling them they had bribed Malaysian immigration officials to turn a blind eye when they crossed the border. Reuters found no direct evidence of corruption by Malaysian officials. Five immigration officials were arrested in 2009 for working with a smuggling syndicate to traffic Rohingya into the country.
"We didn't see any officials on the Malaysia side," said Korimullah, a 17-year-old from Maungdaw township, who spent more than three months in Thai camps and was then held by traffickers in a house in the northern Malaysian city of Alor Star. "The brokers said they had already given money to them."
Officials from Malaysia's immigration department, the prime minister's office, and police in Penang and Kedah states did not respond to requests for comment.
Border chaos
The surge of Rohingya trafficking activity in Malaysia followed a series of raids to harass human smugglers and drive them from illegal camps dotted across remote areas of southern Thailand. In two raids in January, Thai police rescued and detained more than 600 Rohingya and Bangladeshis.
Abdul Hamid and several other witnesses described chaotic scenes on the Thai side of the border in recent weeks as their captors moved them from camp to camp and hurried them over the border before they had time to secure payments from their relatives.
"The guards said the police would come and drop a bomb on the camp and that we had to move into Malaysia," Hamid said.
Increasingly overcrowded and deadly conditions in the makeshift jungle camps in Thailand could be another reason for the shift of operations into Malaysia.
— Reuters
Keep in contact with The Thaiger by following our
Facebook page
.
Police return four cars to victims of rental scam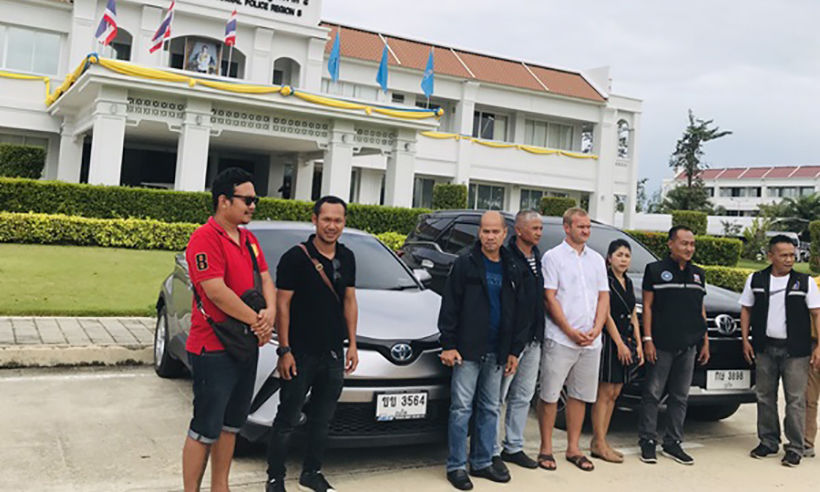 PHOTO: Phuket Hot News
Region 8 police have returned four cars to the victims following a car rental scam in Krabi and Phuket areas over recent months.
Earlier on September 17, 2 car owners from Phuket, Ratchadaporn Udomsuk, the owner of white Toyota Fortuner valued at 1,590,000 baht, and Anan Suwannachom who owns a black Toyota Fotuner worth 1,590,000 baht, reported to police that their cars had gone missing after they rented them out.
Police tried to track down a man named 'Dech' who rented the white Fortuner from Ratchadaporn. He then tried to pawn her car in Krabi. After that, a man named 'Dam' contacted her from Ao Luek, Krabi, claiming that if she still wanted her car back, she would have to pay him.
She agreed to pay him some remuneration at a petrol station in Ao Luek. Police was waiting until he showed up and then arrested the man. The officers found that Dam possessed a .38 mm gun with 5 bullets with him as well. During the arrest, police learned that the black Fortuner was also also located in the Ao Luek area as well.
Police returned the cars to the two owners on the following day as well as a grey Toyota CHR that was returned to Nikitin Evgeny from Russia, and a black Fortuner that belonged to Surotjana Suwanno from Phuket.
Police revealed that the four cars were part of a car rental scam that rents cars from people and then pawns the car in other provinces. There are still at least 20 cars under investigation in the same case.
SOURCE: Phuket Hot News
Keep in contact with The Thaiger by following our
Facebook page
.
Phuket university's safe-sex campaign attracts 390 volunteers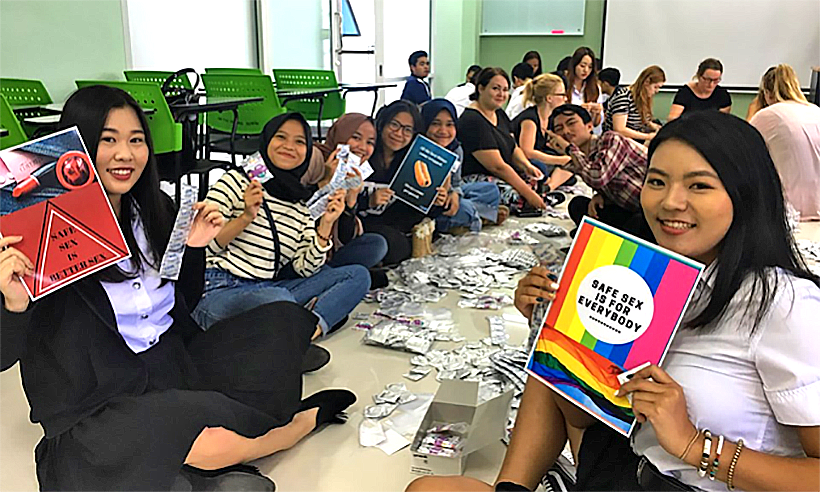 Yesterday, saw the return of Prince of Songkhla University's Safe Sex Campaign. Now in its third year, some 390 PSU students turned up to support the campaign by making safe sex packs, which are then distributed free to bars in Patong. The safe sex packs include a condom and lubricant.
It was the biggest turn-out of students since this corporate social responsibility program began 3 years ago. It was supported by students from all over the world, including many students studying the University's intercultural communications course. 
Carex, the company who very kindly donate the condoms, shipped 60,000 condoms to PSU for the big day yesterday. Students then worked together to put the condoms together with lubricant and information on HIV testing, into packs for distribution. In the past this activity has always been well attended but yesterday saw the highest number of students taking part.
A whopping 40,000 safe sex pack were completed with 2 hours as 6 rooms on the campus were taken over as the students kept turning up to be involved.
The organisers would like to thank the PSU students for helping promote safer sex on the island of Phuket.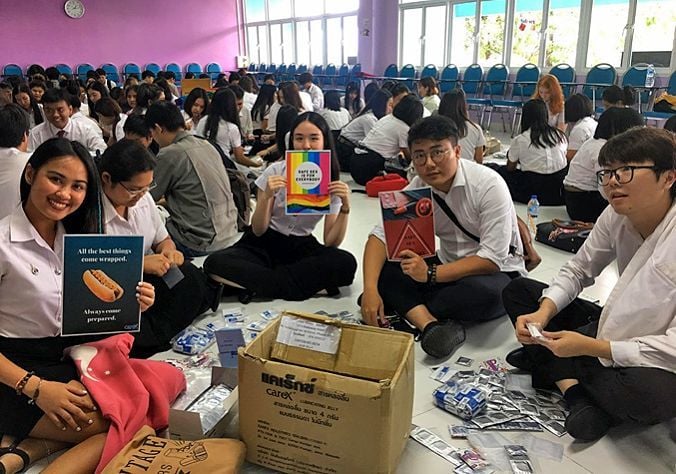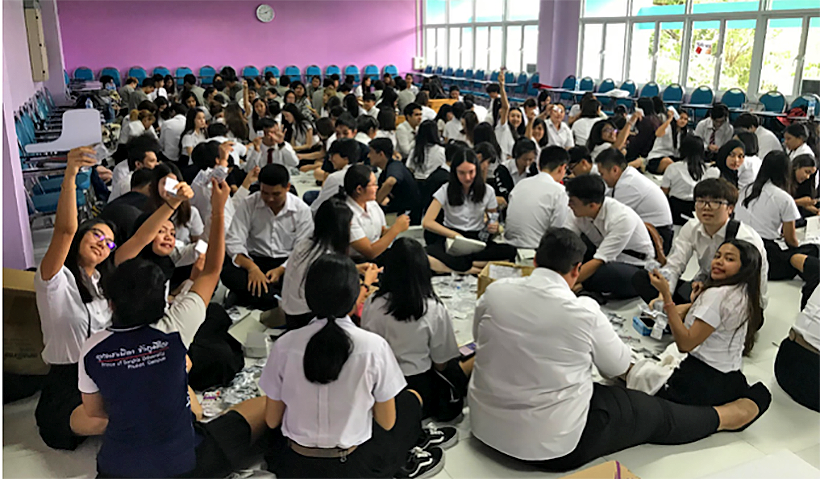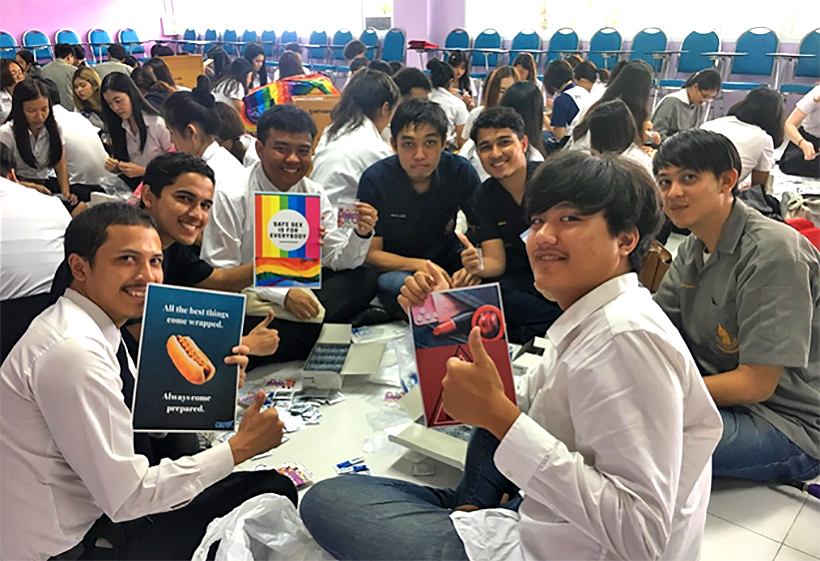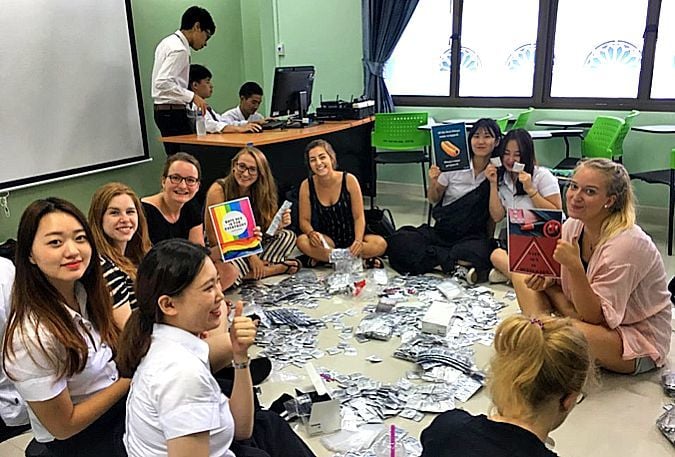 Keep in contact with The Thaiger by following our
Facebook page
.
New branding for the old town – tweaking Phuket's Old Town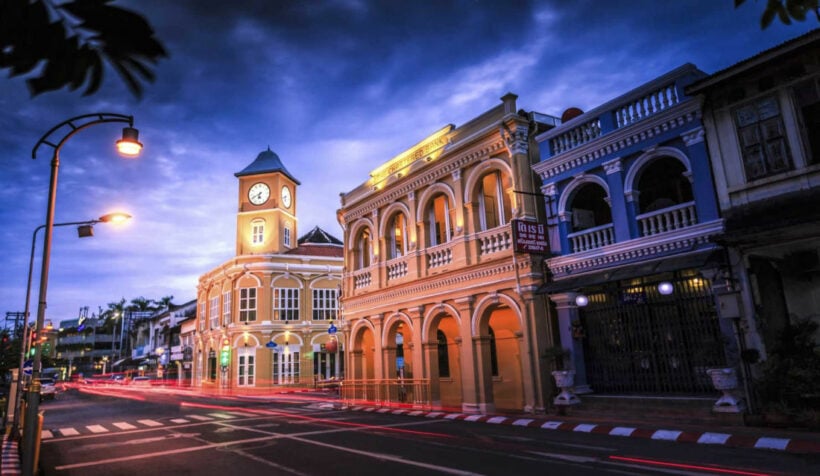 PHOTO: Many renovated buildings and putting the crappy overhead cabling underground  is bringing the old town alive
Though Phuket remains among the world's most popular tourist destinations, injecting some 477 billion baht to the Thai economy, with its "Pearl of the Andaman Sea" branding, its future status is being questioned due to competition from Indonesia and Vietnam.
In response, Phuket is making a move to focus on the city's "Old Town" to attract more tourists, along with an "Endless Discovery" branding campaign to highlight the variety of local tourist options.
Don Limnantapisit, the president of the Phuket Old Town community, says most tourists have visited just about everywhere in Phuket but often bypass the Old Town.
Though the Old Town area has for 15 years encouraged tourist visits so that it wouldn't disappear from Phuket's map, only in the past two years has it seen much success in attracting tourists – thanks to the power of social media.
As well, CNN recently included Old Town on its list of Asia's 13 most picturesque towns (it's also in The Thaiger's list of Asia's Top 10 Prettiest towns).
Thailand's Fine Arts Department and Phuket are working on a plan to register Old Town as a UNESCO World Heritage Site. The new "Phuket Endless Discovery" branding aims to tease the curiosity of travellers, said the president of the Phuket Tourism Association, Bhummikitti Ruktaengam
Statistics show a significant growth in travellers for meetings, incentive travel, conventions and exhibitions (MICE)  in Phuket. The figure for 2018 showed an increase to 2,216,230, up 168% from 2017, bringing in 19.5 billion baht.
SOURCE: The Nation – Pornpilin Julapan

PHOTO: phuketoldtownhostel.com
Keep in contact with The Thaiger by following our
Facebook page
.