Russian denied entry at Phuket International Airport over "visa' crackdown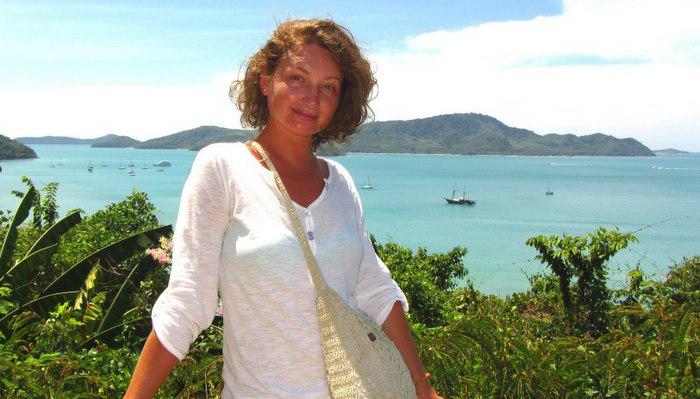 PHUKET: A Russian national was denied entry into Thailand by Phuket International Airport Immigration officers on April 21 and detained until she could be deported the next morning.
Officers denied entry to Mariia Sgibneva, 26, more than a week before the May 3 crackdown on the "three-visa-and-out rule" aimed at stymieing international crime.
"They stopped me at immigration, and ask me why I did so many visa runs. All my documents were okay. I returned from Russia in October," Ms Sgibneva explained to the Phuket Gazette on Wednesday.
Ms Sgibneva planned to return to her rented room in Bang Tao after a friend's wedding in Kuala Lumpur. Instead, she was told that she had to book a ticket out of Thailand.
"We checked Mariia's information, it showed that she had frequently gone to Ranong for visa runs. This is often a sign of someone illegally working in Phuket," Prapansak Prasansuk, chief of Immigration at the airport.
After arriving in Phuket in October, Ms Sgibneva left to get a three-month tourist visa in November. She then completed a visa run in February. Subsequently, she left the country on March 21 for a visa run, then again to visit friends in Kuala Lumpur on March 30 and April 18.
Ms Sgibneva explained to the Gazette that she planned to move from Phuket soon after she returned from the wedding, and decided against getting a three-month visa.
"That's why I didn't go to the Thai embassy," she said.
"The first question they asked was if I had a departing ticket from Thailand – I didn't. But not a big deal, I could buy one. I already knew when I was going to leave. I told them I could show them in 10 minutes, after I charged my phone to buy it."
Ms Sgibneva was instead asked to prove financial stability for her stay in Thailand.
"They asked me to show them 20,000 baht in cash. I thought that by law I didn't have to have the cash, it's a lot of money. I thought I could show my bank account. They told me, 'No it's not possible.' They wanted to see the cash," she said.
After Ms Sgibneva asked to be shown the law, the officers became rude, she said.
"I have more than 20,000 baht in my bank account, but they told me they didn't believe that it was my bank account. Because it was in Russian [when shown on her phone], they couldn't understand," she explained.
Ms Sgibneva offered to change her bank's webpage to English. She also offered to have a friend come to the airport with 20,000 baht cash for her.
"They said, 'No.' They don't believe me, and wanted to send me to Russia," Ms Sgibneva said.
The officers allegedly offered to buy her ticket for her, but Ms Sgibneva still didn't have enough cash to cover a ticket. She refused to return to Russia, instead opting to take the next flight to Malaysia.
Ms Sgibneva explained that she was able to have a friend buy the ticket for her.
"After I showed them the ticket, they sent me to a room for people waiting to be deported from the country," Ms Sgibneva said.
However, Col Prapansak told the Gazette on Tuesday that his officers coordinated with the airline to take her back to Malaysia.
"We did not hold her, as she was waiting in an area prepared by the airline," Col Prapansak said.
Ms Sgibneva reiterated to the Gazette that at about this time communication between herself and officers broke down, and that she was consistently dealt with rudely.
"They didn't want to speak with me. I asked if it was possible to get my documents and medicine [not critical] from my room, because I really needed them. I had more than six hours to bring my stuff from my house, but they didn't even want to talk to me and explain to me what had happened," Ms Sgibneva said.
"Everybody is a human, maybe they hate me because I'm Russian, but it's not a big question to answer: Can I bring my documents and medicine?"
By the time an AirAsia staffer arrived and informed Ms Sgibneva that she would be able to bring luggage aboard, assuming a friend brought it to the airport, it was too late.
"I think for some people who want to do a visa run, the biggest problem is that they can deport you without any reason. I can understand that there are many Russian tourists who cause problems with Thai police… but if you really want to find the people who work, find them at their workplace," she said.
Col Prapansak told the Gazette that he was sure his officers had clearly explained to Ms Sgibneva why she had been denied entry.
Nonetheless, Ms Sgibneva said it was unclear to her until she reached Kuala Lumpur. Once in Malaysia she was told the official reason was "not clear reason to visit Phuket".
Ms Sgibneva's clothing was donated by friends to a local temple, as she continues to search for a reasonably priced way to get several small belongings and her documents to Malaysia.
"I was lucky that I have friends. Some people don't have these kinds of possibilities. I don't want to see someone else in this kind of story – Russian or non-Russian," she said.
Additional reporting by Woranut Pechdee
— Isaac Stone Simonelli
📱 Download our app on Android or iOS for instant updates on your mobile
📧 Subscribe to our daily email newsletter
👍 Like/Follow us on Facebook
🔔 Subscribe to or Join our YouTube channel for daily video updates
Phuket requires Covid-19 vaccination or 72-hour test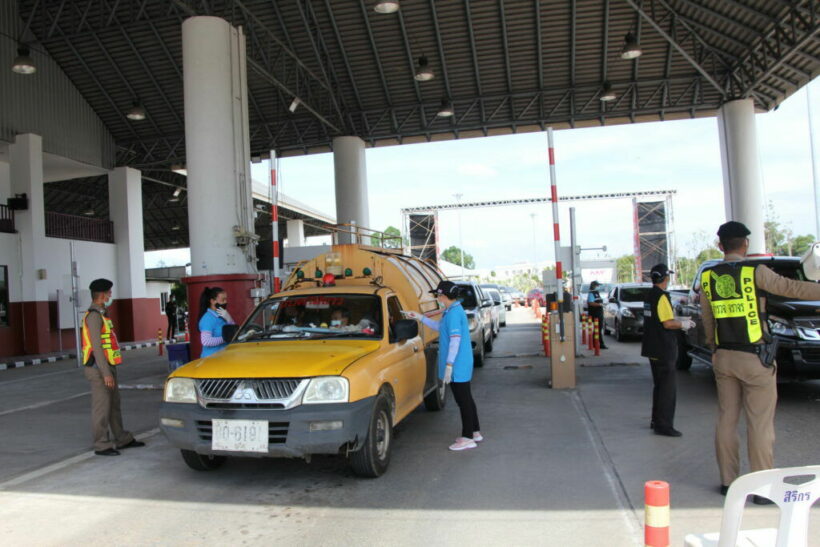 To help wrangle the spread of the Covid-19 outbreak in Phuket, strict controls for everyone entering the island go into effect today until the end of April. The provincial communicable disease committee approved the measures in an effort to stop the proliferation of Covid-19 in the province. The new regulations state that only people who have received both doses of the Covid-19 vaccine or have tested to be Coronavirus-free within 3 days of arrival, will be allowed to enter Phuket. Proper certification or documentation must be presented to verify this information – either a Covid-19 vaccination certificate or the results of a recent negative Covid-19 test.
Anyone attempting to enter Phuket without two jabs of the vaccine or a negative Covid-19 test within the last 72 hours will be charged 300 baht for a rapid antigen test at their port of entry. These tests generate results in about 15 minutes and then negative-tested visitors will be allowed to proceed. If a person receives the test and is diagnosed positive for Covid-19 they will be sent to medical facilities immediately for treatment.
All entrants to Phuket are also required to use the Mor Chana Covid-19 contact tracing app to check in and record their travel timelines. That mobile app is available at gophuget.com.
The new restrictions apply to local and foreign travellers except for people making deliveries that are not staying overnight. Those people will get a special certification from their companies to present at the checkpoint entrance to the island.
Phuket is now classified as a Red Zone province, one of 19 provinces throughout Thailand where infections are on the rise. 208 current Covid-19 infections were registered at the start of this week in Phuket.
In response to the increasing Covid-19 infections in Phuket, Surat Thani has made special restrictions for anyone travelling from Phuket to Surat Thani. Those people will be required to scan and register their trip through the "Save Surat" website before being quarantined for 14 days.
SOURCE: Thai PBS World
📱 Download our app on Android or iOS for instant updates on your mobile
📧 Subscribe to our daily email newsletter
👍 Like/Follow us on Facebook
🔔 Subscribe to or Join our YouTube channel for daily video updates
Those flying into Phuket face Covid tests from tomorrow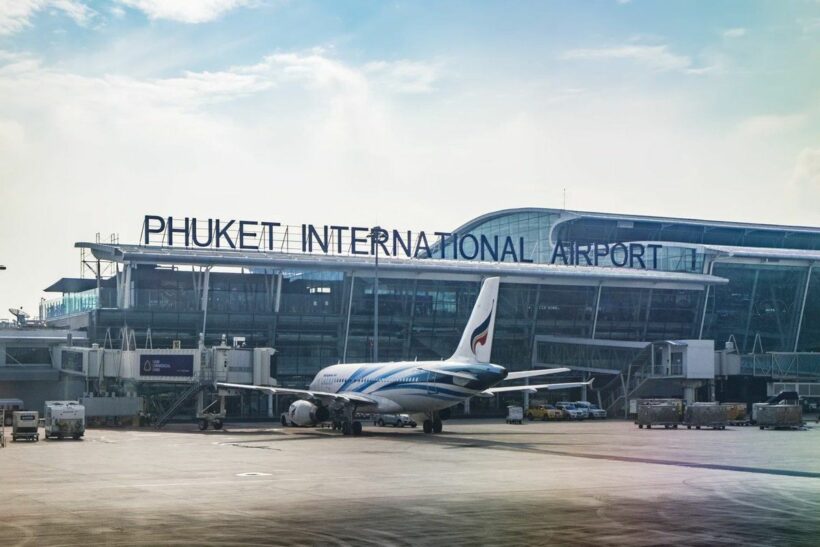 Starting tomorrow, those who fly into Phuket International Airport will face a Covid-19 "Antigen Rapid Test" unless they have proof of being fully vaccinated or a previously negative Covid test within 72 hours of arriving. The Phuket Communicable Disease Committee announced the new rule last night, and will go through April 30. The measure also includes those coming from red zones. The test is 300 baht with travellers being required to foot the bill. Results are expected to take 15 minutes.
For those entering the province by road, only those from red zone provinces will be required to be tested. All arrivals must install the MorChana app, register their travel details through the www.gophuget.com web portal, and have their arrival and travel details reported to the Emergency Operations Center for the area where the traveller is staying. Those who are only transporting goods and don't stay in Phuket overnight are exempt from the new rules. But, they must show a permission document.
The government is asking people to limit their travel, particularly to red zone provinces. Here's a list of the red zone provinces.
1. Bangkok
2. Chiang Mai
3. Chon Buri
4. Samut Prakan
5. Prachuap Khiri Kan
6. Samut Sakhon
7. Pathum Thani
8. Nakhon Pathom
9. Phuket
10. Nakhon Ratchasima
11. Nonthaburi
12. Songkhla
13. Tak
14. Udon Thani
15. Suphanburi
16. Sa Kaeo
17. Rayong
18. Khon Kaen
You can expect other provinces to introduce similar restrictions over the next few days. We'll keep you up to date on thethaiger.com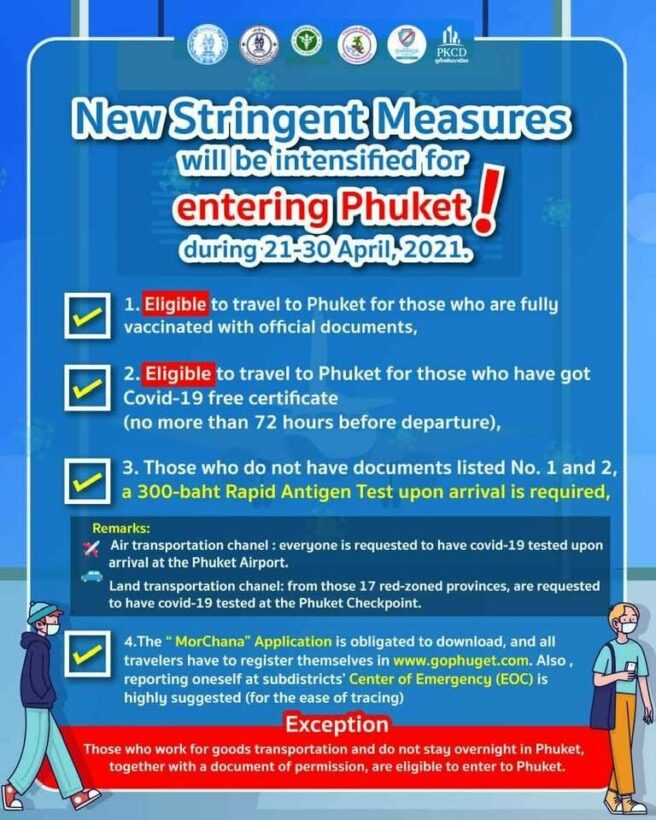 Meanwhile, Phuket is receiving almost 100,000 Covid-19 Sinovac doses to administer second vaccine rounds to those who received their first jabs earlier this month. Thailand today, has recorded 1,443 new daily Covid-19 infections. 4 more deaths have also been recorded. 55 people are now on ventilators under state care. The government claims there are 1,000 ventilators available. 666,210 people in Thailand have now received at least 1 dose of a Covid vaccine. Only 2 of today's reported cases were imported.
SOURCE: The Phuket News
📱 Download our app on Android or iOS for instant updates on your mobile
📧 Subscribe to our daily email newsletter
👍 Like/Follow us on Facebook
🔔 Subscribe to or Join our YouTube channel for daily video updates
Almost 100,000 Sinovac doses delivered to Phuket for second round of jabs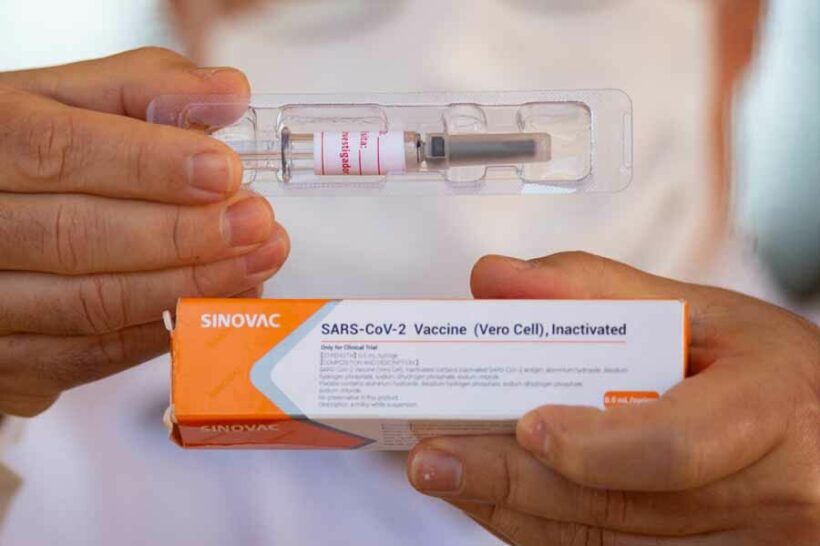 Phuket is receiving almost 100,000 Covid-19 Sinovac doses to administer second vaccine rounds to those who received their first jabs earlier this month. 99,480 doses were delivered yesterday at Vachira Phuket Hospital in Phuket Town. 30,000 doses will be delivered to Thalang Hospital, 20,000 to Patong Hospital and 10,000 to Chalong Hospital. Vachira hospital's director posted last night detailing the vaccines' distribution, noting that Vachira will keep the rest in store.
The vaccine doses will help continue the mass-vaccination campaign which will continue until April 30. About 90,000 people and 9,000 medical and public health personnel are scheduled to receive their 2nd vaccine doses. 480 military, police, and frontline personnel are also on the list.
The Phuket Provincial Health Office has made a goal of inoculating 8,000-9,000 people per day, but many have criticised that number as being unachievable. Chalermpong says SMS services will be used to notify those of vaccine appointments.
"Those who already have had the first injection will receive an SMS for an vaccination appointment on their phones. The SMS will tell you the date and time you have to come to the vaccination stations. For those who are waiting for vaccination in May, we will inform you later."
The Phuket News reports that people who have already had their first injection but who have not received an SMS confirming the second vaccination appointment can check at the "Phuket Must Win" website. Chalermpong says if you cannot find your name, then you can visit the vaccination station and present your certificate to staff after 3pm each day.
Other provincial authorities joined in giving their advice with the PPHO chief reminding that even if you are vaccinated, you could still be infected, but the symptoms won't be very bad. The Vice Governor also chimed in saying if you want the first injection, they are open for registration today. But if you want to be vaccinated in May you must have an appointment as authorities are trying to reduce congestion.
Meanwhile, Phuket's plans to reopen by July to vaccinated tourists may be stalled due to the 3rd wave of Covid and a slower rollout of vaccine administration than previously planned. New restrictions from entering the province have also been announced. Currently, you'll need either a certificate of proof that you've had both doses of an approved Covid-19 vaccine, a Covid-19-free certificate, not older than 72 hours, or you'll have to do a Rapid Covid Test at a cost of 300 baht at the airport.
This situation will apply until at least the end of April. The downside of coming to Phuket at this time will be risking a positive Rapid Covid Test, if you don't have the other paperwork, and ending up in a field hospital.
If you're arriving in Phuket by road, through the Thachatchai road checkpoint at the top of the island, only travellers from the red zone provinces will be affected by the new restrictions. If you're from an orange zone you'll be able to enter without the paperwork, for now anyway.
SOURCE: The Phuket News
📱 Download our app on Android or iOS for instant updates on your mobile
📧 Subscribe to our daily email newsletter
👍 Like/Follow us on Facebook
🔔 Subscribe to or Join our YouTube channel for daily video updates