Riddle in THAI's Phuket policy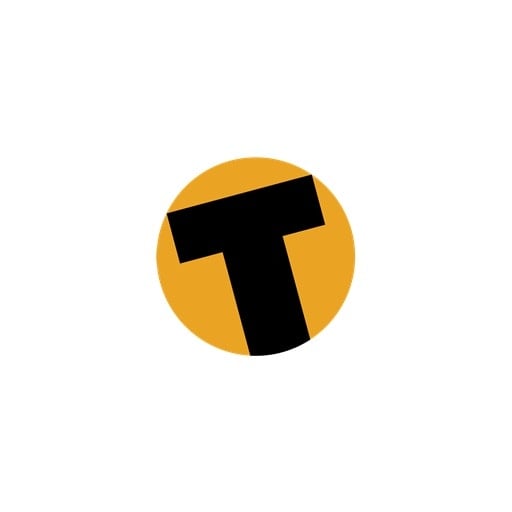 Phuket NEWS Hound
– A daily digest of news from around the world compiled by Gazette editors for Phuket's international community
PHUKET: Cancellations and a shortfall in advance bookings are forcing THAI Airways to revise its route network, capacity and fleet use to curb losses. Phuket continues to be a riddle in the plans.
According to TTR Weekly, adjustments are being made to keep the average cabin factor through the second quarter at around 70, about 2.16% points below the April average.
THAI President Piyasvasti Amranand had said that a contingency plan would be activated on May 4, concentrating on Phuket since it remains the most viable destination in Thailand with continued strong bookings throughout the Bangkok protests.
"Since the decline in bookings to Thailand, we have to concentrate on sales to Bali, Australian cities and Auckland, New Zealand. As the Indonesian national airline is not so strong, we can sell Bangkok as a transit hub to Bali.
"We will [also] have to start more direct flights to Phuket as soon as possible," he said.
However, the perception of Phuket as an antidote to the airline's sagging passenger loads may encounter some stiff headwinds.
On April 1, the national carrier hiked the price of an 'economy' class ticket on the Bangkok-Phuket route by 46%, while the Chiangmai-Phuket run was dealt a whopping 64% rise.
Kiwi expat dies in crash
New Zealand Herald
A New Zealander who survived the 2004 Boxing Day Tsunami died in a freak motorbike accident in Phuket last week.
John Grant Kerr, 53, broke his neck after falling off his bike at Patong Beach.
Kerr died instantly after hitting his head on the footpath about 100m from the 'Anzac Bar', which he had bought in 2005.
Sister Marlene Foley said he was a keen traveller and a "fun-loving and caring person".
His bar was popular with tourists and he was a social person with a lot of friends.
Bangkok Air turns to locals
Bangkok Post
Bangkok Airways is joining forces with local hoteliers and tourism bodies in discount campaigns to attract local tourists to Thai beach resorts, particularly Phuket, Samui and Trat, to offset a plunge in foreign visitors.
International arrivals have plummeted after many countries advised their citizens against visiting Thailand due to its political turmoil.
Bangkok Airways' passenger numbers were down by 30% last month, and by 50% so far this month, said vice-president Nandhika Varavarn.
Because of its heavy reliance on international tourists, who constitute 80% of its passengers, Bangkok Airways is now trying to reduce this dependence to 70%, while raising the percentage of Thai and expatriate residents to 30%.
M.L. Nandhika says that, "Basically, anyone who buys a Bangkok Air ticket [to those three destinations] will get a hotel room, transfer service and even breakfast for free."
The campaigns will run to mid-July, helping the airline, as well as hospitality and tourism companies, to stay afloat during the low season.
Phuket unfazed by tsunami warning

NBT Phuket
A tsunami watch followed a 7.4 magnitude earthquake which struck off northern Sumatra in Indonesia at around 1pm Thai time on Sunday afternoon.
In Phuket, sea gypsies on Ko Sireh, east of Phuket Town, evacuated to safe shelters at a local school. They said they felt the earthquake. Some, however, kept up their routines while waiting for official warnings and kept their eyes on the level of the sea.
Meanwhile, residents and tourists in Patong carried on as normal, some sunbathing and walking on the beach.
After no tsunami waves had been detected, the NDWC sent out SMS messages to revoke the watch, at 14:11, Phuket time.
Koreans love Phuket

National News Bureau of Thailand
A group of 38 delegates from Thailand, including tourism entrepreneurs, hoteliers, and golf and spa operators from Phuket, along with members of the Phuket Tourist Association (PTA), went to Seoul and Busan late last month to attract Koreans to Phuket.
During the demonstrations in Bangkok over the past two months, 90% of the bookings for hotels in Bangkok and Pattaya were reported to have been canceled, while the cancellations for Phuket were said to have stood at only about 5%.
Thailand is the third favorite destination for Koreans, following Japan and China. Golfing and honeymoon trips to Phuket and Koh Samui are particularly popular.
There are about 20 direct flights between Seoul and Phuket each week.
Phuket Tourist Association President Somboon Jirayus voiced his confidence that the Korean market for Phuket will expand at 10-15%, especially if THAI Airways launches its direct flights between Seoul and Phuket.
Bargains in Phuket

PR-Urgent
Phuket will play host to an "Amazing Thailand Grand Sale" again this summer, June 15 through August 15.
The event is nationwide and sees price cuts ranging from 5 to 80 per cent. The discounts apply to products such as clothing, jewelery and food, as well as travel packages, rounds of golf at various Phuket courses, and a number of other products and services.
The list includes both homegrown, handmade products and items imported from around the world.
The Amazing Thailand Grand Sale will also bring with it a number of special events exclusive to Phuket, details of which will be released closer to the time.
Thai censorship under scrutiny
The Jakarta Post
Thailand's declaration of a state of emergency has served to further aggravate its negative image regarding freedom of the press.
Immediately, it ordered 36 politically oriented websites blocked, along with key red shirt radio stations and their satellite TV connection.
Accusations of bias were raised as none belonging to the Yellow Shirts are known to have been targeted.
Reporters Without Borders says that over the past few years more than 50,000 websites have been blocked.
"Thailand is getting increasingly like China when it comes to Internet censorship," said Poomjit Sirawongprasert, president of the Thai [Website] Hosting Service Providers Club.
Consequently, Thailand's standing in the Press Freedom Index of Reporters Without Borders plunged to 130 last year, from 65 in 2002.
— Gazette Editors
Keep in contact with The Thaiger by following our
Facebook page
.
Never miss out on future posts by
following The Thaiger
.
Phuket's annual Vegetarian Festival lowers flags, spirits return to the heavens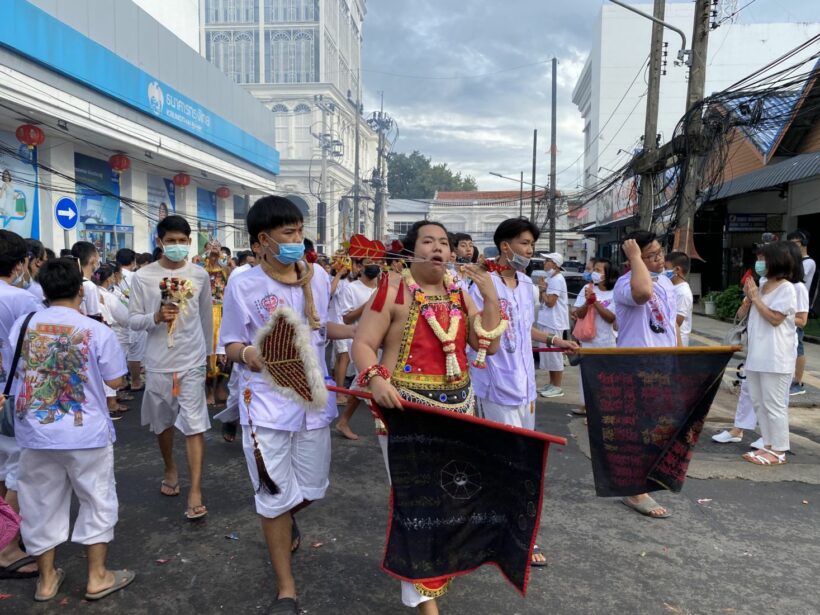 WARNING! Content below contains photos of self-mutilation that some may find disturbing.
The flags on Go Teng poles were lowered on Monday, ending Phuket's annual Vegetarian Festival and symbolising that the spirits have returned the heavens. The flags are raised at the start of the festivities each year at participating shrines, calling on the spirits to descend from the heavens.
This year, 2 men were electrocuted while taking down the festival flags. A steel pole with the flag touched a power pole, electrocuting and burning the workers as they were trying to lower the flags. They were taken to the hospital.
During the festival's street processions and ceremonies so-called "mah songs" channel the descended spirits. They enter a trance-like state and many practice self-mutilation to channel the spirits. "Mah" means horse in Thai, and some say the mah song acts as a horse for the spirit to ride.
Some mah song pierce their cheeks and other parts of their body with steel spikes and sometimes swords or other bizarre choices (we've seen petrol pumps, javelins, samurai swords and kitchen utensils). During the street procession, they walk for hours with the self-inflicted piercings, seemingly posessed by 'spirits' and muttering all sort of strange chants, verging on mild cases of Tourette syndrome. A team of devotees for each mah song wipe away blood and keep the wounds clean. Some mah songs even slice their tongue for the street procession. Blood drips on their chest and the ground. Waiting bystanders line the streets hoping for the blessing of a passing mah song. Some mah songs carry a black flag.
The event is an annual spiritual 'cleansing' for those in watching the processions. Onlookers lining the street bow their heads and place their hands in the "wai" position as the mah song waves flags and banners over their heads. Businesses along the procession route often set up an altar outside their shop and mah songs stop at each one to do a short ritual.
The Phuket government gave the festival organisers the "okay" to hold this years event with hopes that it would increase domestic tourism and generate much-needed revenue after the Thai government's response to the Covid-19 pandemic crippled Phuket's tourist economy. Before this year's festival, Phuket City Mayor Somjai Suwansupana asked that the mah songs "limit the level of torturing." He also called for a limit on the number of people at ceremonies to prevent the spread of the coronavirus.
His calls were largely ignored.
The spirits will again return in 2021 to Phuket again cleanse the island's large Thai-Chinese community.
Photos of the 2020 Vegetarian Festival by Marina Krasnopolska.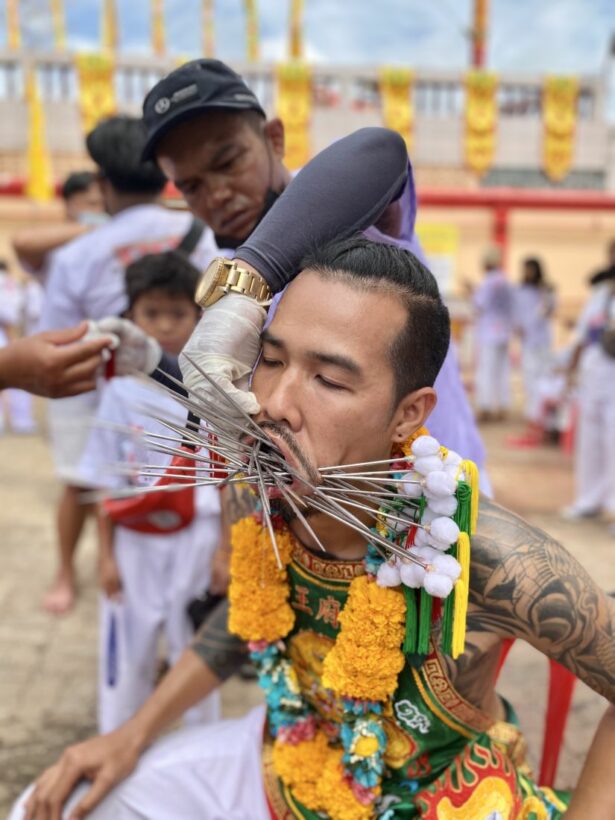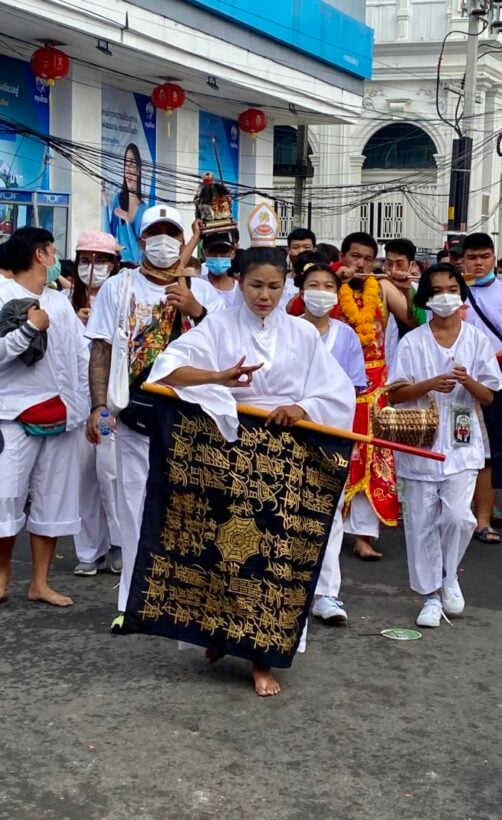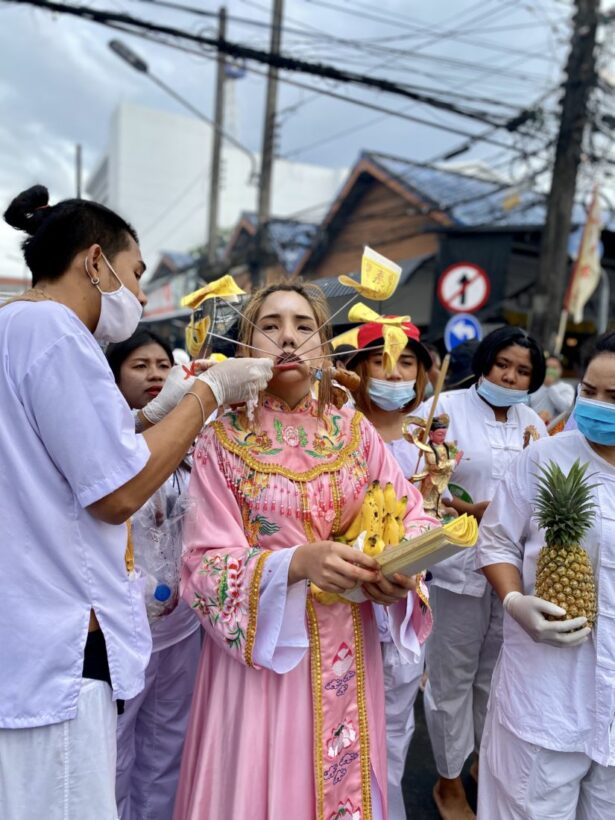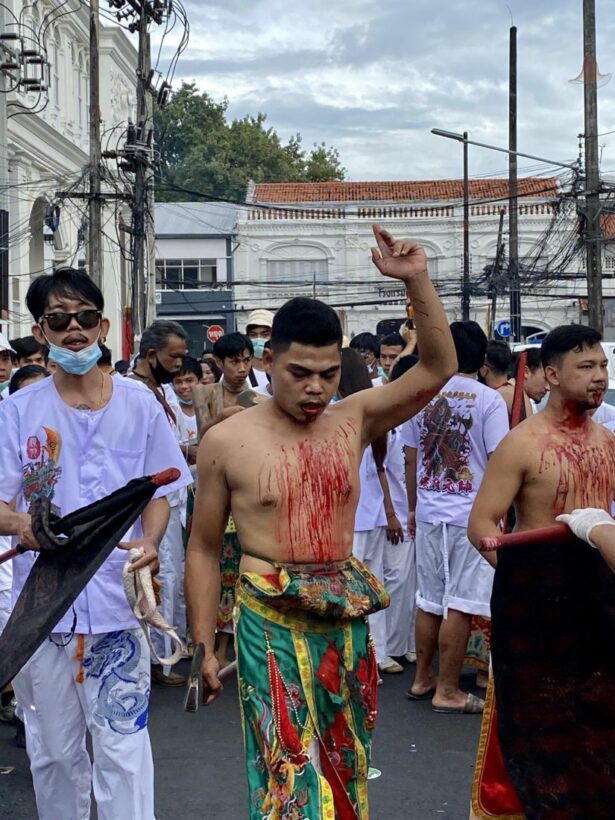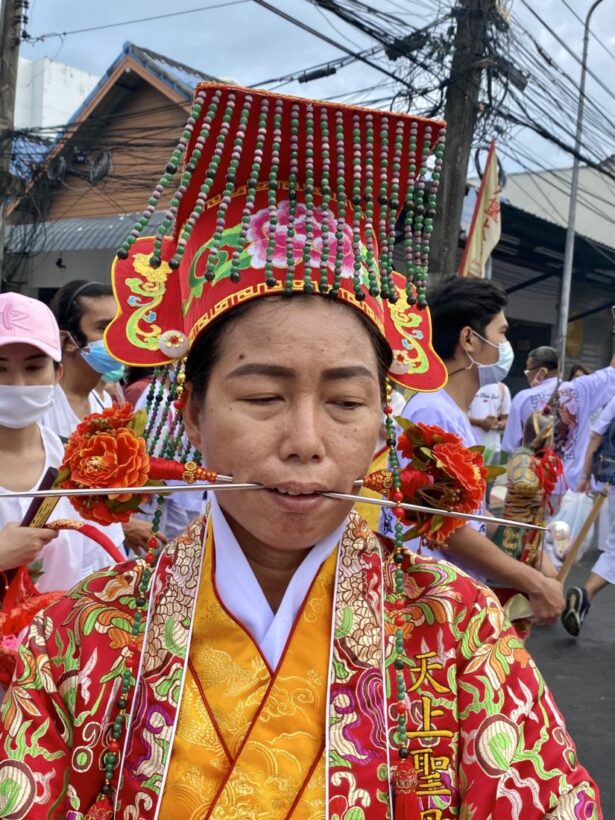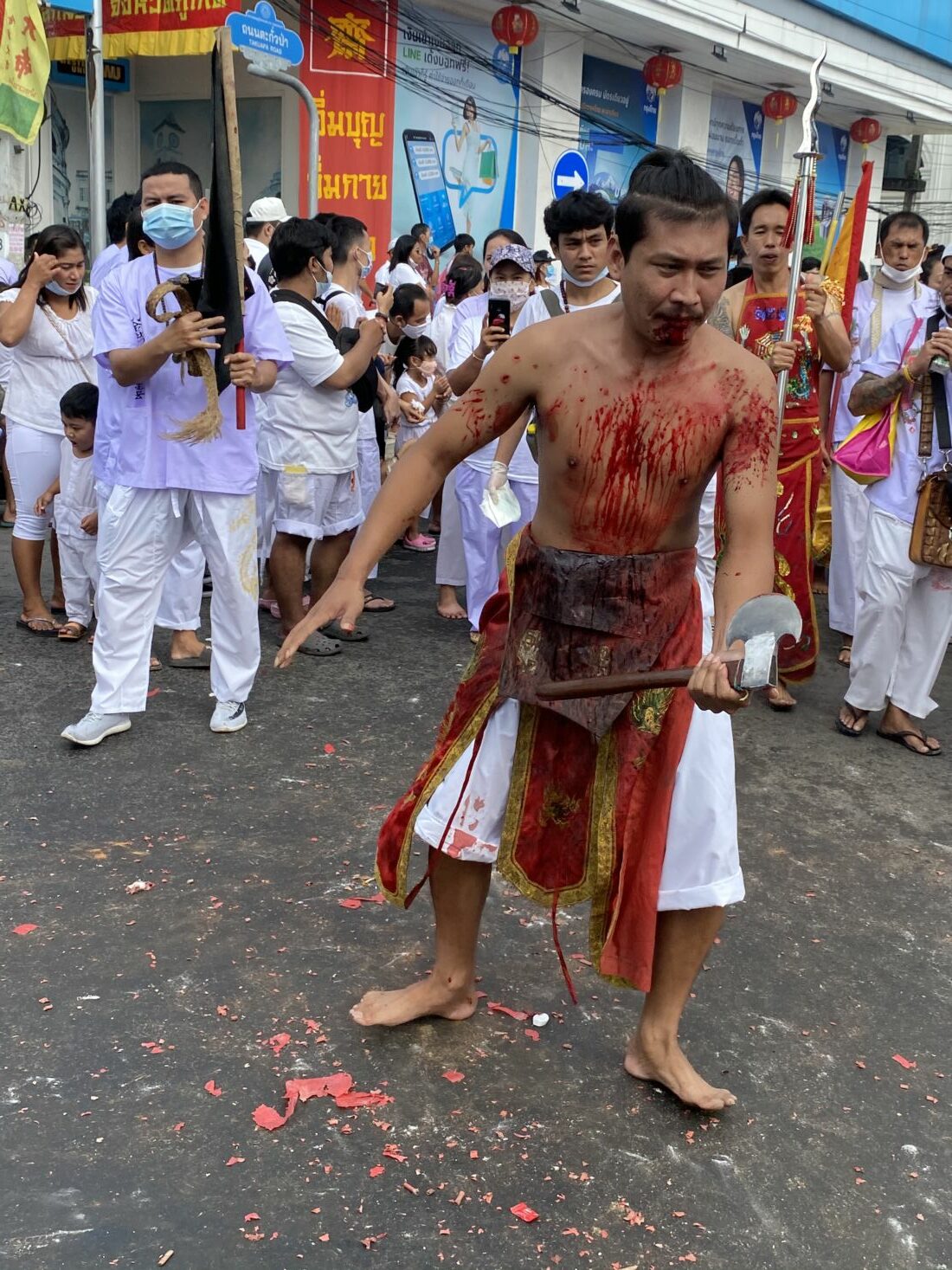 SOURCE: Phuket News
Catch up with the latest daily "Thailand News Today" here on The Thaiger.
Keep in contact with The Thaiger by following our
Facebook page
.
Never miss out on future posts by
following The Thaiger
.
Phuket told to prepare "response plan" in case of second Covid-19 outbreak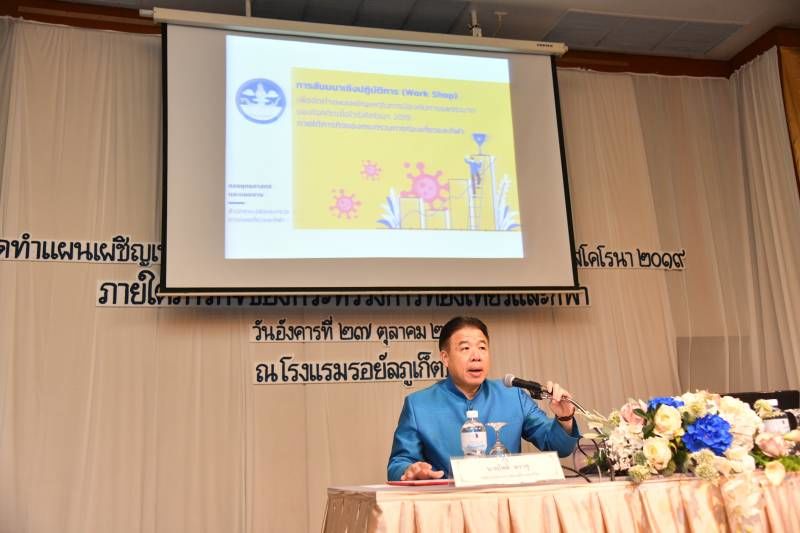 As Phuket awaits foreign tourists, city officials are told to prepare a "response plan" in case of a second wave of Covid-19. An official from the Ministry of Tourism and Sports held a workshop in Phuket today to discuss the risk of another outbreak as the country opens up to those on the Special Tourist Visa.
The ministry's permanent secretary Chote Trachu says now that the country is allowing tourists (who are required to quarantine upon arrival) an infection "may somehow slip through." He says a response plan needs to be in place in case this happens, adding that there should be corporation from the Ministry of Public Health and Ministry of Defense.
"If any tourists are found to be infected, the disease must not be allowed to spread among the people. There should be no panic, and public health officers will investigate the case. Tourist Police will track down the suspected person in an investigation with the Ministry of Public Health."
Chote says all provinces – not just Phuket – should have a response plan. Although tourists must go through a mandatory 14 day quarantine upon arrival, Chote says there are some cases where the incubation period for Covid-19 is longer than 14 days.
"There are a variety of cases. Sometimes, the infection does not show after 14 days, or even 15 or 16 days. Each situation is different."
Recently, a woman in Koh Samui tested positive for the coronavirus 5 days after she was released from a Samut Prakan quarantine facility. Traces of the virus were found on gym equipment the woman used at the quarantine, leading health officials to suspect she was infected before arriving to the island.
"We urge Thai people to not let their guard down. Everyone must wear masks, wash their hands and take care of personal hygiene. This will help prevent them from contracting the disease."
SOURCE: Phuket News
Keep in contact with The Thaiger by following our
Facebook page
.
Never miss out on future posts by
following The Thaiger
.
Approval sought for multi-billion-baht Phuket medical hub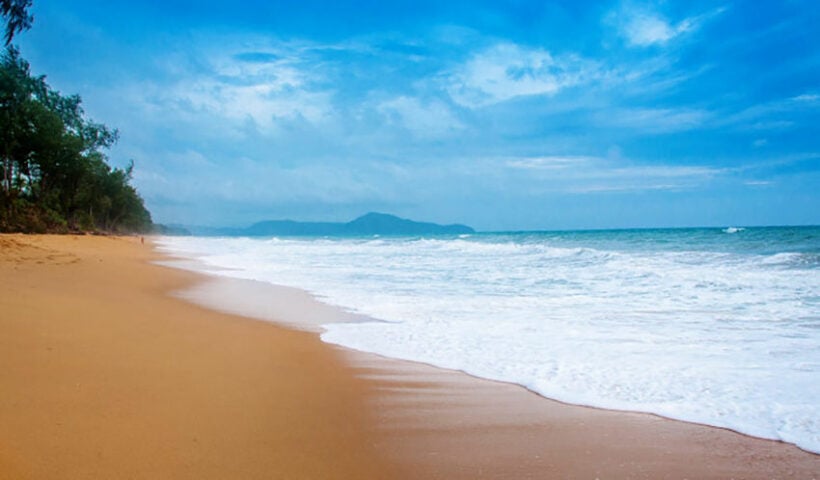 Industry officials are seeking the go-ahead for a project to transform over 140 rai of government land in Phuket into a world-leading medical hub. The project is budgeted at 3 – 4 billion baht, depending on which report you read. Kitkong Tantijaraswarodom, from the Federation of Thai Industries, believes the development of a medical and wellness hub in the sub-district of Mai Khao, north Phuket, will help revive the southern island's battered economy. Phuket has become increasingly reliant on a steady flow of tourists over the past 2 decades.
The southern division of the FTI covers Phuket, Krabi, Phang Nga, Nakhon Si Thammarat, Trang, Patthalung, Surat Thani, Ranong, Satun, Chumphon, and Songkhla.
"The FTI will ask the government to green-light the project during the scheduled mobile cabinet meeting on the island on November 3."
Kitkong says businesspeople in the south are anxious for the government to approve the project, which will provide both locals and foreign medical tourists with state-of-the-art medical care. The facility is expected to include long-term care, hospice and rehabilitation services, in addition to a dental hospital, sports therapy centre, and a medical training school for doctors, nurses, pharmacists and medical laboratory scientists.
The chair of the FTI's southern chapter is also calling on officials to provide small and medium-sized businesses with additional support, in the form of access to loans, in order to deal with cash shortages.
"In the short term, the FTI wants the government to help SMEs, especially those in the tourism sector."
SOURCE: Bangkok Post
Keep in contact with The Thaiger by following our
Facebook page
.
Never miss out on future posts by
following The Thaiger
.