Phuket
Poll: Phuket majority demands cheaper taxis, outliers say 'pay more'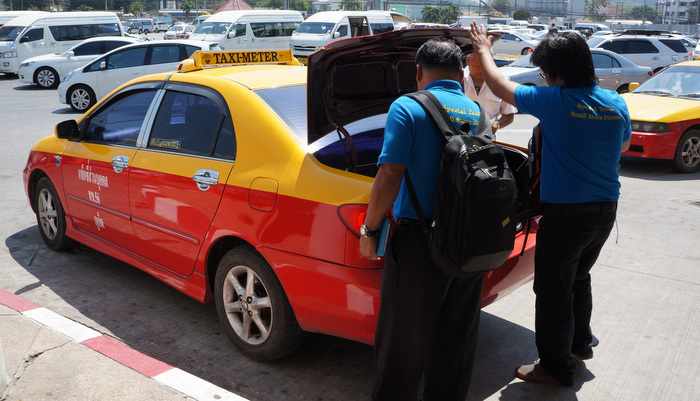 PHUKET: Though the majority of tourists, residents and local Thais taking part in the Phuket Gazette's most recently closed poll have called for cheaper island taxis, a small number would like to see the price at least double.
More than 4,500 readers took part in the online poll, which posed the question: "How much do you think is a fair fare to pay for a taxi ride from Phuket Airport to Patong?"
The six fare options in the poll were: less than 300 baht; 300-500 baht; 500-700 baht; 700-1000 baht; 1,000-2,000 baht and more than 2,000 baht.
A call for the cheapest fairs came from "Thai Nationals" with 34% voting for "less than 300 baht".
"Local Foreign Residents" also indicated that they were ready to see a drop in fares with 46% voting for "300-500 baht". Additionally, 31% of expats voted to see at least a modest drop in the price to between 500-700 baht.
Even the majority of "Tourists / Visitors to Phuket", who are less familiar with Thailand's taxi rates, voted for substantially lower fares with 36% voting for "300-500 baht".
However, a small number of respondents pushed for a bump in prices with 84 voting for between 1,000 and 2,000 baht and 47 respondents voting for "more than 2,000 baht". Of those 47 respondents, 22 identified themselves as Thai national, 19 as visitors and only six as expats.
As the poll came to a close yesterday, the Phuket Land Transport Office was completing final preparations before officially launching a fleet of roving metered taxis on Monday (story here). It is not yet clear how the new fleet will affect the overall costs for customers.
In the battle to get the island's public transport sector under control, police arrested 69 people on Thursday for their alleged roles in taxi mafia gangs. Wanted on mafia charges, Prab Keesin – a key figure in Patong and son of former Patong Mayor Pian Keesin – said that he would turn himself in to authorities on Monday (story here).
For the full poll results click here.
Have an idea for a poll? Contact us with your suggestions at polls@phuketgazette.net