Phuket
Police, officials knew of death threats, alleges Reisz girlfriend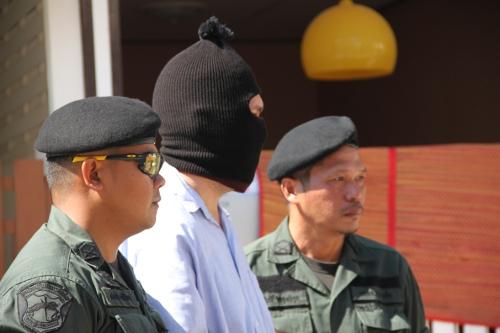 PHUKET: A woman close to Hungarian murder victim Peter Reisz gave her statement to Phuket police, claiming that Samui Police and officials at the Hungarian embassy in Bangkok were aware of death threats being made against Mr Reisz but failed to act appropriately on them.
The woman, a Vietnamese national who asked not to be named in fear of compromising her safety, said she was Mr Reisz's girlfriend. "I met Peter in June. I went to see him on Koh Samui at the end of June," she explained.
Peter then travelled to Vietnam in July for about 10 days, in September for about a week, and the third – and last time – from early October to October 30, said the woman.
"When I was on Koh Samui around the middle of August, there was a guy calling him on the phone many times. It seemed like a quarrel.
"Peter told me it was a Hungarian guy named David [prime suspect Moshe David] living on Koh Samui. Peter had lent David money, the equivalent to US$170,000 [about 5.2 million baht], with David's property used as security [for the loan].
"But now he [Mr David] didn't want to return the money and he wanted his property back," she said.
Peter was warned by a friend, named by the woman only as "Buda", that Mr David had threatened to kill him, she said.
Peter was worried, but did not take the initial threats seriously, she explained.
"By about the end of August, Buda warned Peter again that David really wanted to kill him – and that David had even planned how…
"David said he would kidnap Peter, force Peter to sign papers transferring Peter's property [including Mr David's property, which Peter had as security for Mr David's debt] and money to David, then kill Peter and throw his body into the ocean," she alleged.
Mr Reisz filed a complaint with the local police on Samui, saying Mr David had threatened to kill him, but the police said they couldn't do anything to help him, the woman explained.
At that time, Mr Reisz was already preparing to leave Thailand to live in Vietnam. "In early September, Peter left Thailand for Vietnam. He wanted to live in Vietnam with me. It had nothing to do with David," she said.
During Mr Reisz's last trip to Vietnam, he received a recording from his friend Buda in which Mr David was said to have explained again how he intended to kill Mr Reisz, she alleged.
"Peter was worried. He wrote an email to the Hungarian embassy with the recording and asked for help, but the embassy wrote back saying they would not help," she said.
The Gazette notes that according to Thung Thong Police Superintendent Kraithong Chanthongba the Hungarian embassy in Bangkok had requested that Mr Reisz contact their offices every three days, after Mr Reisz reported the death threat to them.
Despite the death threats, Mr Reisz returned to Thailand to finalize arrangements for his move to Vietnam.
"He went back to Phuket on October 30 and stayed at a friend's house – another man also named David – in Phuket for a few days. This guy also borrowed money, about US$10,000 [about 300,000 baht], from Peter.
"This guy helped Peter to find a house. I do not know if he was involved in Peter's death by telling [Moshe] David where Peter was staying," said the woman.
Mr Reisz went to Samui to sort out immigration concerns, but there was a delay in his "visa", explained the woman, so he returned to Phuket by about November 5 or 6.
"Peter rented a house for three months because he didn't like to stay in hotels or apartments. When he moved to his new house, he sent an email reporting his case to a friend in Bangkok whose mother works in a police department there. He asked for advice, but he didn't get a reply," she said.
"On Friday, November 23, I talked to him all day long by Skype and on the phone. On the Saturday, I called him at about 1pm. He picked up the phone and he was still fine.
"I called him back at around 3pm, but there was no answer," she added.
"I cannot believe that Peter was murdered so badly and painfully. He was a really good guy. He could have stopped David, but he did not want to harm anyone.
"I am sure that many people were involved in Peter's death. I believe that the killer is David. Peter did not have any conflicts with anyone else that I know of.
"Peter told me that David killed someone two years ago and he was still free after doing that," she said.
The woman has also thanked the Tourist Police and all other officials for their swift action in the case.
However, she added, "Please help to find justice. Peter would not be dead if police on Koh Samui and the [officials at the] Hungarian embassy were more responsible for human life.
"Peter does not deserve this death."
For background on the police case against Moshe David, click here.
— Atchaa Khamlo

Join the conversation and have your say on Thailand news published on The Thaiger.
Thaiger Talk is our new Thaiger Community where you can join the discussion on everything happening in Thailand right now.
Please note that articles are not posted to the forum instantly and can take up to 20 min before being visible. Click for more information and the Thaiger Talk Guidelines.