Phuket
Phuket's Young throttles up for GP3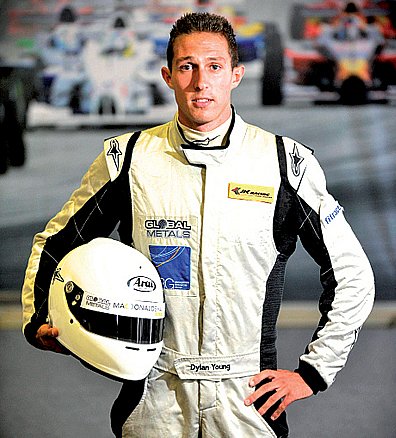 PHUKET: Prospects of Phuket-based Dylan Young reaching Formula 1 accelerated with news of an offer for the 22-year old to drive in the 2012 GP3 Series.
Potential savior of Young's career ambitions is the Marussia Manor team, junior squad of the Marussia Virgin Formula 1 team, who have handed Young a lifeline which could also see the Australian achieve a test with their Formula 1 team this November.
GP3 is two levels below Formula 1 and features two races at eight of the European Formula 1 Grand Prix events.
The car in which Young will compete is powered by an engine designed by the Renault Formula 1 team and produces 280bhp. It accelerates from 0-100km/h in 2.4 seconds; 0-200km/h in 7.4 seconds and can reach a top speed of around 270km/h.
Having competed in the 2010 Formula BMW Pacific series and then in 2011 under the re-branded version titled the JK Racing Asia Series, Young's performance at the Singtel Singapore Formula 1 Grand Prix for the Atlantic Racing Team sparked interest from the Marussia Manor GP3 Series team.
At the 2011 Singapore F1 Grand Prix, Young qualified in a remarkable fifth position having missed the previous eight races in the series and was faster than the championship leader. Unfortunately, a technical error in qualifying resulted in Young having to start from the back of the grid. However, Young's determination saw him battle through the field to finish eighth in race one and sixth in race two.
With this opportunity at the ready, Young's handlers are selecting a core group of long term European based sponsorship interests to support the career plan to F1. However, Dylan is keen to reserve a place in the core sponsorship group for members of the Phuket business community who can see the future potential of this opportunity now.
"It's a big confidence boost to receive this offer and know that despite the financial setbacks we have suffered for the last two years, people are still recognizing my talent. I'm doing everything I can to secure this GP3 seat as I would then be so close to being able to get behind the wheel of a Formula 1 car this November. All I have to do is finish ahead of the other two Marussia team drivers and I'm confident in my ability to do so. An F1 test this November would make me hungrier to achieve my goal of breaking into the pinnacle of motorsport and would also assist me to develop myself as a driver to the next step in GP2 before finally banging down the door into F1."
The first pre-season test of the year takes place from February 21-22 and Young advised that if there is any interest on the island, sponsorship partnerships need to be in place around the testing dates.
Of particular note is a percentage of future earnings agreement that is being structured. Formula One drivers are some of the highest paid athletes in the world and people investing in Young now while they have the chance to do so can reap the rewards in years to come. It is this very incentive that has already proved successful for many racing drivers who break into Formula 1 on the back of investors essentially owning shares in their racing careers and their future earnings. Further tests are also scheduled in March and April before the commencement of the GP3 Series season at the Spanish Formula One Grand Prix in May. "I'm proud to represent Phuket and I'm thrilled to offer businesses on the island an opportunity to experience the exhilaration of this level of motorsport which is directly linked with Formula 1. I'm hoping that I can carry the Phuket name right into F1 in coming years. As we are getting closer to Formula 1 it means we have some really exciting offers for anyone wanting to come onboard."
Young was backed by Phuket luxury car dealer Auto Express in 2011 and is an ambassador for the Phuket Has Been Good To Us Foundation.
For more information contact info@dylanyoungracing.com or visit dylanyoungracing.com.
— Neil Quail