Phuket's Tiger Group roars back at MP Chuwit's allegations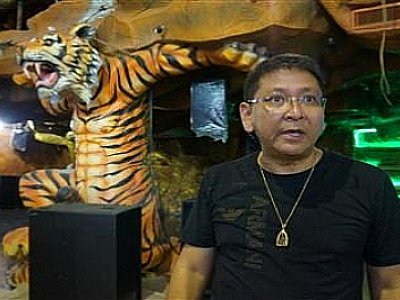 PHUKET: A representative of Phuket's Tiger Group of entertainment and nightlife venues has publicly lashed out against the allegations made by controversial MP Chuwit Kamolvisit.

The entertainment group is even considering legal action, said Thamrongsak Boonrak, legal counselor to the Tiger Group management.

The threat of legal action follows Kathu Police yesterday afternoon conducting surprise raids of businesses run by the Tiger Group in Patong, following a slew of recent allegations by MP Chuwit that "the largest casino in Southern Thailand" was being operated in one their establishments, which was also allegedly involved in prostitution.

The raids, led by Patong Police Superintendent Arayapan Pukbuakhao, followed shortly after officers saw outspoken Rak Prathet Thai (Love Thailand) Party leader and party list MP Chuwit on Thai TV Channel 7.

Mr Chuwit earlier that afternoon complained to national and Police Region 8 officers that the Tiger Group was operating a casino out of one of their entertainment complexes in Patong that had a daily turnover of 100 million baht, said the report.

Another gambling den located in Thung Thong Police District turned over 70 to 80 million baht a day, he alleged.

Both venues were allowed to operate thanks to payoffs to high-ranking police officers, who were also involved in an underground lottery racket, said MP Chuwit.

With these allegations in mind, Col Arayapan led the media and Kathu District officers on a tour of some of the properties allegedly involved.

At one of them, the new Tiger Disco on Bangla Road, he met Thamrongsak Boonrak, legal counselor to the Tiger Group management. Mr Thamrongsak ruled out MP Chuwit's allegations as sheer falsehood.

"First of all, Mr Chuwit's allegations against us were not only completely out of line – they were rubbish. He said we have daily turnover of 100 million baht per day from operating a gambling den upstairs here. That is not true at all.

"In fact we are still under construction. Look around and you will see equipment all over the floor, technicians working. We are installing a 57-million-baht light and sound system, funded from a loan provided by Land & Houses," Mr Thamrongsak said, referring to the is a national real estate development firm that has built several upscale housing estates on Phuket.

https://www.lh.co.th/

Mr Thamrongsak also refuted another allegation recently made by Mr Chuwit that Tiger Group was one of many Phuket businesses involved in prostitution.

www.nationmultimedia.com/national/Chuwit-demands-govt-take-action-to-stamp-out-prost-30175704.html

"I'm willing to meet Mr Chuwit in front of the media – anytime, anywhere. Our design theme here is to have boutique stucco art to show foreigners. We are not in the prostitution business.

"It is true we have disco and beer bars downstairs, our dancers are not prostitutes. The dancing is not lewd. You know, a few week ago there was a pole dancing competition in Singapore. It is international, not at all obscene," he said.

"What he [Mr Chuwit] said could really ruin our reputation and business. What will financial institutions think of us?" he asked.

Mr Thamrongsak was quick to remind reporters that before taking on the mantle of graft-buster, Mr Chuwit himself was allegedly involved in the sex trade.

"Mr Chuwit is a former massage parlor tycoon, involved in the business of prostitution," he said.

"Is this the kind of person people should believe?" he said, adding that Mr Chuwit had been arrested and imprisoned in the past.

Mr Thamrongsak took his denial that Tiger Group was involved in gambling a step further – claiming that all of Patong was free of bon phanan (the Thai term typically translated as "gambling den").

"I do not know about the past, but presently there is not single gambling den in Patong," he said.

"Mr Chuwit's complaint also included video images of strippers. These were in another bar, not ours. His information is all mixed up," he said.

Mr Chuwit also attributed images of the new 200-million-baht Tiger Live Band complex as having been taken at Tiger Discotheque on Soi Sansabai.

"He thinks other people will do the same types of bad things that he used to do, but his allegations are all rubbish, really," he said, clearly infuriated by the allegations.

"Police inspected both Tiger Discotheque and Tiger Live Band. We are now considering legal action against Mr Chuwit. We will wait to see if he apologizes to us. This is ruining not only our reputation, but the entire reputation of Phuket," said the angry Mr Thamrongsak, who even chastised a reporter for referring to the member of parliament as "Khun Chuwit".

"He should be called Ai Chuwit," he said. Ai is a derogatory title in Thai, though it is sometimes used as a loose term of endearment among friends.

In contrast, Col Arayapan appeared unperturbed by the very serious allegations made by Mr Chuwit.

"He said there were police and other government departments involved, so I ordered Patong Police to coordinate with the District Office to investigate the places referenced," he said.

Some 30 police and Kathu District officials took part in the raids, which also included the Bangkok Residence hotel on Soi Sansabai.

As for the new Tiger Disco complex, Col Arayapan said, "From what I have observed they run beer bars downstairs and upstairs is still under construction.

"These are the facts I will include in my report to the provincial police commander," he said.
— Chutharat Plerin
Phuket News

Join the conversation and have your say on Thailand news published on The Thaiger.
Thaiger Talk is our new Thaiger Community where you can join the discussion on everything happening in Thailand right now.
Please note that articles are not posted to the forum instantly and can take up to 20 min before being visible. Click for more information and the Thaiger Talk Guidelines.