Phuket's TSLC signs 2mn baht deal with China's elite Liaoning Swimming Club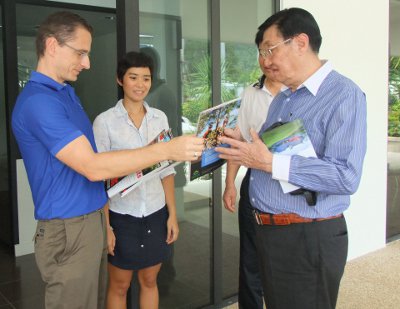 PHUKET: Thanyapura Sports and Leisure Club (TSLC) has signed a 2 million baht deal with China's elite Liaoning Swimming Club, which means Olympians will train at Phuket's TSLC's Olympic-standard aquatic facilities for the first time under one of the world's best coaches.
The deal sees the talented squad head to Thanyapura on January 27, 2013 for a six-week training stint with legendary coach Stephan Widmer.
Widmer trained Australian world champions Susie O'Neill and Samantha Riley, as well as Olympic gold medalists Leisel Jones, Kylie Palmer, Libby Trickett, Melanie Schlanger, Jessicah Schipper and London Olympic silver medalist Christian Sprenger.
Widmer recently left his post as head coach of the Queensland State Swimming Center to spend a year with his family in his native Switzerland. He will share his expertise and methods with a team of 23 swimmers and coaches from the Liaoning club at TSLC's world-class campus, with 60 sessions scheduled over the six-week high-performance training camp.
Widmer currently coaches London Olympians Wang Hai-Bing, who just missed out on a bronze medal after the Chinese team placed fourth in the men's 400m freestyle relay, Ang Shi-Jia (sixth in the freestyle relay) Lu Xiao-Yu, Lee Xia-Yen and Cheng Fei-Yi, who placed eighth in the 100m backstroke.
The Aquatics Academy is the jewel in the crown of the TSLC megaplex. It includes a 50 meter Olympic-standard outdoor swimming pool, with electronic timing system, coaches' observation window and a 600-seater shaded grandstand, plus state-of-the-art ozone filtration system and anti-turbulence lane ropes. There is also an adjacent 25m outdoor swimming pool with its own coaching platform.
Thanyapura President Robert Hauck said he was excited about the deal as it was a milestone on Thanyapura's journey to become Asia's favored training and retreat facility for elite teams from around the world in many sports and disciplines.
"This is a vital part of the vision becoming reality," Mr Hauck said. "It was always envisioned that Thanyapura would become a training retreat or even a base for elite sports teams from all over the world.
"The Liaoning team is a powerhouse in China and looks set to become an even more formidable force after teaming up with a legendary coach like Stephan Widmer. So we are delighted to welcome the team here, and can't wait to see them getting down to some hard work in the pool and having some fun times exploring our campus and the rest of Phuket too."
Thanyapura Director of Aquatics Simon Jones described Mr Widmer as, "one of the world's best swim coaches" and said he had been an admirer of his methods since Mr Widmer's 1997 stint at the Queensland Academy of Sport in Australia.
"It's very exciting for our Thanyapura-based swimmers and other athletes to see such an elite force in world swimming in their midst," Mr Jones said.
"This visit will also be important in terms of word of mouth in the international swimming community and I'm confident the Chinese swimmers will only have good things to say about Thanyapura when they are attending the world's top competitions and discussing training methods and facilities."
Vice President and Head Coach of the Training Center of Sport Aquatics Management, Liaoning District; Coach Yuen Yue said: "Thanyapura is an amazing training destination with cutting edge facilities and services to assist us in optimizing our training performance. We never thought we would find a full scale world class sporting facility like this on a small island of Phuket, all set in paradise."


Read more headlines, reports & breaking news in Phuket. Or catch up on your Thailand news.
Three suspects arrested with over 500 kilograms of kratom in Kathu, Phuket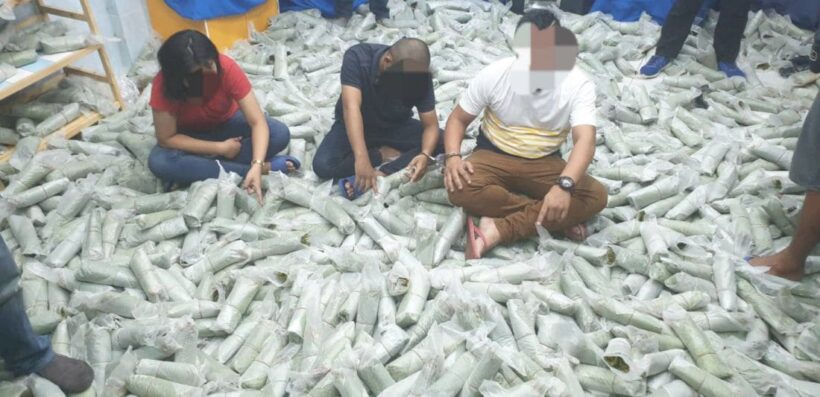 Police have arrested three suspects with a total of 502 kilograms of kratom in Kathu, central Phuket.
Border Patrol police have arrested three suspects – 34 year old Nattee Sukan, 20 year old Nattawut Lakhin and 18 year old Nantawan Kuna – at a rented room in Kathu.
Police seized 502 kilograms of kratom leaves. They were taken to the Kathu Police Station to face charges possessing illegal Category 5 Drugs with intent to sell.
They told police that they were hired by an un-named woman to deliver kratom to her customers.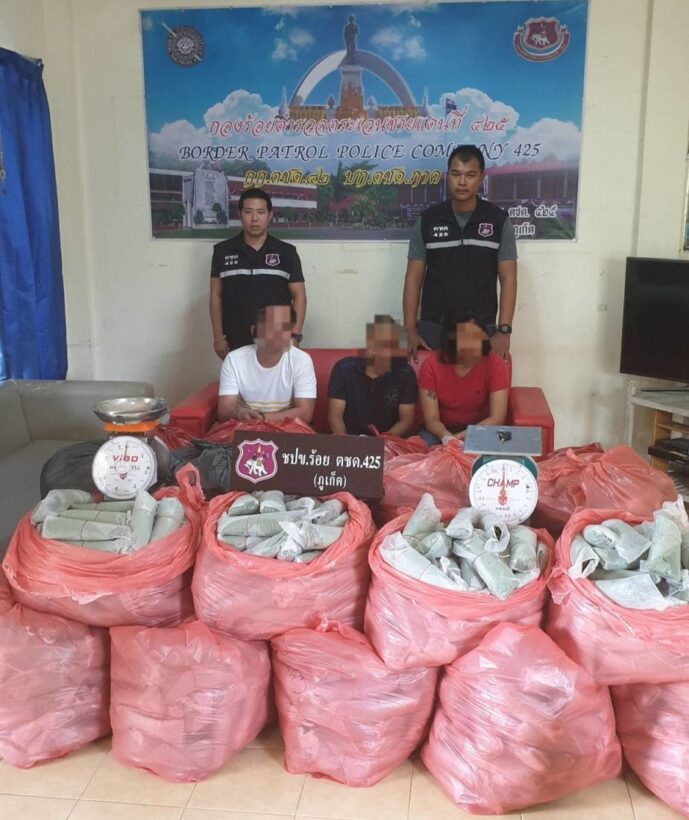 Weather warning for Thailand's southern provinces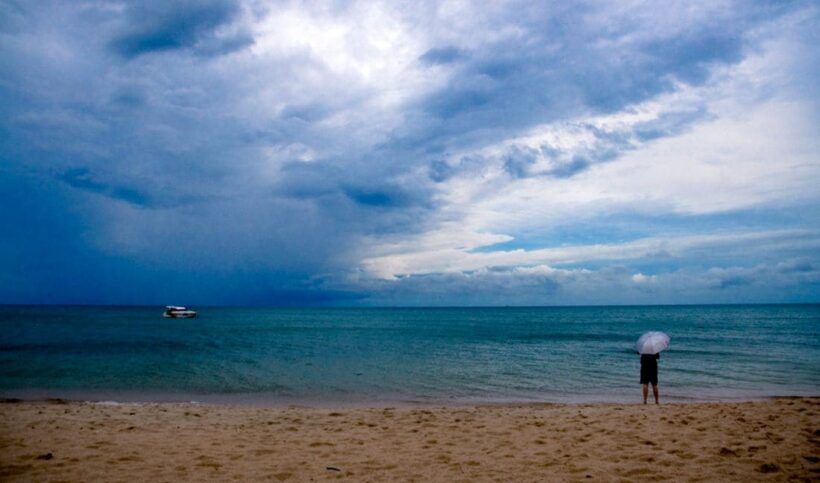 Thailand's wet-season is forecast to be 'wet' in the south for the next few days. The Thai Meteorological Department has issued its 3rd consecutive weather warning in the past 24 hours to alert residents of heavy rain in the Southern provinces, strong winds and high seas.
In the latest warning issued this morning at 6am, the TMD reported that, until June 27, the strong southwest monsoon will prevail over the Andaman Sea, the South and the Gulf of Thailand.
"Isolated heavy to very heavy rain is likely in the East and South. People in the South should beware of the severe conditions that may cause flash floods."
"Strong winds and 2-3 metre waves are likely in the Andaman Sea and the Gulf of Thailand. All ships should proceed with caution and small boats should remain ashore until June 29."
The affected areas listed in the warning are:
June 24 and 25…
Nakhon Nayok, Chachoengsao, Chon Buri, Rayong, Chanthaburi and Trat in the east and Phetchaburi, Prachuap Khiri Khan, Chumphon, Surat Thani and Nakhon Si Thammarat in the east coast to face isolated heavy rain, and Ranong, Phangnga, Phuket, Krabi, Trang and Satun in the west coast to face isolated heavy to very heavy rain.
June 26 and 27…
Chon Buri, Rayong, Chanthaburi and Trat in the east, Chumphon, Surat Thani and Nakhon Si Thammarat in the east coast, and Ranong, Phangnga, Phuket, Krabi, Trang and Satun in the west coast will be covered with isolated heavy rain.
Bangkok will be cloudy with scattered thundershowers and isolated heavy rain during the forecast period. Minimum temperature 28°C. Maximum temperature 39°C.
SOURCE: Thai PBS
Two Patong Tuk Tuk drivers surrender after a shooting in Patong, Phuket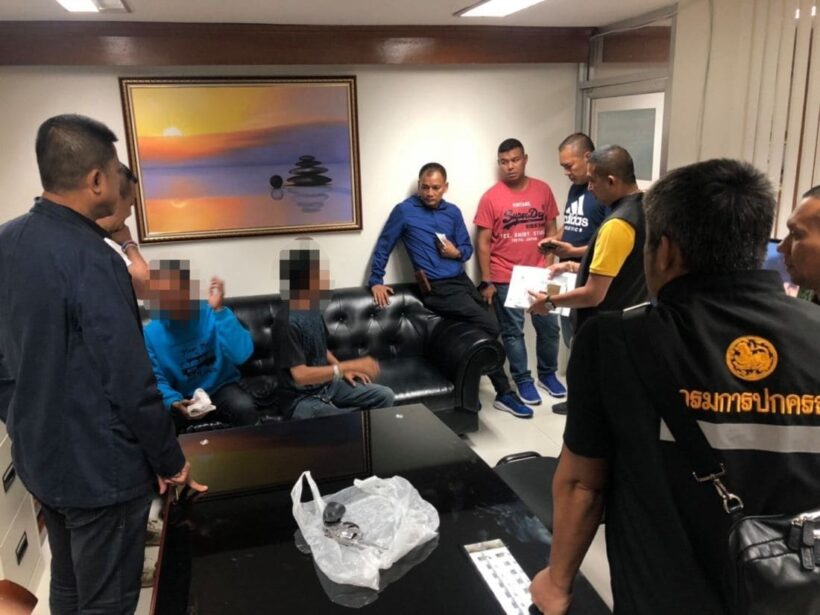 Two Tuk Tuk drivers have surrendered after a Patong entertainment staff member was shot and killed early yesterday. Patong police were notified of the incident at 4am Sunday morning in Soi Patong Tower off Taweewong Road (the beach road).
Police and emergency responders arrived to find the body of a man who was identified as 45 year old Panya Kingjampa, a staff member at an entertainment venue. Blood was found on the ground where his body was laying. His body was taken to Patong Hospital. Doctors found bullets in his stomach during the examination.
Last evening two suspects surrendered themselves at the Patong Police Station handing in a handgun at the time. They are facing charges of assault eventuating in death.
The suspects have allegedly told police that they tried to stop Mr Panya from trying to steal property from a tourist. More information when it comes to hand.