Phuket tourism "better after Christmas'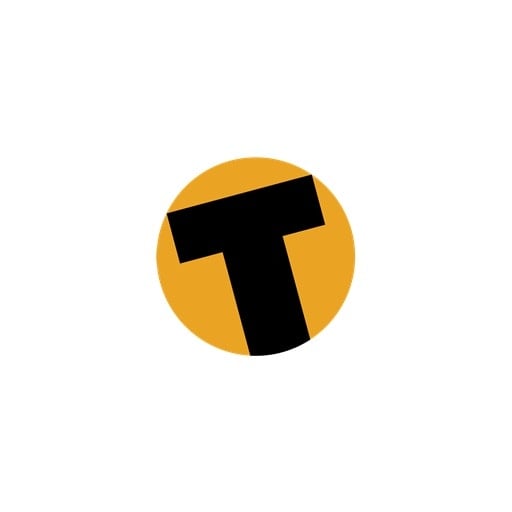 PHUKET: The Bali bombing has affected Phuket tourism but the situation will improve after Christmas, a leading figure in the industry said today. Opas Netraumpai, Vice President of the Thailand Incentive Convention Association (TICA) and Managing Director of Club Andaman Beach Resort, said there were three stages to reactions. The first, about a week after the bombing, left Phuket hotels full with people who had transferred their holidays from Bali. Stage Two came when Australia and other governments issued warnings about Phuket to their nationals. The calls led to some cancelations, particularly among seminar groups. "They are a lot more sensitive than package groups because companies pay for their employees to go to seminars, so if anything is uncertain they just drop out." Now, in Stage Three, he said, cancelations were likely before Christmas. "However, I believe that after Christmas the situation will be better because we have been told by tour agents that there are unlikely to be further cancelations," he said. "Compared with last year at the same time – in the wake of September 11 – I would say Phuket tourism is still healthy." He added that TICA was trying to bring convention groups to Phuket and that a World Boy Scout convention could attract 30,000 people in December, with 8,000 already booked. Anupharp Thirarath, Director of the local Tourism Authority of Thailand (TAT) branch said, "We can confirm that Phuket is still safe for tourists. Our statistics show that the number of tourists in the past six months is up by 6% compared with last year." Phuket's tourism industry players are keen to boost travel from the Association of Southeast Asian Nations (Asean) and from Europe. "If we could bring in even a small percentage [of the Asean population] it will help our tourism a lot," said K. Opas. More work was needed on regional air ticket pricing and easier access between countries first, he added. Panu Masirat, Vice-President of Marketing for the Phuket Tourist Association, said that about 800,000 British tourists come to Thailand each year, with 200,000 of those making Phuket their destination. He said he expects that number to increase to 300,000 next year. He also said that about 240,000 French tourists come to Thailand a year, with about 100,000 coming to Phuket.
Keep in contact with The Thaiger by following our
Facebook page
.
British tourist killed at Phuket resort, Norwegian charged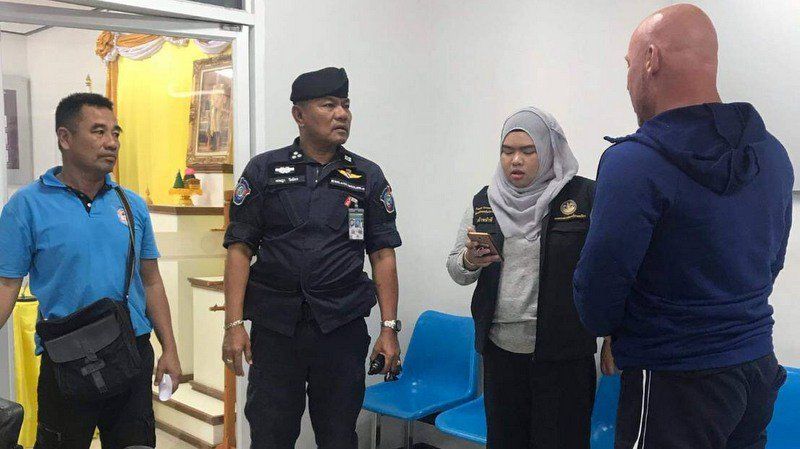 PHOTO: Tourist Assistance Centre
A late night fight that broke out at a Karon resort has ended in a Norwegian man killing a British tourist.
The fight started at 4.00am, when British national Amitpal Singh Bajaj, who was on holiday with his Singaporean wife and two young children, confronted Roger Bullman over the amount of noise coming from his room.
Mr Bullman was drunk, and security had already visited his room twice to ask him to keep the noise down. When Mr Bajaj confronted him, he stabbed Mr Bullman in the shoulder with a steak knife.
Mr Bullman, trained in martial arts, then got the British man in a choke hold and maintained his grip on him. He says he did not mean to kill him, and did not think he had.
He has been charged and released on bail by the Phuket Provincial Court. He must now remain in Thailand until the court hearing.
British consular officials are assisting Mr Bajaj's family in the wake of the tragedy.
SOURCE: ThaiVisa and The Phuket News
Keep in contact with The Thaiger by following our
Facebook page
.
The second baby dugong 'Yamil' dies in Phuket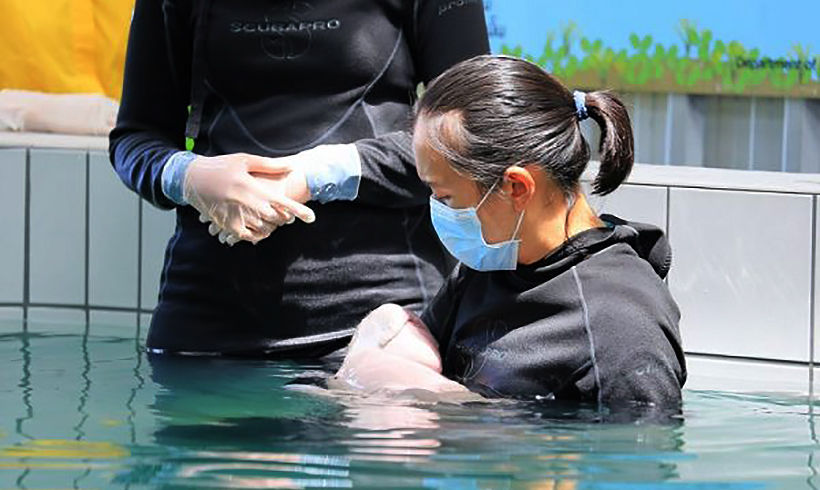 The second young dugong, being cared for by vets at the Phuket Marine Biological Centre, has died.
Yamil, the baby dugong stranded on a Krabi beach on July 1, died of "shock and cardiac arrest" last night (Thursday) after suffering indigestion and gastroparesis.
The Department of Marine and Coastal Resources report that Yamil was sent from the Phuket Marine Biological Centre to Vachira Hospital last evening for an endoscopy to observe its gastrointestinal tract, which was found to be full of sea grass – a dugong's normal food.
"But the sea grass had obstructed Yamil's gut, causing its digestive system to stop functioning. This resulted in a buildup of gas in the digestive system, leading to the rupture of blood vessels and infection."
Her Royal Highness Princess Sirivannavari named the dugong 'Yamil' when he was moved from Krabi to Phuket for treatment and rehabilitation by marine vets. The animal was originally rescued by villagers from a Krabi beach where it washed up. His care has been sponsored by the Princess. Yamil, in the Yawi dialect, means "handsome young man of the sea".
Last Friday night, baby dugong 'Mariam' died of shock while being treated in protected area near Koh Libong in Trang province.  Vets later found several pieces of plastic in its stomach.
SOURCE: Thai PBS World
Keep in contact with The Thaiger by following our
Facebook page
.
Official complaint filed with the DSI over The Peaks Residences Condominium in Phuket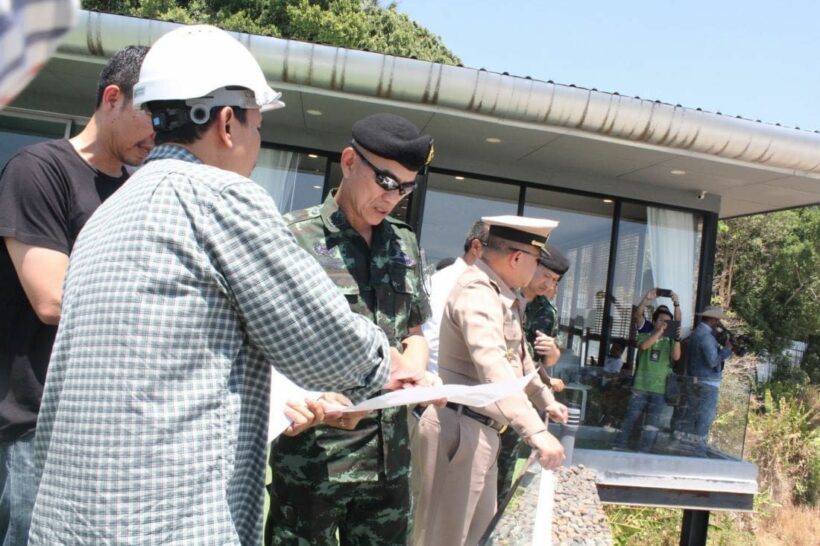 PHOTO: Inspections at the property in March this year – Kritsada Mueanhawong
Bangkok MP Sira Jenjaka has gone ahead and filed a long list of formal complaints over The Peaks Residences Condominium project being built in the hills above Kata Noi in Phuket.
The Palang Pracharat MP has also claimed to have had death threats made against him over his investigations and accusations over the condo's land titles and ownership in recent weeks.
The MP filed an official complaint with the Department of Special Investigation chief in Bangkok this morning.
The complaint alleges that the Karon Mayor Tawee Thongcham and the municipality "neglected their duties" by issuing permits to Kata Beach Co Ltd, the developer of the The Peaks Residences Condominium.
In February this year the Karon OrBorTor issued a construction permit for the project but in April municipal officials also sent a letter acknowledging the ongoing legal proceedings over the legitimacy of the land title, the NorSor 3 Kor Number 1863.
The complaint alleges that the project is being built on land with a NorSor 3 Kor No. 1863 land title. The complainants allege that the legal land document would have had to have been presented to obtain building permits and construction to proceed. But they claim that, as the NorSor 3 Kor for that land was under consideration by the Administrative Court, a legal building permit could not be issued.
In August 2017, the Regional Administrative Court ruled that the NorSor 3 Kor No. 1863 land title was invalid. Furthermore it determined that the land was "protected forest land".
The DSI formally received the complaint documents this morning.
Meanwhile, the developer of The Peaks Residences Condominium, Manassanan Nararattanawee, the CEO of Kata Beach Co Ltd, maintains that the project's paperwork is all "proper' and that "everything is under the law".
"Our company has already suspended construction to wait for the judgment of the Supreme Administrative Court."
Officials from the Internal Security Operations Command inspected the property in March this year as the owners promised to 'slow down' construction. Read that story HERE.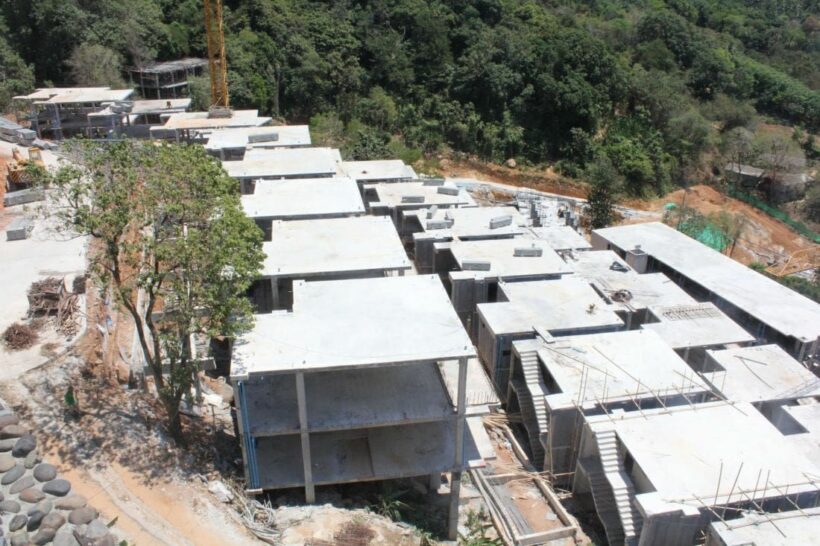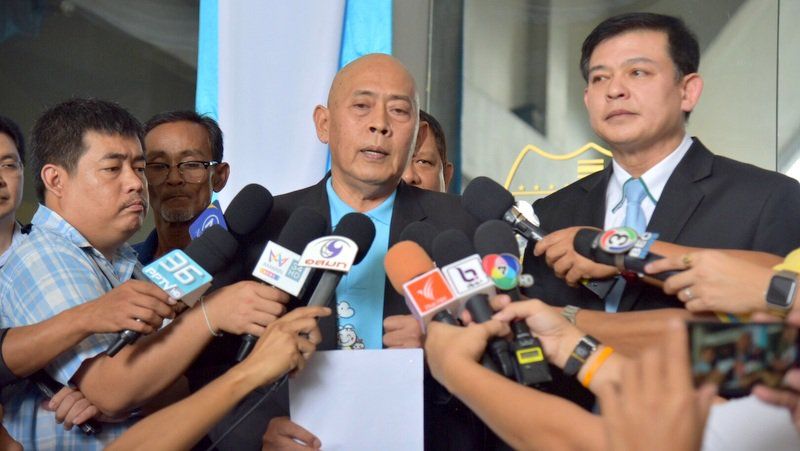 PHOTO: Department of Special Investigations
Keep in contact with The Thaiger by following our
Facebook page
.