Phuket scam artists boost another 14 cars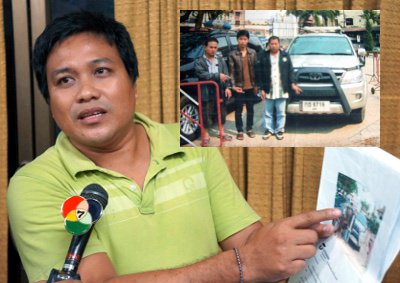 PHUKET: Following the recovery of 17 stolen cars from a "car pawn yard" in Nakhon Sri Thammarat earlier this week, a host of Phuket car rental agents gathered late last night to highlight the extent of scam operation.
Collectively, the group claim that at least 14 more cars have been stolen by the alleged scam artists, identified as Sukanya Janthanarak (also see here), 40, and Supaluck Krutmanee, 44.
One Phuket rental car agent's Toyota Fortuner was caught by Customs officials at Mae Sai as three men tried to take the car out of Thailand and into Myanmar.
Another rental operator said she had lost eight cars to the scammers.
Yet another rental agent said she was challenged by Sukanya to deposit 300,000 baht into a government bank account if she wanted to get her car back after Sukanya claimed she lost it to a casino over a gambling debt.
Speaking at the Phuket Press Club office at Phuket Provincial Hall late last night, Anan Jutamas said he rented his car out through his friend's business, Phuket Kuya Car Rent.
"My friend told me that customers wanted to rent my two cars. I found out later that the customers were Sukanya and Supaluck, and they rented the cars on March 19," said Mr Anan.
"I installed GPS on one car [a Toyota Fortuner] and I kept checking the signal to see where it was. Then when I checked again, the signal said the car was at Mae Sai, in Chiang Rai province, so I thought something was wrong.
"The GPS system I installed allows me to shut off the ignition from home. So I did that and reported my car as stolen to the Mae Sai Police," he added.
"By the time they found my car, it had been impounded by Customs officers who seized it from three men trying to take it into Myanmar. They didn't have the ownership book to prove they owned the car, so they were arrested and now my car is being held by Mae Sai Customs.
"Meanwhile, my other car has no GPS installed and it is still missing," Mr Anan said.
Mr Anan's friend Kuya Kumuda, who owns Phuket Kuya Car Rent, also had cars stolen.
"Miss Sukanya and Miss Supaluck said they wanted to rent three cars for their foreign customers. Since I had GPS installed on all three cars, I wasn't scared to rent them out," he said.
Two of the cars were recovered from the raid on the Nakhon Sri Thammarat "pawn yard", but his Fortuner is still missing.
"The GPS showed the vehicle was being driven around Ao Luek in Krabi, but the signal stopped on March 13," he said.
"I went there myself and asked around. I found the house where people said my car was parked each day, but the house belongs to a person named "Nong", who said she knew nothing about Sukanya and Supaluck," he added.
"I also talked to local residents and some car rental places in that area, and they said the last time they saw my car it was marked for sale at 350,000 to 370,000 baht. But no one wanted to buy it since the car didn't come with the ownership book," Mr Kuya said.
No one has seen his car since.
Lakana Omchompu, owner of Ice Fashion car rental in front of Surakul Stadium, said she lost eight cars to the pair.
"The first time Sukanya rented a car from me was in August last year. She said she wanted to rent my cars to other people and that I would have guaranteed monthly income if I rented cars to her.
"I trusted her because she gave me 30,000 baht in advance plus 30,000 baht as a guarantee deposit, but after paying this money she never came back. I never thought about installing GPS in any of my cars, but I might consider it now," she added.
Ms Lakana said another woman had recently rented a car from her, and that she was wary of being caught out again.
"Another person came to rent another car. She identified herself as Miss Janthip Saeheab. I think they are all related," she added.
Kwanjai Kaewsapab, who so far has lost a Toyota Fortuner and a Proton sedan to the scam, has likely had the most success in tracking down the tricksters.
"On March 6, a friend contacted me saying a woman wanted to rent a car from me. So I met this woman at the Tesco Lotus store in Cherng Talay. The woman identified herself as Miss Duangporn Suwan," she said.
"I agreed to rent my Fortuner to her at 45,000 baht a month, from March 6 to April 5. Two days later she called me back and said she wanted to rent my Proton at 18,000 baht for one month, from March 8 to April 7.
"Then on March 10, I called her just to tell her that the registration sticker was in the glove box, but she didn't answer my phone," she said.
Sensing something was wrong, Ms Kwanjai double-checked the photocopy of the ID card she was given by "Miss Duangporn" and then returned to the Tesco Lotus in Cherng Talay to check CCTV footage of the day she met her.
"That's when I realized that the woman I met and rented my car out to was not the Miss Duangporn Suwan I have the photocopy of the ID card for.
"I reported this to Cherng Talay Police, and while I was literally sitting in the police station, this woman [Sukanya] called me and told me that both of my cars were at a casino.
"She said she had lost them gambling and had to leave the cars there. She also said that if I wanted my cars back, I would have to transfer 300,000 baht to her bank account," Ms Kwanjai said.
Ms Kwanjai handed the phone over to a police officer, who pretended to be a bank teller.
"She gave the number of her account at the Government Savings Bank, then the police officer and I went to the bank. The branch manager printed out a copy of the ID card provided to open the account and that's when I learned that the person I dealt with was Miss Sukanya Janthanarak," she added.
Ms Kwanjai may have finally come up with a photo and ID card details of the wanted scam artist, "but I still haven't got my cars back," she said tearfully.
Taxi driver Jeerasak Kakate also lost a Fortuner to the scam.
"I had one extra car, which I rented out from in front of Ao Po Marina. I only let foreigners rent my car because they are easier to deal with," said Mr Jeerasak.
"A friend contacted me on January 20 saying that a woman with a foreign boyfriend wanted to rent my car. Her name was Sukanya Janthanarak. So I let my friend deal with it. I agreed to rent my car to her for one month," he added.
"After the month had passed, my friend called her and she said she wanted to rent the car until February 28. Then when that day came, she came to see me herself and told me she want to rent the car for even longer.
"She came all by herself. She said the car was in Nakhon Sri Thammarat and she paid the rental fee – that's why I trusted her," he explained.
"But after that, I tried for a week to contact her, but I couldn't reach her," he said.
He's still waiting to hear from her.
All car rental operators present last night said they wanted the media to raise this issue with the public since the police officers have not been able to find their cars.
"We will be back to file a complaint about this to the Phuket Governor," Ms Kwanjai said.
— Chaiyot Yongcharoenchai

Join the conversation and have your say on Thailand news published on The Thaiger.
Thaiger Talk is our new Thaiger Community where you can join the discussion on everything happening in Thailand right now.
Please note that articles are not posted to the forum instantly and can take up to 20 min before being visible. Click for more information and the Thaiger Talk Guidelines.