Phuket
Phuket expats risking lives on the road to stay in paradise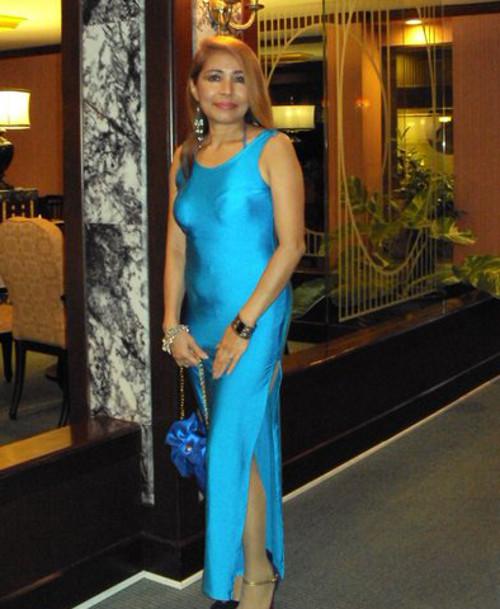 PHUKET: The visa van crash that took the life of Filipina singer Renita Dequina Polido on October 21 (story here) sent shock waves through the Phuket expat community and raised questions about the logic of a system that requires foreign workers to leave the country to get visas and renew 90-day permits-to-stay so regularly.
The early morning accident occurred on a rain-slicked road in Trang when the Penang-bound van, that passengers say was speeding, spun out of control and struck a tree, killing Ms Polido, seriously injuring four other passengers and leaving the remaining six with minor injuries.
Polish national Friedrich Menning broke a leg and ribs in the accident, and after being treated in Trang was transferred to Phuket International Hospital.
"It was worse than the the worst nightmare I've ever had," he said.
"My Thai girlfriend and I were sitting in the back of the van with Ms Polido. The driver was going very fast – I'd say about 130 to 150kmh; the road was slippery from the rain. The van slid a little at one point, but the driver managed to correct the vehicle. Then it slid again, and he lost control," Mr Menning said.
"We spun 180 degrees and the back of the van, where we were, hit a tree at full speed. It happened so fast. Afterward, I realized I was stuck in the van and called for help.
Mr Menning's girlfriend, Wilaiporn Inlee, lost consciousness after the accident and woke up in Trang hospital with a broken arm and a head wound.
"I got 10 stitches for the cut on my head. I have bruises all over my body. My back still hurts. I had a severe headache at first, but fortunately a brain CT scan showed that I'm alright," she said.
The experience left Mr Menning questioning the immigration system that requires him to leave the country in order to stay in it.
"I'm scared," he said, "I have to put my life in the hands of an unprofessional driver, and risk my life for a paper, for a stamp," he said.
"I wish we could report to the immigration office in Phuket Town instead. I'm willing to abide by any requirements they have, I just don't want to have to keep leaving the country," he said.
Phuket Immigration Superintendent Sanchai Chokkajaykij expressed regret over the accident.
"What happened was really sad. No one wants something like that to happen," he said.
"Unfortunately, we don't have the authority to issue visas or 90-day permits-to-stay at our office in Phuket Town," Col Sanchai said.
"Only consulates and embassies can issue visas, and only immigration at the borders and airports can issue the 90-day permits-to-stay," he said.
"For those people who are unable to obtain one year permits-to-stay… the best option might be to fly. It's more expensive, but it's safer," he said.
Phuket Immigration Inspector Napat Nusen explained that certain requirements needed to be met in order for foreigners to receive a one-year permit-to-stay along with their one-year visa.
The two major hurdles for most one-year permit-to-stay applicants are a minimum salary requirement and minimum ratio of Thai to foreign workers at the business registered on their work permit, Lt Col Napat said.
"There are other requirements, but those two tend to be the ones that are the biggest obstacles," he said.
"These requirements are not in place to make life difficult for foreigners," he said.
"They are in place to protect Thai workers. For example, if a company can pay foreigners a low salary – below the legal minimum – then they may prefer to hire foreigners over Thais. The salary requirement also helps us screen people. The assumption is that foreigners who can command at least our minimum salary will have higher skills than those who cannot. The higher the salary, the higher the skills should be.
The 90-day permit-to-stay that many foreigners in Phuket repeatedly renew was created for businessmen and women who live elsewhere, but need to travel to Thailand to work, he explained.
"Actually, we expect foreigners who want to stay here longer to get the one-year permit-to-stay," he said.
Those expats who are required to cross the Thai border regularly will need to continue relying on visa run companies, or pay for flights.
Repeated attempts by the Phuket Gazette to contact the owner of Phen Phet Visa Run, which operated the van Mr Menning rode in, were unsuccessful. However, the owner of another company in Phuket, Thai Visa Run, explained her firm's safety procedures.
"My company has been in operation for about seven years, and we've never had an accident," she said.
"For the Phuket-to-Penang trip, we have two drivers, because it's such a long way. One drives from Phuket to Hat Yai and the other from Hat Yai to Penang," she said.
"Our vans have GPS which links to our computer system, so we can monitor the drivers and see where they are and how fast they are driving. If they are driving too fast, we call to tell them to slow down," she said.

Until the day that 90-day permits-to-stay are issued on Phuket or requirements for one-year permits-to-stay are changed, careful consideration of method of transport may be the best defense, Col Sanchai said.
— Orawin Narabal

Join the conversation and have your say on Thailand news published on The Thaiger.
Thaiger Talk is our new Thaiger Community where you can join the discussion on everything happening in Thailand right now.
Please note that articles are not posted to the forum instantly and can take up to 20 min before being visible. Click for more information and the Thaiger Talk Guidelines.